Located on the beautiful southwestern coast of Michigan, Saugatuck, and its neighboring town Douglas offer some of the best RV park camping in the state. From lush forests to sandy beaches, this region provides a wealth of outdoor recreational opportunities for RVers. Whether you are looking for a secluded spot to relax or an exciting adventure, there is something here that will suit your needs. We explore the RV parks near Saugatuck Michigan:
What is Saugatuck MI known for?
Saugatuck is famous for its spectacular beaches, quaint restaurants, and bustling art galleries. It's also the home of Oval Beach, a popular destination for swimmers, sunbathers, and beachcombers alike. Nature lovers will especially enjoy the area's abundant wildlife, ranging from deer and foxes to eagles and turtles.
Campgrounds Near Saugatuck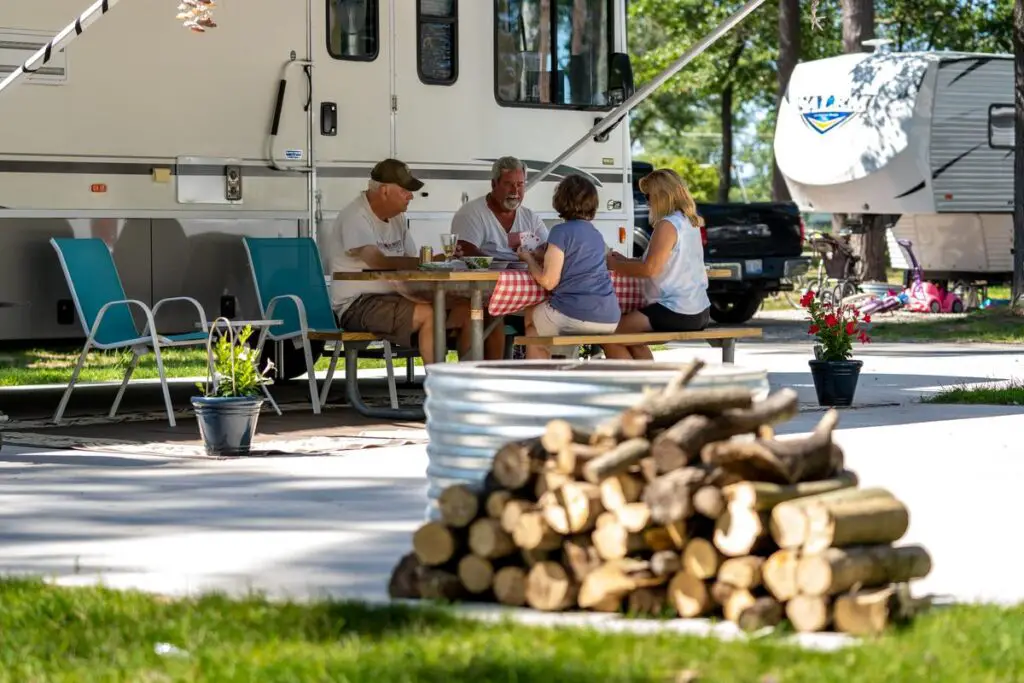 With so many great campgrounds nearby, it can be hard to choose just one! Some popular options include: 
Warren Dunes State Park – located just north of Saugatuck on the shores of Lake Michigan, this park offers over 4 miles of shoreline with plenty of room for RV camping. It also has a beach, picnic area, and nature trails for exploring. 
Holland State Park – located on the west side of Lake Michigan, this park offers RV camping sites with water and electric hookups as well as plenty of activities like biking, hiking, boating, fishing, and swimming in the lake. 
Silver Creek Campground – located just north of Saugatuck near Saugatuck River National Wildlife Refuge, this campground offers full hookup RV sites as well as rustic tent camping along the riverbanks. 
Douglas Lake County Park –  located just east of Saugatuck in neighboring Douglas, this county park offers RV camping sites with water and electric hookups, as well as plenty of activities like swimming, fishing, hiking trails, and a playground. 
Ludington State Park –  located on the shores of Lake Michigan, this park offers plenty of RV sites with water and electric hookups. There are also several miles of hiking trails and a beach for swimming and playing in the sand. 
Van Buren State Park –  located on the southern side of Lake Michigan, this park offers RV camping sites with water and electric hookups as well as plenty of activities like boating, fishing, biking trails, and swimming in the lake. 
Pere Marquette Riverfront Park –  located in the town of Saugatuck, this park offers RV camping sites with water and electric hookups as well as plenty of activities like picnicking, swimming, fishing, and a boardwalk along the river. 
Pigeon Creek Park – With gorgeous views of Lake Michigan and picturesque wooded surroundings, this park offers an ideal camping spot with nearby access to beaches, trails and other outdoor activities. 
Laketown Beach & Campground – This campground features easy access to beautiful beaches as well as amenities like fire pits, picnic tables, and bathrooms.  
Allegan County Fairgrounds – This campground is located a short drive from Saugatuck and is a great option for those who want to be close to all the attractions. The campground offers full hook-up sites with electricity, water, and sewer. They also have a pool, playground, and game room. 
Activities Near Saugatuck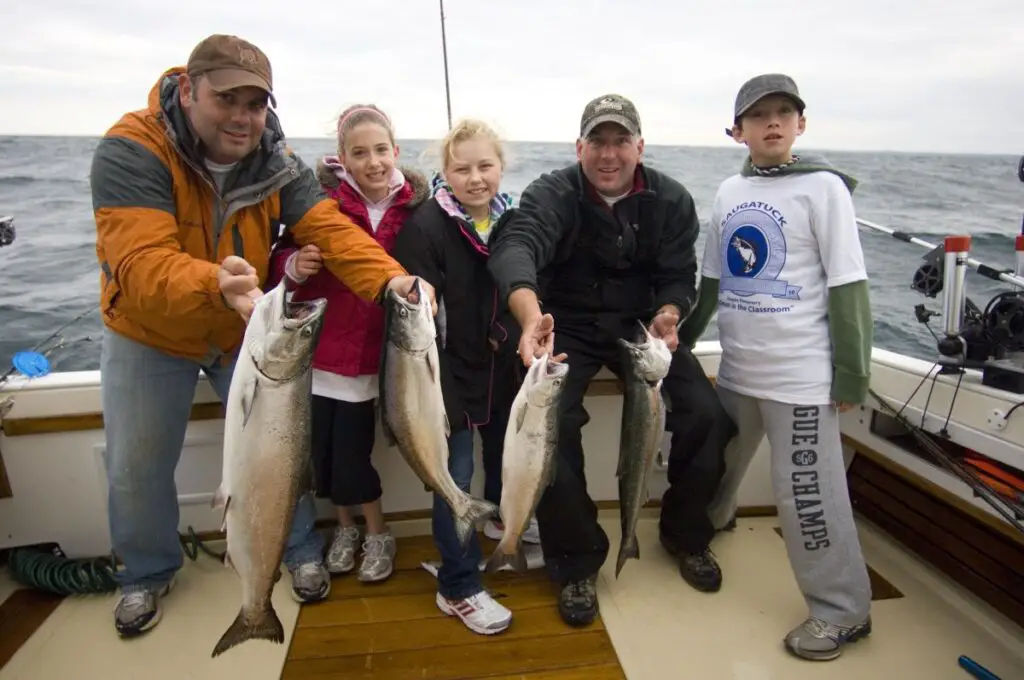 The region around Saugatuck has no shortage of things to do! Whether you're looking for outdoor adventure or culture and history, there is something for everyone. 
Outdoor Adventure – Kayak or canoe along the Kalamazoo River, take a boat tour through Saugatuck Dunes State Park, go fishing at Silver Creek Campground, or explore nearby hiking trails like Warren Dunes State Park's 2-mile path. 
Culture & History – Visit some of the area's many local museums, take a tour of the historic Saugatuck Chain Ferry (the oldest operating ferry in Michigan!), or explore nearby lighthouses like Big Red Lighthouse. 
Shopping & Dining – Take a stroll down the streets of downtown Douglas and visit some of the unique shops and eateries there. Or experience some of the area's fresh seafood at one of the many local restaurants.  
How To Keep A Camper Warm In The Winter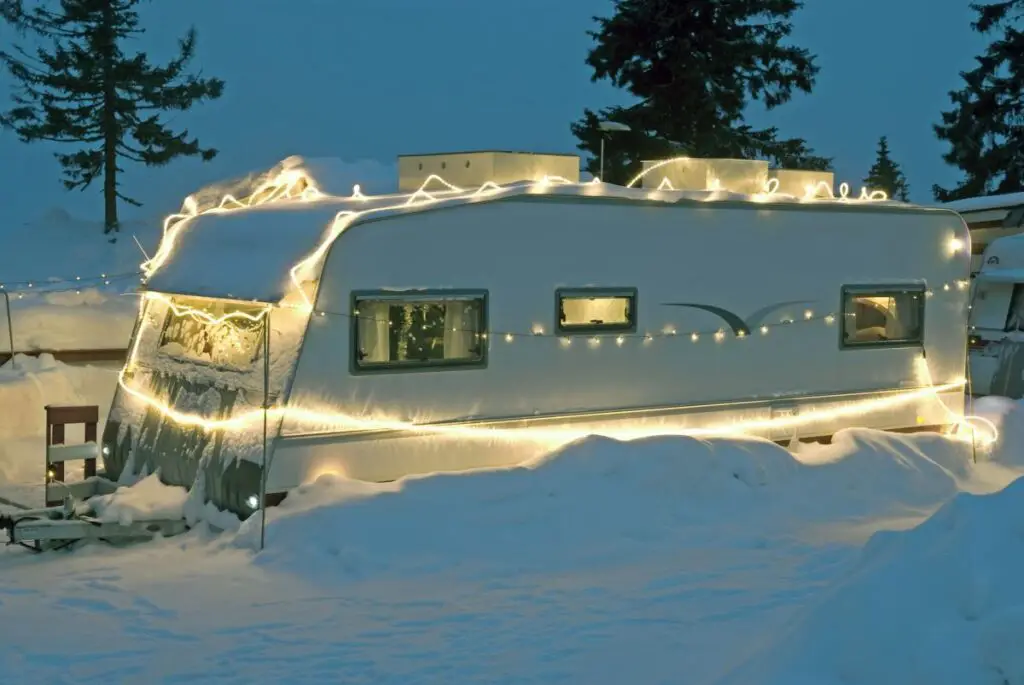 Winter camping in an RV can be a fun and rewarding experience, but it does require some extra preparation. Here are some tips on how to keep your camper warm during the cold winter months:
Insulate Your Windows – Make sure your windows are properly insulated by using thermal curtains or blankets to block out any drafts. 
Seal up Any Gaps – Seal up areas that might let in cold air such as gaps around doors or windows. Use weatherstripping tape or caulking to fill any holes. 
Keep It Toasty – Invest in a good heating system for your RV and make sure you keep it running at all times while you're there. You may also want to bring along a space heater to help supplement the heating system. 
Bring Extra Blankets – Make sure you bring extra blankets, sleeping bags, and comforters to keep you and your family warm. Layering is key! 
Wear Layers – Wear multiple layers of clothes inside your RV so that you can take off or add more as needed for warmth. Wearing a hat and scarf will also help keep you warm. 
You should always know just in case how to heat an RV without propane, it can save you in an emergency.
Suggestions for things to do/see in Saugatuck in winter?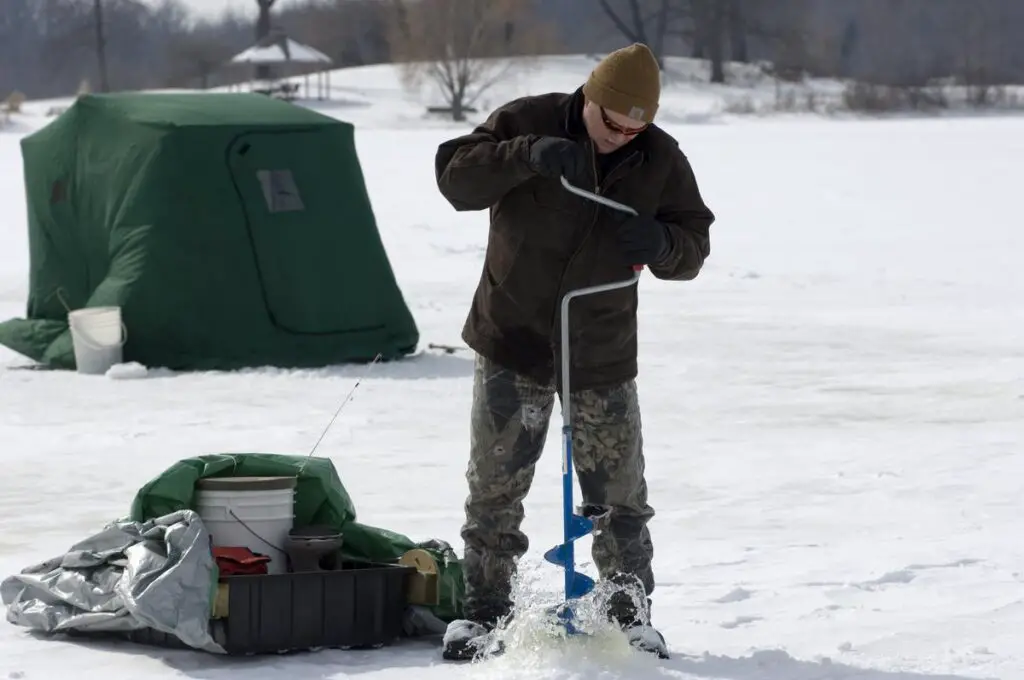 Visit the Saugatuck Dunes State Park – Take a hike along the trails of this beautiful park and enjoy stunning views of Lake Michigan. 
Warm up by a Fire – Enjoy some hot chocolate or s'mores while you warm up next to one of the many fire pits in downtown Douglas. 
Shop & Dine Downtown – Beat the cold with a stroll through downtown and treat yourself to some shopping or delicious food at one of the local restaurants. 
Take an Art Tour – Explore some of the many art galleries that are located in Saugatuck and take in all of the creativity that radiates throughout town.  
Explore Chain Ferry Beach – Take a ride on the oldest operating ferry in Michigan, and explore Chain Ferry Beach. The area is known for its stunning sand dunes which are great to explore during winter months. 
Go Ice Fishing – Enjoy a day spent on the ice with some friends or family members. Cast your line into Kalamazoo River or Lake Allegan and see what you can catch! 
Visit the Saugatuck Center for the Arts – Check out some of the many performances, exhibits, and workshops that take place at this local arts center throughout the year. You can also attend their Winter Film Series from January through March. 
Attend a Festival – Bundle up and enjoy one of Saugatuck's fun winter events such as their Winterfest, the Chocolate Festival, or their Annual Ice Bar event. 
With all of these wonderful things to do in Saugatuck during the winter months, you won't have to worry about running out of things to do! So make sure your RV camping trip includes a visit to this gorgeous town. You'll be glad you did. 
Final Thoughts on RV Parks Near Saugatuck Michigan
No matter what type of camping experience you are looking for during your visit to Saugatuck, there is an RV campground that will suit your needs. From rustic camping to amenities-filled sites, you can find the perfect spot for your next outdoor adventure near Saugatuck, Michigan.  Happy camping! 
Video: Walking Tour of Saugatuck
Camper Living FAQs
Can you live in an RV year-round in Michigan?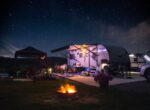 According to State Law, temporary dwellings like travel trailers and camping trailers can be used as emergency shelters on your property in the event of an unforeseen situation. These short-term residences should not constitute permanent residence under any circumstances.
Can you live in a camper in Michigan in the winter?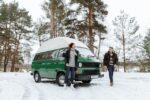 Take on the adventurous task of winter camping in Michigan and explore its stunning off-season wilderness! With several state parks open to brave cold-weather enthusiasts, don't miss your chance to rent a campsite, cabin, or yurt and make unforgettable memories.
Where can I camp in Michigan in winter?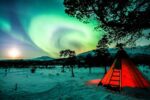 For those looking for a winter camping adventure, Michigan has many options to choose from. From Algonac in the south to Ludington and Muskegon on the coast and Tahquamenon Falls up north – campers can find plenty of locations offering unique experiences such as Bishop Lake's Thursday-Saturday night availability or North Higgins' impending closure due to construction beginning in 2023.
*Feature Cover Image Courtesy Sara Goodwin – Michigan DNR