Ice coverage over the Great Lakes is a huge factor in weather patterns over the region and an indicator of future lake levels. Thumbwind consolidates and summarizes the Great Lakes ice cover from US and Canadian agencies and presents it on this single page.
Table of Contents
Summary of Current Ice Conditions [current_date format='F d, Y']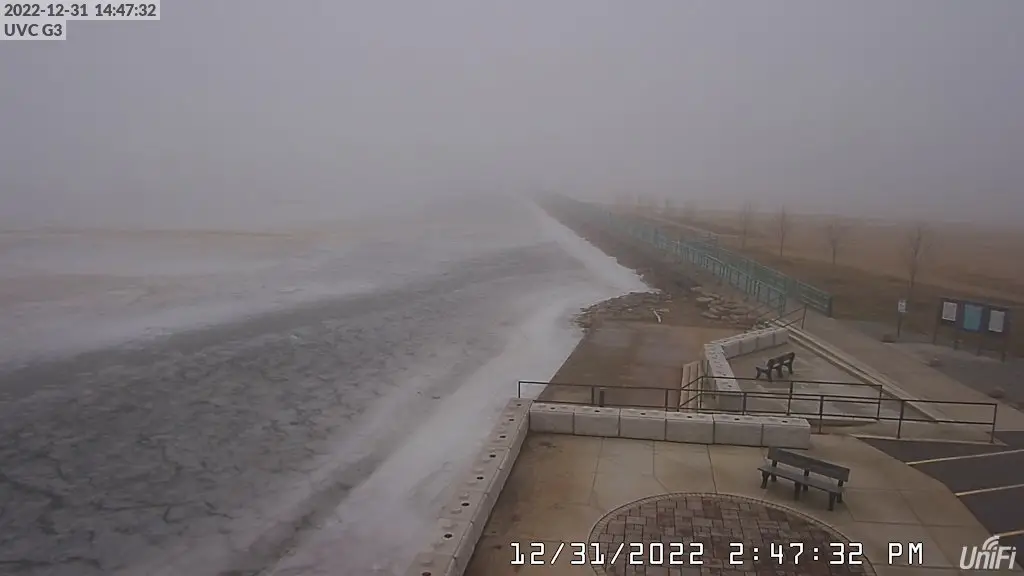 As of [current_date format='F d, Y'], NOAA is reporting a decline in Great Lakes ice coverage across the region. With moderate temperatures and little snow coverage, the peak ice coverage season is now passed. In contrast, ice formation is still being reported on Saginaw Bay between Sebewaing and Caseville, including Wild Fowl Bay. The US Coast Guard is warning that ice conditions may be unsafe. Extreme caution is advised on ice along the shores of lakes Erie, Ontario, the Finger Lakes, and the St. Lawrence River. It should be pointed out that this first ice may dissipate further if weather conditions change.
Graphics for ice conditions on this page depict the latest report offered.
Estimates of First Ice Coverage on the Great Lakes
The Great Lakes Environmental Research Laboratory in Ann Arbor, Michigan, compiled data from 1973 through 2002. Their data gave an excellent estimate of when the first significant ice coverage can be expected by month.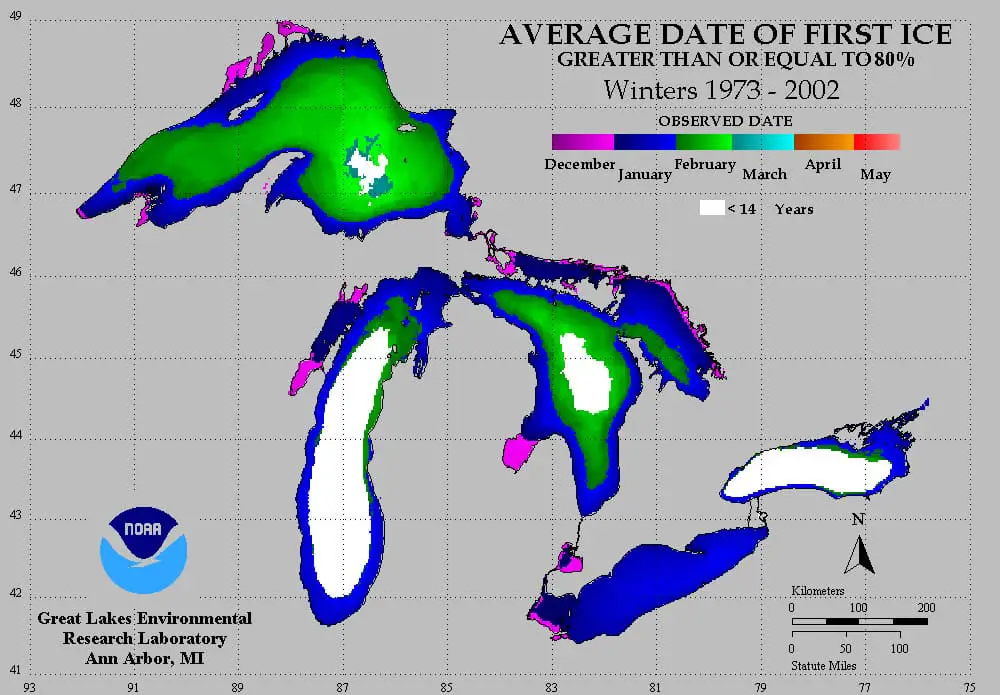 Current Great Lakes Ice Coverage – Daily Report – [current_date format='F d, Y']
NOAA imaging shows the water temperature dynamically changing in the past few days on Lake Superior, Lakes Michigan-Huron. and Lake Ontario, with its deep 800-foot waters.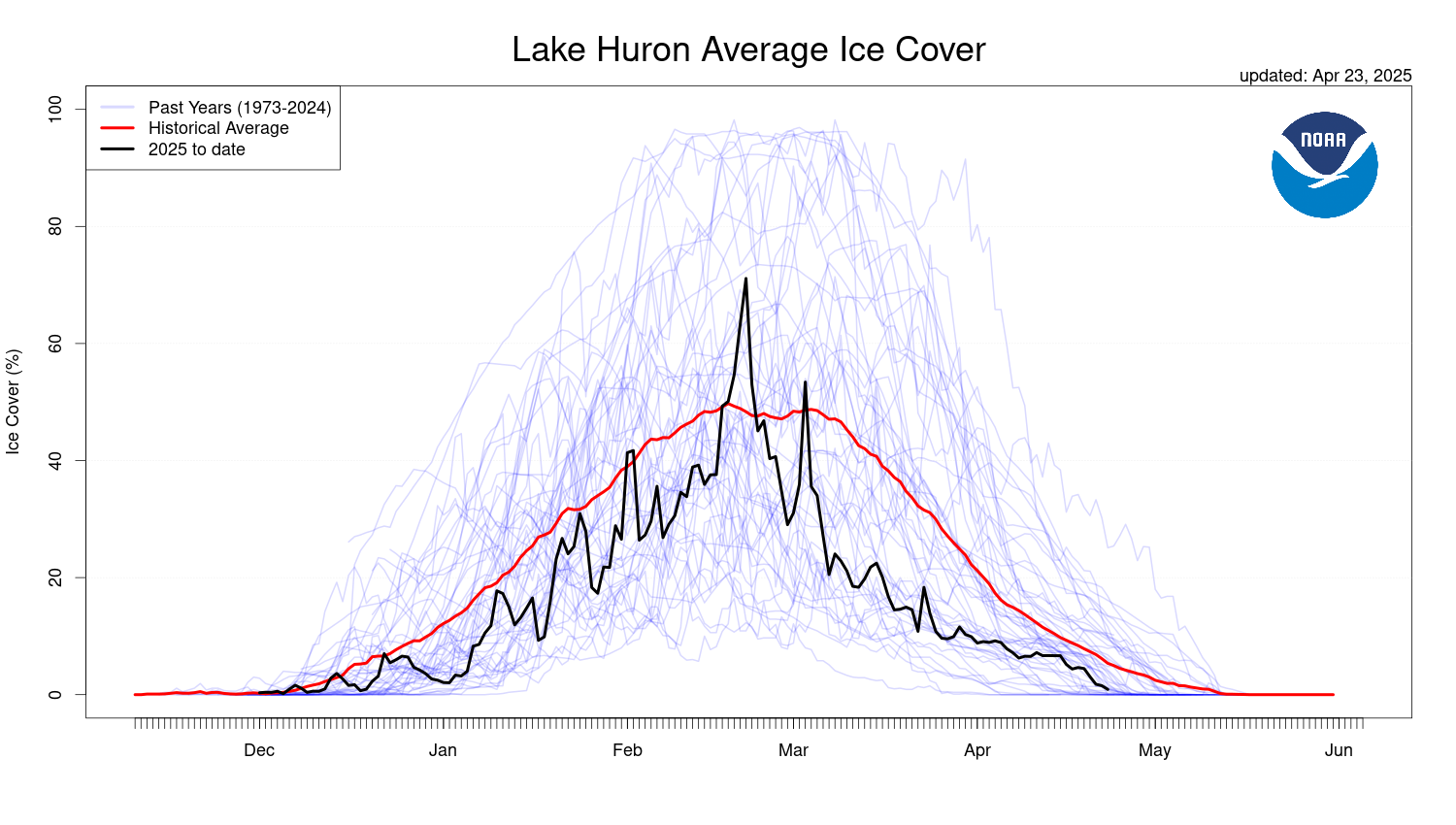 NOAA reports some of the lowest averages for total ice cover in Lake Huron. As you can see from the graph above, ice cover is at historic lows and has declined for this season.
[current_date format='F d, Y'] – Current Ice Report
Lake Superior / Lake Michigan Observed Ice Coverage – [current_date format='F d, Y']
Note: Images and Graphs Do Not Display If Data is Unavailable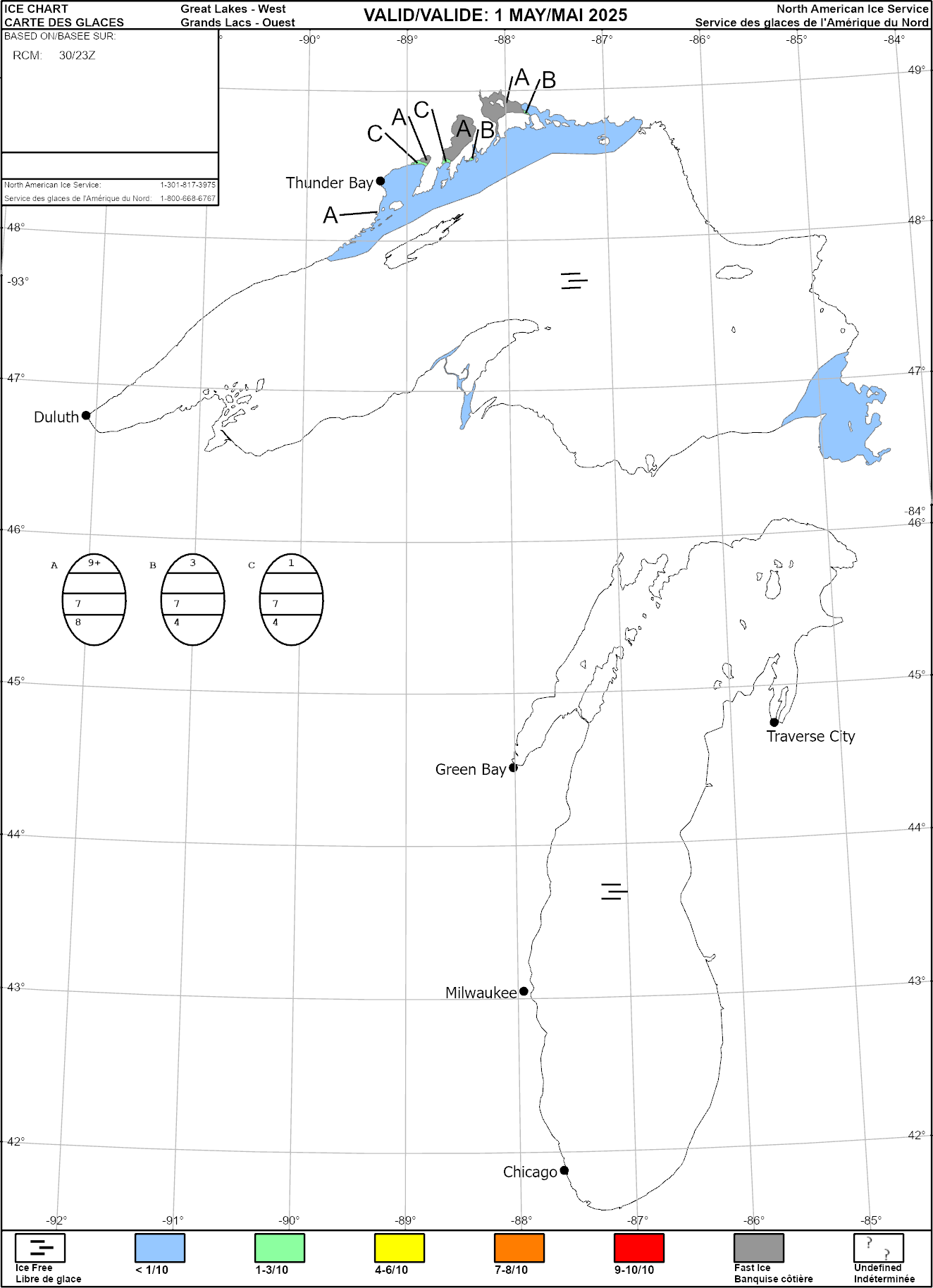 Lakes Huron, St. Clair, Erie & Ontario Ice Coverage – [current_date format='F d, Y']
Note: Images and Graphs Do Not Display If Data is Unavailable
Lake Superior Surface Temperature – [current_date format='F d, Y']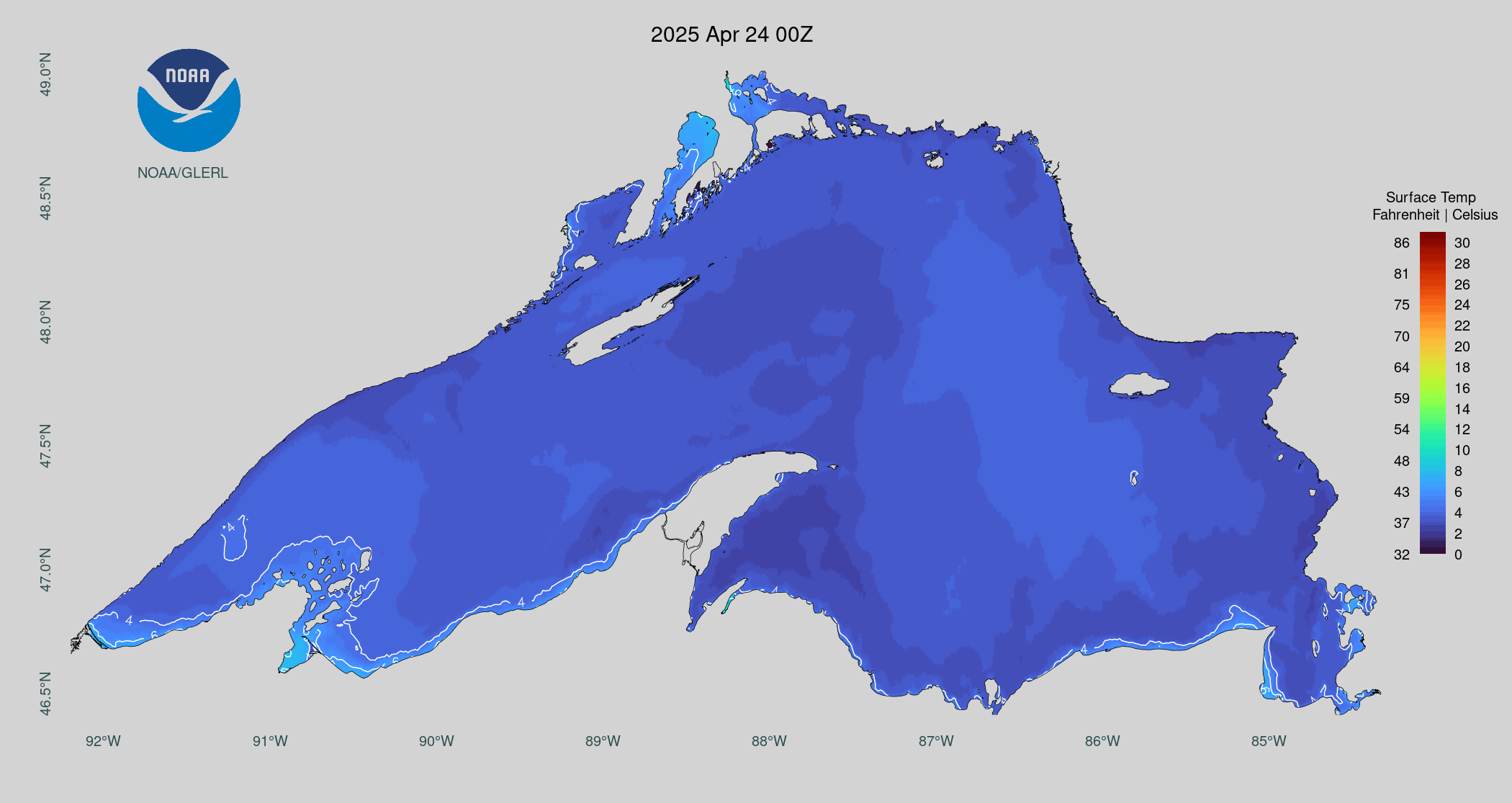 Lakes Michigan / Huron Surface Temperature –[current_date format='F d, Y']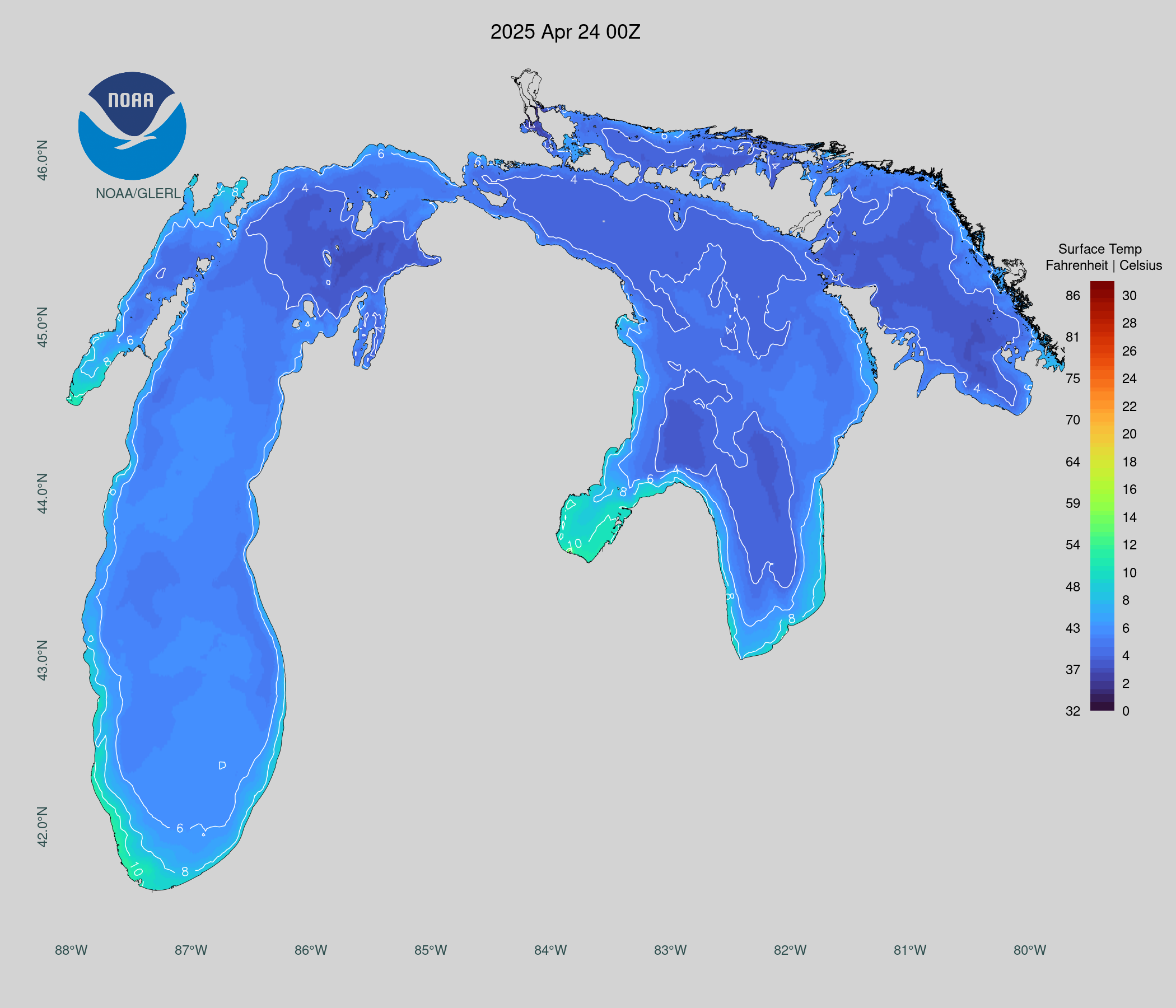 Note: Images and Graphs Do Not Display If Data is Unavailable
Lake Erie Surface Temperature –[current_date format='F d, Y']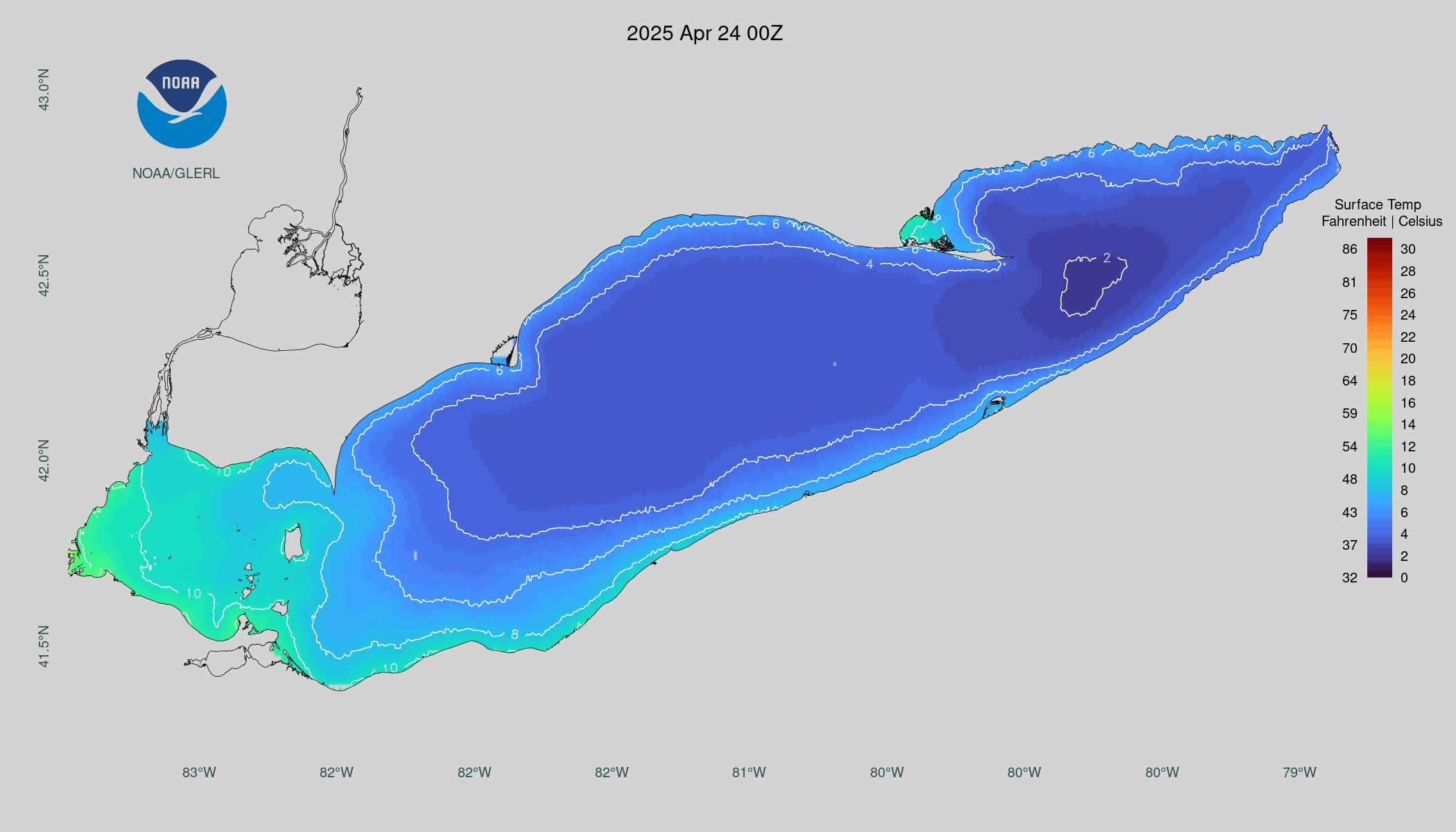 Lake Ontario Surface Temperature –[current_date format='F d, Y']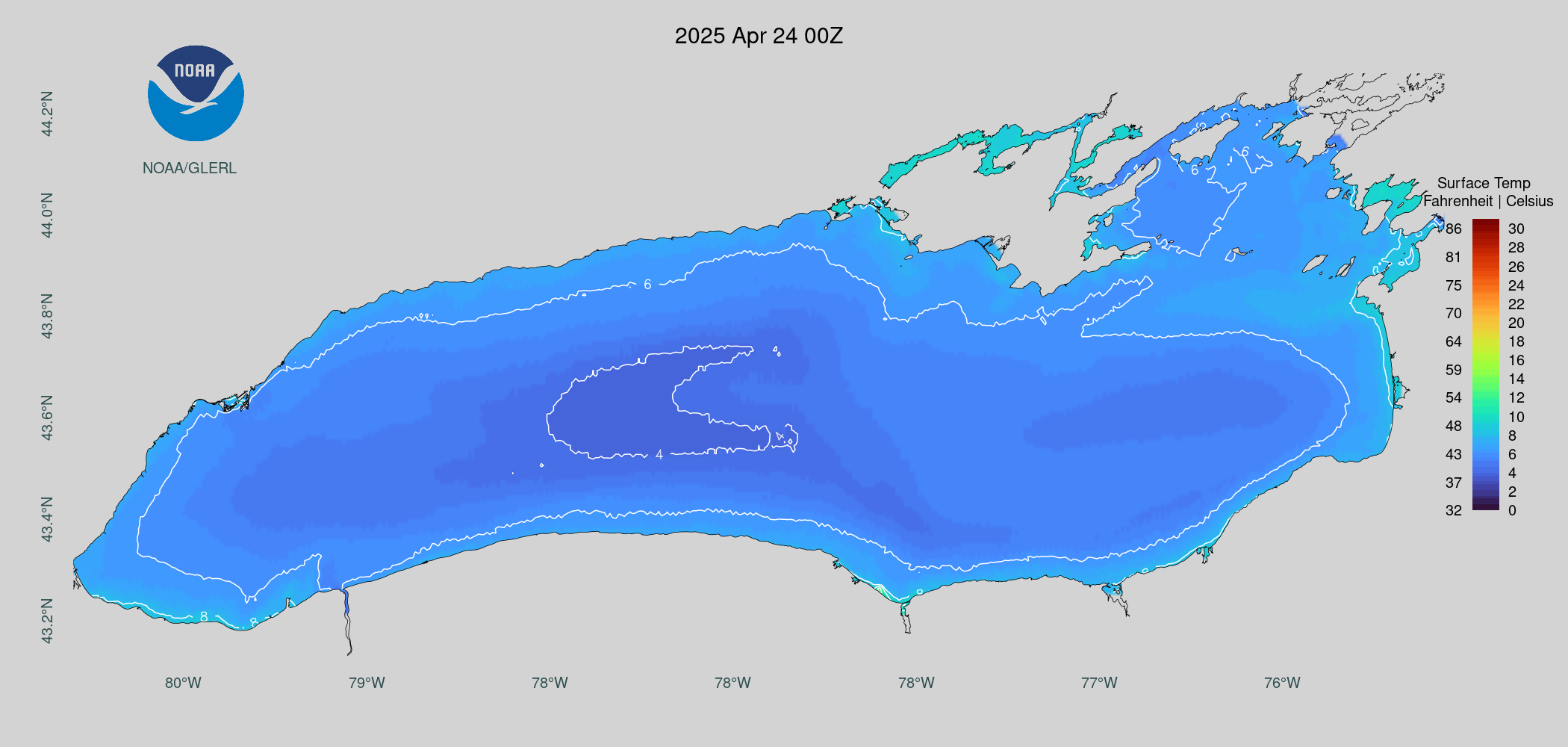 ---
Estimated Great Lakes Ice Cover & Thickness 2021-2022
The areas that saw the highest coverages during the winter of 2021 were Green Bay off of Lake Michigan, Saginaw Bay, North Channel, and Georgian Bay off of Lake Huron, Apostle Islands and Thunder Bay in Lake Superior, Lake St. Clair, Western Lake Erie, and the 10,000 islands area of eastern Lake Ontario.
The ice bridge between Minnesota's North Shore and Isle Royale was very evident.
Note: Images and Graphs Do Not Display If Data is Unavailable
In mid-January, the Great Lakes had an average ice coverage of 10-15%. The primary reason for the initial low ice cover in 2021 is that the region experienced temperatures of 3 to 8 degrees above normal. This warmer-than-average winter will likely mean less ice coverage. Estimates by NOAA placed the highest ice coverage at 30%, occurring in late February.
December 2021 Great Lakes Ice Coverage
December ice begins to form and accumulate in shallow bays and inlets along the shoreline of the Great Lakes. The most notable areas are Thunder, Black, and Nipegion Bays in northwest Lake Superior. The North Channel, Georgian, and Saginaw Bays in Lake Huron. Green Bay and Big Bay De Noc on Lake Michigan. Most of Lake st. Clair. Sandusky Bay and most of the western shore of Lake Erie.
January 2022 Great Lakes Ice Coverage
By January each winter, there is significant ice accumulation along the Great Lakes' shallow shorelines. The exception to this historical observation is the northwest shore of Lake Ontario near Toronto to Oshawa. This area can remain open water for most of the winter. The shallow Lake Erie is expected to freeze over by the end of January completely.
February 2022 Great Lakes Ice Coverage
The peak of the first ice coverage in the middle areas of each Great Lake occurs in February. Most of Lake Superior will have mid-lake ice coverage except for the area north of Munising, which may be open water all winter. Historically most of Lake Michigan and Lake Ontario do not freeze over. This phenomenon contributes to establishing a common weather pattern that occurs most of the winter along west Michigan and upstate New York; Lake Effect Snow. Most of Lake Huron freezes over by February except for the open water north of Michigan's Thumb.
Final Report For Winter 2021/2022 – March 2022
March typically signals the downslope of ice cover on the Great Lakes. As the ice begins to melt, the DNR has ordered the removal of all ice shanties from the waters of Michigan's lower peninsula by March 15th. Shanties must be removed from the UP by March 31st. The daily use of ice shanties is permitted anywhere in Michigan if ice conditions permit, as long as the shanties are removed from the ice at the end of each day.
All of the Great Lakes had a slightly higher ice coverage rate, beating their long-term average. Lake Superior peaked around 15% higher; Lake Michigan was about 6% higher; Lake Huron was 17% higher, with a peak of 67% on February 26. Lake Erie peaked in late January with an incredible Lake Erie was 93% coverage. This is 23% higher than normal. Lake Ontario generally does not freeze with the same intensity as the other lakes. Ontario peaked at 29% in early February.
The highest point of Great Lakes Ice Cover stood at 56% during the winter of 2021-2022.
February 2022 Ice Coverage Summary
As we approach the typical peak of ice formation in the Great Lakes in late February, we look to have an average winter. The shallow areas of the region, Lake St. Clair, North Channel Saginaw Bay, and Green Bay, are in the final stages of forming ice cover and show completely frozen over. As of February 13, Great Lakes Ice Coverage 2022 stands at 41.8%. All of the Great Lakes are slightly above their average ice cover rates.
What Does The Lack of Ice Coverage Mean?
When the Great Lakes don't freeze over, there is more evaporation. This puts moisture in the air, resulting in more cloudy, gray days across the region. If a cold snap does occur, accompanied by wind, the chance for heavy, localized lake-effect snow may occur. Due to higher-than-normal lake levels, beach erosion and lakeshore flooding may be more likely.
What is The Long Term Great Lakes Average Ice Coverage Rate?
The long-term average for maximum Great Lakes ice coverage is about 53.3%. This record high coverage rate for the Great Lakes was 94.7%, set in 1979. The record low ice coverage in the Great Lakes was 11.9% set in 2002.

Ice coverage data is from NOAA and is updated daily. Great Lakes water level data is reported monthly from the Army Corps of Engineers Detroit District.
Forecast of Future Ice Coverage with Climate Change
One study from 1991 hinted that increased CO2 levels across the Great Lakes region would lower ice coverage. Data from 30 years was extrapolated with varied increases in CO2. The potential environmental and socioeconomic impacts of increased CO2 warming include year-round navigation, change in abundance of some fish species in the Great Lakes, discontinuation or reduction of winter recreational activities, and an increase in winter lake evaporation.
---
Current Great Lakes Water Level Report
The report below is interactive and you can control the display. Click on the image to access the dashboard in a new tab.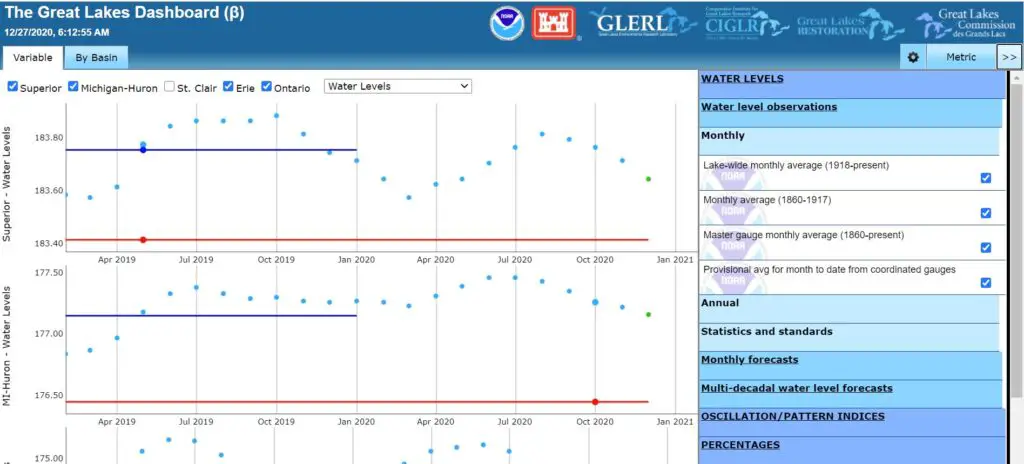 ---
The Detroit Army Corps of Engineers has kept records of Great Lakes ice coverage going back to 1973. The map shows the extent of the maximum ice cover on the Great Lakes for each year. Data is from the U.S. National Ice Center and the Canadian Ice Service. Satellite data is combined with other sources to translate daily ice charts into a percent cover pixel grid.
It is sporadic for all the Great Lakes to freeze over entirely. Yet they experience substantial ice coverage, with large sections of each lake freezing over in the coldest months. During the winter of 2013-2014, frigid temperatures covered the Great Lakes and the surrounding states. The persistent cold caused 91 percent of the Great Lakes to be frozen by early March 2014. This resulted in late winter of freezing temperatures but sunny clear days and nights.
Impact on 2023 Great Lakes Water Levels
Ice cover will lessen the impact of evaporation on the Great Lakes due to less exposure to the air. It also could lower the amount of lake effect snowfall in the region. Cold temperatures in early January will be a strong indicator that the Great Lakes will approach total ice coverage in the spring of 2020. A high ice coverage rate will likely mean higher record-setting Great Lakes water levels in the summer of 2020.
Ice Tsunami Destroys Homes Along Great Lakes Shoreline
This shows the power of water and ice when a little wind gets behind an ice flow near shore.
Related Great Lakes Ice Coverage and Water Level Reporting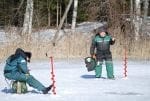 In the winter of 2018, there were two deaths and one rescue on the Saginaw Bay ice in the Upper Thumb in early February. Each year we are sent reports of rescue and recovery of those who snowmobile or ice fish on the Great Lakes. We found a short video that describes the steps to survive falling through ice even if you can't get yourself out of the water. It's a fight for survival. How to Survive Falling Through the Ice
---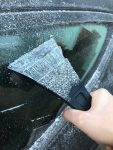 Great Lakes winters can be brutal. Getting your car ready for winter is critical. Winter will be colder and drier than normal, with the coldest temperatures in mid-to-late November, through greatest in December and January, and in early to mid-February. Snowfall will be near average in the region, although a few places south of the Great Lakes will have much-above-normal snowfall. The recent cold snap in 2021 means more snow and ice for the rest of the winter. Four Ways to Get Your Car Ready for Winter
---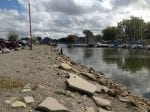 Five years ago, the entire Great Lakes was witness to low water levels not seen since 1964. Marina's were dredging; boats were being damaged on shallow reefs not seen a generation, and lake shipping was facing hard times. There was serious concern about how far it would go and what would happen next. A Look Back – 2012 Marina's Scramble as Water Levels Dropped
---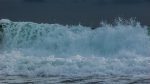 A look back at Great Lakes water levels. Reports and estimates from a November 2019 update from the Army Corps of Engineers Detroit District pointed to an outlook that meant the Great Lakes would continue to rise and break records in 2020. 2020 Great Lakes Water Levels Look to Break Records
---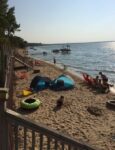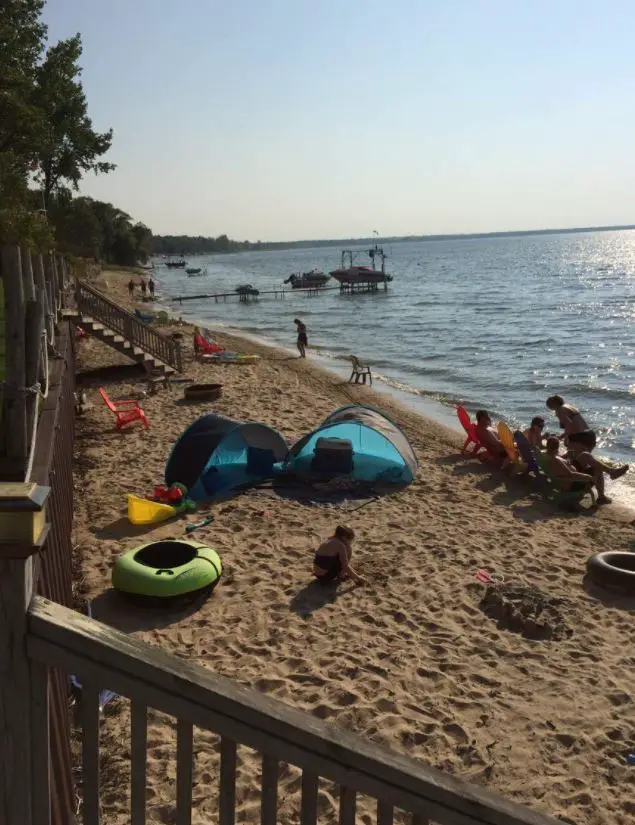 We take updates each month from the Army Corps of Engineers' extensive reporting and summarize on a single page each month. We break down reports for each of the five Great Lakes and include an extensive three-year estimated forecast of water levels. We also include historical data and analysis for researchers. It's one of our most-read pages on Thumbwind. Excepts – Detroit District's Monthly and Weekly reports for Great Lakes Water Levels and Great Lakes Water Level History. 2021 Great Lakes Current And Historical Water Levels
---
Cover Photo by NASA on Unsplash