For thousands of years, Native American Indian trails crisscrossed Michigan on a system of trails that were in tune with the land and so perfectly placed that the routes are still in use today by our highways and state roads.  These Michigan Indian Trails were part of the Great Trail network, which extended hundreds of miles to the eastern seaboard.
Amazingly,  many of Michigan's major Indian trails were not made by the natives but ranging bison herds. This was especially true in Southwest Michigan, where the French explorer LaSalle noted the herds in his journal.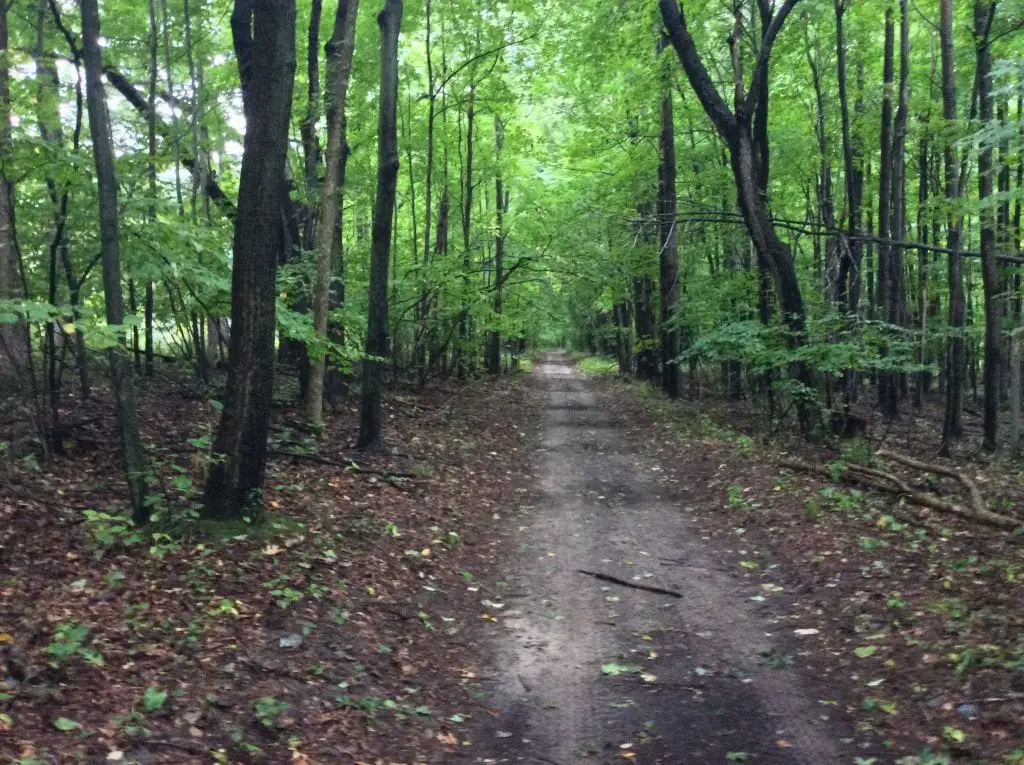 Indian Trails Had A Purpose
Other minor trails linked the major trails or served to seasonal hunting, fishing areas, salt wells, or copper and mineral mines. Many of the trails crisscrossing Michigan's Upper Thumb were seasonal for hunting, fishing, and maple syrup collection.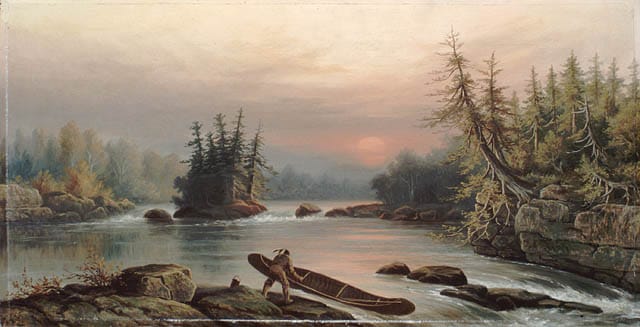 Trails Linked Settlements and Trading Centers
The major trails in lower Michigan tended to link Indian settlements near Mackinac, Detroit, Saginaw, and St. Joseph.  These were primarily used as trade and seasonal migration routes. This triangle of trails was augmented by the water trails that were heavily used across the Great Lakes region.
Some contend that the Straits of Detroit was the "hub" of this network of trials. However, the epicenter of indigenous peoples in Michigan looks to reside in Saginaw. Saginaw was a prominent native population and cultural center in Michigan, with over 109 Chippewa Indian villages recorded. In addition, Saginaw was at a crossroads of numerous rivers and the base of Saginaw Bay. From here, natives could travel directly to the other primary hunting and trading points in Michigan.
Annual Tribute Payments at Fort Malden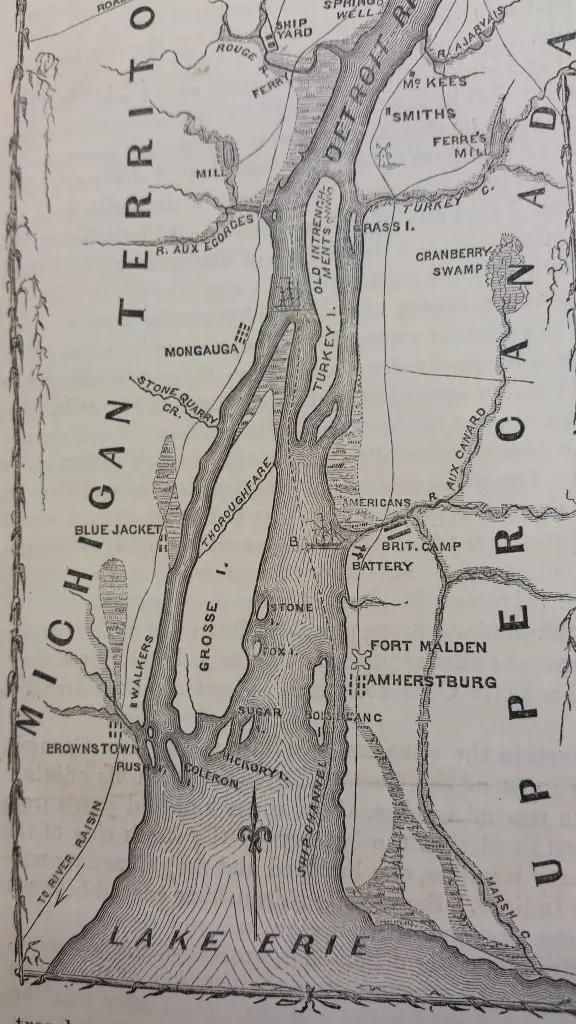 This Native American trail started at the Straits of Detroit and was a crossing point from Canada. From 1796 and for the next forty years, the tribes of Sauk, Chippewas, Potawatomi, and Fox used the trail for their annual trek to converge at the English settlement at Fort Malden near Amherstburg, Ontario. They received their yearly tribute of money and goods as part of a treaty settlement with each tribe. As a result, thousands of Indians came in to receive goods as payment for services rendered in the past and as a token to ensure their services to the crown in the future. This policy paid off handsomely for the British when the War of 1812 came along.
The tributes were stopped in the late 1830s, and the annual pilgrimage ceased.
Indian Trails of Lower Michigan
---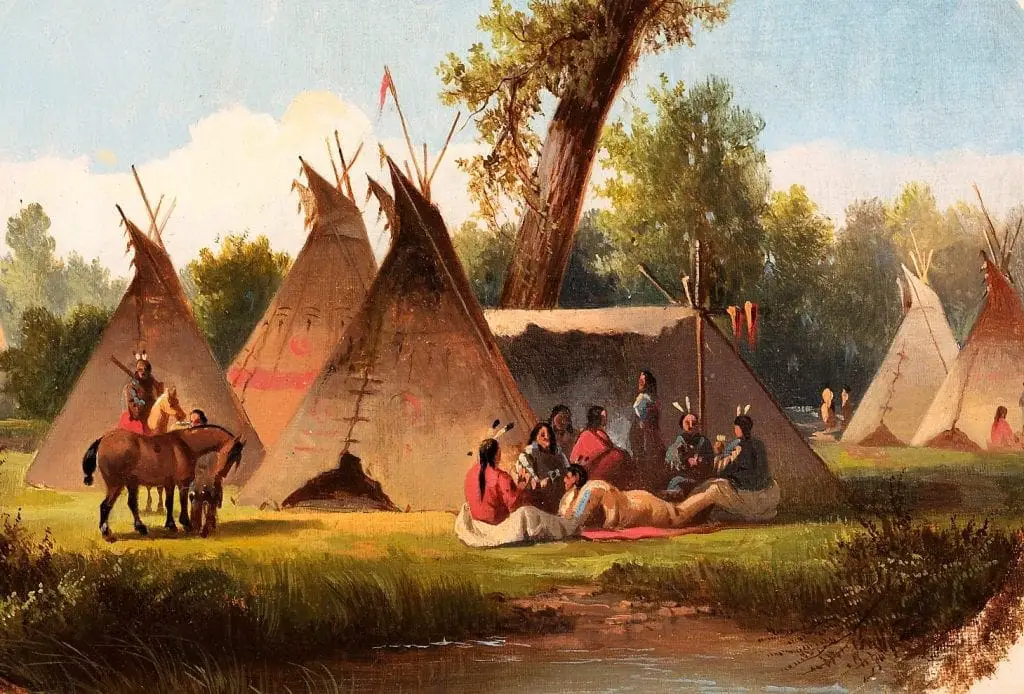 Major Native American Indian Trails in Lower Michigan
St. Joseph Trail –  From a historical standpoint, this is considered the most significant east-west trail route in Michigan  Its also known as Route du Sieur de la Salle, named after the 17th-century explorer who was looking for a route across the continent to China. Today, much of this Native American trail route is shared with I-96. 
Saginaw Trail – A major north-south Sauk trail system that went from the Straits of Detroit to Saginaw then north to the Traverse Bay area. Today this trail starts at the Detroit River and heads northwest up Woodward to Pontiac then continues up Dixie Highway through Flint then Saginaw. 
Sauk Trail – This major system ran between Detroit and Chicago.  Believed to be established by migrating bison, it was so well established that the state followed the trail for the Chicago Road (M-12) construction in 1827.
Mackinac Trail – An interior west northern Michigan trial to the Mackinac straits hugging the western forests. I-75 covers much of this trail system today.
Cheboygan Trail – An interior Michigan trail to the Mackinac straits hugging the eastern forests. State road M-33 follows much of this trail system today.  
Grand River Trail – The original pathway along the Grand River Avenue corridor was an Indian trail, a footpath used by the native population is now followed by the trunk line U.S. 16.
Maumee-Shoreline Trail – This is a hugely significant trail system that ultimately led the establishment of Michigan as a State. Part of the Great Trail system running to the east coast of the US.  
Shiawassee Trail – Its origin is shared with the Saginaw Trail from the Detroit River, The trail passed through the county diagonally from southeast to northwest. A branch of the Saginaw trail went to Shiawassee.  
---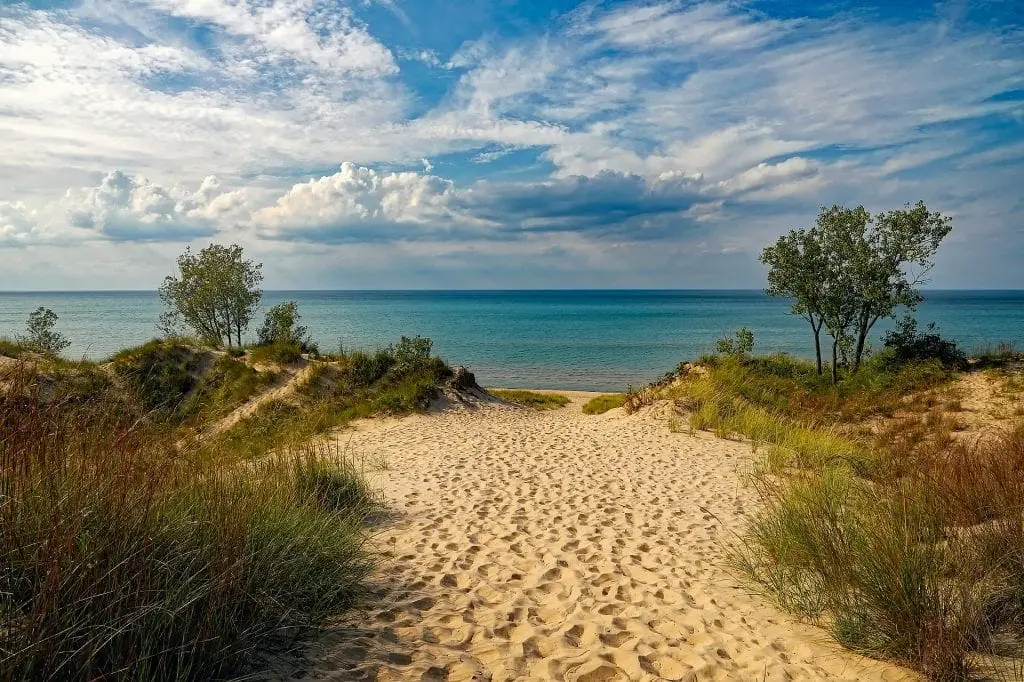 Minor Native American Indian Trails in Lower Michigan
Hundreds of smaller Native American trails link major trails or provide access to hunting or fishing areas. Here are some of the most notable.
SandRidge Trail – An ancient seasonal hunting and fishing access trail from Saginaw to Port Austin in Michigan's Thumb. This trail linked the Indian villages along the shore of the Thumb.
Pontiac Trail – Connected Pontiac area south of Orchard Lake to the major trail crossings near Ann Arbor.
Cadillac – Traverse City Trail – Also called Old Indian Trail – Ancient system from 700 BC that runs from Cadillac to Traverse Bay.
Potawatomi Trail –

Coming up the Huron River from its mouth at Lake Erie to Portage Lake, on the border between Washtenaw and Livingston counties.  This had two trails; one followed the banks; the other, during high water, went through the adjoining uplands. 
---
Native American Indian Trails Reading On Amazon
Images on this page may contain affiliate links in which we may receive a commission. See our affiliate disclosure for details.
Michigan Indian Trail Sources
Archaeological Atlas of Michigan [by] Wilbert. Hinsdale, W. B. (Wilbert B.), 1851-1944.
At the End of the Trail – By David P. Botsford, C.M.
Related Reading and Exploring Native American Indain Trails
It's called several names; Sand Road, Trail Road, and Old Sand Road. While it's said that M-25 took the place of much of the trail, the area between Bay Port and Port Austin has miles of the old trail still intact. It's not considered a major trial. It likely was a Michigan Indian hunting and fishing path into the Upper Thumb and part of a waterway trail that crossed Saginaw Bay from Pointe Aux Chenes (Oak Point) stopping midway at the Charity Islands the on to Tawas and the Shore Line Trail that hugged Lake Huron's shore to Alpena. The Indian Trail of the Upper Thumb
The routes that the native Michigan tribes made and utilized for thousands of years cover the same ground that the Michigan Department of Transportation has paved and we are using today as we cross the state to visit friends in Chicago visit the wineries in Traverse City or watch the Thanksgiving parade in downtown Detroit. Major Michigan Indian Trails
Michigan Indian Tribes fought and held the area from the Tittabawassee River down to the Detroit straights with the area changing hands many times over history. This is a small tale of a chief of a band from the greater Anishinaabe tribe located near Sebewaing. Michigan Indian Tribal Wars and Sebewaing's Giant Oak
Of all the named Indian trails in Michigan, the Saginaw Trail is the oldest and certainly the most traveled in the trail system. Originating from the Straits of Detroit, this Sauk trail heads northwest through Pontiac, Flint, and supposedly terminating in Saginaw.

The Saginaw Trail



---