Winter is coming! And so are our holiday plans in the coming chilly weather. Michigan is known for its extreme winters and piles of snow, but for adventurous souls, the state can be the most incredible winter camping in Michigan for adventurous souls in the entire country. From snow-capped vistas to frozen lakes, winter camping is a true feast for a thrill-seeking individual like you.
Numerous areas in Michigan provide an exceptional camping experience during the coldest time of the year. So, as the cold sets in and the snow whirls in, make sure to plan for your exciting winter camping as early as today. Take your vacation, if you are a student – entrust homework to My Paper Done and go to the snow, free as a bird! Let's dive into the best winter campsites in Michigan.
#1 Warren Dunes State Park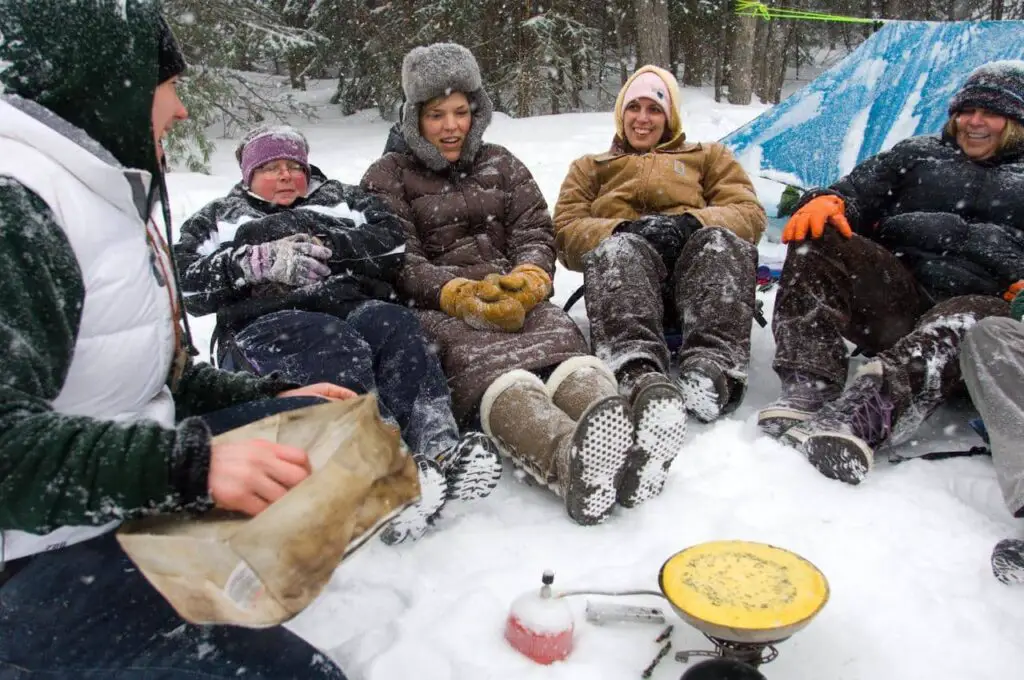 Address: 12032 Red Arrow Highway, Sawyer, MI 49125
If you have never experienced or seen Lake Michigan frozen, then Warren Dunes State Park is the place to be! Encompassing a total of 1,952 acres of land, this camping site offers many recreational opportunities for every type of adventurer. Aside from camping, people can be found hiking, snowshoeing, sledding, and skiing everywhere, so make sure to bring your sled with you after a winter storm because the 260-foot hill is the perfect canvas for some snowy action.
The Warren Dunes State Park has 200 modern campsites and 30 rustic lodges. Because the state park deals with a high volume of visitors every winter, it's recommended to reserve your campsite early.
#2 Tahquamenon Falls State Park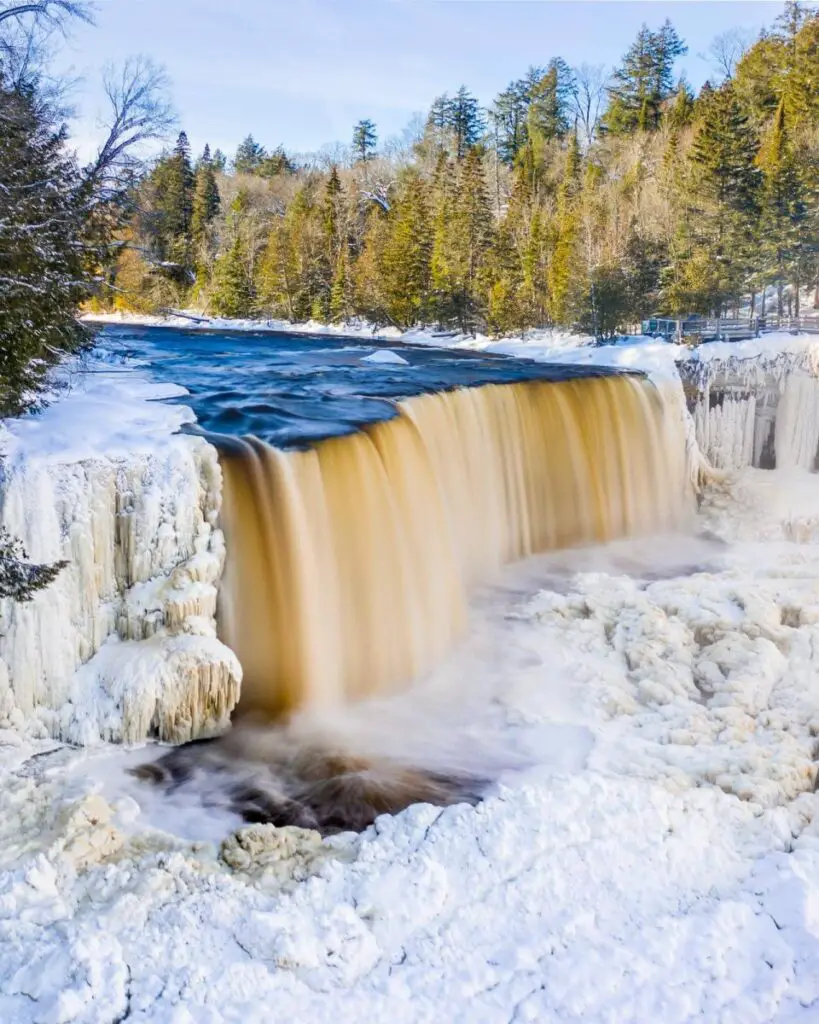 Address: 41382 West M-123, Paradise, MI 49768
The famous Tahquamenon Falls State Park nestled in the Upper Peninsula is the perfect winter camping setting if you're looking for a picturesque camping site. For avid lovers of nature, the winter scenery of Tahquamenon Falls State Park is something not to be missed, as it evokes an entirely different dimension to the falls and river that is not seen during the warmer months.
Two areas welcome guests during winter: the Lower Falls and Upper Falls. The Lower Falls comes with marked snowshoe trails at different distances. Make sure to stay off the river ice because the current flows fast and the water is deep.
The Lower Falls hosts 25 campsites cleared of snow, featuring picnic tables, electricity, a water supply, and a fire ring. The state park highly recommends reservations, especially if you're planning to camp on weekends. You can contact the Tahquamenon Falls Park office at  906-492-3415 for inquiries.
Consequently, the chilly action happens on the Upper Falls, where you can access the 4-mile, well-groomed cross-country ski trail, the snowshoe trail leading to viewing platforms, the Tahquamenon Falls Brewery, and the gift shop. The Upper Falls is just a 10-minute jaunt from the parking lot, and the pathway is kept clear to avoid accidents.
#3 Dead River Falls
Address: Marquette, MI 49855
Snow-dipped tree branches, white riverbanks, and a breathtaking view of a cold river—it's no wonder why many campers visit the Dead River Falls in Upper Peninsula during the cold months. Here, you can also go for a winter hike. Just be sure you're physically fit enough to traverse the trails.
#4 Porcupine Mountains Wilderness State Park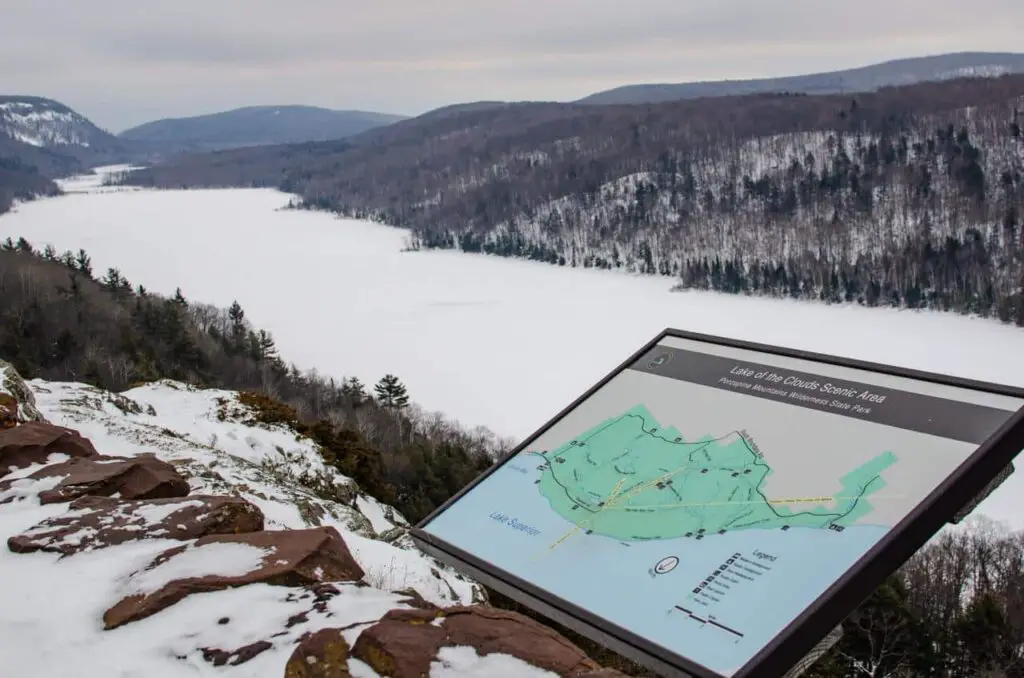 Address: 33303 Headquarters Road, Ontonagon, MI 4995
If you're craving other winter activities aside from camping, then Michigan's Porcupine Mountains Wilderness State Park is the perfect destination. It's Michigan's largest state park, amassing 60,000 acres and more than 90 miles of hiking trails. The state park also comes with backcountry camping, modern and rustic campgrounds, tent and RV camping, and scenic views of the Lake Superior shoreline and snow-blanketed terrain.
The Porcupine Mountains Wilderness State Park is one of the top backpacking destinations in Michigan, offering trail options with campsites. Each campsite comes with a fire ring and can accommodate up to 6 camper-backpackers.
Rustic cabins and yurts are also available along the trail, which takes around a 1- to 4-mile hike to reach. However, due to its rising popularity among campers, early reservations are recommended. The cabins are equipped with cookware and tableware, beds, tables, chairs, mattresses, and an outhouse with an ax and saw. You'll just have to supply your water, toilet paper, and bedding.
And should you want to stay out in the woods near the pristine beauty of Presque Isle River and Waterfalls, then settle in the Presque Isle campground: a site offering 50 campsites for RV and tenting use. Electric service and vault toilets are available, but the water can only be accessed via a hand pump. It's the perfect location for those looking for a raw, authentic experience of camping out in the woods.
Located on the shores of Lake Superior is another RV campsite: The Union Bay Campground. It comes with modern toilet facilities, electric service, an RV dump station, and other amenities.
#5 Brighton Recreation Area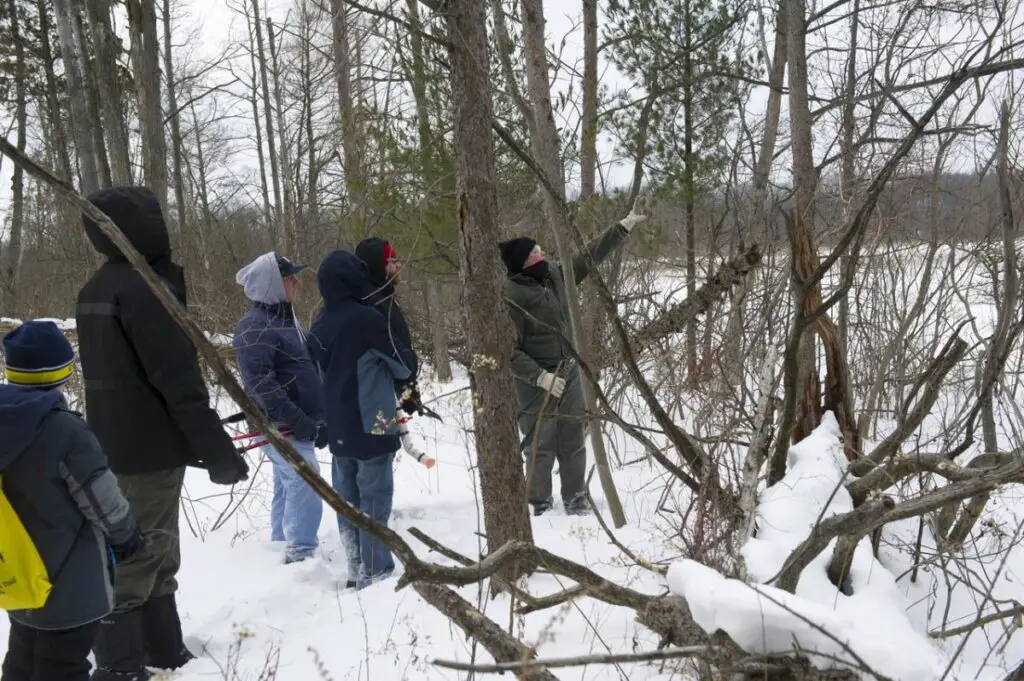 Address: 6360 Chilson Rd, Howell, MI 48843
The beautiful Brighton Recreation Area offers more than 4,900 acres of recreation options for visitors to use. It comes with a combination of picturesque ranges of hills, dispersed with various pristine lakes. It also comes with a 144-site modern campground at Bishop Lake that provides electrical hookups and modern restrooms. In addition, there are two rustic campgrounds, and each of them comes with 25 sites. Aside from camping, you can also enjoy other exciting activities such as hiking and cross-country skiing.
#6 Pictured Rocks National Lakeshore
Address: PO Box 40, Munising, MI 49862-0040
Winter at Pictured Rocks National Lakeshore is a unique yet exciting time for thrill-seekers like you. The beauty and serenity of the site offer visitors plenty of opportunities for adventure. So what's waiting for adventurers aside from winter camping? Cross-country skiing, ice climbing, snowmobiling, ice fishing, and admiring ice formations!
Winter camping is welcomed in both backcountry and drive-in campgrounds. However, some roads like H-58 are not plowed into drive-in campgrounds, hence the need to ski, snowshoe, or snowmobile to reach the campgrounds.
The use of stoves is also recommended, as campfires are not allowed unless assembled in already-established metal fire rings, which may be challenging to locate in deep snow.
Choosing the right campsite
Now that you have a list of state parks and campsites to choose from, it's time to choose the perfect winter camping destination. Sure, there may be a lot of beautiful destinations to choose from, but you have to consider a few factors before coming up with a decision.
Keep the following factors in mind when looking for the perfect winter campsite:
Scenery – We all love waking up to a fresh, beautiful view of snow-capped mountains, a frozen lake, and trees that can make excellent photo backdrops.
Temperature – When you have low cold tolerance, it's best not to camp in low spots as cold air tends to settle more there. Have a grasp of the temperature patterns of your desired area to find the perfect location to keep yourself warm amidst the freezing weather.
Wind – The winter season brings forth strong winds. And with harsh winds come risks. So, make sure to look for a campsite with natural windbreaks to keep yourself safe from the strong gushes of the wind.
Avalanche risk – Evaluate the avalanche risk should you choose a site near or on a slope.
Water – Look for sites with easy access to clean water. Or if not, look for those that have fast-moving streams.
Final Thoughts on Winter Camping in Michigan
There goes our list of must-visit winter campsites and our guidelines for choosing the best destination for you! So which location are you planning to head to this winter? With a lot of planning and forethought, your winter camping will undoubtedly be as safe as it is enjoyable!
About the Author
Jordan Fuller is a passionate golfer and outdoor enthusiast from Nebraska. He also enjoys giving accessible professional golf advice, equipment reviews, and other golf tips on his website, Golf Influence. 
Related Michigan Reading