The Van Buren State Park is a state park in Michigan. The park is on Lake Michigan's shore in South Haven, Michigan. It has a famous mile of sandy beach among its wild sand dunes. It is famous for swimming, fishing, and boating activities.
The park was named after Martin Van Buren, the eighth President of the United States. It is located in Van Buren Township and Osceola County in Michigan. Many in the community consider the park a local treasure as it provides numerous activities and services for people to enjoy year-round.
The park is only a short distance from neighborhood stores and eateries and is 3 miles south of South Haven. South Haven is a picturesque coastal town home to distinctive restaurants, vineyards, shops, and beautiful natural scenery. The Michigan Maritime Museum, the Liberty Hyde Bailey Museum, the Flywheeler Museum, an art center, and numerous public golf courses are other places of interest.
Van Buren State Park Map
The Van Buren State Park map highlights almost 400 acres. It offers many amenities such as a campground, cabins, a designated dog beach, day use area with picnic tables and grills/charcoal pits (no open fires allowed), and a picnic shelter. There are two small play areas in the day-use area, including swings and a slide.
The Park Is A Scenic Area With A Great Trail System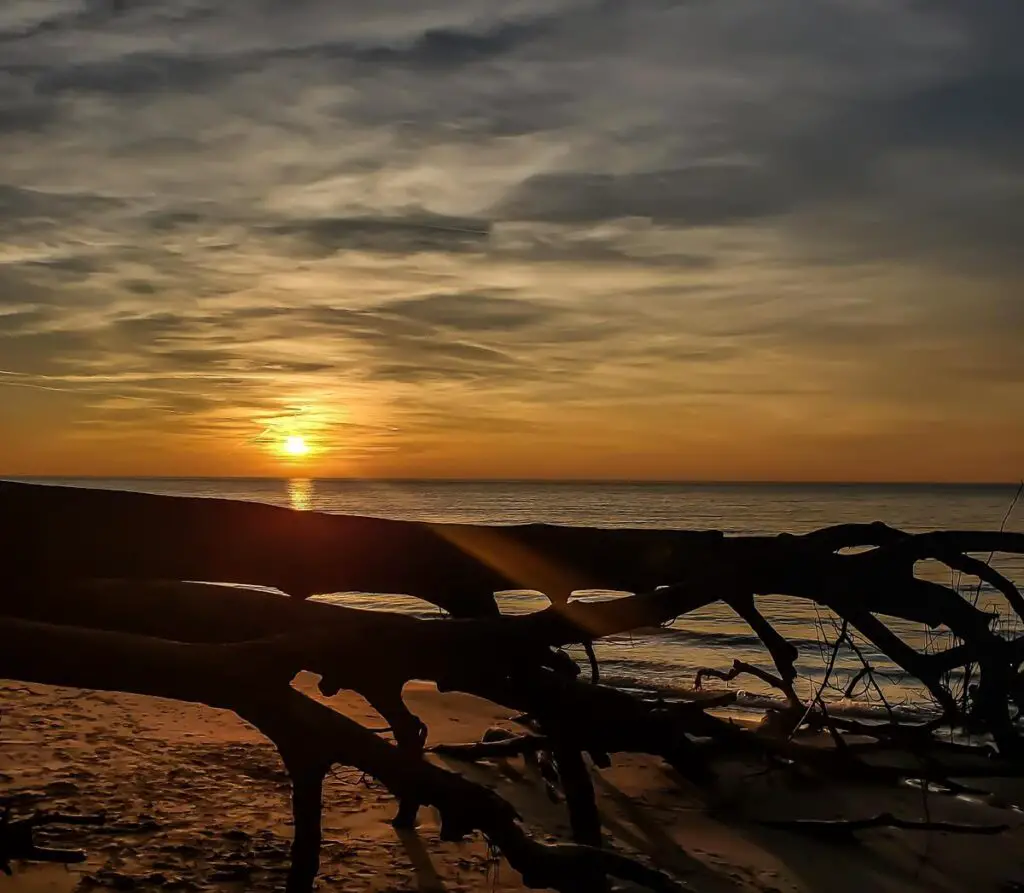 This park is scenic for hiking, biking, swimming, and fishing. There are several different trails that will allow you to explore the park on foot or bike.
Footpaths lead along nature pathways in various locations. Visitors to the park have access to the Van Buren State Park Spur Trail, which provides a beautiful 4-mile paved route into South Haven. Visitors can access the Van Buren Trail State Park (gravel surface) along 16th Avenue and proceed for another 12 miles to the City of Hartford from there (south). The Kal-Haven Trail State Park offers 33.5 miles of additional trails connected to South Haven.
The park provides opportunities for families to enjoy the outdoors in a safe environment, such as picnicking, hiking, and biking. Bird watching is another popular activity at this park, with over 120 bird species identified within its boundaries over the past 20 years.
The Park Is A Fun Spot For Your HQ  On The Shore Of Lake Michigan Along the Blue Star Highway
Van Buren State Park is located in western Michigan, on the shore of Lake Michigan. The park is a popular destination for families enjoying its sandy beaches and campgrounds. Van Buren County is also home to several other parks, such as North Beach, and the famous South Haven Lighthouse, along with being within wine county and home of St. Julian Winery & Distillery and Cody Kresta Vineyard and Winery
The Weather In South Haven, Michigan, Near Van Buren State Park
South Haven, Michigan, is located along the Lake Michigan shoreline and is known for its relaxing environment and beautiful scenery. The weather of South Haven, Michigan, near Van Buren State Park, can be described as more temperate than other parts of the state due to its location on the lake. The summer temperatures range from 70 to 80 degrees Fahrenheit, while winter temperatures range from 30 to 40 degrees Fahrenheit. Spring and fall temperatures average between 50 and 60 degrees Fahrenheit, with snowfall common in the winter months.
Van Buren State Park Is A Popular Destination For Chicago And South Bend.
Van Buren State Park is a popular destination for families from nearby areas like Chicago and South Bend. It's located on the shore of Lake Michigan in Covert, Michigan, so it's no surprise that it's a scenic area for hiking, biking, and swimming. There are also plenty of places to fish during the summer and when the lake freezes each winter for ice fishing holes!
Group and Youth Camping At The Park
Van Buren State Park offers camping opportunities for scout troops, youth, and church groups. Campsites include access to water faucets but do not include showers or bathrooms; portable toilets are available if needed. Dates are limited to the summer season, and reservations must be made at least two weeks before your arrival date by calling 269-637-2788 
This Popular State Park Is An Ideal Location For Families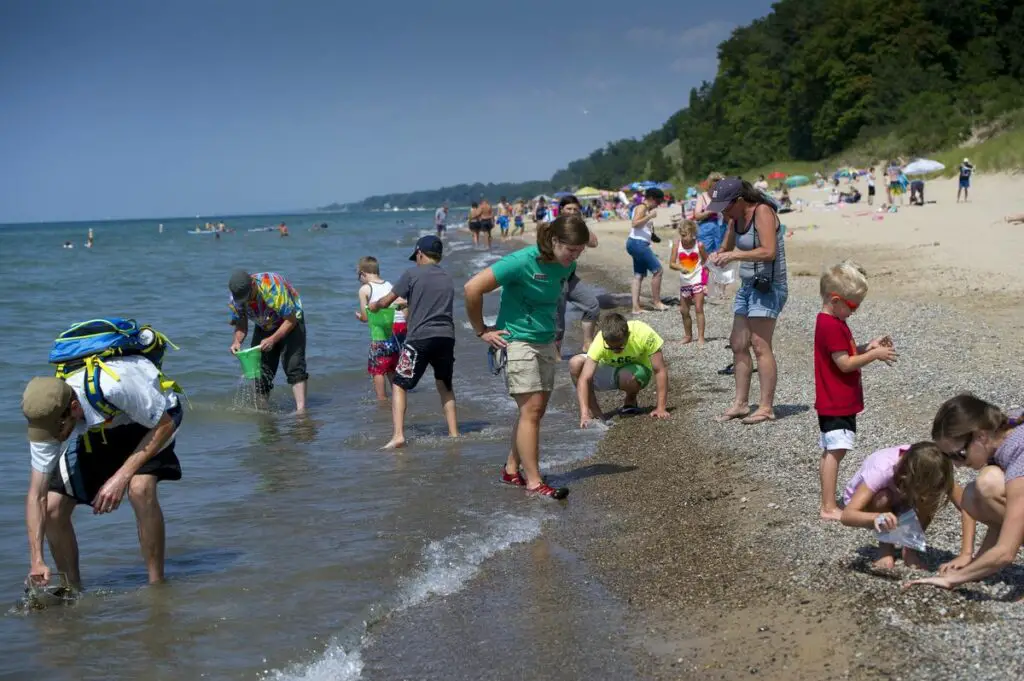 Van Buren State Park is an excellent destination for families. The park has campsites that are available year-round and cabins and yurts for rent. There are plenty of activities to enjoy at Van Buren, from hiking and biking to swimming and fishing in one of the many ponds or lakes.
The charming beach town of South Haven is just minutes away and boasts unique eateries, wineries, boutiques, and natural scenic surroundings. Other points of interest include the Michigan Maritime Museum, the Liberty Hyde Bailey Museum, the Flywheeler Museum, an art center, and many public golf courses.
Summarized Reviews of Michigan's Van Buren State Park
Van Buren State Park ranks highly with out-of-state visitors among Michigan State Parks. Here are a few reviews of this notable Lake Michigan Park.
Great Acces To Beach (5-Star Review)
What a lovely location! Easy parking and beach access. A location to rinse off sand and restrooms. Massive dunes We came from North Carolina, where the dunes on the Outer Banks are half this size. Seeing wonderfully flawless stones instead of seashells on the beach was strange!
Camping and Sunsets (5-Star Review)
This state park is excellent. Spent a week camping there. Only electric sites, nice campsites, and a peaceful campground overall. The drinkable water stations around the park and two freshly constructed bathhouses/restrooms with a dishwashing station are both new. The day-use area's short walk to the beach and dog beach is well worth it, especially if you want to see the sunset over Lake Michigan.
Love The Dog Beach (4.6 Star Review)
We have been to this state park numerous times, and it is our favorite in Michigan. The staff is welcoming and accommodating. The campground is close to the beach, has brand-new restrooms, and is well wooded. At the beach, I do suggest wearing water shoes. There are rocks for the first 15 feet or so in the water. It then turns sandy. The beach is dog-friendly and has a nice sand bar, which is significant pluses. We come here annually.
Final Thoughts of the Van Buren State Park
Van Buren State Park is a great location to enjoy hiking, biking, swimming, and fishing. The park is especially popular with families from Chicago and northern Indiana looking for an affordable vacation destination that won't break the bank. There are plenty of things to do here, including visiting nearby Lake Michigan beaches and participating in other summer activities like shopping in the beach towns or golfing at nearby courses.