Lake effect snow from the Great Lakes occurs when warm lake water evaporates, and dry, cold air currents slide over the region. Water retains heat more than air. This causes some open water in the Great Lakes to evaporate into the air and warm it. Rising into the atmosphere, this warm, wet air cools as it travels, turning into clouds that dump the frozen water on downwind land. These lake effect snow belts are identified due to a continuous pattern of snow during the winter months.
The lake effect snow is explained in a simple video showing the Great Lakes region's major areas where this type of weather pattern prevails. This pattern occurs when snow falls on the lee side of a lake, generated by cold, dry air passing over warmer water, especially in the Great Lakes region.
Lake Effect Snow Explained – what is lake-effect snow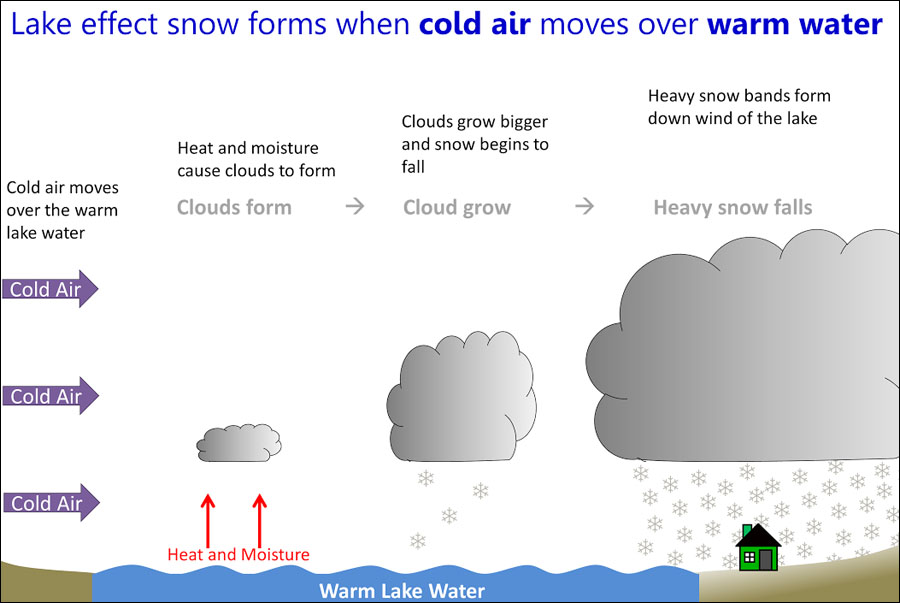 The cold, dry air, often originating from the west and Canada moves across the Great Lakes' open waters. As the cold air passes over the unfrozen relatively warm waters of the Great Lakes, warmth and moisture are transferred into the lowest portion of the atmosphere. The air rises, clouds form, and grow into a narrow band that produces 2 to 3 inches of snow per hour or more.
Wind direction is also an indicator of which areas will receive lake effect snow. For example, heavy snow may be falling in Caseville while the sun may be shining in Bad Axe. The physical barrier that Sand Point represents also has some impact on weather patterns on the south shore of Saginaw Bay.
Recipe for Lake Effect Snow
Conditions must be absolutely correct for the formation of heavy lake effect snow to occur. Without all the elements in place, the chances of snow development are diminished. Here are the typical conditions for snow development.
Open Warm Water – The lakes need to be open and relatively ice-free. The lake water also has to be warmer than the air above it so evaporation can occur.
Light Dry Winds – As the wind gently whisks over the warmer lake water, it picks up the moisture and it rises to the upper atmosphere. If the winds are too strong, over 25 knots, then it can't pick up great volumes of moisture.
Land – Once this moisture-laden wind hits land, the speed intensity is reduced, and the air is forced up further, causing it to freeze and eventually drop as snow.
Lake Effect Snow Map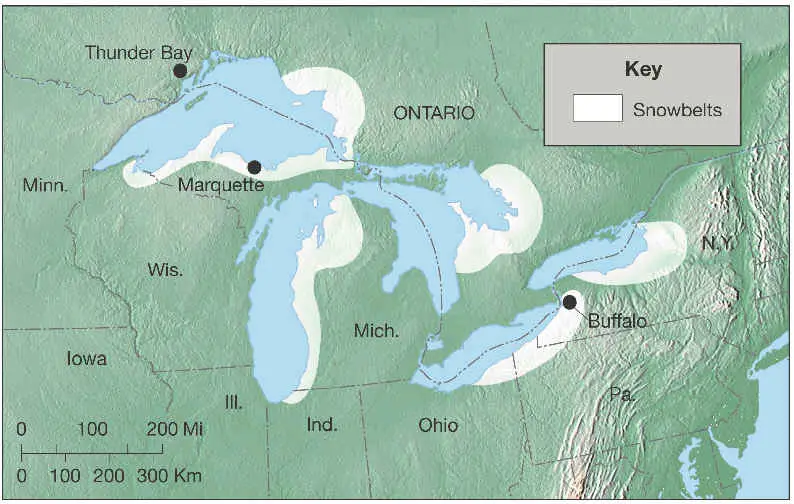 This lake effect snow map shows the greatest accumulations typically occur in Canada on the Bruce Peninsula and within Georgian Bay. The areas around Buffalo and western upstate New York are prime areas for Lake Erie and Lake Ontario snow formation due to prevailing cold arctic clipper winds from the west.
The Upper Thumb also experiences lake-effect precipitation during prevailing southwest wind winter storms or when Saginaw Bay is not significantly frozen over. These areas can act like a lake effect snow machine due to their proximity to a Great Lake and the elevation offshore for ideal snow formulation.
14 Great Lake Areas With Greatest Chance for Lake Effect Snow
Michigan Upper Peninsula – The Porcupine Mountains, Keweenaw Peninsula to Whitefish Point
Western Michigan – Traverse City, Muskegon, Grand Rapids, Kalamazoo, South Bend, and Elkhart
Lake Ontario & Erie – Cleveland, Ohio to Buffalo, New York. Western Update New York
Lake Huron – Georgian Bay, Bruce Peninsula, Western and Upper Michigan Thumb
Climate Change and Lake Effect Snow
According to the Great Lakes Integrated Sciences and Assessments Program, "snowfall has increased in northern lake-effect zones in the Great Lakes basin even as snowfall totals in Illinois, Indiana, and Ohio have declined with rising temperatures. Warmer Great Lakes surface water temperatures and declining Great Lakes ice cover have likely driven the observed increases in lake-effect snow."  As temperatures rise, resulting in warmer Great Lakes, lake-effect zones will have higher lake-effect snowfall. Areas in the southern great lakes may see more lake-effect rain.
The National Weather Service in Duluth, Minnesota, noted that due to a warmer Lake Superior "the lake is definitely primed for a good lake effect snow set up. All that warm water is potential energy for precipitation production. A warmer lake could also potentially lead to a longer lake effect snow season, as it will take longer for the lake to cool off to freezing temps and begin to create ice cover." As water temperatures rise, it will take the lakes longer to freeze. This sets up ongoing conditions for cloud cover, and the shores of the Great Lakes will be peppered with snow.
---
Buy Your Own Weather Station At Amazon
Images on this page may contain affiliate links in which we may receive a commission. See our affiliate disclosure for details.
---
Related Winter Reading Like Lake Effect Snow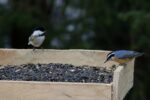 Now Is the Time to Put Out Winter Bird Feeders – The snow is already flying in some parts of the state, and there are still plenty of bird species flitting about in the snowflakes. Now that Michigan winter weather has set in, you can watch these seasonal songbirds flock to your outdoor bird feeders.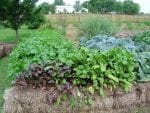 Straw Bale Gardening in Michigan's Thumb – With a large lot next to our cottage consisting mostly of sand and a little acidic oak leaf loam, the opportunity to put in a really successful garden was remote. So Melissa decided to experiment. The results were surprising.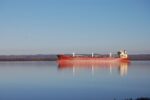 Six Great Places To View Freighters in Michigan – We found the top five places to watch ships and freighters on the Great Lakes. If you are from Michigan, you know it's one of the great pastimes of living on the Great Lakes. Watching the big Laker freighters slip past is an awesome sight.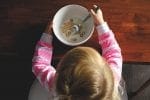 Michigan's Hometown Foods – There is nothing like the familiar foods of home. If you have spent any time in Michigan, you will find many posts for our love of UP Pasties, Faygo RedPop, BetterMade potato chips, and Vernor's ginger ale. That is only the beginning.

Michigan has definite opinions on Climate Change – It turns out Michigan residents have a strong viewpoint on climate change. Michigan has even stronger expectations of what to do about it. Needless to say, most residents think that there is both a public (government) and a private (business) responsibility to address this important issue.
---