The Great Lakes Steamer B.F. Ferris was built in Sandusky, Ohio, in 1870 by John E. Monk. She was 124 feet long, 21 feet wide, and seven and a half feet deep. This ship was named for a hardware magnate from Sandusky, Benjamin Franklin Ferris. The wooden ship is rated at 168 gross tons and a net tonnage of 93. George Ellithorpe, Valentine Doller, Jacob Hass, and William Freyensee were the first to receive her. George Ellithorpe was the ship's first master. The engineer was Jake Haas, and the clerk was William Freyensee.
B.F. Ferris Originally Worked in Lake Erie
The owners rebuilt the ship in 1879. In 1886, Ohio inspectors' records show that they required the vessel to be outfitted with three watertight bulkheads before she could pass inspection. Originally the ship was built to run from Sandusky, Ohio to Port Clinton, Ohio, stopping at Marblehead, Lakeside, Catawba Island, and Moore's Dock. However, the Ferris stopped going to Port Clinton in 1875 after the Sandusky Bay Bridge was built. Instead, she lay nights at Moore's Dock and later at Put-in-Bay, Ohio.
About Western Lake Erie in the 1890s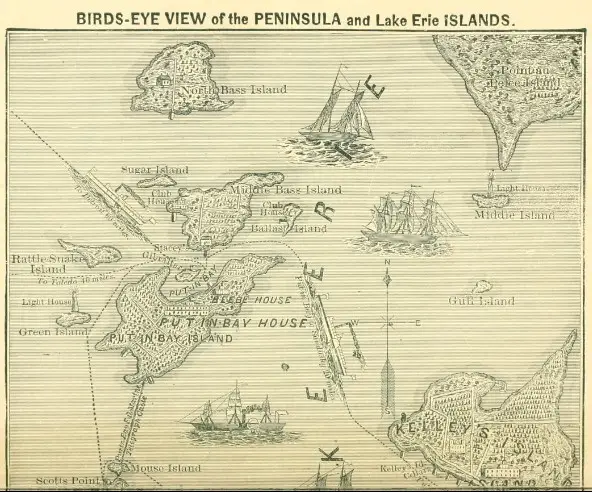 In 1891, the areas surrounding Sandusky Bay Bridge, Moore's Dock, and Put-in-Bay, Ohio, were important centers of activity for the shipping and maritime industries in the Great Lakes region.
Sandusky Bay Bridge: The Sandusky Bay Bridge, completed in 1875, was a vital transportation link connecting Sandusky and Port Clinton in Ohio. Before the bridge was built, travelers and cargo relied heavily on steamers and ferries to cross Sandusky Bay. The bridge's construction significantly improved the transportation of goods and people, reducing the need for ships like the B.F. Ferris to serve this particular route. The area around Sandusky Bay Bridge was bustling with economic activity, as it facilitated trade and commerce throughout the region.
Moore's Dock: Moore's Dock, located on the Marblehead Peninsula, was another important maritime hub in the late 19th century. The dock was a stopover point for steamers and other vessels traveling along the Lake Erie shoreline. It was where passengers could board or disembark and goods could be loaded or unloaded. As a result, Moore's Dock was likely a lively area, with a constant flow of people and cargo moving in and out.
Put-in-Bay, Ohio: Put-in-Bay is a village on South Bass Island in Lake Erie. In the late 1800s, it was a popular destination for tourists and travelers drawn to its natural beauty and recreational opportunities—steamers like the B.F. Ferris often dock at Put-in-Bay, transporting passengers and goods to and from the island. The village had a vibrant community, with hotels, restaurants, and entertainment catering to visitors. Put-in-Bay was also an important center for commercial fishing and agricultural production, with the island's grapes, peaches, and other fruits being transported to markets across the region.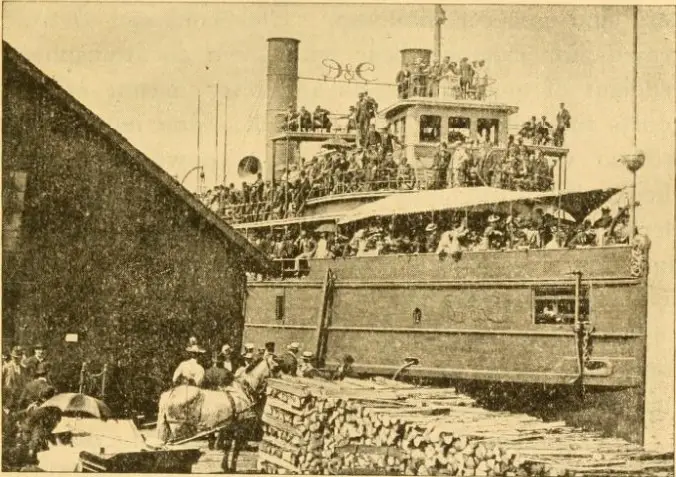 During this period, the Great Lakes region was experiencing significant economic growth, and maritime transportation played a crucial role in connecting communities and facilitating trade. The areas surrounding Sandusky Bay Bridge, Moore's Dock, and Put-in-Bay, Ohio, were vital components of this larger network, contributing to the region's overall prosperity in the late 19th century.
By June 1890, the Ferris was running a route between Saginaw, Michigan, to Winnona Beach. The following year she was plying a route between Tawas and Caseville Harbor in Saginaw Bay.
The End of the Steamer B.F. Ferris at Caseville
On July 29, 1891, the Port Huron Daily Times published this short account. "The steamer B.F. Ferris, plying between Tawas and Caseville, burned at her dock in the port of Caseville Saturday night. The crew barely escaped with their lives. The Ferris was owned by Henry Turner of Saginaw and was valued at $8,000, and insured for $5,000."
The next day, the Marine Review published "Steamer B.F. FERRIS, plying between Tawas and Caseville, burned at the latter place, fire breaking out in the boiler room. She was owned by Turner of Saginaw, valued at $8,000 and insured for $5,000. The crew escaped with their lives but lost their clothes. The FERRIS met with several accidents during her short career, having been sunk at Saginaw two years ago."
The following January 1892, the Steamer B.F. Ferris was listed as out of commission along with Oscar Townsend, Oswegatchie, J.S. Ruby, and the tug Mildred. On October 17, 1893, the last entry was surrendered in Port Huron and noted as "burned to a total loss."
Sources
Related Reading for Great Lakes Steamer B.F. Ferris