I'll admit that I've taken a liking to cruise. It must be the influence of having a sailboat that we have taken from port to port on Lake Huron. Great Lakes Cruising is making a comeback. Recently several cruise ships have announced routes and stops throughout the Great Lakes region. Currently, there are three cruise lines that cover the Great Lakes. Victory Cruise Lines, Great Lakes Cruise Company, and Blount Small Ship Adventures. The Great Lakes Cruise Company has four ships that cover a wide range of ports and destinations.
One ship, the Pearl Mist is small enough to tackle the famous cruising grounds of Georgian Bay and the beautiful North Channel. Prior to the railroads and highways being built in Michigan the only quick way to travel between any major Michigan port town or Chicago, Detroit, and Bay City was by steamer. We take a look at the glory days of Great Lakes cruising history and 1800s ship travel.
What We Cover
---
Cruising was the Primary Way to Travel in the 1800s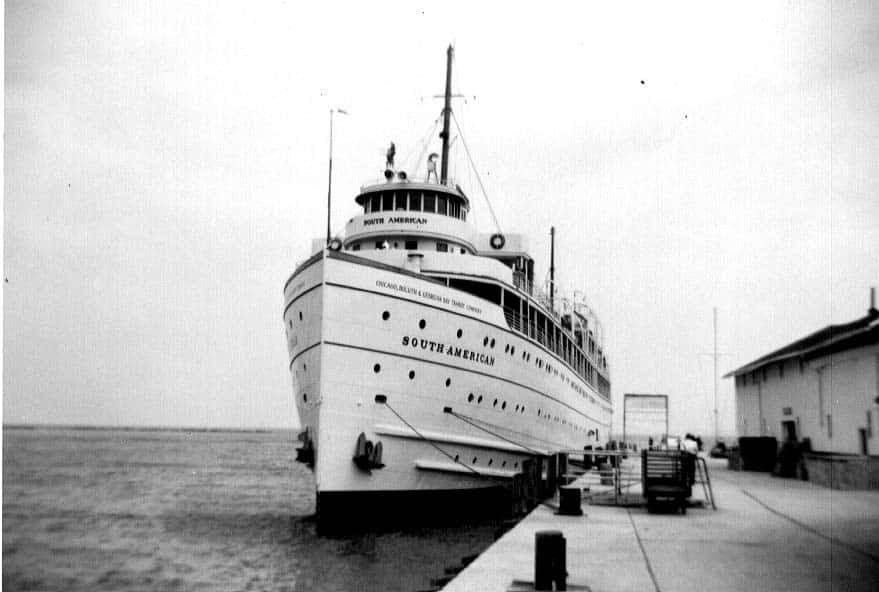 In the days before the highway and autos, the only way to travel the vast distances for the Great Lakes was by sail and steamer. In the mid-1800s until well into the 1950s one could travel most of the lakes in style and comfort. One of the most famous and beloved ships was the SS South American. The SS South American was a Great Lakes overnight passage steamboat built by the Great Lakes Engineering Works at Ecorse, Michigan. It was built in 1913 for the Chicago, Duluth & Georgian Bay Transit Company. The vessel was launched on February 21, 1914, and was the newer of two sister ships, the older one being the SS North American.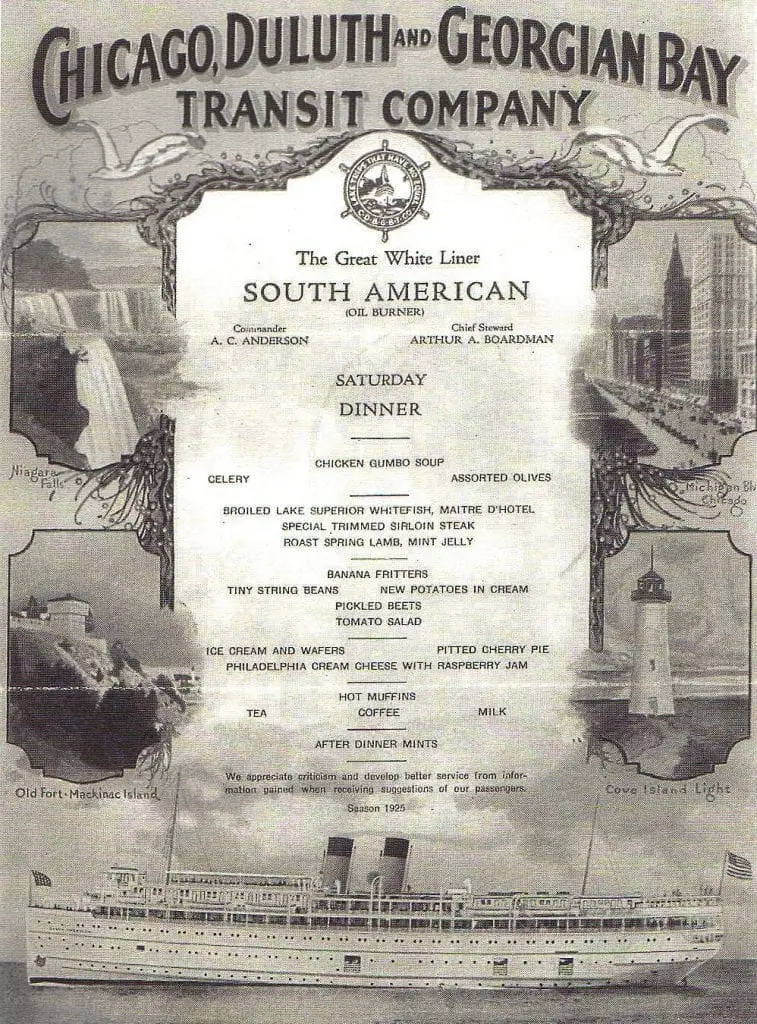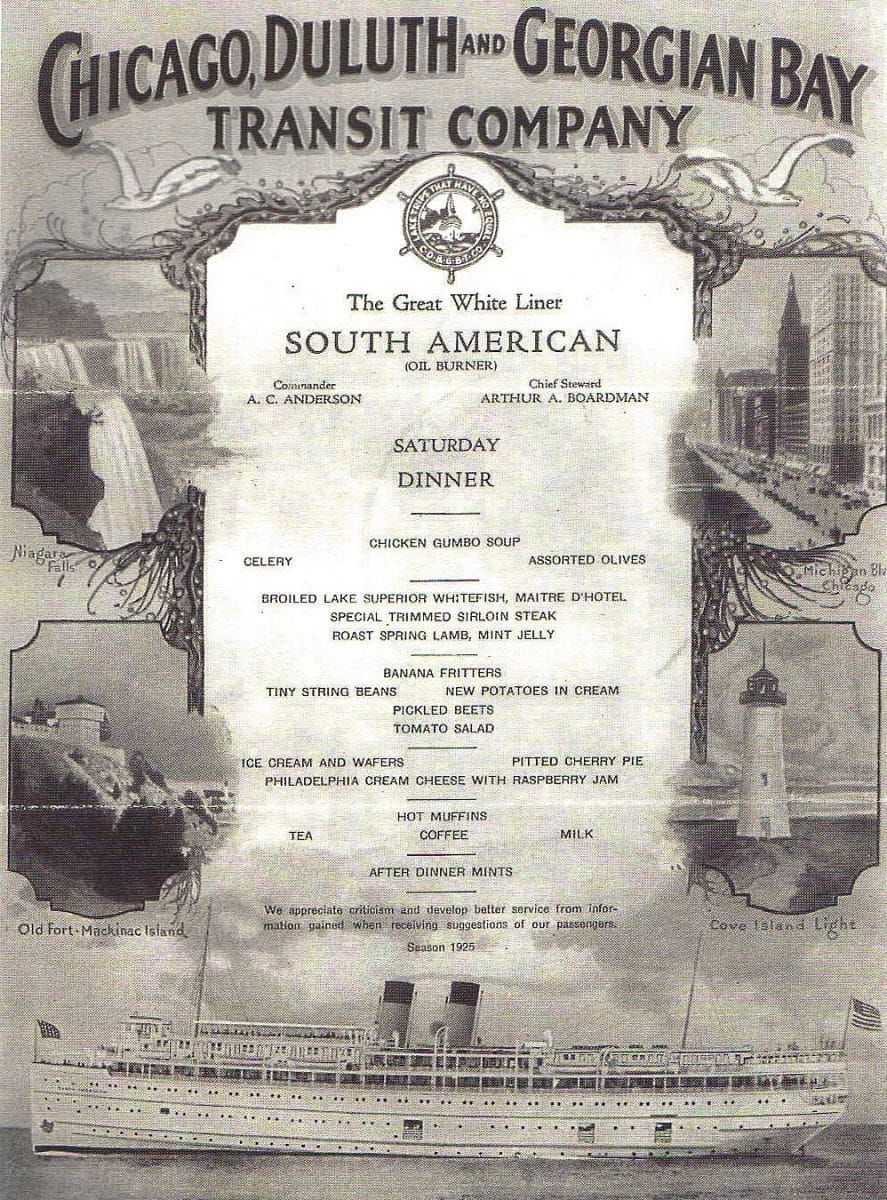 Along with its sister ship, SS North American carried passengers between Chicago, Mackinac Island, Sault Ste. Marie, Michigan, Duluth, Georgian Bay, Detroit, Cleveland, and Buffalo. These were the heydays of the industry. A businessman could board a ship in Chicago for an overnight trip to northern Michigan. Spend the weekend with the family in the cool northern cabin in the woods and take the ship back to the city on Sunday night for work on Monday. It was noted that Hemingway's father did just that early in the 1900s. It was a common occurrence for the 1800s ship traveling public.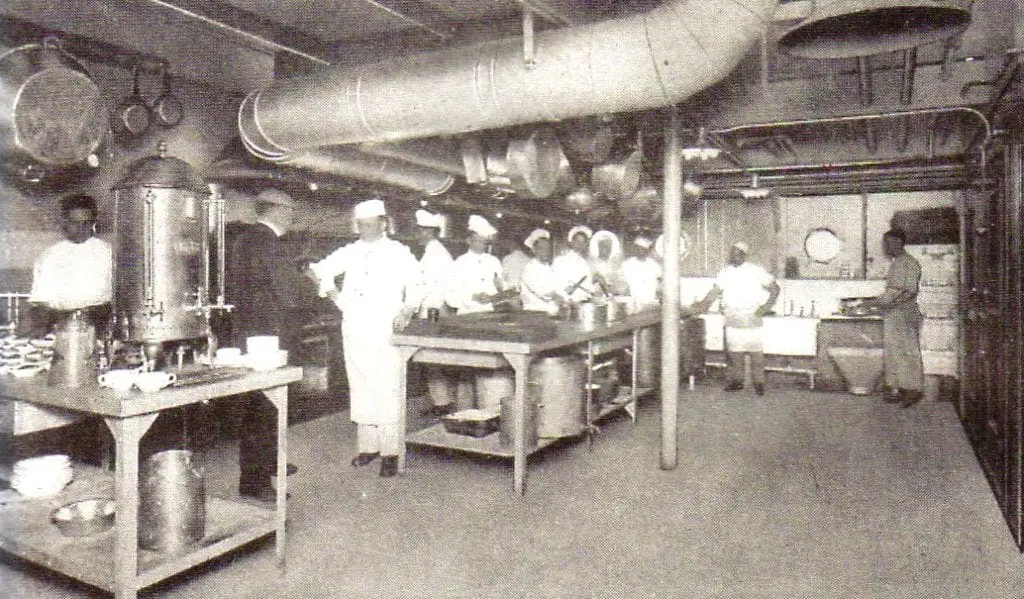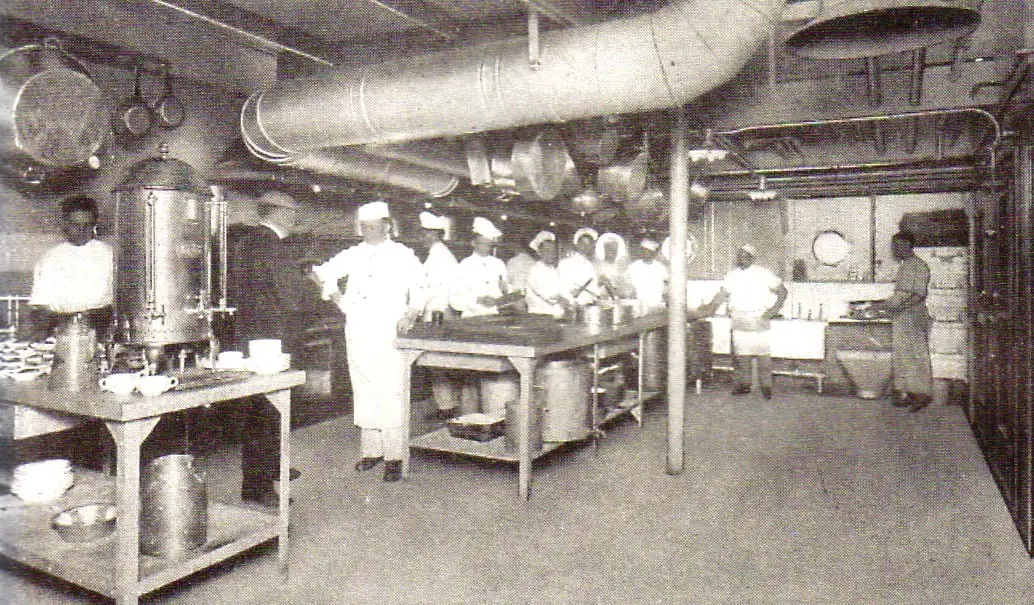 Only the South American visited Lake Superior and made a short weekly stop in Michigan's Upper Peninsula town of Houghton/Hancock. She carried over 450 passengers. The rare picture below hangs in the Rock Harbor Lodge on Isle Royal. It shows tourists being dropped off at the American Dock which still stands today.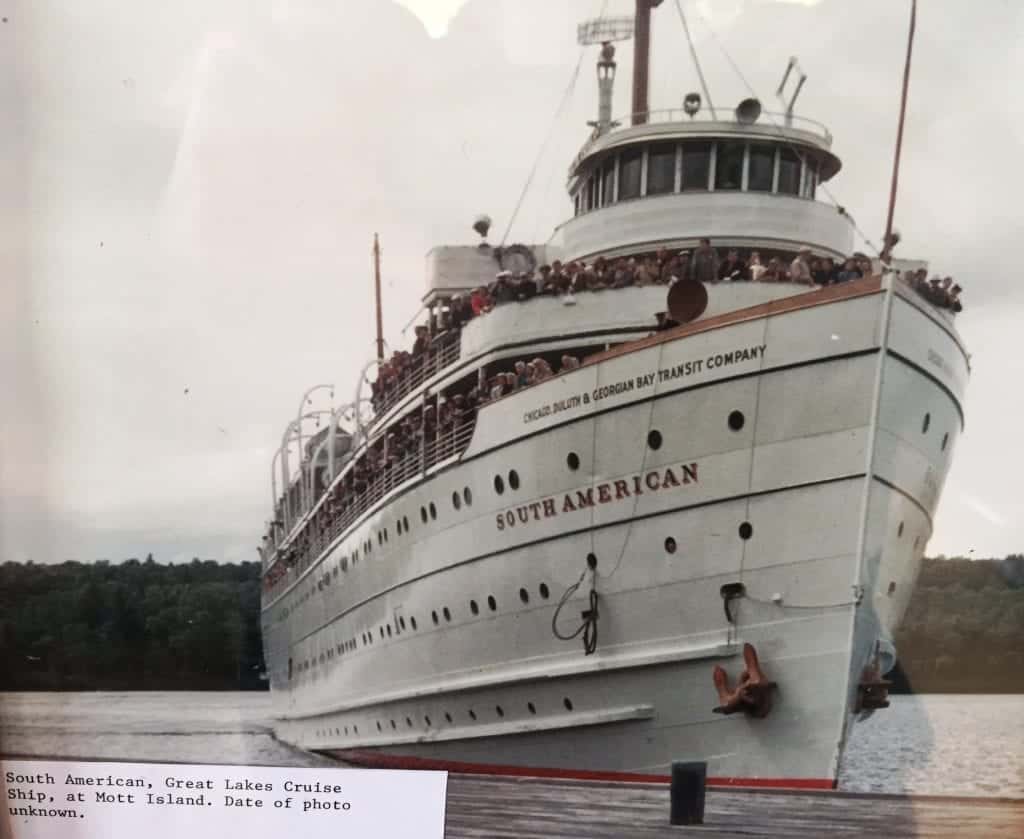 ---
Great Lakes Cruising was a Tradition
The South American was well known for its High School trips in the 1950s. Southeast Michigan high school seniors would take a small cruise from Detroit to Chicago. The last season for the South American was in 1967. Her final route was to offer trips to the 1967 World's Fair in Montreal.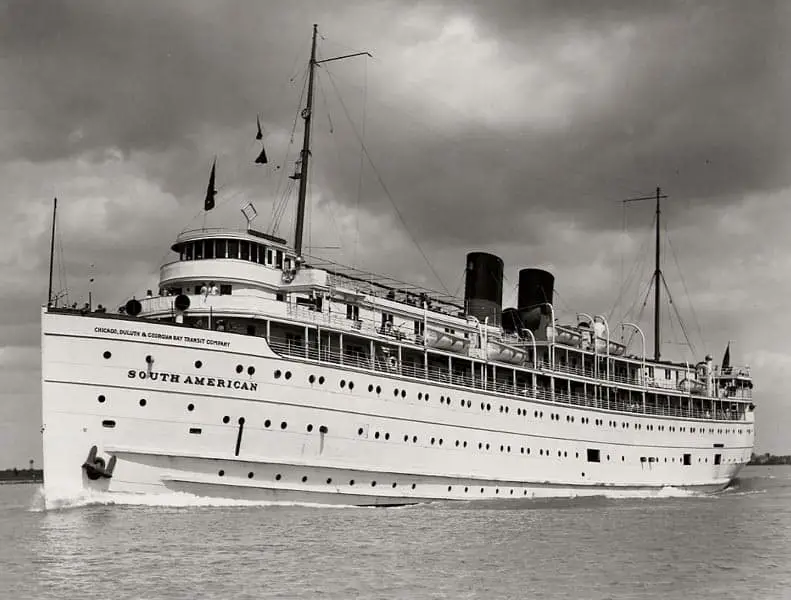 Sadly, both ships are now part of history. The SS North American sunk on the Atlantic coast while being towed and the SS South American rotted away and was finally scrapped in 1992. However, with the rapid popularity of cruising now taking place, I expect to see more of these small cruising ships ply their way among the Great Lakes.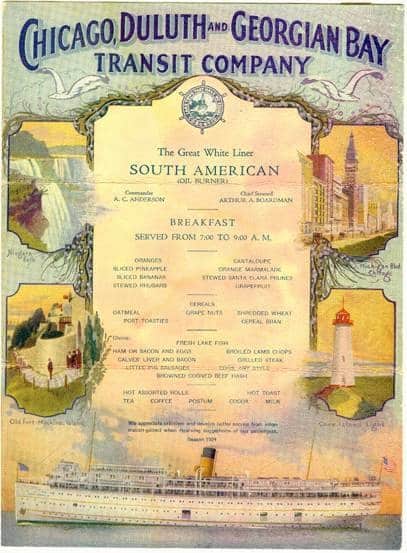 ---
The Birth of "Going Up North"
By the late 1800s travel by steamship has gotten luxurious. Michigan's tourism and resort areas began to grow because steamships could take a businessman from Chicago or Detroit to join families in northern Michigan Friday afternoon and return him Monday morning rested and refreshed and ready to work.
One story of local lore involves the father of Michigan-born author Ernest Hemingway. Clarence Edmonds Hemingway, or "Ed", was a doctor with a practice located near Chicago. Each summer he would take the family to their cottage called Windemere located about 11 miles from Harbor Springs. The Hemingways would take ships such as the Manitou, Missouri, or Illinois along the Lake Michigan shore north to Harbor Springs. However, he had a busy practice, and Dr. Hemingway would commute via steamer from the Chicago docks to northern Michigan for a long weekend. It was a full day of travel.
Ship traffic was at its peak in the 1870s with what one historian described as a freeway of passenger and freighter traffic moving in and out of Saginaw Bay.
---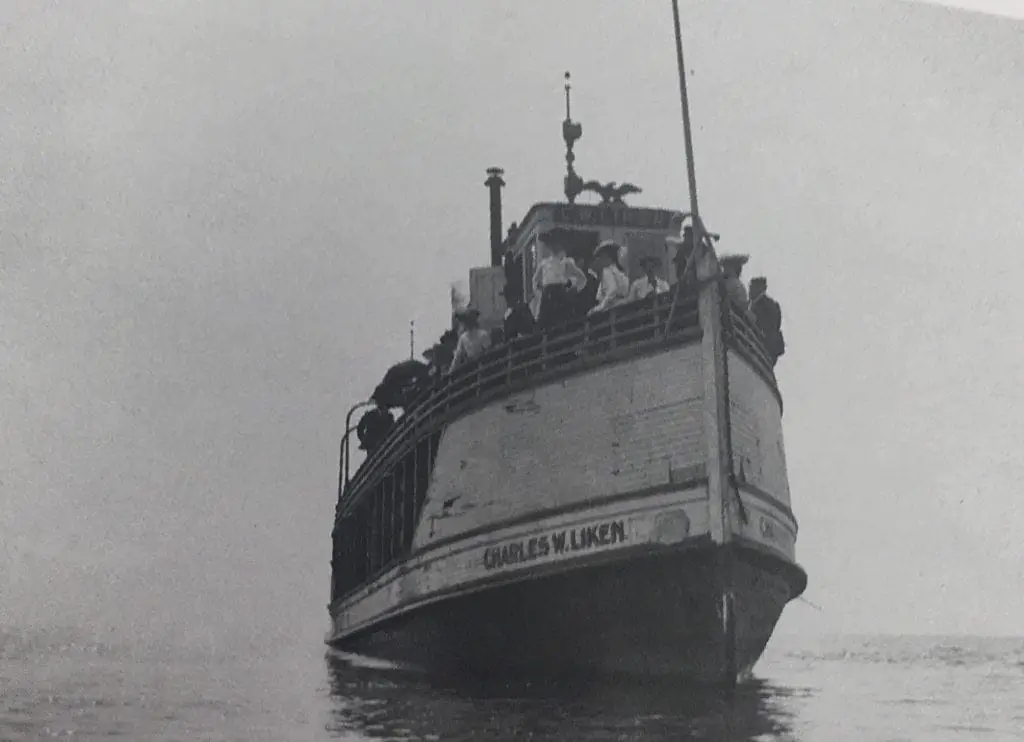 ---
Service on Saginaw Bay
The steamer Charles W Liken was built as a tug in 1880 in Bay City by the West Bay City Shipbuilding Company. It was listed as 63 foot long, 38 ton 36 horsepower ship. It lists its homeport at Bay City, Michigan in 1881 then Sebewaing in 1883. With a draft of only 5 feet, it was an ideal craft for 1800s ship travel and the shallow ports along Saginaw Bay. It was transformed from a tug to a passenger steamer in 1898. The craft had two decks and carried passengers and mail.
---
The End of the C.W. Liken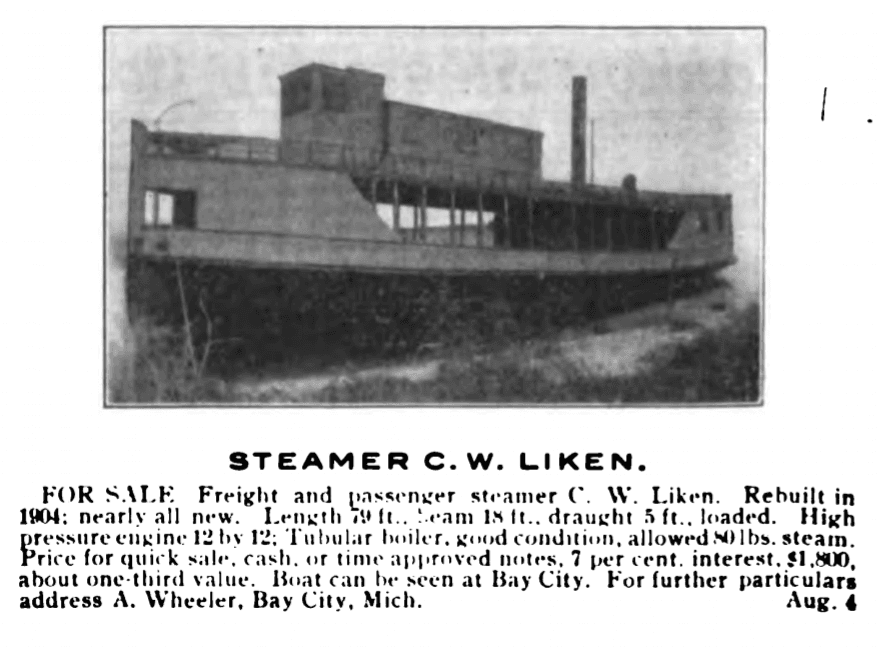 ---
While details are sketchy, the C.W. Liken operated for seven years as a passenger and mail courier. In 1904 it was rebuilt and listed for sale.
---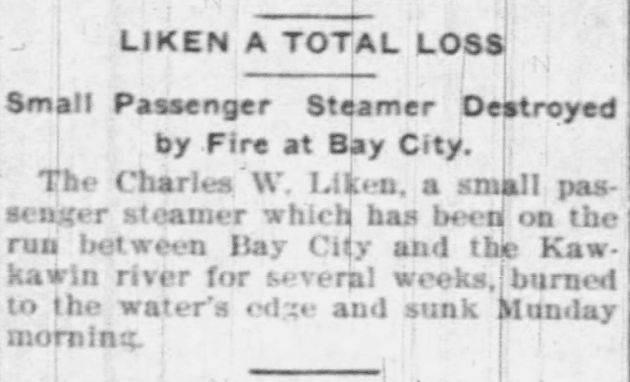 ---
On August 13, 1905, the C.W. Liken burned to the water line in the Saginaw River in Bay City and declared a total loss. The ship was officially removed from registered service on August 15, 1905
---
Ships Serving Saginaw Bay and Michigan's Thumb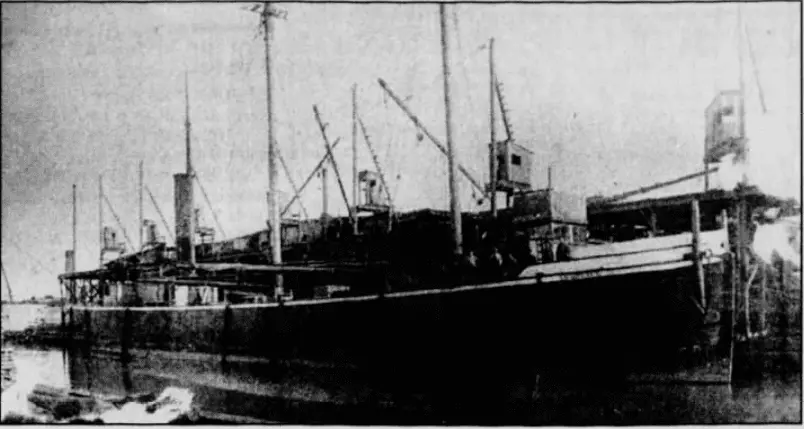 ---
Steamship Companies
Between 1830 and 1910 there were hundreds of ships plying the Great Lakes hauling passengers and freight. Here are some notable transport Lines of Great lakes cruising history and the ships that served the Saginaw Bay and Great Lakes region.
---
Great Lakes Ship Travel with the Star Line
The Star Line had been in operation since the 1870s. In 1883, A. N. Moffat brought a 55% controlling interest in the tug line and took over established passenger service between Detroit and Port Huron. This was a competitive route. During one season in 1800s ship travel, a rate war commenced between the Star Line and its competitor, the Cole & Grummond Line. One-way fares dropped from 75 to 15 cents and the competition extended to how fast each could complete the river run. The "river war" lasted until a truce was called between the companies and rates returned to normal for the rest of the season. Ultimately the Star Line hit hard times forcing its general manager and majority owner, A.N. Moffat into retirement. Declining revenues enabled Moffat's company to be taken over by the White Star Line.
Star Line Ships
Milton D. Ward – Built 1870 in Marine City. 182 feet, 500 hp.
Robert J. Holland – Built 1872 Marine City. 156 feet.
Evening Star – Built 1866 East Saginaw. 168 feet.
Saginaw Valley – Built 1881. Saginaw. 181 feet.
---
Cleveland & Saginaw Transportation Co.
Headquartered in East Saginaw this line offered transport of passengers and freight from Bay City/ Saginaw to Goodrich Ontario, Sand Beach, Port Hope, Grindstone City, Port Austin, Caseville, East Tawas, Tawas City, and Alabaster. The firm offered Great Lakes ship travel with modern ships with upper deck sleeper cabins.
Cleveland & Saginaw Transportation Ships
Jacob Bertschy
Keweenaw
Benton
St. Joeseph
---
Accommodations Aboard a Great Lakes Steamship
About fifty cruise steamers sailed on the Great Lakes before World War II. These large, luxurious ships have about eight elegant "parlors" or staterooms with double beds and private baths, all finished in paneling and gingerbread trim. The remaining seventy to one hundred rooms were like this cabin pictured above. Those with windows or portholes corresponded with the "second class." Inside cabins without portholes might be described as "third-class" although these designations were not used. This reconstruction of the 1800s ship travel and cruising history is based on the accommodations in the Canadian steamer Keewatin.
---
Great Lakes Steamship Video
---
Sources on Great Lakes Cruising History
Merchant Vessels of the United States, By United States. Bureau of Customs June 30, 1881
Great Lakes Vessels Online Index
Marine Review, Volume 30, 1904
Detroit Free Press
Maritime History of the Great Lakes
Related Reading
---