Caseville County Park was and is a premier beachfront park in Michigan's Thumb.  The park first opened in 1919 and has been a Caseville campground and beach destination for Southeast Michigan. The park is located on the site of a former sawmill and salt production operation.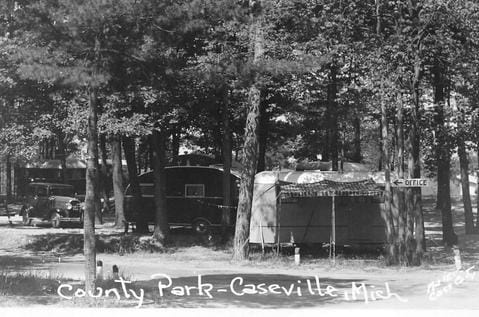 ---
Camp at Caseville County Park
The Caseville campground and park is located on Saginaw Bay and is a short walk into Caseville's shops and stores. The campground and beach sit on 40 acres, with 58 water & electric sites, and 172 full-hookup sites. Sites are also available for seasonal and overnight camping.
The park is known for having one of the largest and nicest groomed beaches in Southeast Michigan and is great for swimming, volleyball, kayak rentals, and taking in the summer sun. Boat launches are available at the nearby marina, as is fishing at Caseville Pier.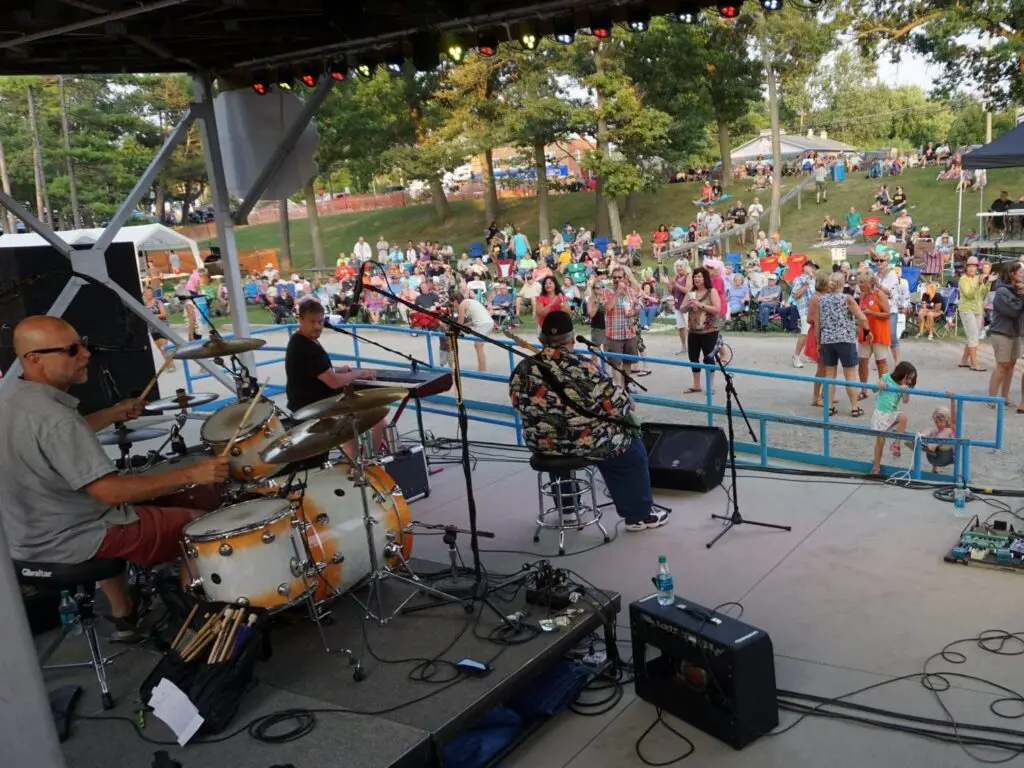 Caseville County Park is also home to an amphitheater that offers entertainment during festivals and special events.
Related Reading
Vintage Camping with Tin Can Tourists – The enthusiast group first formed in 1919 in Tampa Florida. The organization is composed of over 1000 members all of the United States, Canada, and Japan. The rally is regularly held at Port Crescent shows some of the best-restored motor coaches and travel trailers in the region.
Port Austin Butterfly House and Gardens – The Butterfly House and Gardens give you a chance to see various Michigan species of butterflies up close and personal. The 30×50 netted house and surrounding gardens are beautifully landscaped and many of the plants are identified.
Camp on a Ghost Town At Port Crescent State Park – Port Crescent State Park is one of the largest state parks in southern Michigan. Located at the tip of Michigan's "thumb" along three miles of sandy shoreline of Lake Huron Saginaw Bay, the park offers excellent fishing, canoeing, hiking, cross-country skiing, birding, and hunting opportunities.
Thrift Store Shopping in the Upper Thumb – Helping Hands Thrift Shop on Main Street in Caseville. This is a mission of the Caseville United Methodist Church and is one of the most highly rated thrift shops in the region according to ratings on Yelp and Google.
Five Secrets of Sleeper State Park – Sleeper State Park was the first state park in the Thumb. It has been a place to visit for over 95 years with an excellent beach and modern campsites. It's one of the most widely visited parks in Southeast Michigan. Yet the park contains impressive secrets.