Michigan, or the Wolverine State, is a fantastic winter travel destination. There are plenty of indoor and outdoor things to do in Michigan in winter with your friends, family, or significant other.
There is nothing more beautiful than the frozen lakes of Michigan. The snowfalls transform the entire state into a magical winter wonderland that will make your visit unforgettable.
Table of Contents
Things to Do in Michigan In Winter
Across the snowy forests, icy shores, and waterfalls, you'll have the opportunity to discover breathtaking landscapes. The naturally amazing terrain is the perfect winter destination, especially if you are an adventurous type. We have picked our favorites out of all the great things you can do in Michigan in the winters.
Let us explore them together.
Hiking on the Frozen Lakes
Michigan's snowy landscape is incredible for winter hiking, especially when the lakes are frozen over. Explore the incomparably beautiful coastlines. The scenery is unique: remarkable rocks and large boulders on the frozen beaches. It's a time of year to see some shoreline features that are inaccessible during the summer months.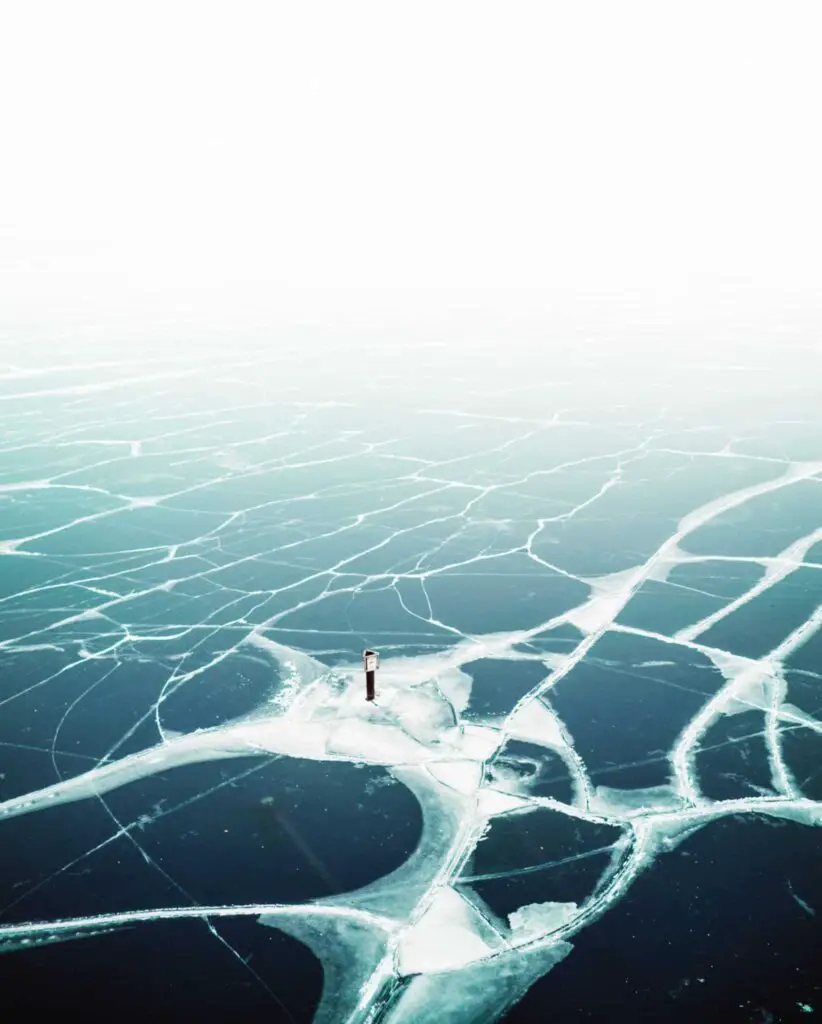 The winter hiking trails in Michigan are numerous. However, nothing compares to the breathtaking views as you climb the 350 steps at the Grand Haven of Rosy Mound Natural Area or the colorful sandstone cliffs at the Sleeping Bear Dunes National Lakeshore.
Follow the marked trails through the woods to find the spectacular open views of Lake Michigan. It doesn't matter which trail you follow. Most lead to the shore. Be prepared and wear proper boots and a jacket.
Things to Do In Michigan In Winter: Skiing and Snowboarding
Wherever there is a big hill and snow, there is a ski resort. In this case, Michigan is a snow paradise! There are more than 40 ski areas in the Upper and Lower Peninsula. You can choose a different one each year. Still, there are a few things to consider before choosing the best one for you.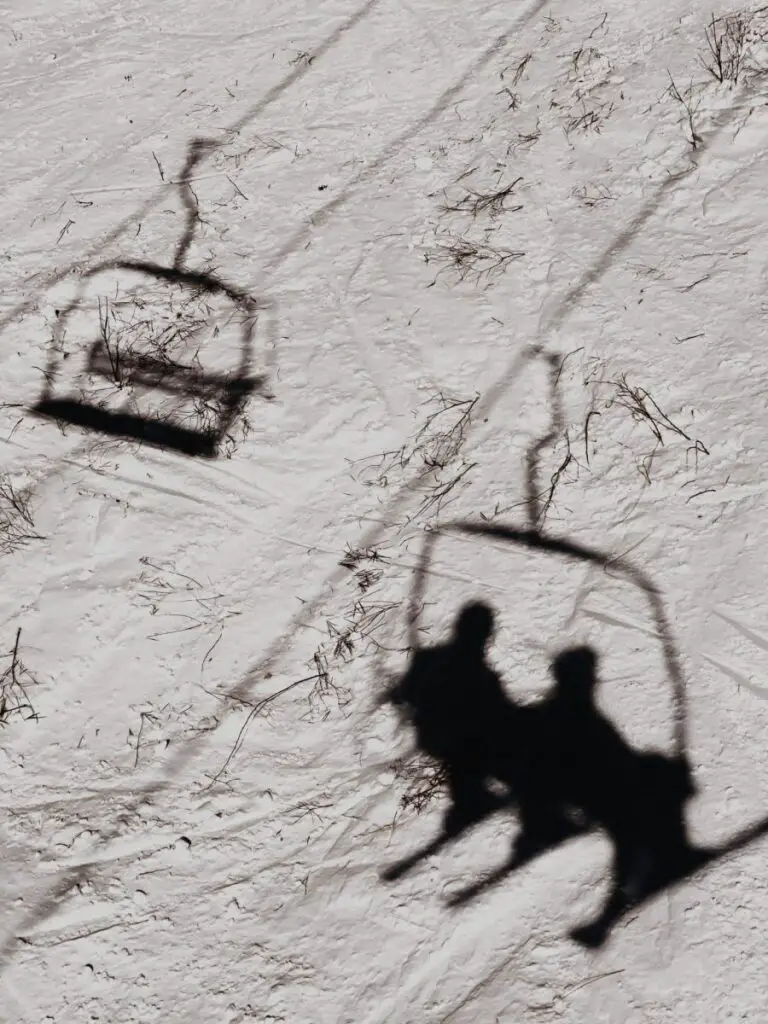 Many ski resorts offer lessons for beginner skiers and snowboarders, along with slopes and ski trails that are beginner and family-friendly. However, be assured that there are fantastic and black diamond challenging slopes for advanced skiers at Boyne Mountain and Mount Bohemia Ski Resort in the Upper Peninsula. 
You'll find other amenities at these ski resorts, such as spas, health clubs, and indoor sports, if someone in your group doesn't want to participate in the ski activities.
Fun Things to Do in Michigan In Winter – Dog Sledding
Have you ever tried a dog sledding experience? This activity is super fun for families too. You can find dog sledding on both the Upper and Lower Peninsulas. Imagine zipping along on a sled pulled by energetic dogs in a beautiful forest. It's a bucket list experience.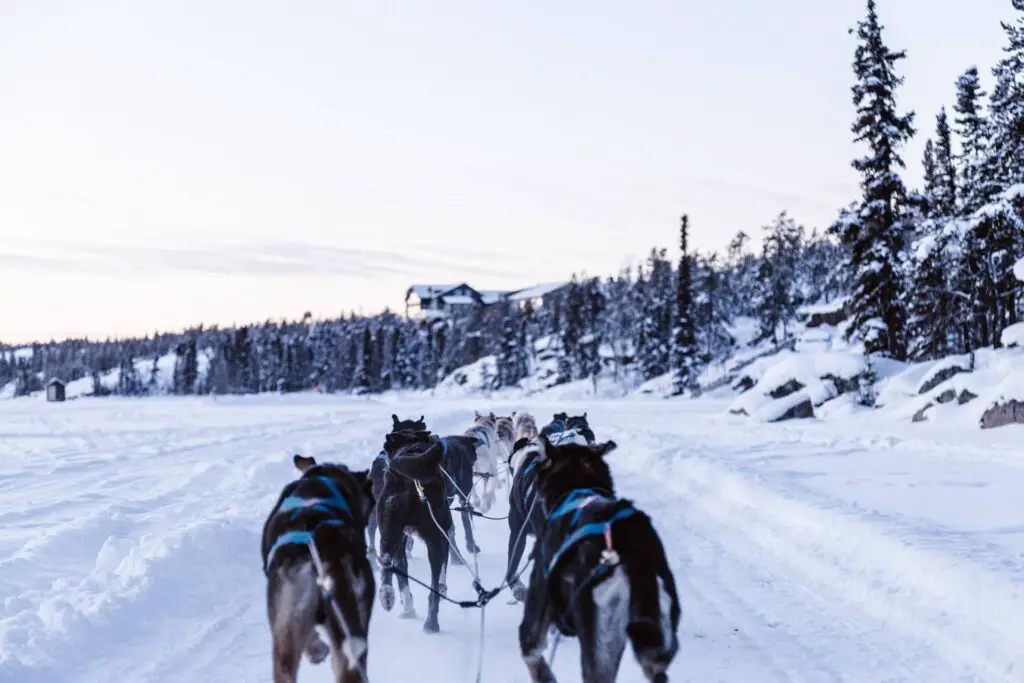 Typically, a dog sled will accommodate a load of one adult, or one adult, and one child, or three children. During these activities, you will learn about the history of dog sledding and, of course, the dogs. Cadillac and Munising are some of the most popular destinations for this sport.
Dog sledding trips are available from mid-December through the end of March. Due to the high demand for this sport, you should book early, around November, to make sure there is a place reserved for you.
If you prefer the thrill of dog sled racing, Michigan hosts multiple events throughout the winter. At the UP 200 in Marquette, the CopperDog 150 in Calumet, the Tahquamenon Country Sled Dog Race, and the Kalkaska Winterfest, you can experience the excitement of the race firsthand.
Take a Craft Beer Tasting Tour
Michigan is not only known for its fantastic winter landscapes. You also have the opportunity to explore Michigan in other ways. One of the things to do in Michigan in winter is to tour Michigan's breweries. That's right, Michigan is also known for its beers. 
More specifically, there are more than 350 different breweries throughout the state. In addition, plenty of great beer tours are happening all over the state. Be sure to try the brewery closest to you. 
Some will agree that there is nothing better than a good glass of wine. Michigan is home to five American Viticultural Areas (AVA). We are talking about various wines here, from red wine varietals to elegant white wines. Try the unique ice wine made from grapes harvested below 20ºF!
Winter Camping in Michigan
If you love winter and are adventurous, you'll love winter camping in Michigan. Small, cozy winter cabins await you in the snowy woods. Imagine waking up to a frozen lake and a snowy forest view.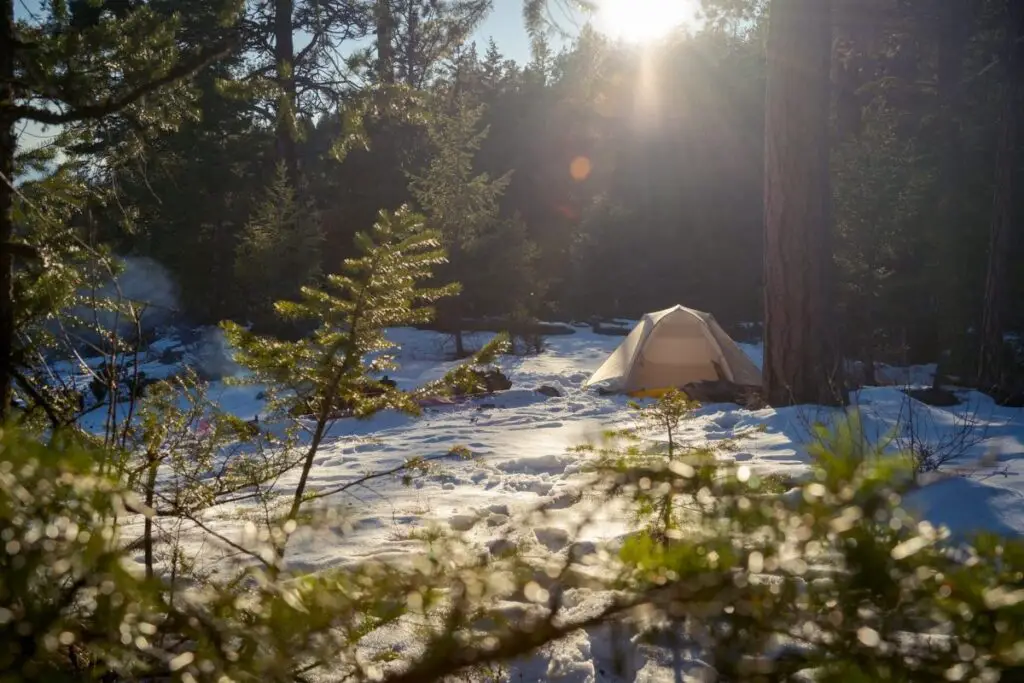 Remember, you can also camp with your tent at several great locations like Muskegon State Park or Warren Dunes State Park. 
Make sure you have all the basic camping essentials (a good sleeping pad, winter tent, etc.) and, of course, a good camera. After all, you want the perfect pictures to create excellent mood board templates and decorate your home with long-lasting memories.
romantic things to do in michigan in the winter: Spa Time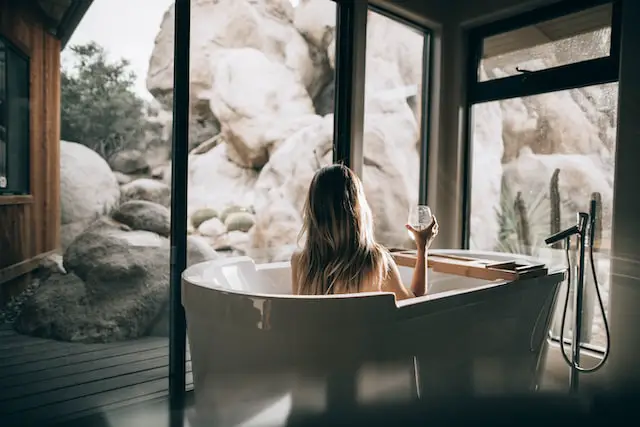 It's the middle of winter, and you're feeling a little blue. You know what would help? A day at the spa!
Whether you're looking for a relaxing massage or just want to pamper each other, there are plenty of ways to shake off the winter blues with a romantic day at a spa. If you're feeling like your relationship needs some TLC, try getting massages together. This is a great way to connect and relax while also getting in some quality time together. Plus, it's pretty fun!
A day at the spa is one of the things to do in Michigan in winter. Maybe you just want to treat yourselves with some pampering! If so, consider booking appointments for massages or facials–these treatments can leave even the most stressed out person feeling relaxed and rejuvenated.
Celebrate the Christmas Season
Are you planning a visit to Michigan during the Christmas season? If so, you have plenty of options. There are numerous Christmas events in Michigan that you can follow and enjoy the activities. 
Our personal favorite is Frankenmuth. Frankenmuth is a vacation town just south of Saginaw. Here you will find the largest Christmas store in the world. You will also be thrilled with the festivities. Check out the experienced guide before you go to avoid missing out.
Visit the Frozen Waterfalls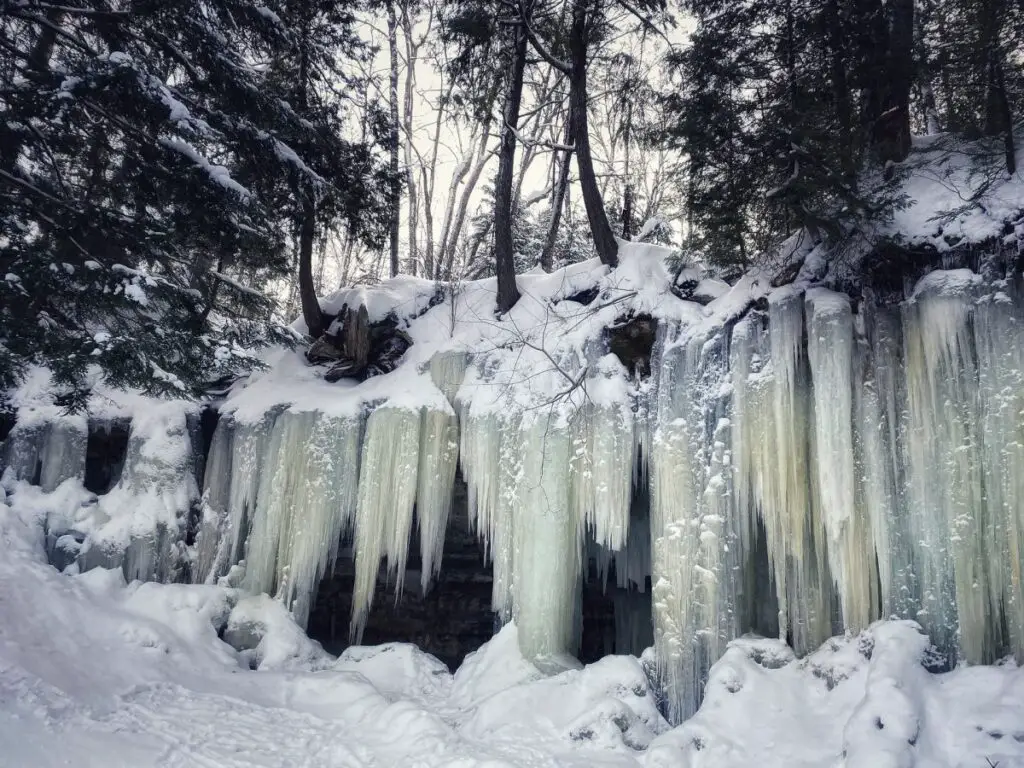 The fantastic winter wonderland isn't complete until you visit Michigan's spectacular frozen waterfalls. Then, when temperatures drop in the winter, the falls freeze over, allowing you to see a fairytale setting. 
The best place to explore is Alger County, specifically the Hiawatha National Forest and Pictured Rocks National Lakeshore in the Upper Peninsula. 
There you will find more than 15 frozen waterfalls. This unique phenomenon takes place every winter. So if you visit Michigan in the winter, you will have a chance to see it.
If you are a bit of a winter hiker, it's worth checking out the Eben Ice Caves just south of Au Train in the Upper Peninsula. This ice formation grows enormous as water seeps from deep springs. Some folks bring gear to climb the ice.
Mountain Biking In the Snow
Another great way to explore Michigan's winter landscape is winter biking. This activity is suitable for pretty much anyone who can ride a bike. You can easily explore beautiful landscapes like the Deep Lake Trail and the Noquemanon Trail Network on a fat bike.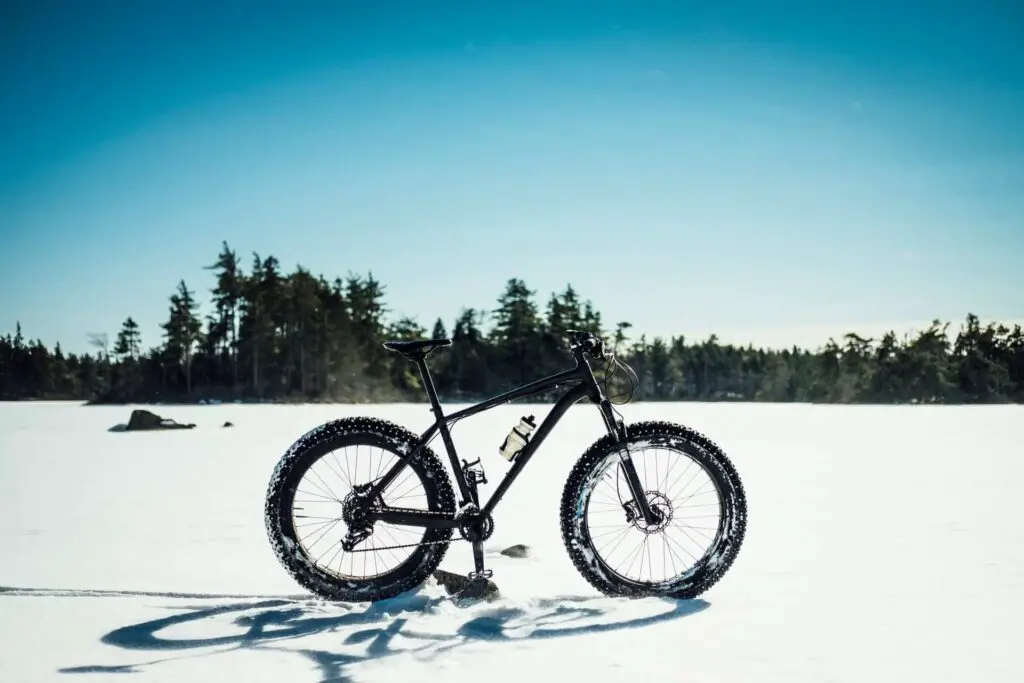 More than 20 locations around Michigan are perfect for winter biking. If you are into winter sports, biking in the snow is necessary.
And the best part is that you do not have to own a fat tire bike. There are plenty of ski resorts and ski towns that offer bike rentals.
fun things to do in the winter in michigan : Winter Stargazing & Northern Lights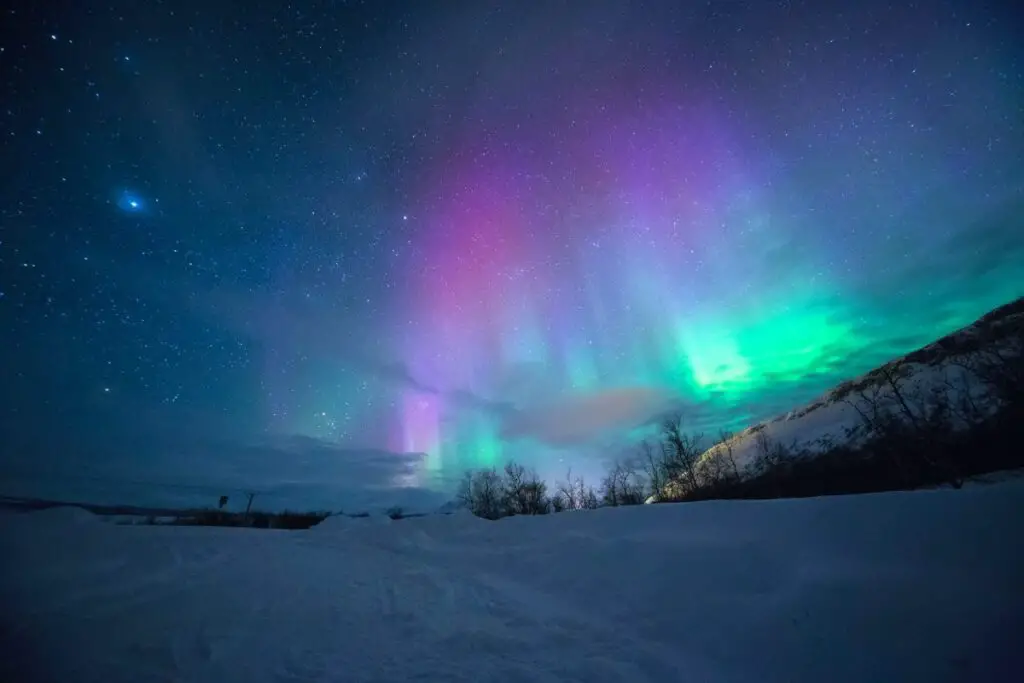 Are you ready for some dark-sky events? If so, you will be happy to know that there are plenty of stargazing events in Michigan during the winter. Just to name a few:
Full Moon Stroll in Howell
Full Moon Stroll in Midland (January and February)
Music Under the Stars in Bay City (February)
Michigan is known for its beautiful skyscapes. But, to be exact, the Great Lakes area is surrounded by complete darkness. And that's the perfect backdrop for dark-sky events. One of the closest Dark Sky Preserves to Detroit is the Port Cresent State Park.
If you have never experienced stargazing, this winter might be the time to do it!
Things To Do in Michigan During Winter Indoors – Cultural and Fun Activities
You have chosen the right place if you prefer indoor activities during the winter months. Michigan has plenty of cultural and fun indoor activities for you to explore. Let us take a closer look:
The Henry Ford Museum
The Ford Museum is more than just a guided tour of the car brand's history. The museum spans more than 250 acres full of exciting attractions. That's why it's a beautiful place to visit, even in the winter. So are you ready to explore an utterly innovative museum?
Detroit Institute of Arts
The Detroit Institute of Arts houses numerous art collections and exhibitions worldwide. Nothing is left out here, from American and African art to photographs and art from Asia and the Islamic world.
Legoland
Legoland needs no introduction. If you are a fan of Lego or want to take a day trip with the family, you should visit this discovery center. Remember that Legoland is open from Wednesday to Sunday, and you need to book your tickets in advance.
Sea Life Aquarium
Sea Life is the largest aquarium in Michigan. Walkthrough a 180-degree underwater tunnel, come face to fin with sharks and rescued sea turtles, touch a sticky anemone, and explore more than 10 breathtaking exhibits. With more than 250 species (sharks, sea turtles, jellyfish, clownfish, seahorses, and more) and numerous exhibits, a visit here will be memorable.
Flint Institute of Arts
Like the Detroit Institute of Arts, this institute is a must-see for art lovers. Located in Flint, the institute houses numerous collections and exhibitions. With more than 850 paintings and sculptures and about 3000 works on paper, the FIA has one of our most popular collections of American art.
things to do in winter in michigan – Visit a Michigan Lighthouse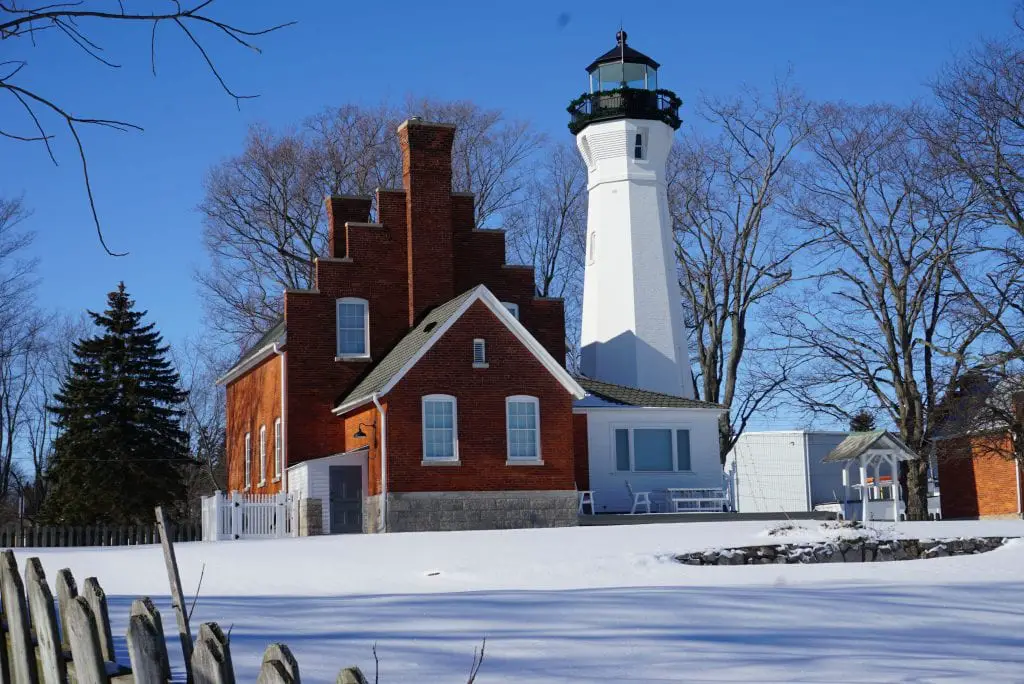 With more than 120 lighthouses and an endless shoreline, Michigan has the perfect landscapes for a lighthouse visit. Are you ready to explore Michigan's frozen beauty? If so, all you have to do is wait for the temperatures to fall and visit one of the most famous lighthouses. 
Lake Michigan lighthouses are by far the most popular. We recommend visiting the pair of lighthouses on the North Pier (St. Joseph River). Keep in mind that some lighthouses are closed during the winter months. 
Final Thoughts On Things to Do in Michigan in Winter
It becomes evident that Michigan offers numerous sightseeing opportunities and activities during the winter months. However, the increased temperatures will probably cause a delay in the Great Lakes ice coverage in 2022-2023. 
So, maybe it's time also to explore other breathtaking winter landscapes and deep more profound into the culture and history of Michigan.