Michigan is famous for exciting places that are full of various activities for visitors to try. Spa hotels in Michigan appeal to couples, solo travelers, friend groups, and families. There are many spas where you can slow down and relax on a vacation getaway. While most destinations are for thrill seekers, the Great Lakes State also has a lot to offer for rejuvenation.
Spa Hotels in Michigan
Best Spa Hotels in Michigan
Spa days are the most effective way to relax your tense muscles. Spending quality time in the spa is seamless way to reduce anxiety, enrich your mood, and trigger relaxing responses in your mind. You can also get various treatments to make your skin glow and feel confident afterward. Forget the fuss of your daily life on your next trip to Michigan. Nothing can beat rejuvenation and pampering surrounded by vibrant cities and scenic settings. Here are the top spas in the state of Michigan. 
Crystal Mountain Spa and Resort, Thompsonville
This spa is located in Northern Michigan on an 18,500-square-foot oasis with scenic views to make your day. This is one of the best places for bachelorette parties, as the amenities are perfect for treating your friends and yourself like a princess. This spa's location also makes it the perfect destination for family trips.
Crystal Mountain is the go-to place for ice skating, skiing, an Alpine slide, chairlift rides, hiking, and much more. Moreover, the amenities at the spa are also top-notch, with heated floors, indoor pools, saunas, and steam rooms. Spa services include manicures, facials, makeup massages, and much more.
Boyne Mountain Resort, Boyne
Boyne Mountain Resort is the right place for you if you are a mountain lover and also want spa treatments. It is just the right place to enjoy a traditional European-style bath. Bathe in the whirlpool following a cold shower, cedar sauna, and steam. You also get four-hour access to a state-of-the-art gymnasium.
The spa offers facials, makeup packages, massages, and nail treatments. There are also various activities, both for summer and winter, to keep yourself going. Moreover, the accommodation at this destination spa is also perfect, and you can select from clock tower lodges to cabins on the mountain. 
Historical Webster House, Bay City
This is one of the perfect places for people with aesthetic taste. One of the notable places that has been lovingly renovated is the historic Webster house. The place has an on-site spa with all the modern amenities. You can also book accommodations here to experience luxury. The facilities at the spa include a whirlpool bath, double-headed rain showers, and a dry sauna. The spa offers hot stone massage, parental massage, deep tissue massage, and reflexology. You will also get gourmet breakfasts, wine and cheese receptions at night, free beverages, and free Wi-Fi. Also, the area is close to downtown and has a lot of antique shops and places to eat.
Grand Hotel, Mackinac Island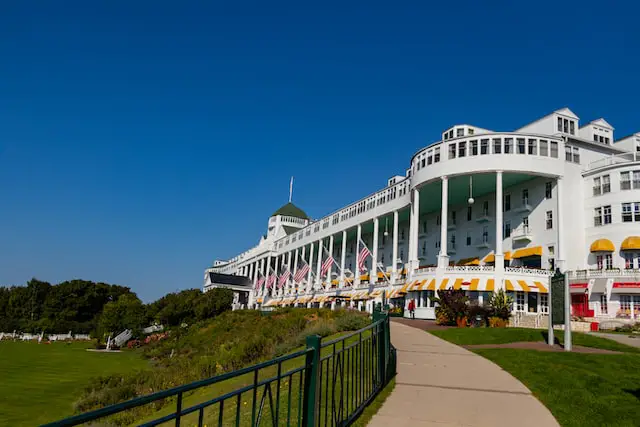 Because of its scenic settings, Mackinac Island is one of the most popular destinations. It is also famous for destination weddings due to the lovely climate. Astor's spa is located on the lower floor of the Grand Hotel. The place is one of the best spa hotels in Michigan. They offer manicures, pedicures, facials, and various other refreshing treatments. You can also engage in various health and fitness activities, from tennis to swimming. Moreover, the hotel also offers various lawn games, horse tours, and live music. This is also a family-friendly resort. Thus, there are also various fun activities for kids.
Amway Grand Plaza, Grand Rapids
Along with Grand Rapids' scenic views, the county is also famous for its hotel spas. One of the popular hotel spas is located in the Amway Grand Hotel. The spa accommodates both hotel guests and non-hotel guests. The spa specializes in beauty, and you can treat yourself to facials, makeup services, and eyelash extensions.
You can also get complimentary access to the pool while visiting the spa. They also use high-end equipment, as well as Naturopathic and Aveda products. The amenities also include a jacuzzi and sauna. Moreover, you can also explore the city and have the finest moments there.
MGM Grand, Detroit
The place is tops among spa hotels in Detroit when it comes to staying relaxed and being entertained. The Immerse Spa inside the MGM Grand offers a wide range of services and treatments. The place is popular for botanical and aromatherapy-based treatments. You can also detox your body with their special treatments. There are also various nail, face, and body treatment packages. They also offer various massages and baths to make your skin glow. The amenities at Immerse Spa also include an infinity pool and cabanas. There is also an option to play top golf in the hotel.
It's one of the top hotels in Detroit. In 2020, MGM Grand Detroit earned a Forbes Travel Guide four-star hotel award. There are also a lot of fun things to do at the hotel, like play slots and visit restaurants, nightclubs, and casinos.
Inn at Bay Harbor, Petoskey
Discover The Spa at Inn at Bay Harbor, an Autograph Collection Hotel on Lake Michigan
When it comes to treating yourself perfectly, the Inn at Bay Harbor Spa is the best place for self-discovery. The scenic views and self-care treatments are perfect for enjoying the solitude. You can opt for their amazing spa packages, which also include breakfast. The accommodation is also highly relaxing, and you can have quality vacations. The facility also includes restaurants and a wine bar. Moreover, the resort is also a perfect place for golf lovers. The spa services include skin care treatments, nail services, and various massages. The harbor view in the evening is also perfect for enjoying a cup of tea and relaxing.
JW Marriott, Grand Rapids
JW Marriott Spa is the best place to go when it comes to business trips and relaxing escapes. Its central location makes it an ideal spa day destination for working people. The spa offers various treatments, including waxing, manicures, facials, foot baths, body wraps, massages, and much more. The guests at the spa also get complimentary access to the pool and fitness center. Moreover, the place also has so much to offer for on-site dining. You can enjoy authentic French cuisine at Margaux. The accommodation is also available 24/7, and you can get it without reservations.
Final Thoughts on Spa Hotels in Michigan
Just like those who love to go to water parks, Michigan has a lot to offer savvy spa-goers. You can visit these amazing locations and make long-lasting memories. The state has something to offer every visitor. From business meetings to family trips, you can enjoy a spa day in any of these destinations to reduce stress in the best way possible. 
---
---
Other Michigan Hotel Get-a-Way Destinations
11 Marvelous Hotels In Port Austin Michigan That Are Overlooked By The Big Travel Sites – There are 11 hotels in Port Austin Michigan that offer a wide range of accommodations. From romantic rooming at a bed & breakfast, cozy cottages to beachfront suites, there is accommodation for a long weekend to a month of vacation days.
Road Trip To Texas – One Frugal Snowbird's 3-Day Itinerary With Drury Inn & Suites – If you are retired, spend time between the south during winter and at a northern cottage or cabin each summer; you're a snowbird. But, of course, a snowbird's favorite activity is taking a morning coffee out by the pool while your friends up north are shoveling out from the last lake-effect snowstorm.
9 Best Indoor Water Parks And Pools In Michigan – Winters in Michigan can be cold and grey. However, you are only minutes away from some great indoor water parks to chase away the winter blues.