Port Austin Mi is the Art and Cultural Center of the region with its galleries, Studio Tour Weekend, Labor Day's Art in the Park, and yearly Porch Concerts. But there is much more to see and do at the tip of the Thumb. If you need ideas for things to do in Port Austin MI, we have some suggestions for just about every taste.
Table of Contents
#1 Horseback Riding at Knoblock Riding Stable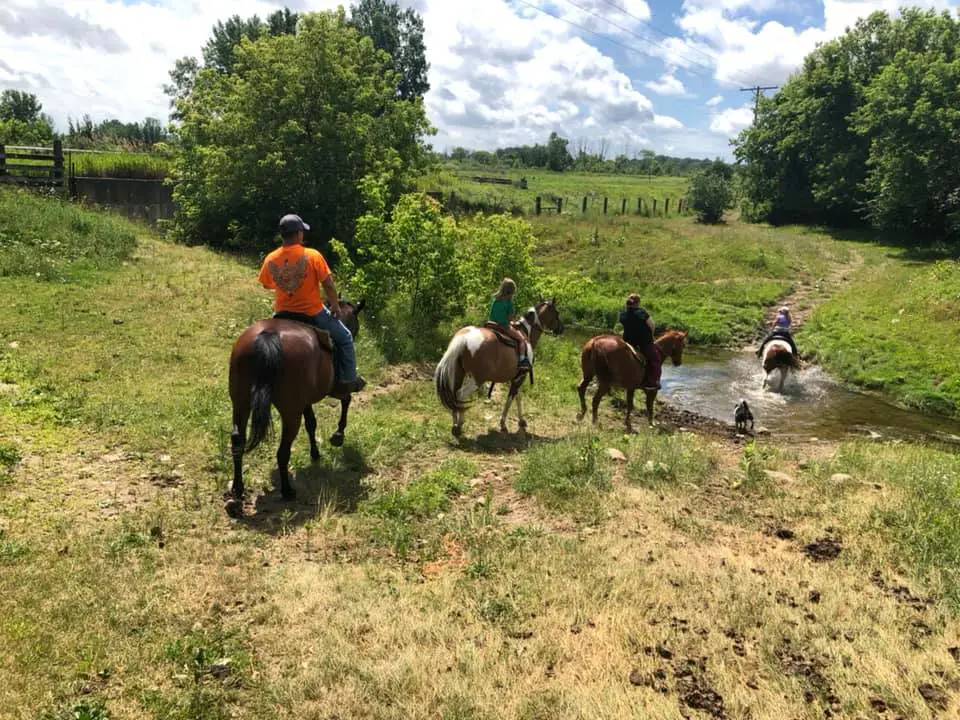 One of the things to do in Port Austin is to experience a few hours of exploring the country on horseback. This riding stable has been in the area for over 50 years. Highly rated and known for scenic trails and friendly horses. The trail ride is everything you would want it to be; through meadows, across streams, absolutely idyllic. The owner is also your guide and is known to teach proper handling and techniques for a great experience. The farm and stables are located south of Port Austin off of M-53 at 1075 Hunter Road. Visit Knoblock Riding Stable's Facebook Page for hours and contact information.
#2 Take a Boat Tour to Port Austin Lighthouse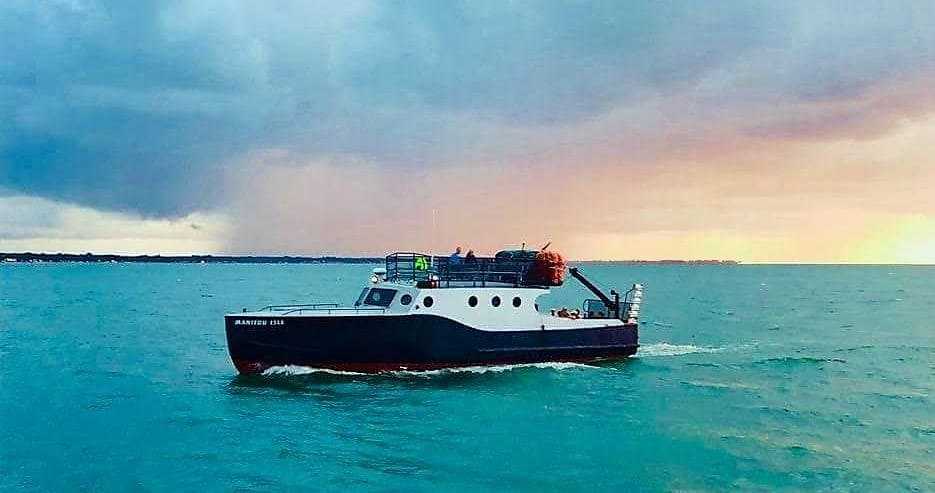 From time to time, Capt. Tom Carriveau is bringing his 50-foot excursion boat Lady of the Lake for mid-week tours from Port Austin. The tour allows guests to see Port Austin Lighthouse, Burnt Cabin Point, and the famous Turnip Rock outcropping near Pointe Aux Barques. Details, schedules, and costs can be found on the Explorer Charters site.
Visit and Climb To the Top of Port Austin Reef Light
Lighthouse at Port Austin Michigan
While a boat tour is nice, to see this Castle on the Lake, you have to take a tour that will actually allow you to step up into the lighthouse. Only one outfit does that: the Port Austin Reef Light Association, or PARLA for short.
One of PARLA's authorized pontoon boats departs from the Port Austin State pier, driven by one of their authorized charter captains. When you get to the Reef Light, their docents will welcome you and lead you around all seven stories of this unique marine treasure. Discover the past, the keepers' daily life, the storms, the shipwrecks, and what it was like to be a lighthouse keeper. Additionally, PARLA will discuss its goals and initiatives for restoring this special building to its former splendor.
The Port Austin Reef Lighthouse is only accessible via the PARLA trip, from the bottom to the top! The cost is $65 per passenger.
#3 Paddle A Kayak to Turnip or Broken Rocks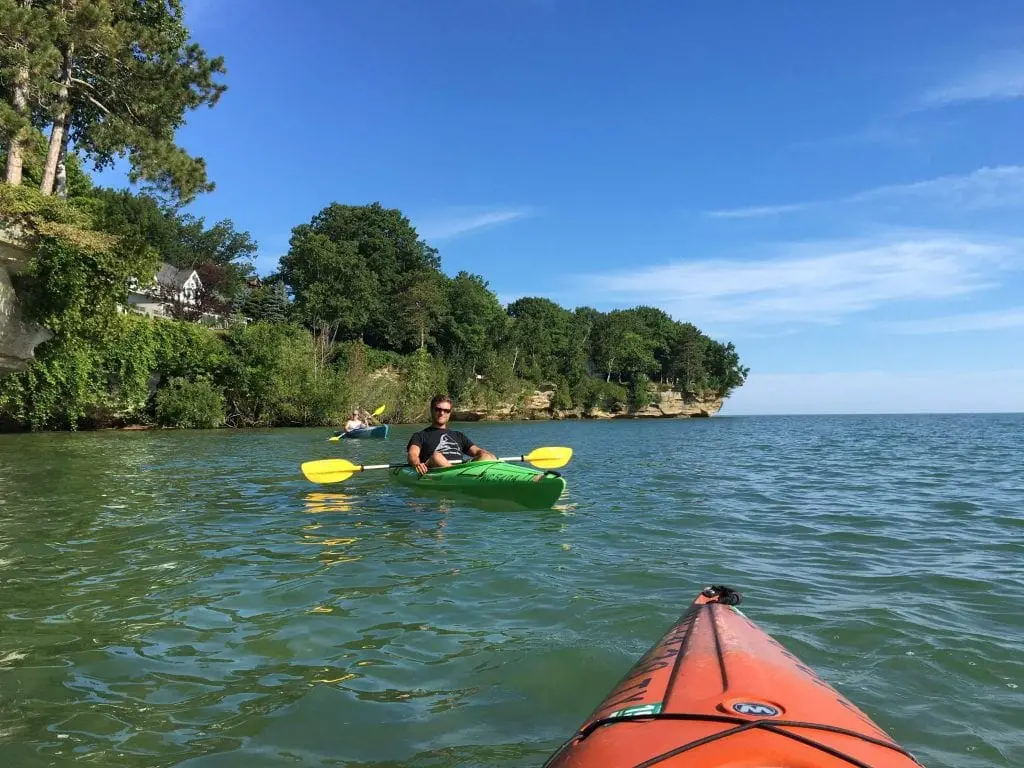 If it's a calm day with little or no wave action, rent some kayaks in Port Austin Kayak (referred to by the locals as the "PAK") and paddle east to Turnip Rock and explore the formations of Broken Rocks west of the harbor. Both water trails are relatively easy to do and offer some incredible scenery. Turnip Rock can only be seen from the water so bring your waterproof camera for some great shots.
If you're going to venture out to the famous Turnip Rock, read our hints in Paddling to Turnip Rock – 5 Things to Know. If you're thinking of buying a kayak or paddleboard for your Upper Thumb adventures, check out the product reviews of kayaks, paddleboards, and other outdoor gear at Globo Surf.
#4 Race Go Carts in Port Austin & Caseville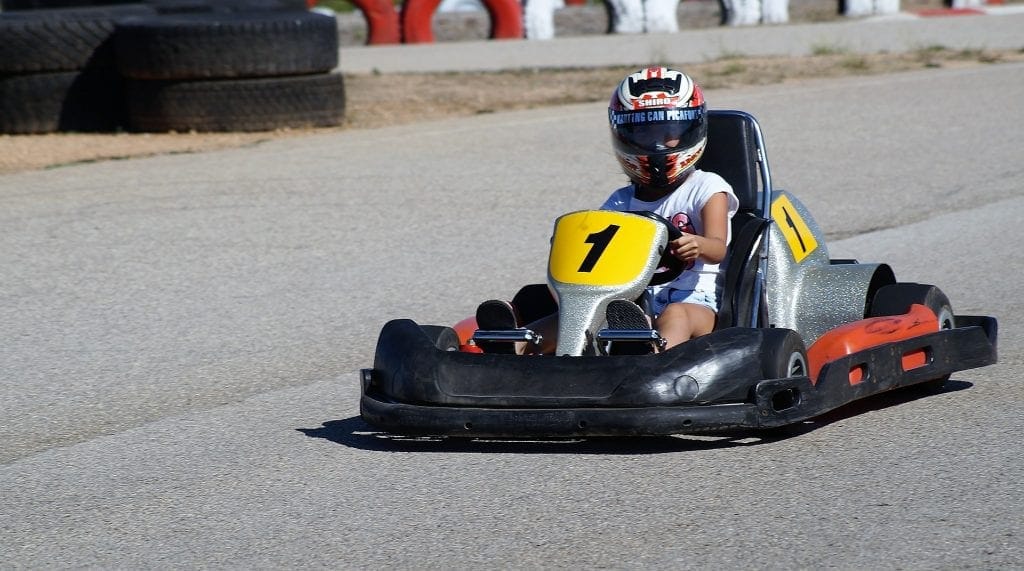 The Upper Thumb now has two full-featured go-kart tracks. In  Port Austin, the track is large and ideal for a tasting of real racing. You can take the little ones on a full-throttle ride around a tremendous winding track as an adult. Check out Family Go-Karts in Port Austin, south of town off of M-53. In Caseville, Key North Mini Golf and Family Fun Center claim to be the largest track in mid-Michigan. With 15 new karts and some two-seaters so, mom or dad can drive the youngsters around that are too small to do it themselves.
#5 Walk Through a Butterfly House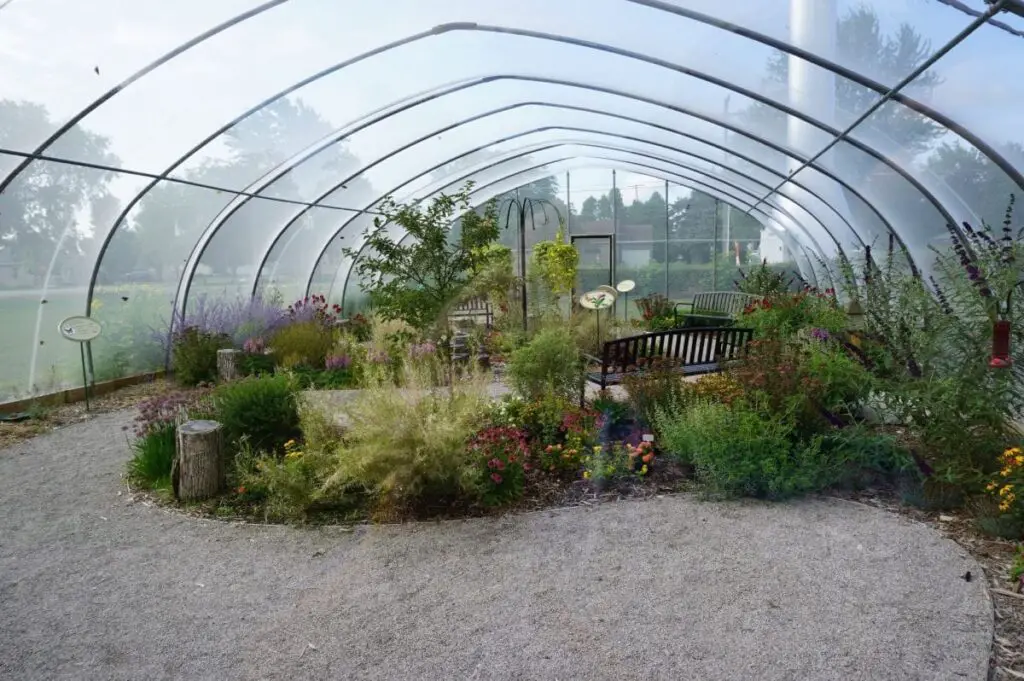 If you can see the Port Austin water tower you can walk to the Butterfly House and Gardens. This interesting exhibit allows one to sit and observe these fascinating creatures in a tranquil garden setting. The butterfly house is open on Saturday afternoon
#6 Play Miniature Golf in Port Austin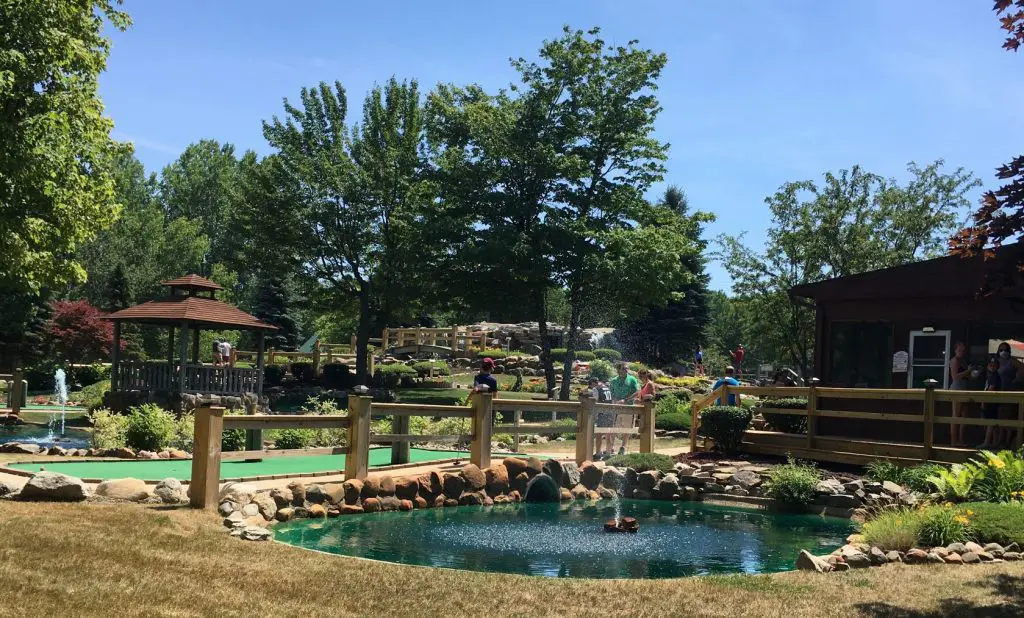 There is one classic Putt-Putt style and two other fun and family-friendly courses in Port Austin. While the adults may think of these as trite and insignificant, the kids will remember these little family jaunts for a lifetime. Take advantage of these roadside attractions before they disappear to XBox video games.
Sandy Dunes Adventure Golf
The biggest of the miniature golf circuit is Sandy Dunes Adventure Golf. It's a short drive west of Port Austin. This modern course sports Huron County's largest (and only) waterfall in the Thumb. Enjoy an ice cream as you strike the various elevated holes on this 18-hole.
Tip of the Thumb Mini Golf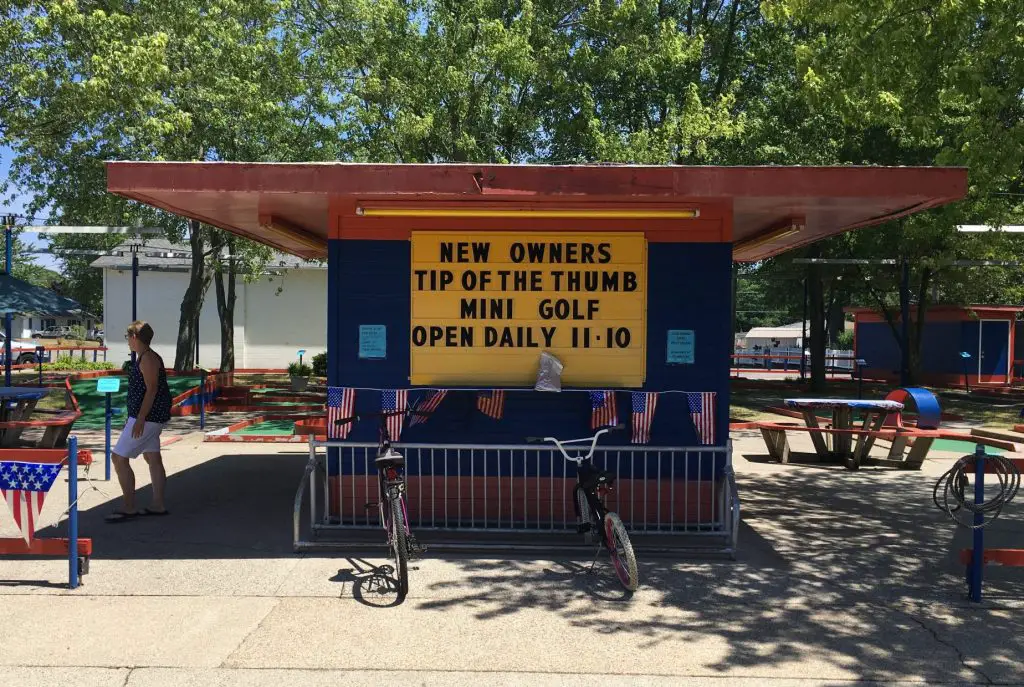 Joyce Pode and Elaine and Tom Moore are new owners of this former Putt-Putt course built in 1961. They are in the process of freshening it up for the 2020 season. Located across from the Post Office The Tip of the Thumb Mini Golf is a classic course that is walkable from anywhere in town on the corner of North and Railway streets in Port Austin Mi.
Kooky Golf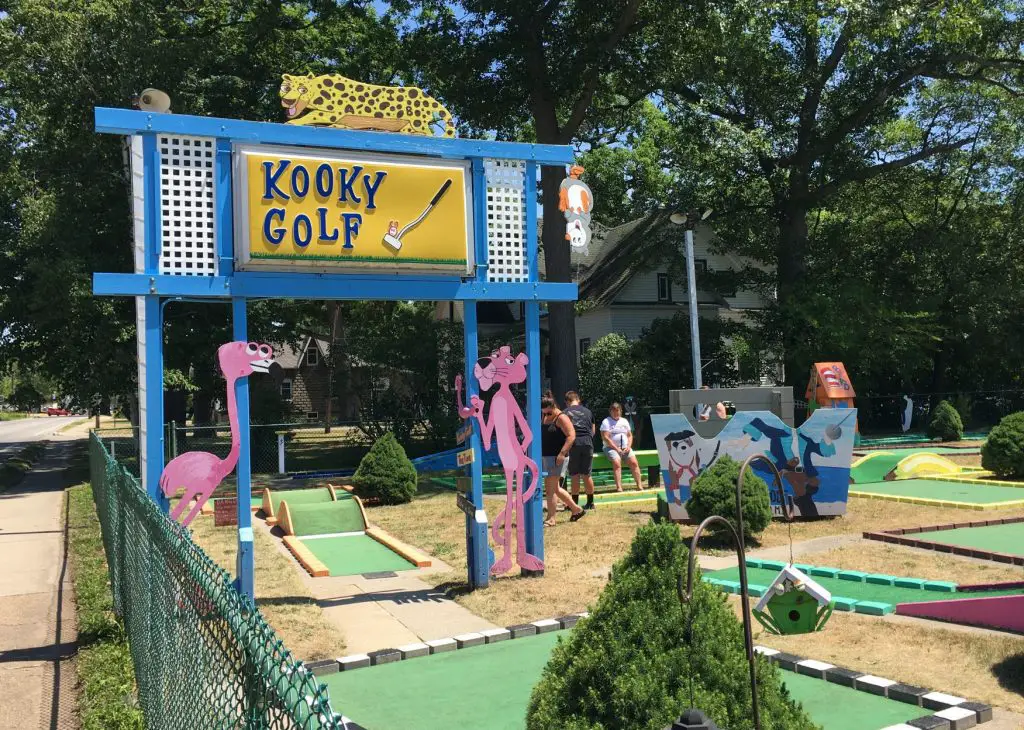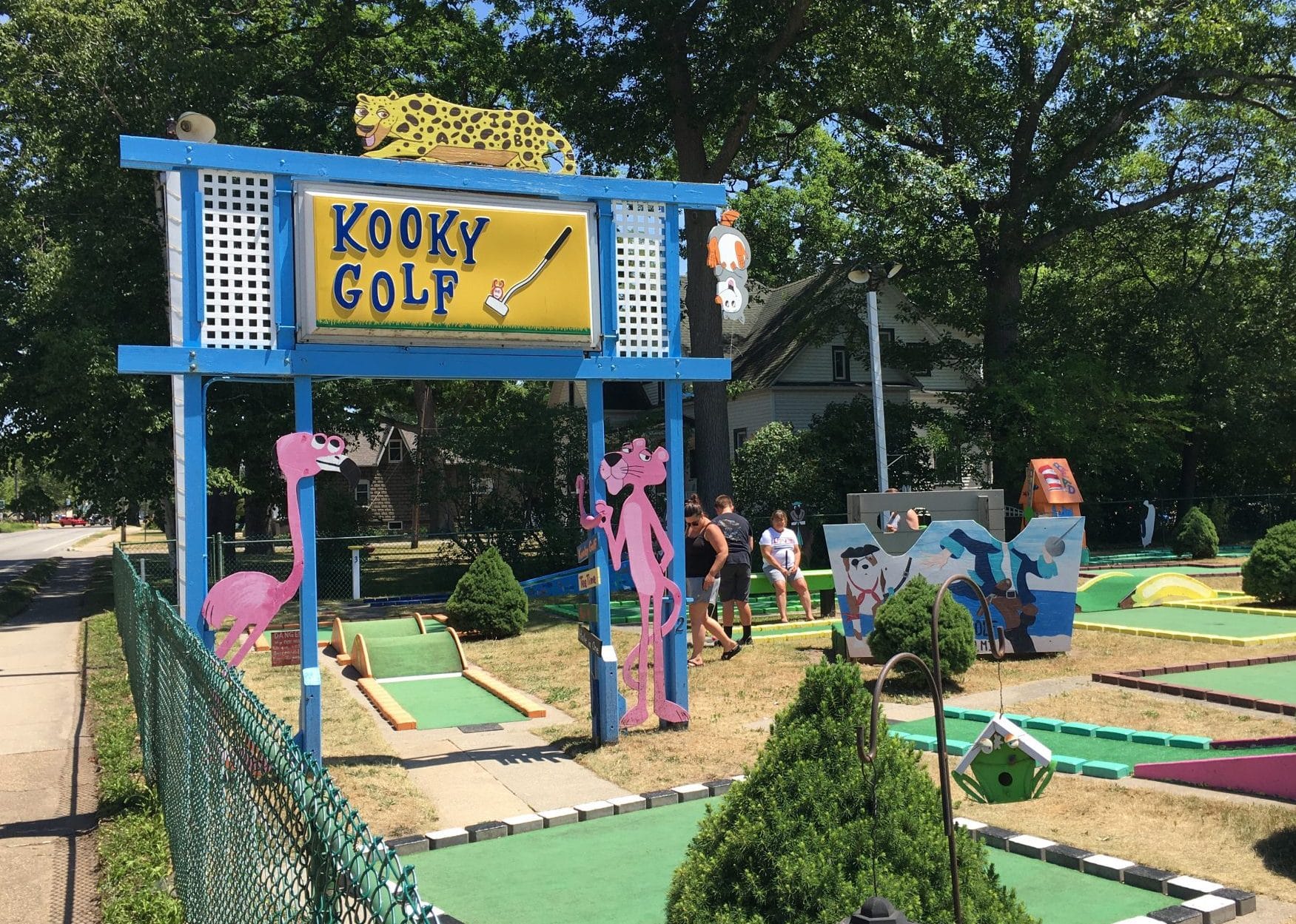 Full of wild, challenging holes and splashes of vibrant colors, Kooky Miniature Golf is on M-25, only five blocks west of the main street.
#7 Visit a Working Fish Company in Bay Port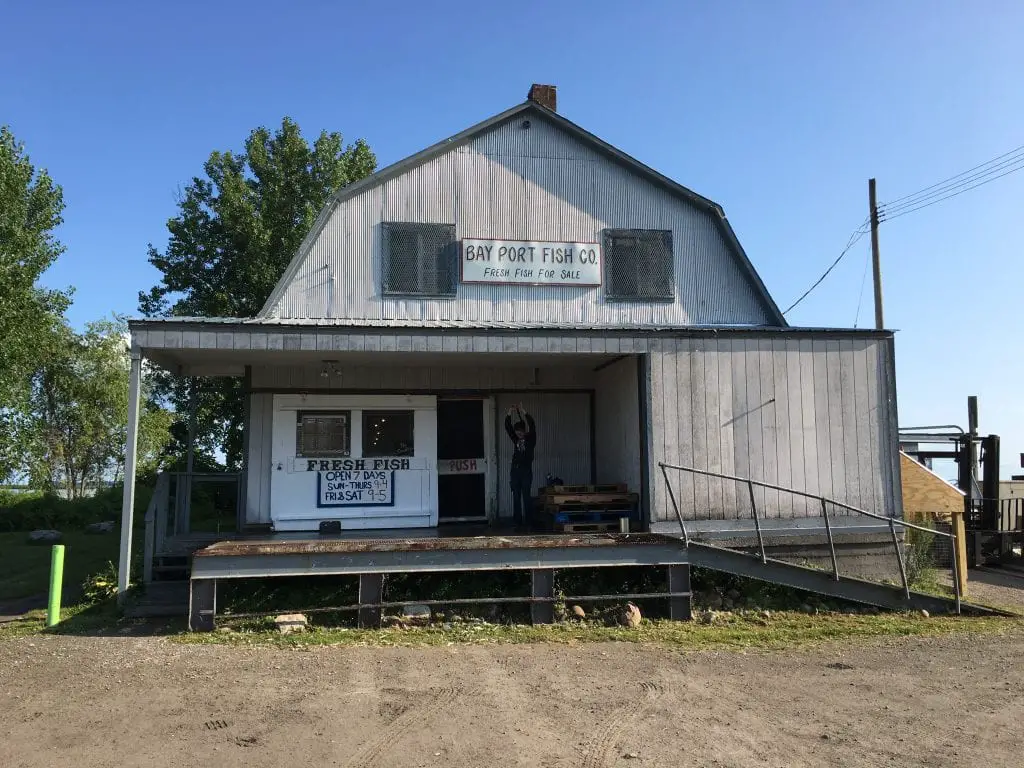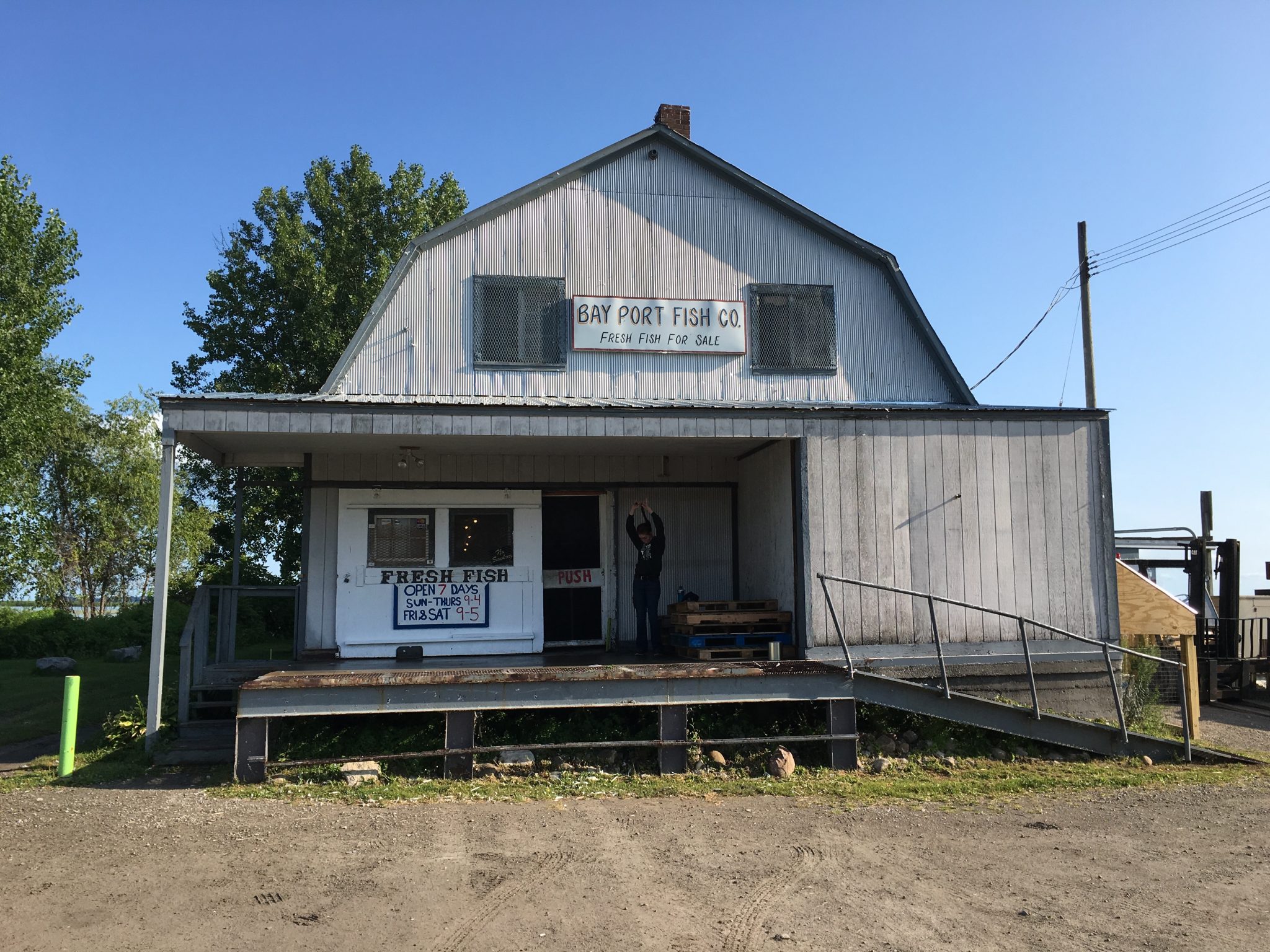 Bayport Fish Company – Visit one of the few remaining operational commercial fish operations on the Great Lakes. Purchase fresh fish on-site and watch the operations. (Hope you like the smell of fish). Bay Port is a half-hour drive east of Port Austin on M-25. It is a pretty drive along the shore. The store is typically open seven days a week during the summer season. 
#8 Explore Port Austin's Outdoor Farmers Market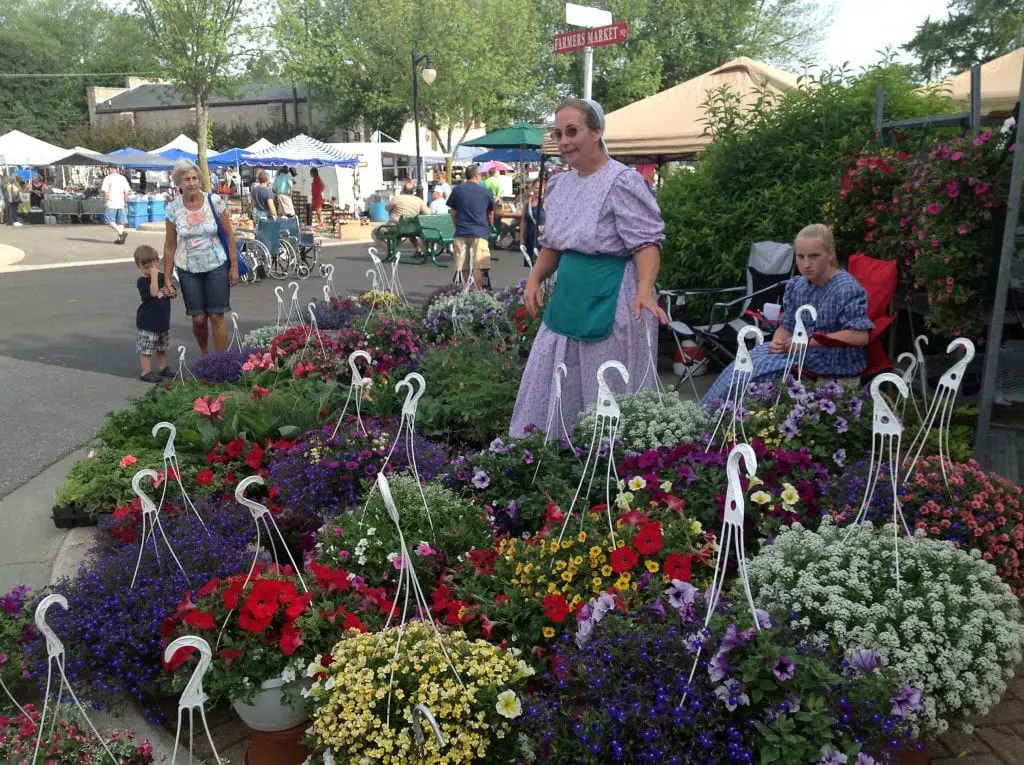 Port Austin Farmers Market – Open Saturday mornings during the summer season. Crafts, fresh locally produced fruits, fresh and smoked fish, vegetables, craft foods, and flea market items can be found. Considered the largest open-air market in the Thumb. Located right in the center of Port Austin.
#9 Visit a Huge Octagon Barn near Gagetown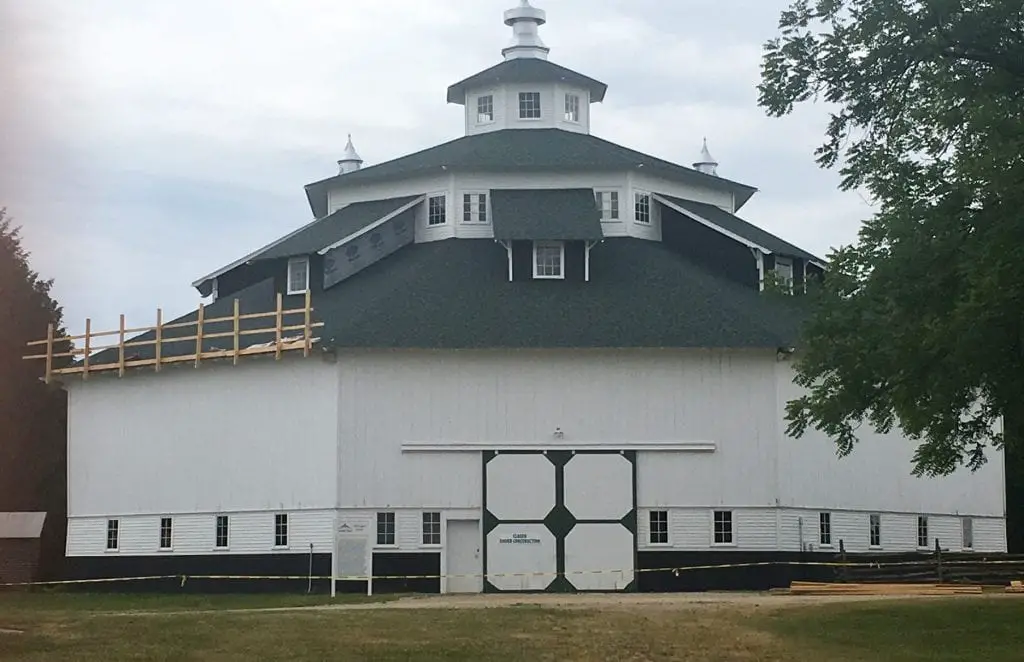 Octagon Barn – The Thumb Octagon Barn Agricultural Museum is located in Tuscola County approximately 1 mile east of the Village of Gagetown along Bay City Forestville Road 1 mile north on Richie Road, just south of the Huron County border. 
#10 Peek at the Past at Nearby Huron City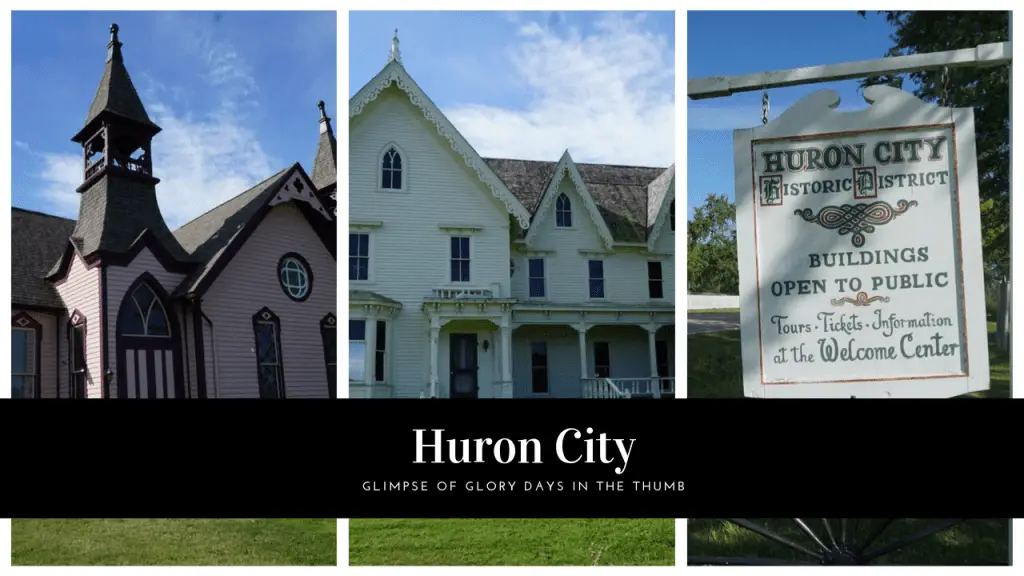 Huron City Museum – See what a small town looked like in Michigan's Thumb as it thrived in the late 1800s. The House of Seven Gables, a beautifully preserved Victorian home, sits on a bluff overlooking Lake Huron. The General Store, a Methodist church, an inn, and barns were built during the 1880s. With a post office, general store, a rooming house, and mills, Huron City was well equipped to serve the northern county farmer. Huron City is a 10-minute drive from Port Austin east on M-25.
#11 Advance Token to Boardwalk At The Huron Nature Center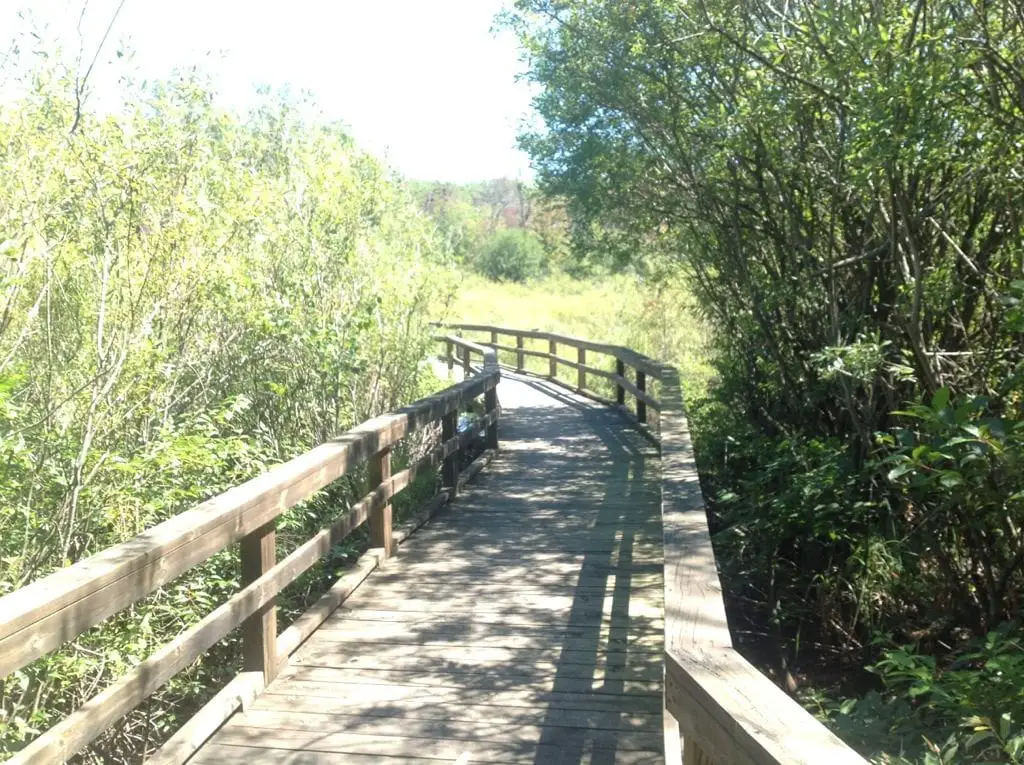 Huron County Nature Center & Wilderness Arboretum – A 280-acre Nature Center established on a tract of untouched land in Hume Township, Michigan, the Huron County Nature Center and Wilderness Arboretum have been under the tender care of the Huron County Women's Clubs since 1941. Located halfway between Caseville and Port Austin, across from Oak Beach. 
#12 Play on the Many Beaches Near Port Austin
Hit the Beach – There are numerous public beaches throughout Huron County in which to cool off, and enjoy a picnic while the kids play in the playground. Most beaches offer ample parking with picnic tables, restrooms, and changing areas, and grills for making your own cheeseburger.  One thing to watch while on the beach is for the strange and unusual. There is a local story about an ancient sea monster in Saginaw Bay. While it's likely a large old sturgeon, it makes for a great story. "Saggy" is the name of one of the three Popular Legends Of Great Lakes Sea Monsters.
The closest beach to Port Austin Mi is Bird Creek Park within the Port Austin harbor. It has an extensive boardwalk and pavilions for picnicking. Veterans Park has a small sandy beach and access to Port Austin's Harbor Breakwall. From the brake wall's walkway, you can get great pictures of Lake Huron, Port Austin Reef Lighthouse, and the harbor. If you like a large remote beach, drive west on M-25 to Port Crescent State Park. It has one of the most extensive beaches around.
#13 Hands-on History to Explore in Port Austin and Caseville
The Port Austin Mi History Center offers rich research and exhibits for families to explore and genealogists to savor. Located one mile east of the leading light in Port Austin. The center has a wealth of area resources such as over 70 Years of Local Newspaper Clippings, archive copies of the Port Austin Post 1886-1887 and Huron County News 1870-1872, 1904 Huron County Plat Book, and many other primary sources of information.
Caseville Museum – Located just one block from Main Street in Caseville, you can see artifacts and local treasures from yesteryear. Special events are often held weekly, offering a quick diversion from the crowds. The Historical Society of Caseville was founded in 1993 and opened the museum in the restored Maccabees Hall in 2008.
#14 Enjoy Huge Ice Cream Cones in Grindstone City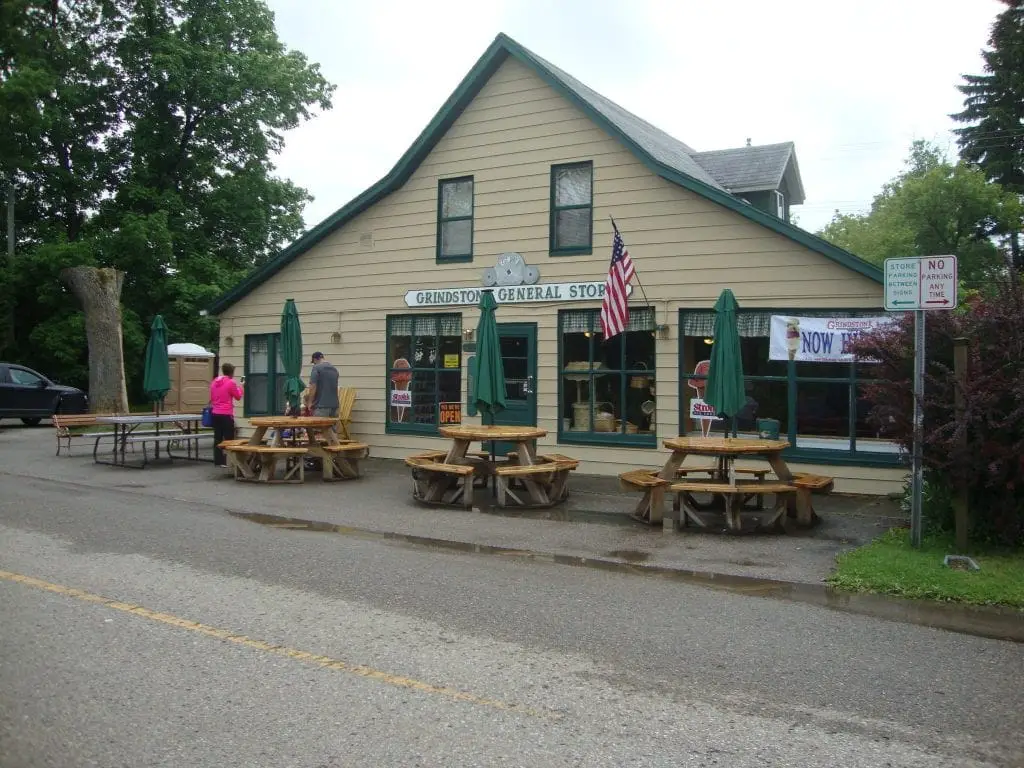 One of the best things to do in Michigan's Thumb is to explore the area. A short drive east of Port Austin lands you in Grindstone City. Here there are two renowned ice cream shops. The Grindstone General Store and Rybak's Ice Cream Store. The Grindstone General Store is known for its insanely large ice cream cones, while Rybak's is the place for high-end ice cream and homemade candy. Both are located in historic buildings from the 1800s. Rybak's large front porch is ideal for chatting with friends and reminiscing about your Cheeseburger day. 
#15 Browse an Art Gallery in the Port Austin Mi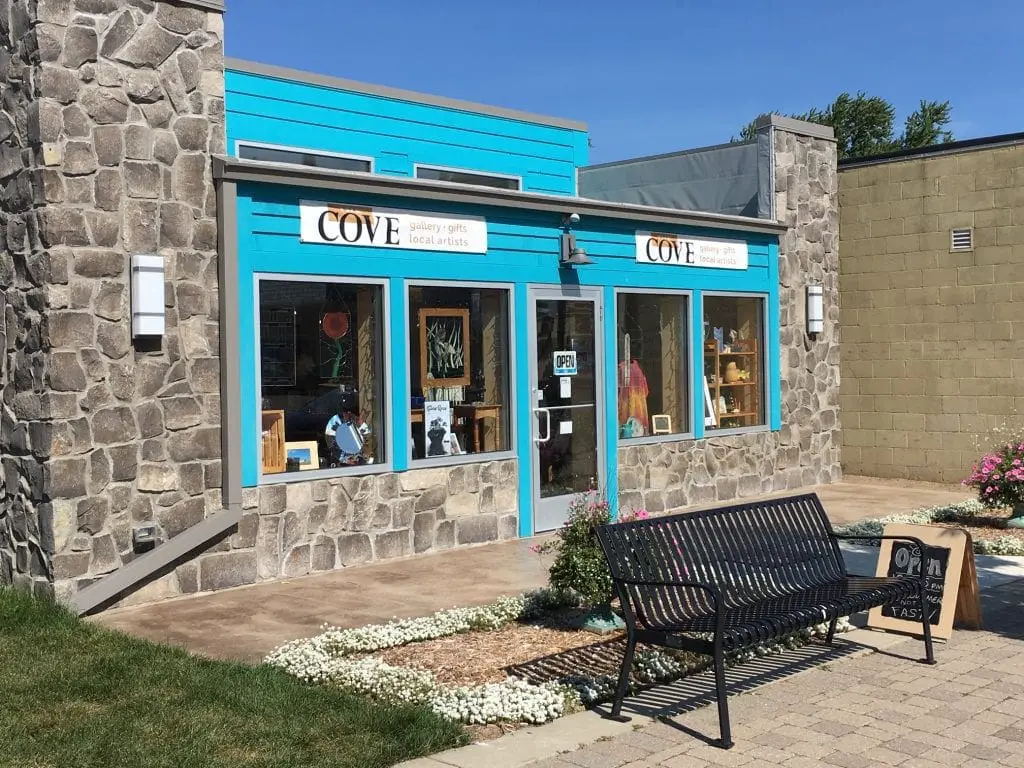 The  Upper Thumb now has three galleries in Bad Axe; the Lofty Roots Gallery and Studio opened in 2015 with six local artists exhibiting. While in Grindstone City, the White Church Gallery draws in artists from all over Michigan and the United States. Founded by Mike and Carrie Zaitz in a renovated 1800s church.  In Port Austin, the Cove Gallery is right off Lake Street, next to the Farmers Market. The Cove Gallery exhibits over 55+ artists in Michigan, mainly from the Thumb region. Each of these is Port Austin, Mi. Galleries are excellent diversions if you have spent too much time on the beach or for those suffering from the Cheeseburger hangover in August.
#16 Play Arcade Games At White Elephant Cafe in Port Austin MI
Have you seen the new store at the end of M-53? It's hard to miss with its bright white exterior! They have a fantastic selection of breakfast and lunch options available for takeout, as well as some yummy fast food options like pizza and ice cream. You'll love browsing through their collection of gourmet foods, kitchen gadgets, toys, and pet treats and toys. Plus, they have a full arcade located towards the back of the store. It's definitely worth checking out!
This lovely place is situated in the charming alley of Port Austin, where there used to be a paint store and an antique shop. It's conveniently located just a few steps away from the lively Port Austin Farmers Market and a short stroll from the Cove Art Gallery. What's more, so make sure to check it out!
#17 – What to do in port austin mi? Take A Guided Boat Trip To Turnip Rock
With a sparkle in my eye and a skip in my step, I find myself in Port Austin, Michigan, ready to embark on a nautical adventure to the famous Turnip Rock. Now, my friends, when it comes to boat tours in this charming lakeside town, a couple of top-notch operators will steer you toward a memorable experience.
First off, there's the Radical Marine, the gold standard of boat tour experiences in Port Austin. They'll whisk you off on tour around the iconic Turnip Rock, the Port Austin Reef Light, the gorgeous shoreline, and the dramatic Broken Rocks. Moreover, you'll be cruising aboard a bona fide Navy Motor Whale Boat, a vessel with a history as intriguing as the sights you'll encounter. This beauty once served on the USS Harry S Truman Aircraft Carrier, and today, it's here to serve up unforgettable memories for you and your fellow explorers, up to six at a time.
On the other hand, if you're looking to share this adventure with a larger group, or perhaps you've got little ones in tow, then Turnip Rocks Tours LLC has got you covered. For just $60 per person, you can enjoy the splendors of Turnip Rock and its surroundings. Children aged three and above are welcome aboard, with mandatory life jackets to ensure everyone's safety. While dogs must stay ashore, feel free to bring a bottle of wine or beer to savor as you drink in the awe-inspiring views — remember, no hard liquor or glass bottles. Their tour takes about an hour and a half, but as we all know, time flies when you're having fun. With three boats carrying up to 16 people at a time, the more, the merrier! Give Larry a call at 989-550-9445 to book your trip.
Port Austin FAQs
Where is Port Austin, Michigan?
Port Austin is located at the very tip of Michigan's Thumb. From Detroit, it's approximately a two and one half hour drive to the end of M-53. It's also a stop on the Great Lakes Circle Tour and the biker road trip of the Ribbon Around the Thumb.
What County is Port Austin, Michigan, In?
The city of Port Austin is located in Huron County. This county is the tip of the Thumb of Michigan and is surrounded by the sandy beaches of Saginaw Bay to the west and Lake Huron to the east.
What Hotels Are Available in Port Austin?
There are at least 11 marvelous hotels in Port Austin, Michigan that are overlooked by the big travel sites. From romantic rooming at a bed & breakfast to cozy cottages. See the full list at local Port Austin Hotels
Port Austin, Michigan Weather
Related Reading for Port Austin, Mich.
---

---