Welcome to Bird Creek County Park, Port Austin's premier beach destination for family fun and relaxation. With its picturesque boardwalk, dynamic splash pad, and opportunities for kayaking, this seven-acre day-use park has something for everyone. Located at the tip of Michigan's Thumb, Bird Creek County Park is the perfect spot for your next family outing or outdoor adventure.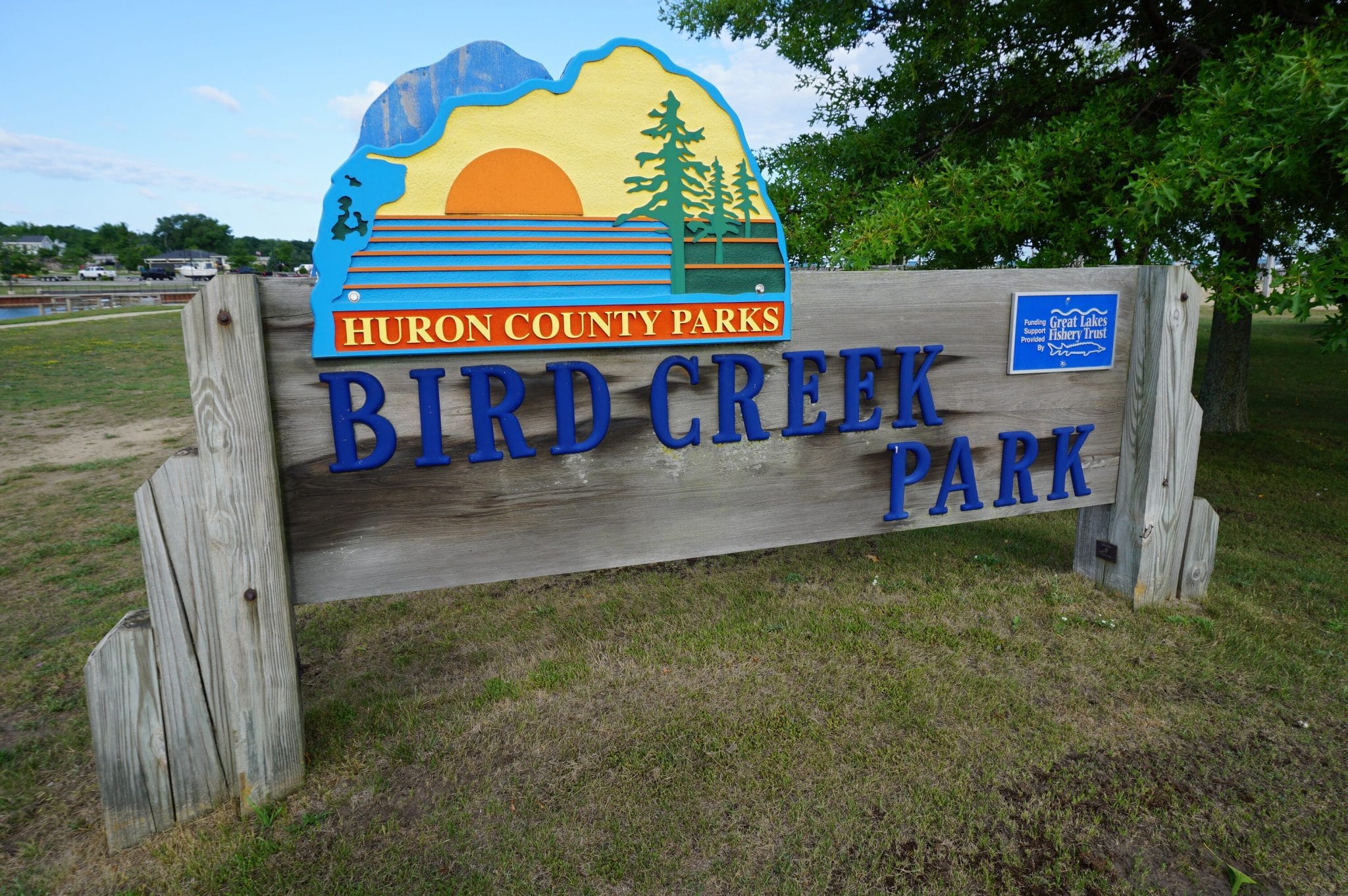 What We Will Cover
Port Austin's Beach of Choice
Bird Creek County Park Beach in Port Austin is a  seven-acre day-use park at the tip of Michigan's Thumb. Bird Creek features a 350-foot boardwalk along its one-acre beach with roofed picnic shelters overlooking the beach and the water.  The boardwalk includes picnic spots, benches, restrooms, a large shelter, and play areas, and shore fishing connections. The park features a large picnic Pavilion adjacent to a playground, restrooms, and shower facility. Concession stands with pop, ice cream & snacks are available on weekends.
The Kids Love the Splash Pad at Bird Creek
Kids, especially little ones, love the dyamic and engaging splash pad a the center of the park. It offers parents an easy way to oversee the little ones and even chase around the older kids with wet and clean fun.
The highlight of the splash pad at Bird Creek Park has to be the bucket dump. The large bucket slowly fills up and tips ever so slightly until…WHISH, the kids are soaked. Watch the video until the very end for a bit of fun.
Port Austin's Prime View of the Harbor At Bird Creek County Park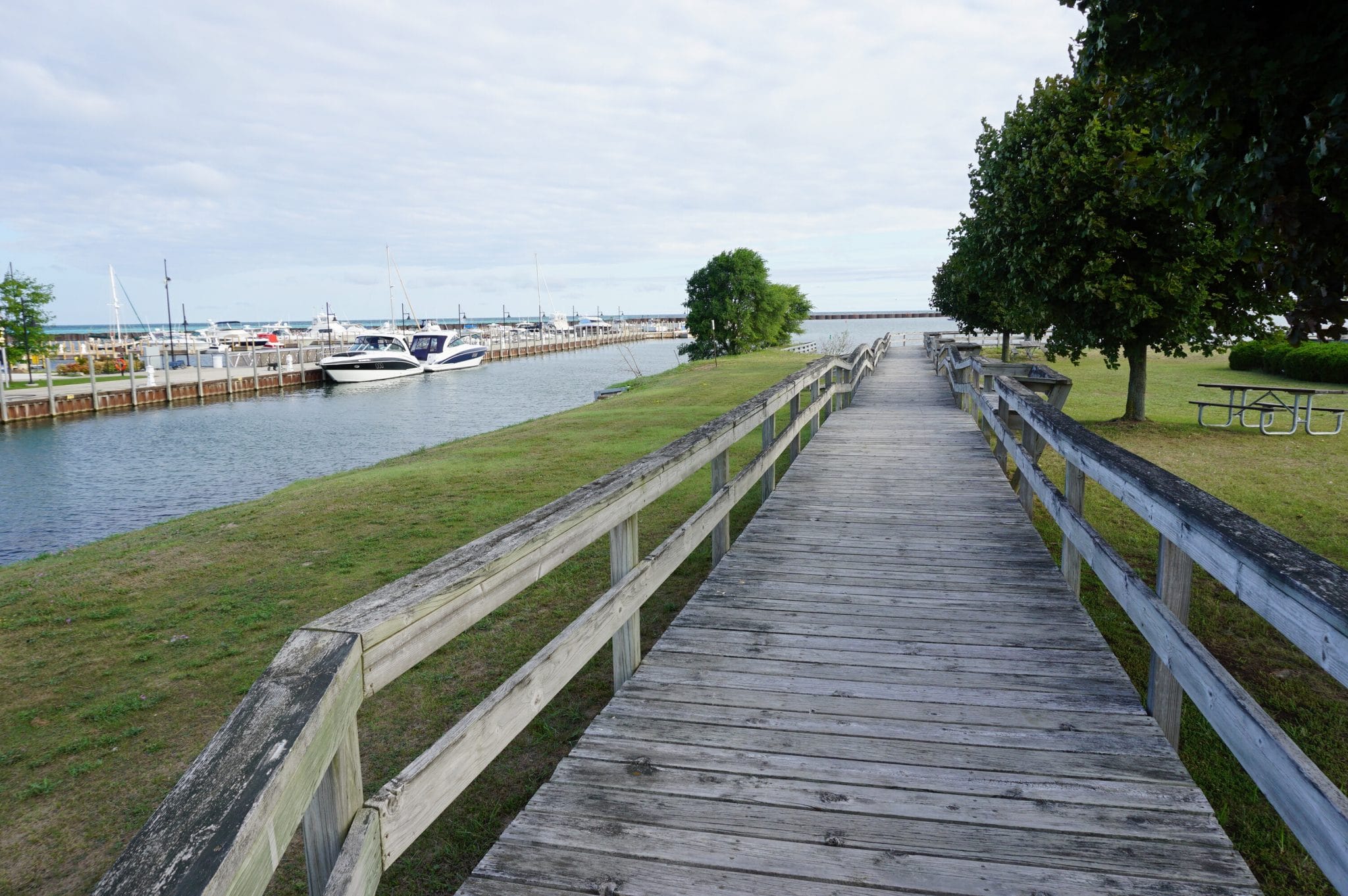 Located in the village of Port Austin, this park is within walking distance of Lake Street. It is a favorite spot for sailors and boaters who dock at the State harbor and marina. There are nearby kayak rentals and this Port Austin beach and the park is a prime stop on the Heritage Water Trail.
Kayaking from Bird Creek County Park
If you have your own kayak you can park and launch from the park. It's an excellent starting point to paddle to Turnip Rock or Broken Rocks.
Kayaking to Broken Rocks
The Broken Rocks trail is a great beginner kayaker paddle for those just starting. The water is generally protected and great for families who want to get out on the water. This trail includes some unique formations and sea caves. The great finality is resting on Table Rock, where you can get out of your kayak and take a swim or have a snack. The entire paddle to Broken Rocks is completed in under two hours.
Kayaking to Turnip Rock
Kayakers heading out to Turnip Rock should monitor weather and lake conditions carefully. A quiet morning can lead to a windy endurance test if the wind picks up as the day's heat and the wind and waves pick up.
Map of Kayak Routes to Turnip Rock or Broken Rocks
Current Kayaking Conditions Report from PAK
Map and current conditions are courtesy of Port Austin Kayak
Bird Creek Park is Within Walking Distance From Everything in Port Austin
With its convenient location in the village of Port Austin, visitors can easily walk to Lake Street, where they'll find an array of shops, restaurants, and cafes to explore. Additionally, the park's proximity to the State harbor and marina makes it an ideal stop for boaters and sailors seeking a scenic spot to relax and unwind. So, whether you're spending the day at the park or venturing out to experience the local culture, Bird Creek County Park is the perfect hub for your Port Austin adventure.
FAQs On Bird Creek and Its Splash Pad
What amenities does Bird Creek County Park offer?
A1: The park features a one-acre beach, a 350-foot boardwalk, picnic shelters, restrooms, a large picnic pavilion, a playground, a shower facility, and concession stands on weekends.
What makes the splash pad at Bird Creek County Park unique?
The highlight of the splash pad is the bucket dump, a large bucket that fills up and tips over, soaking kids in a fun and exciting way.
What are the kayaking options available at Bird Creek County Park?
The park is an excellent starting point for kayaking to Turnip Rock or Broken Rocks, with the latter being a great option for beginner kayakers and families.
Final Thought on Bird Creek Park
Whether you're looking for a fun day at the beach, an exciting kayaking trip, or want to relax and take in the beautiful harbor views, Bird Creek County Park in Port Austin is the place to be. Experience the charm of Michigan's Thumb and create unforgettable memories at this stunning beach destination.
Related Links for State Parks in Huron County, Michigan
Port Crescent State Park – Port Crescent State Park is one of the largest state parks in southern Michigan. Located at the tip of Michigan's "thumb" along three miles of sandy shoreline of Lake Huron Saginaw Bay, the park offers excellent fishing, canoeing, hiking, cross-country skiing, birding, and hunting opportunities.
15 Things You Should Know About Sleeper State Park – Did you know you can buy a latte or mango smoothie at Sleeper? You can also privately camp on the beach of the park. We found several secrets that not too many folks are aware of about one of the Thumb region's favorite parks.
Play on the Shores of A Michigan Beach – Huron County Michigan is an ideal spot to find your favorite family getaway. With the ability to enjoy a sunrise or sunset on over 90 miles of Lake Huron shoreline. With two large state parks, Sleeper and Port Crescent and over ten public county beaches, three are plenty of places to play and picnic.
Select Huron County Beaches
Huron County Park System – The park system includes six modern full-service campgrounds and three day-use parks. Facilities preserve the natural setting of Lake Huron and the woodlands along the shore. You will find many area attractions to entertain you, a community that is rich in history and 92 miles of beautiful shoreline to explore.
Jenks Roadside Park – Michigan led the nation with the development of roadside parks. In 1918 the Iron County Board of Supervisors approved the purchase of land to establish Michigan's first roadside park and picnic tables on US-2. This was quite likely America's first such facility.
Caseville Beach and Park – The park's waterfront offers a large sandy expanse with plenty of room to build sandcastles, play touch football, rent kayaks and swim the day away. Its proximity to the large campground and short distance to town means it's frequented by many visitors. It's one of the most Instagram and Facebook Selfie spots around.
Oak Beach – The first thing folks notice at Oak Beach County Park is just how large it is. Sitting on over 40 acres it sports a beautiful beach, a playground, pavilion for family gatherings, and well-maintained horseshoe pits. Across M25 is a modern campground with a total of 55 sites featuring full services for camper and tent camping.