There are 11 hotels in Port Austin Michigan that offer a wide range of accommodations. From romantic rooming at a bed & breakfast, cozy cottages to beachfront suites, there is accommodation for a long weekend to a month of vacation days. As a year-round destination, we looked for the top places to stay in Port Austin, which the large travel websites often ignore. Port Austin offers a quiet respite from the summer crowds during the offseason. This listing is in no particular order.
Images and Rating comments are sampled from publicly available social media. All information is correct at the time of publishing but not guaranteed. Check with the proprietor for details.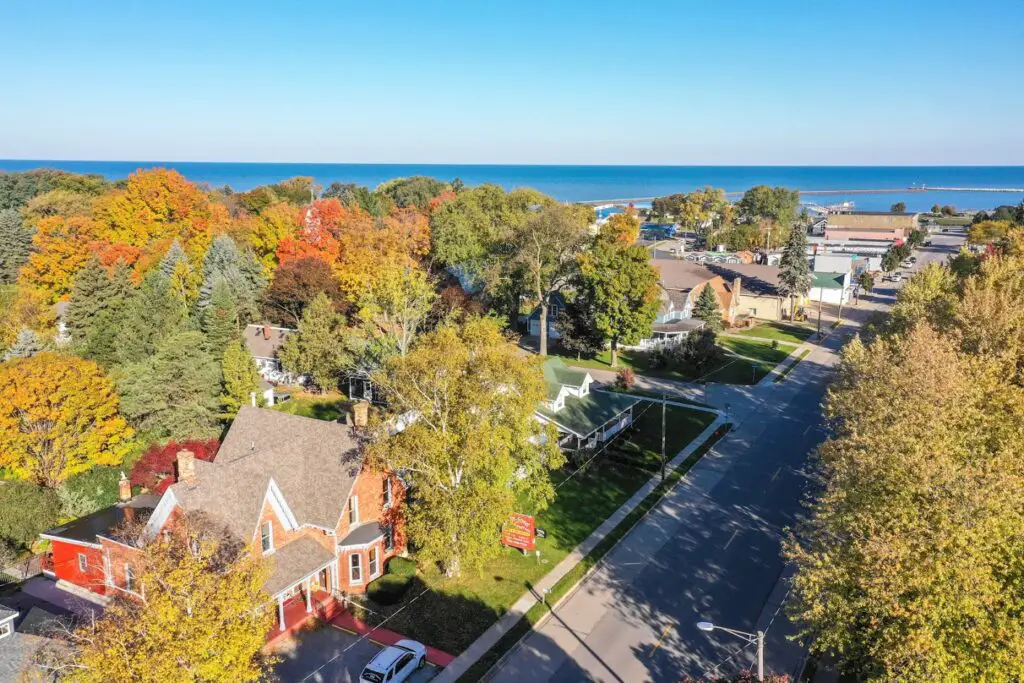 Lake Street Manor B&B
Built in the late 1800s by a lumber baron, it served as private residents until 1986, when it was transformed into a Bed & Breakfast. Offering a full or continental breakfast in the dining room or garden pavilion. Other amenities include a hot tub, fireplace, WiFi, and a sitting room for cards and games. Each room has air conditioning.
Rooms: 5
Website: LakeStreetManor.com
Phone: 989-738-7720
Address: 8569 Lake Street, Port Austin, Michigan 48467
Great stay & wonderful host!
Breakfast was terrific as well!
Bob
Lake Vista Motel & Resort
Located on the waterfront, this is one of the Port Austin hotels on the beach. The resort offers classic motel rooms, cottages, and deluxe suites. Enjoy the beach or lounge in the pool and enjoy great views of the lighthouse and harbor.
Rooms: 29
Website: Lakevistaresort.com
Phone: 989-738-8612
Address: 168 West Spring Street, Port Austin, Michigan 48467
"Cottage was exceptionally clean & spacious."
We loved the views, walks, and just sitting on the bench enjoying the water. We'll definitely be coming back, can't wait!
Cathy
Sunset Beach Cottages
Your vacation destination when looking for places to stay in Port Austin. This is one of the waterfront hotels in Post Austin, Mi, that is worth checking out. A family-friendly seasonal resort with eight waterfront units on beautiful Saginaw Bay. A large elevated sundeck overlooks a sprawling 150 ft. sandy beach. Please bring your laptop and run your business on their Wi-Fi network.
"What a great getaway!"
These cottages were exactly what we were looking for. The views and sunsets are unforgettable.
Marissa
Beachcomber Motel and Suites
The Beachcomber offers a variety of accommodations to serve your needs, including motel rooms, oversized motel rooms, and 2 bedroom suites. Located right on the beach and close to the harbor your steps away from the center of town and the lake. The motel's private white sandy beach is perfect for a day on the beach or romantic sunset walks over Saginaw Bay.
Rooms: 17
Website: Beachcomberpa.com
Phone: 989-738-8354
Address: 158 West Spring Street, Port Austin, Michigan 48467
"Great hospitality"
Great people, clean and recently remodeled, I always recommend them to all my Charity Island Excursion customers.
Capt. Tom Carriveau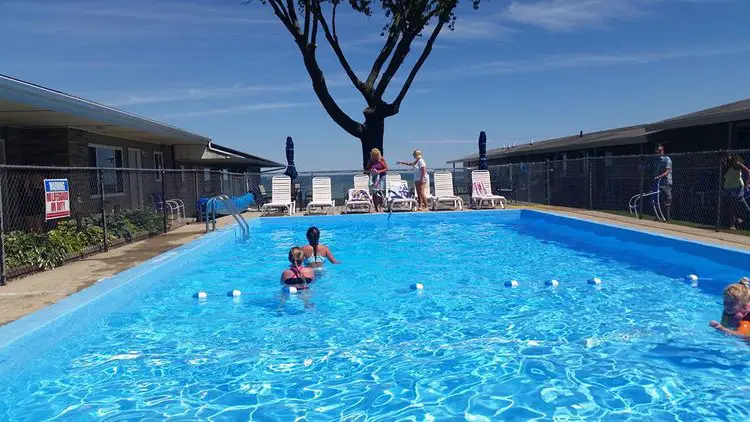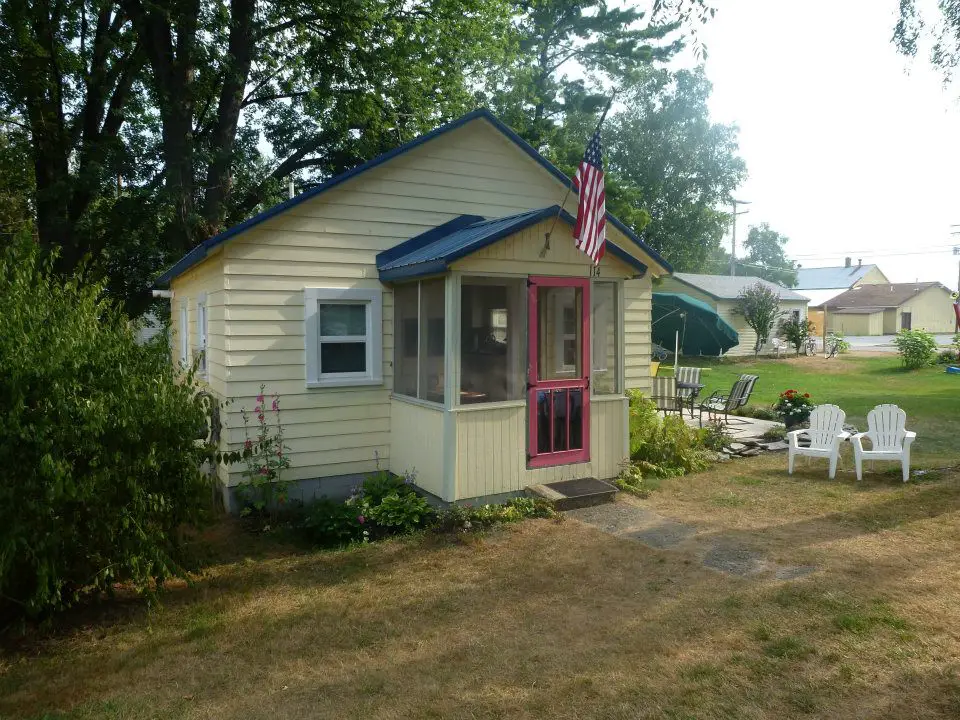 Little Yellow Cottages
The Little Yellow Cottages in Port Austin are six cute one and two-bedroom cottages located near Downtown. Steps away to the Port Austin Farmers Market and all the shops and galleries. Each cottage feature a screened-in porch, a living room with TV and soft seating, a full kitchen, and a private bath with a shower.
"Things and places to go are conveniently close."
We each have our own space to retreat to, yet we all have a common place to gather.
Mary and Diane
The Garfield Inn B&B
Featured in our post; "Garfield Inn, Pioneer Elegance In The North," Visitors step back into this Presidential retreat of the 1800s. Sleep in one of six era-appointed rooms. Stroll among three acres of Victorian gardens and lush landscaping. The first-floor dining room and bar offer some of the finest farm-to-table fares around. WiFi and in-room controlled heat and air. One of the great Port Austin bed and breakfast spots in Michigan.
Rooms: 6
Website: TheGarfieldInn.com
Phone: 989-738-5254
Address: 8544 Lake Street, Port Austin, Michigan 48467
"Historic charm and beautiful antiques"
Awesome breakfast. Very comfortable bed/ room.
Beth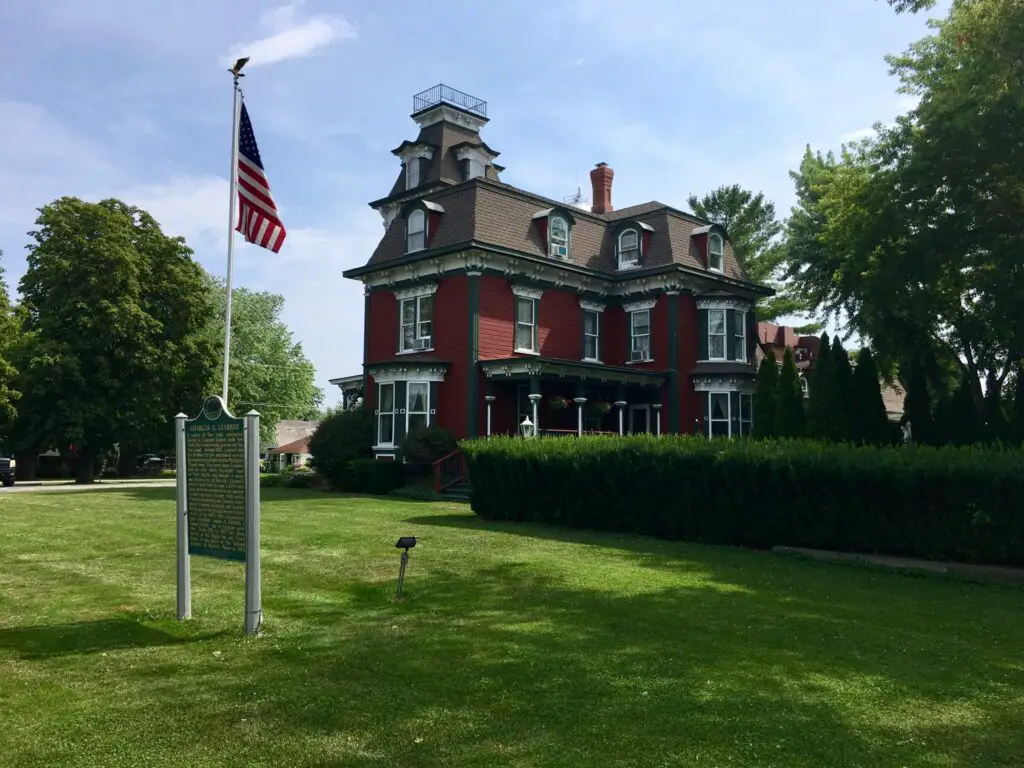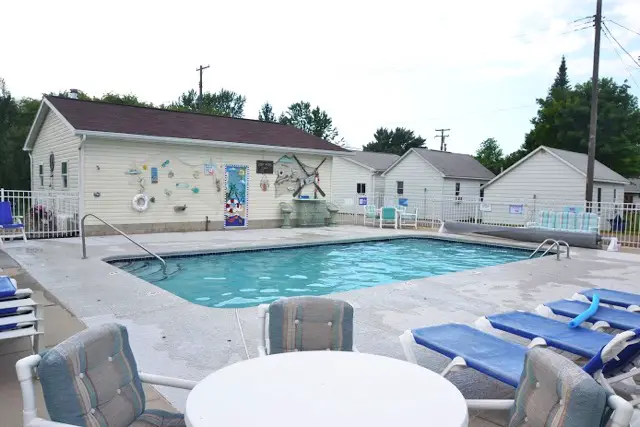 The Blue Spruce & Lucky Horseshoe Motels
The Blue Spruce and Lucky Horseshoe Motels are located in the center of town. Only three blocks from the Harbor. It's one of the ideal places to stay in Port Austin. Twenty-eight motel rooms, cabins, and a three-bedroom cottage are nestled over 2 acres with free WI-FI. The pool and fire pit area is located between the Blue Spruce and the Lucky Horseshoe.
Rooms: 28
Website: Blue Spruce Hotel
Phone: 989-738-8650
Address: 8527 Lake Street, Port Austin, Michigan 48467
"It was great! Perfect location!"
Our cabin was brand new! Beautiful inside!! I'd love to go back!
Jessica
Lakeside Motor lodge
Located a block from the harbor of Lake Huron in downtown Port Austin. Lakeside Motor Lodge is a focal point located in the center of town. Lounge by a heated pool, play shuffleboard or make a cozy fire.
Rooms: 35
Website: Lakeside Motor Lodge
Phone: 989-738-5201
Address: 8654 Lake Street, Port Austin, Michigan 48467
"This place is the best vacation spot!"
The manager and owner have taken great care of us to where we never want to leave! The manager is the best!!!
Jossy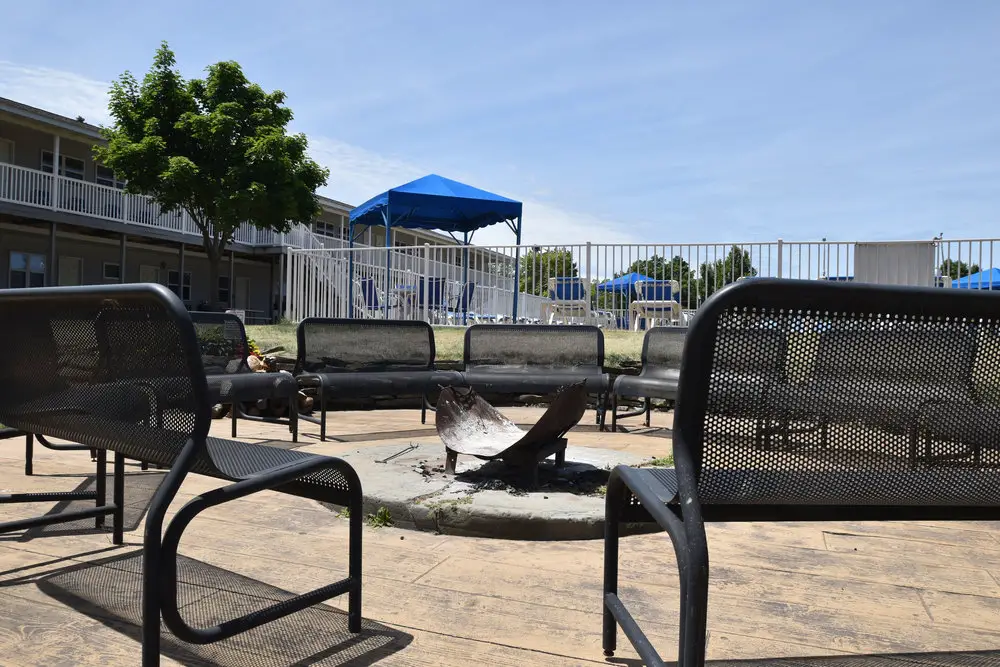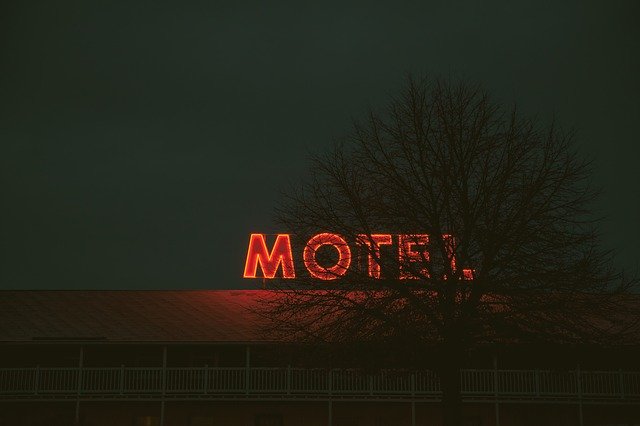 Port Austin Motel
Perfect for a weekend or a week. Queen rooms with air, mini-fridge, and coffee maker. Suites have two separate bedrooms, each with a double bed. The common area hosts a living room, dinette, and a fully equipped kitchen. A jacuzzi suite is available. Note – This motel is not currently open.
Rooms: 11
Website: Port Austin Motel
Phone: Unknown
Address: 8761 Larned Road, Port Austin, Michigan 48467
Sandcastles on the Beach
This classic seasonal motel and resort is a perfect beach get-a-way. The resort has six fully furnished condos with a fantastic parklike setting on 200 feet of beach on Lake Huron. Wi-Fi is available. One of the finest waterfront hotels in Port Austin Michigan.
Rooms: 18
Website: Sandcastles on the Beach
Phone: 989-738-4200
Address: 1368 Port Austin Road, Port Austin, Michigan 48467
"Best time ever!"
Condo super clean and roomy. Loved everything about this place, be back next year
Nicole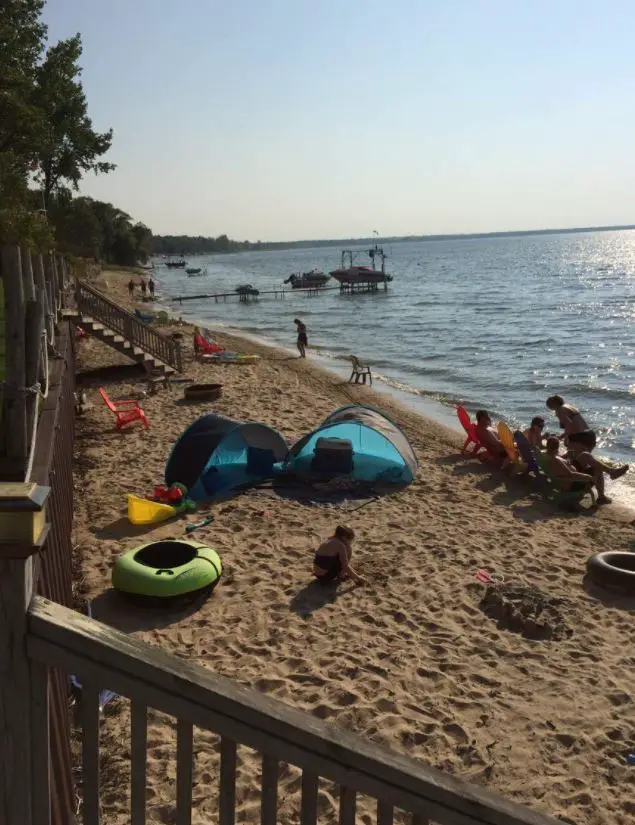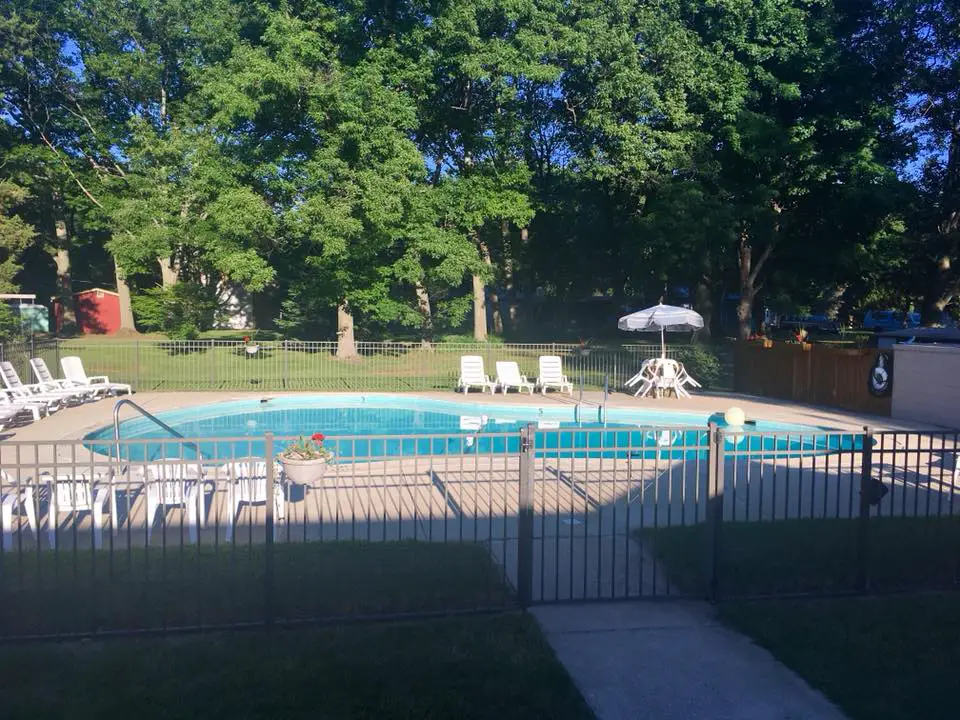 Sun & Sand Motel
This year around a motel located in beautiful Port Austin, the Sun-n-Sand Motel offers high-quality accommodation at an affordable price as a place to stay near Port Austin. Wi-Fi is available. It's a perfect place to stay with all the things to do in Port Austin.
Rooms: 17
Website: Sun and Sand Motel
Phone: 989-738-7513
Address: 891 Port Austin Road, Port Austin, Michigan 48467
"Awesome location"
I love the big kitchenette rooms! A great place for a family getaway.
Angela
Other Great Reading – Hotels in Port Austin Michigan
Maximizing Tomato Yields with Proper Plant Spacing in Michigan's Thumb Region

Tomato plants aren't the type of plants that like to be around each other. No, tomato plants aren't solitary plants; they're not the plants to …

Read more

Flamingos In Lake Michigan – A Historic Appearance in Wisconsin

Flamingos have been spotted in Wisconsin, specifically in the waters of Lake Michigan. This unprecedented event has not only delighted locals but also raised questions about the changing patterns of wildlife migration.

Exploring Banff Hot Springs at the Cave & Basin National Historic Site – 2 Steamy Pools Of Wonder

Nestled within the mighty Canadian Rockies, Banff Hot Springs had an interesting birth. In 1883, during the construction of the Canadian Pacific Railway, three railway workers stumbled upon thermal springs on Sulfur Mountain's northeast slope. To protect these natural resources, they made the bold move of establishing Canada's first national park, Banff National Park, in 1885, and declared the hot springs as reserved land. The Banff Upper Hot Springs we see today, managed by Parks Canada, is one of nine naturally occurring hot springs in the park.