Suppose these pandemic times helped you realize that staying all the time indoors is not healthy for either body or mind. In that case, you might have taken up cycling as a great way to stay active and get plenty of fresh air and vitamin D, which is responsible for various processes in our body. However, if you've explored all the bike paths in your area, you might be looking to expand your horizons. If you live in the Midwest or some of the neighboring states, you can consider the following cycling trails in Michigan that the Great Lake State offers.
Learn about the region's mining history at Iron Ore Heritage Trail
Found in Marquette County in Michigan's Upper Peninsula, you will surely enjoy the Iron Ore Heritage Trail rich with the region's mining history. Along this 47-mile trail, you will see artwork and historical structures such as forges and mining shafts reminiscent of a bygone era. If you decide to invest in a bike that you can also ride during the winter, keep in mind that the part of the trail that goes from Ishpeming to Chocolay Township is also open for snowmobiles during this part of the year.
Explore Port Huron via the Bridge to Bay Trail
When you eventually find yourself on the state's sunrise coast, you don't want to miss one of the top cycling trails in Michigan: the Port Huron Bridge to Bay Trail. It starts near the Blue Water Bridge and takes you alongside the St. Clair River. Once you go over the Black River drawbridge, you will find yourself in downtown Port Huron and finish your ride after passing the Military Street tunnel in New Baltimore. You can also pack up your bike and go on a fun road trip up to Huron County Nature Center and Wilderness Arboretum, where you can also enjoy a lovely biking trail.
Swim in Lake Michigan while taking a break from the Kal-Haven Trail State Park
The Kal-Haven Trail that links the towns of Kalamazoo and South Haven will take you through Kalamazoo and Van Buren counties during its 34-mile run. If you've been stuck indoors too much in the last two years, you will undoubtedly appreciate the landscape of rolling fields and lush greenery. Moreover, there are plenty of towns on the trail that will allow you to rest and replenish your supplies.
If you'd like to take a break midway, you can stop at the Bloomingdale Depot Museum to learn more about the local history. If you find yourself in the area in August, you can also attend the National Blueberry Festival in South Haven. Lastly, you can even find beaches along the trail that will allow you to dip your toes in Lake Michigan.
Try mountain biking at Crooked Lake Trail
Are you looking for something more challenging after only riding around your town or some shorter trails? Then, you can consider tackling the Crooked Lake Trail. Seeing as how this trail offers a range of activities and a variety of terrains, you can stick to something you're used to. However, you can also look through the offer of quality mountain bicycles and find one that suits you before you head to this trail and try mountain biking on the area's rugged hills. You should ride clockwise on this trail, as hikers will be traveling counter-clockwise.
Pick your own fruit near Leelanau Trail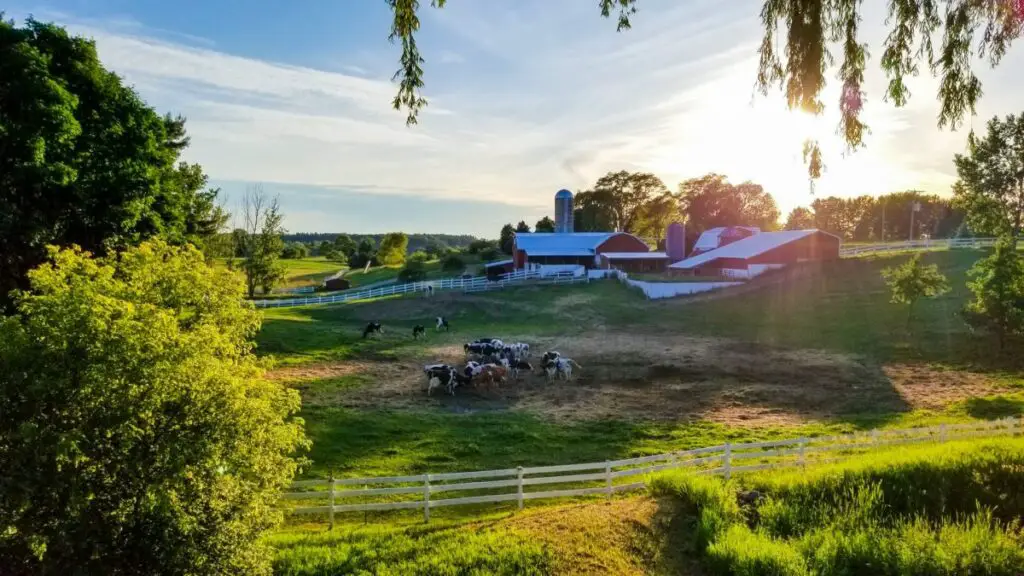 When you feel like going on a scenic road trip, you can consider packing your bike and driving down the M-22 Byway. This area is home to the Leelanau Trail that stretches for nearly 17 miles and connects Traverse City in Grand Traverse County and Suttons Bay in Leelanau County. These two spots are trendy among tourists and offer various exciting activities. So, while exploring the area, you can also enjoy the view of grape vineyards and cherry orchards and pick your own apples, plums, and blueberries in Leelanau Conservancy's DeYoung Farm.
See the largest weathervane just off the William Field Memorial Hart-Montague Trail State Park
The William Field Memorial Hart-Montague Trail State Park is another location that will take you through orchards, farms, and forests. Stretching for 22.7 miles in the Oceana and Muskegon counties, it was named after William Field. He saw the potential of converting a railroad corridor into a trail that can be used for biking, hiking, snowmobiling, and cross-country skiing. If you take a short detour, you can also see the largest weathervane in the world, which is 48 feet tall.
Stay in the city by trying the Dequindre Cut Greenway
If you'd like something shorter while staying in the city, the Dequindre Cut Greenway in downtown Detroit is only 2 miles long. Don't worry about running into pedestrians, as there are two separate lanes. It is 25 feet below street level. This corridor was used as a railroad a century ago. Once the rail service was discontinued, the vacant area was a prime location for graffiti art, which is now a prized asset of the city. You will find plenty of shade and seating options in the northern end if you want to take a break and explore the city, while at the southern end, you will find the Detroit River.
Enjoy the attractions near Pere Marquette Rail-Trail
Although there are many other paths you can choose from over 1,300 miles of bike trails in Michigan, you shouldn't overlook the Pere Marquette Rail-Trail. Going through Clare, Isabella, and Midland counties connects several quaint towns, which you should explore while taking a break. The 30-mile, the smooth-asphalt trail is full of historical sights, forests, and bridges, which will make for quite an adventure. Picnic spots can also be encountered in Dahlia Hill and Emerson Park, while you can also visit the Herbert Dow Museum. Furthermore, you can find the Midland Area Farmers Market, which is open on Wednesdays and Saturdays.
If you live in Michigan or are thinking about going on a road trip that will include the Great Lake State, you might be on the lookout for some fantastic bike trails. Keep these eight in mind for a great adventure.