Travel and tourism are major industries in Michigan. According to Travel Michigan, in 2017, Michigan played host to over 122 million who spent $24.7 billion. As a result, there has been a focus on creating scenic designation travel routes that tourists can experience while getting to their final destination. We were amazed to discover that there are 22 Michigan scenic byways. These routes can be found from urban Detroit to the Keweenaw Peninsula in the U.P. These adventures can be part of any vacation itinerary.
Michigan Scenic Byways – What We Will Cover
National Scenic Byways – All American Roads
The United States Department of Transportation selects a National Scenic Byway, a road recognized with six "intrinsic qualities": cultural, historical, natural, recreational, scenic, and archeological. The list was authorized by Congress in 1991 to preserve and protect the nation's scenic but often less-traveled roads and promote tourism and economic development.
The most scenic byways are chosen to be All-American Roads, which must satisfy two of the six intrinsic qualities. The classification means they have peculiarities that do not exist elsewhere in the United States and are different and valuable enough to be tourist destinations unto themselves.
Of the 120 National Scenic Byways and 31 All-American Roads Michigan has 3 routes with this national designation.
#1 Woodward Avenue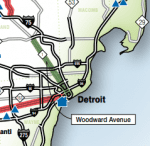 This is considered "Detroit's Main Street," Woodward Avenue follows, in part, the route of a Native American Saginaw Trail from Detroit to Pontiac. The route is packed with historical remnants of Detroit's automotive heritage and interesting and historical ethnic neighborhoods, historic homes, and landmarks. It's also home to the yearly Woodward Dream Cruise. The Dream Cruise extends from Pontiac to Detroit and is held each August.
#2 Copper Country Trail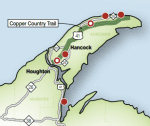 This picturesque route highlights Michigan's history and early boom years associated with copper mining, the Copper Country Trail National Byway follows US-41 which sits on top of the copper vein that lies deep underground. It ends at the tip of the Keweenaw Peninsula. Copper Harbor is the jumping-off point for visitors traveling by ferry to Michigan's only National Park; Isle Royale. This is also one of our favorite Michigan road trips.
#3 River Road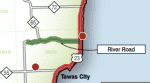 Located just north of Tawas, the AuSable River Road 22-mile scenic byway extends westward from the shore of Lake Huron inland to the Huron-Manistee National Forests, paralleling the historic Riviere aux Sable, which is French for "River of Sand."
---
National Forest Scenic Byways
The National Forest Scenic Byways are roads that have been selected by the U.S. Forest Service as scenic byways. The program was started in 1987.
Stretching west of Sault St Marie, this 27 mile, one-hour9 Michigan Hometown Foods That Scream You're from Michigan drive travels through historic sites and picturesque views that stretch along the Lake Superior shore through the hardwoods, conifers, and wetlands of the Hiawatha National Forest.
#6 Black River National Forest
Located in the Western Upper Peninsula, the Black River area was officially dedicated as a National Forest Scenic Byway in 1992 to recognize its exceptional natural beauty and recreational possibilities.
---
Michigan Scenic Byways
Fortunately for those looking for a scenic Michigan road trip, there are many, many options. Here are some designated Michigan Byways from the Michigan Department of Transportation.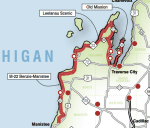 The first state highway in Leelanau, Benzie, and Manistee counties was built in 1913. The route was nicknamed "Going Round the Horn" has it looped from Manistee County to Traverse City via the famously over-window stickered M-22. This drive offers year-round scenery, a rural atmosphere, and numerous events and activities each season.
#8 Old Mission Peninsula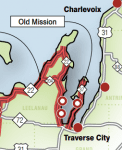 This wine-country drive meanders into Lake Michigan's Grand Traverse Bay; M-37 is the peninsula's main route, running a northern course between the bay and beautiful scenery from vineyards, and orchards farms. The following hills give travelers magnificent views. Numerous wine tours can be found and arranged from Traverse City year around.
This ancient route and trail follow the Lake Michigan shoreline from Harbor Springs to Cross Village. The Tunnel of Trees Michigan M-119 Scenic Byway is famous in the Fall. The highway bursts into color with its canopy of trees and natural beauty can be enjoyed during the leisurely drive. While the drive only takes about an hour, there is an entire long weekend of exploring, eating, and taking in great views.
#10 Tahquamenon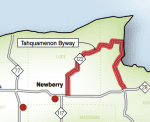 This 90-minute, 60-mile journey through Michigan's eastern Upper Peninsula, the Tahquamenon region, is one of the more remote Michigan scenic byways. However, travelers are rewarded with access to two of the most sought out destinations in the state; Tahquamenon Falls and the Great Lakes Shipwreck Museum.
#11 US-2 Top of the Lake Scenic Byway

Just across the Mackinac Bridge, St. Ignace greets traveling visitors as they enter the Upper Peninsula. Heading west, US-2 follows along the picturesque shoreline of Lake Michigan's northern edge. This area is also known as the "banana belt" of Michigan's UP as Lake Michigan tends to moderate temperature along US-2.
---
Michigan's State Recreation Byways
Michigan Scenic Byways offer a flavor of all the beauty and variety of the Great Lakes State. The exceptional natural beauty and historic, scenic, recreational, and cultural significance have earned these drives to be considered among the top travel destinations.
#12 Sunrise Coast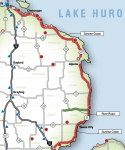 This byway consists of over 200 miles of clear inland lakes, majestic Lake Huron, numerous shipwrecks, historical, and sometimes spooky, lighthouses, and pristine beaches on what is considered Michigan's Sunrise side. This is the longest of the states byway routes. It is recommended for taking several days to enjoy.
#13 I-69 Recreational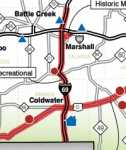 Running from the Indiana border north past Battle Creek, this heavily traveled route requires travelers to venture off the highway to appreciate this beautiful historic region; you'll find opportunities for unlimited year-round outdoor activities. For Movie Drive-In buffs, the Capri Drive-In Theater is on nearby Chicago Road.
#14 Pathway to Family Fun M-15 Ortonville Road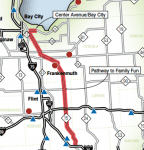 This old-school drive is considered a less hectic alternative to I-75, taking travelers through a relaxed winding corridor known for its quaint towns, local parks, recreation, and camping areas. Starting in Clarkson and heading up the byway on M-15 runs north and northwest to Bay City. This is a great alternative route during busy holidays.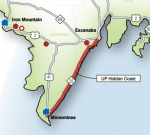 Meandering through the wilderness between the Wisconsin border at Menominee and Gladstone along Lake Michigan's northwestern shore, large parts of the old Native American Sault and Green Bay Trail, this "Hidden Coast" is drenched in history and heritage. The highlight being at the end at the Sand Point Lighthouse
#16 Chief Noonday
M-179, also known as Chief Noonday Road, winds east through a land of recreational opportunities and historical significance. Located South of Grand Rapids, this area is heavily wooded and inhabited by an abundant variety of wildlife. Nearby to the Yankee Springs Recreational Area and the Barry State Game Area.
#17 North Huron Recreational Trail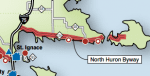 Starting just east of St. Ignace. This 50-mile excursion along the northern shore of Lake Huron, M-134, is rich with wildlife habitat, scenic views, boating, and recreational opportunities. This is also considered a prime cruising area for sailors on the Great Lakes.
#18 West Michigan Pike
Explore the sugar sand beaches, majestic dunes, quaint communities, beach towns, and resorts along the 184-mile West Michigan Pike, one of the nation's oldest "tourist" roads. Festivals and events, historic places, and Michigan-made foods, beverages, and art keep travelers from the Lake Michigan shore on the "Pike" each year.
---
State Historic Byways
Michigan Historical Byways are specifically designated state routes with particular significance. The original name of this project was the Michigan Heritage Route Program which was created in 1993. These byways are used to recognize, protect, and enhance the area. In many cases, adjacent land is denoted with unique scenic, cultural, or historic qualities.
#18 US-12 Heritage Trail

This Michigan road trip is cut along the same route as the ancient Sauk Indian Trail. This route is rich in colorful character, remarkable history, and an ever-changing landscape. The US-12 Heritage Trail invites the traveler to journey its winding road, and cruise through historic small towns, such as Marshal, with 19th-century architecture.
#19 Iron County Heritage Trail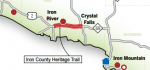 Located in Iron County of Michigan's Upper Peninsula, the Iron County Heritage Trail is composed of a 36-mile loop connecting 14 premier sites that provide visitors the opportunity to discover the history behind the beauty of Iron County
#20 Marshall's Territorial Road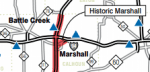 Marshall's Territorial Road features 28 historical markers, with 14 being official Michigan Historical Markers – the most of any Michigan community outside of Detroit. Marshall is the home of the famous Win Schulers Restaurant.
#21 Center Avenue/Bay City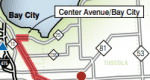 Bay City offers picturesque tree-lined streets with majestic lumber baron-era mansions to a magnificently restored county building and business district. The entire city is a preservationist's dream. The M-25 (Center Avenue) neighborhood has almost 900 historic structures in its Center Avenue Neighborhood Residential District—a great mini Michigan road trip.
#22 Monroe Street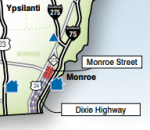 Driving, walking, or cycling along M-125 (Monroe Street) provides visitors an unparalleled opportunity to enjoy a mix of residential, religious, and commercial landmarks and structures, as well as natural resources such as the historic River Raisin, known by Native Americans as "Numaseppee" or River of Sturgeon.
Excerpts and map thumbnails have been taken from Pure Michigan Byways and Tour Routes Driving Guide published by the Michigan Department of Transportation. Information for your own Michigan road trip can be found with its detailed information, maps, and key things to see can be found on this downloadable pamphlet
Related Michigan Byway and Highway Reading