It's been a tradition in the Upper Thumb for as long as many of us can remember. We look upon a beautiful day and see the contrails of an F-16 or hear the roar of an A-10 Warthog before it screams by high overhead. We look out for them. Watching these combat aircraft fly to the training area over the big lake. Sometimes the hair on the back of your neck stands up as you know that young men and women of the Air National Guard are giving up their time to practice over our skies and stay sharp with their skills. We feel good about it. Now that can all change with a proposal to switch to low altitude combat training over the Thumb.
The Alpena Airspace Proposal
A proposal being considered by Air National Guard to expand the training area and number of combat aircraft flights. This change will impact northern Michigan and the Upper Thumb. It will drop the altitude flying deck to a mere 500 feet over land and 100 feet over the water. Flights could happen up to 5 days a week. It will also add one weekend every month and five days every other month during nighttime hours until midnight.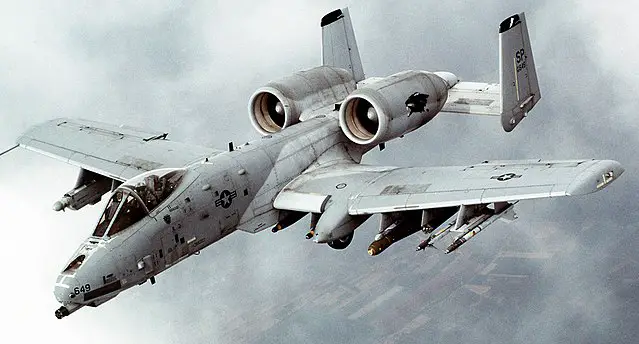 The aircraft will be changing too. The tactical A-10 Thunderbolts will be augmented by the classic F-16 and the brand new F-35 fighter bombers. Both of which can fly supersonic and break the sound barrier. Those boating out on the Bay may not even notice these screaming aircraft until they have blasted by overhead.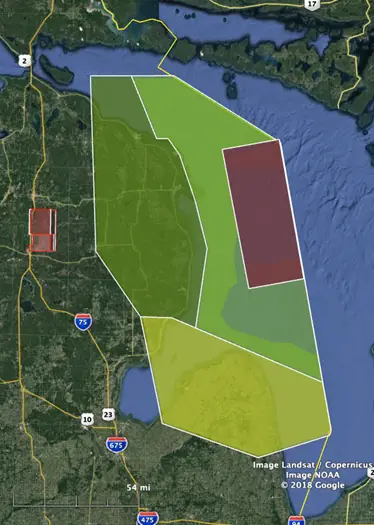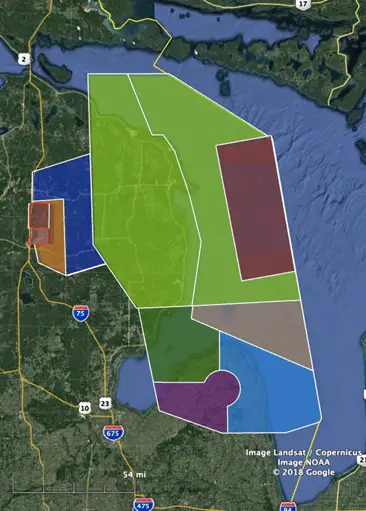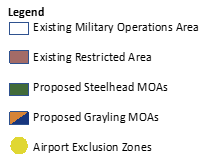 It's a substantial change to what the Thumb area has known and wholeheartedly supported for about 50 years. The proposed change will impact the character of the region as combat training takes place literally over our heads. Modifications to the airspace would include new MOAs at low and medium altitudes over parts of Otsego and Crawford counties, and increased ceiling at Camp Grayling, and new low-altitude MOAs over portions of Tuscola, and Sanilac Counties. The new low altitude MOAs would cover all of Huron County.
Formation of Huron County Quiet Skies Coalition
A group of concerned citizens has taken notice. They have attended every meeting on the subject, plied for information from the Air Force and Air National Guard and contacted just about everyone they can think of to let folks know what exactly is going on. Then they came to Thumbwind.
At first, I was wary. I had tacitly followed the subject and knew that it was being discussed. It was only after seeing the true impact of the proposed changes of the Military Operations Area (MOA) did I realized that this could be a forever game changer to the tourism, hunting, and culture of the Upper Thumb.
The Huron County Quiet Skies Coalition (HCQSC) seeks to spread knowledge about this potential change to residents and visitors of the greater Thumb Area. The Coalition is made up of stakeholders in Huron County, Michigan that seek to preserve the quiet, rural and recreational environment.
The coalition is expressing concern about the current military proposal to use Huron County (and parts of Sanilac and Tuscola Counties) as a combat jet training area. The HCQSC is not "anti-military". They believe that the intensity and frequency of the proposed flights will seriously degrade the ambiance of the county. Its impact is seen to devalue the county's economy, disrupt agricultural operations and pose health risks to the residents, cottage owners, and vacationers seeking a peaceful alternative to urban noise.
The Impact of Being a Low-Level Military Operations Area
The proposal to start low altitude combat training over the Thumb is dramatic. The MOA that has operated for the past 40 years over Lake Huron (shown in green), will be expanded. It will cover all of Huron and much of Tuscola and Sanilac Counties. (Shown in Blue). Other than an exclusion zone around Bad Axe, nearly every other town and village will be considered part of "realistic combat aircraft training environment". (1) Another change is what these jets will be doing overhead. Combat training, as opposed to flyovers, includes "climbing, diving, turning, and multiple passes over the same location" will be the new norm. (2)
(2) Email of Matt Trumble, coordinator of flights at the Alpena CRTC
---
What You Will See From The Ground
This video shows examples of low-level flights of A-10s under 1000 feet in Death Valley. It shows the intensity of low level flying to observers on the ground.
---
Potential Utilization of the New MOAs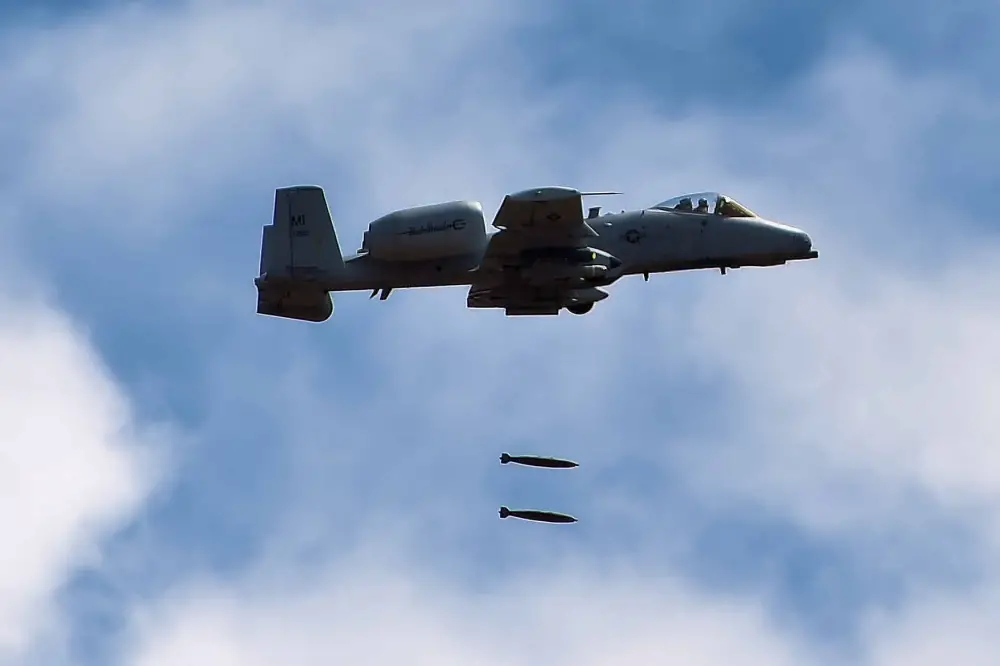 The primary users of the Grayling Temporary MOA would conduct exercises with A-10, F-16, and F-35 aircraft. Transient users may conduct exercises with a wide variety of both fixed-wing aircraft and rotorcraft (e.g. F-15, F-18, AV-8, B-52, B-1, KC-10, C-130, C-17, RC-26, approved remotely piloted aircraft, MC-12, U-28, E-3, E-8, AH-1, UH-1, AH-64, H-60, CH-47 and AH-6). No projection has been given for the Steelhead MOAs proposed over the Upper Thumb.

In an environmental impact statement of the Grayling Temporary MOA, it outlined its utilization. There would be approximately 20 sorties per day on average with approximately 10 percent occurring at night (2200-0200). There would be a maximum of 50 sorties on any given day,. Up to 10 sorties occurring between 10pm and 2am. No similar projection has been provided for the airspace above the Upper Thumb.
Source: DRAFT Environmental Assessment for Establishment of the Grayling Temporary Military Operations Area (MOA)
---
Steps You Can Take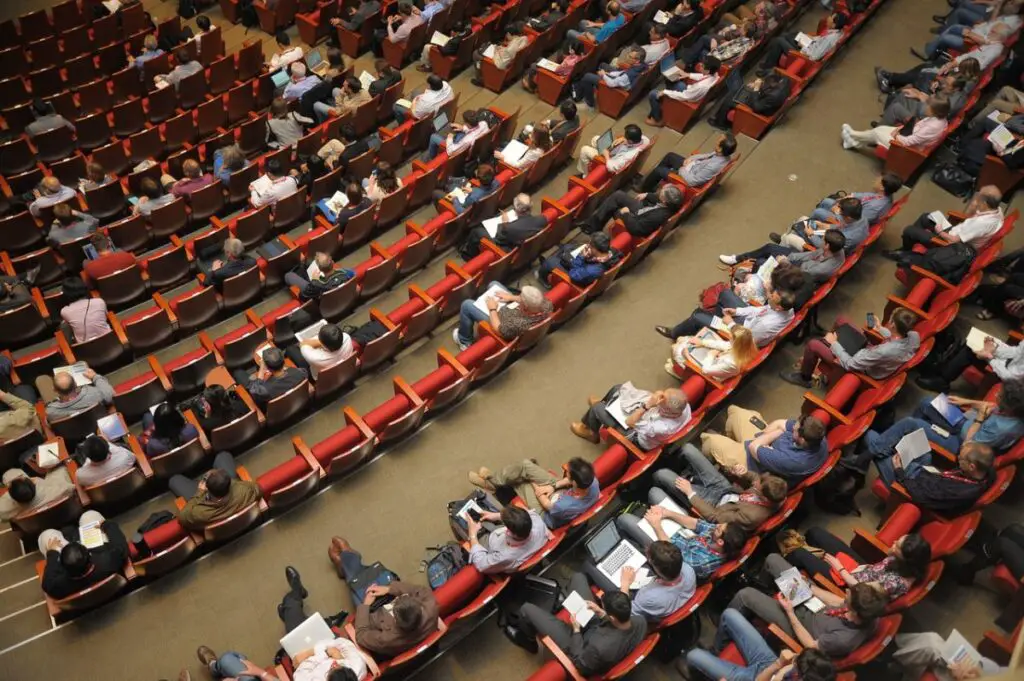 Go to the Huron Quiet Skies Coalition site and take their survey. Sign up for updates about low altitude combat training over the Thumb.
Become informed. Learn what the Proposal proposes and how it is different than previous military flights in our area. (see FAQ document from the military)
Contact representatives and government officials. The most effective way is in person or with a phone call
Attend meetings of the County Board of Commissioners, Chambers of Commerce, and village and township meetings. Voice your concerns and bring awareness of this change.
Spread the word. Tell your friends about it and take your knowledge to groups or clubs to which you belong. If you know folks that own property here but are only here seasonally, be sure to inform them. Few of them know about this, but many will care.
Comment Period Soon
Public comment will be taken on the proposal to allow low altitude combat training over the Thumb. The new Steelhead MOA comment period is estimated to start in August and run through October 2019.
More information can be obtained at the Alpena Combat Readiness Traning Center
---
Alpena Airspace Proposal FAQs
What is a Military Operations Area (MOA)?
An MOA is a block of airspace where aircraft can perform military training activities (aircraft intercepts, turning and evasive maneuvers and air combat maneuvers) separated from Instrument Flight Rule (IFR) traffic.
Why are the current military operations areas deficient for training purposes?
Current aircraft and tactics require more maneuvering space than those flying when Grayling Range was founded in the 1970s. Current MOAs lack airspace below 6,000ft MSL over land. Pilots must train at lower altitudes to be prepared to defeat enemy threats, employ modern weapons and sometimes to fly beneath low clouds where they can visually acquire practice targets on the ground.
What has changed? Why was the previous airspace sufficient for training, but now it isn't?
Previous Alpena Complex airspace was never sufficient for low altitude training, only providing low over-water areas or the tiny Grayling Range. Over-water flying doesn't teach a pilot to maneuver relative to ground obstacles and the Grayling Range is too small for adequate flying training time and often unavailable due to its primary function as a bombing and artillery range. Local pilots relied on infrequent, expensive deployments elsewhere for low altitude flight experience. Around the Range, tactics built for modern weapons require pilots to remain farther away from enemy targets, which is safer for pilots but requires additional maneuvering MOA airspace adjacent to the Range.
What factors influenced the choice of the proposed military operations area (MOA) shape and location?
The Grayling MOAs (West/East/East Low) must adjoin the Grayling Range to be used concurrently. They were shaped to minimize impacts to populated areas and other non-military aircraft operations while maintaining Range safety procedures. The Pike Low MOA was chosen to connect over-water MOAs with the Range MOAs over a sparsely populated area with low non-military flying operations. The Steelhead MOAs were chosen due to their close proximity to Selfridge ANGB, home to the MI A-10 Thunderbolt II's who require a nearby low altitude MOA for daily training, also in a lightly populated area with few non-military air operations.
What units and what aircraft will use the MOAs?
The primary users will be the Michigan 107FS A-10s from Selfridge ANGB and the Ohio 112FS F-16s from Toledo ANGB, who each fly daily missions. As Alpena CRTC's mission is to provide a deployed-like training location for Air National Guard flying units, other ANG aircraft from around the US, primarily the East Coast, Southeast, and Midwest, will fly in the MOAs during 1- 2-week training trips. These are typically A-10, F-16, and F-15, in the future, F-35.
How often and when will these MOAs be used?
Generally, the A-10s and/or F-16s will use the MOAs Monday – Friday for 1-2 hours in the morning and 1-2 in the afternoon. Occasional weekend flying may occur, but usually only once a month. Night flying will occur less frequently, usually only on weeknights, either one night per week or one week every other month, usually concluding no later than midnight. CRTC-deployed units follow a similar pattern as the local units described above, sometimes for additional hours during a 1 – 2-week training trip. Most trips occur in the spring-summer months. The MOAs are proposed in 3 geographic areas and will not always be activated all 3 together, each day, based on unit mission requirements and weather conditions. The Pike Low and Grayling East Low MOAs will be activated the least often.
How many military aircraft will fly in the military operations areas at any one time?
Typically, 2 – 4 aircraft will be flying in any single MOA at one time but there can be as many as 8-10 aircraft depending on the training needs. Additional MOAs are usually used in conjunction with each other when aircraft numbers exceed 4 to allow for greater maneuvering space. This also has the effect of keeping aircraft densities and noise levels lower and spread out.
What will be the impact on noise levels on the ground?
Currently, military training routes (MTR) exist in all the proposed MOAs, bringing aircraft down to 500ft AGL – the same level as the proposed MOAs. Noise levels will be like those under the MTRs however the MOAs will allow aircraft to spread out in a wider area reducing the density of aircraft above a single point and reducing repetitive noise events. FAA recommendations and U.S. Air Force best practices entail aircraft utilizing military operations areas to avoid noise-sensitive areas to the maximum extent practical.
Complete FAQ about low altitude combat training over the Thumb at the Alpena Combat Readiness Training Center
Related Reading
---