While the word 'fried' doesn't invoke thoughts of healthy food, the air fryer cooks through the use of hot air, not fat. While some fats are necessary and even healthy, cutting down on saturated fat can improve health and reduce cholesterol.
An air fryer is an ideal appliance for making simple and tasty meals and snacks, and it has the bonus of making popular recipes that little bit healthier.
Below are five simple-to-make and healthy air fryer recipes and ideas for quick fixes.
Potstickers in an air fryer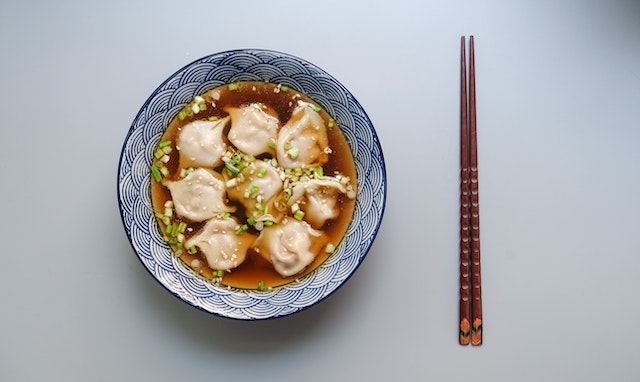 Originally from China, this dumpling is popular in the states and can be cooked in many different ways. The dough wrapper can be filled with your choice of vegetables or meat and then steamed, boiled, pan-fried, or deep-fried. Or air fried, of course.
The quickest way to get this satisfying snack or starter is to follow the air fryer potstickers recipe here. If you want to whip these up quickly and don't fancy the preparation involved then frozen potstickers are widely available and will cook perfectly in the air fryer.
Spinach, goat cheese, and red pepper omelet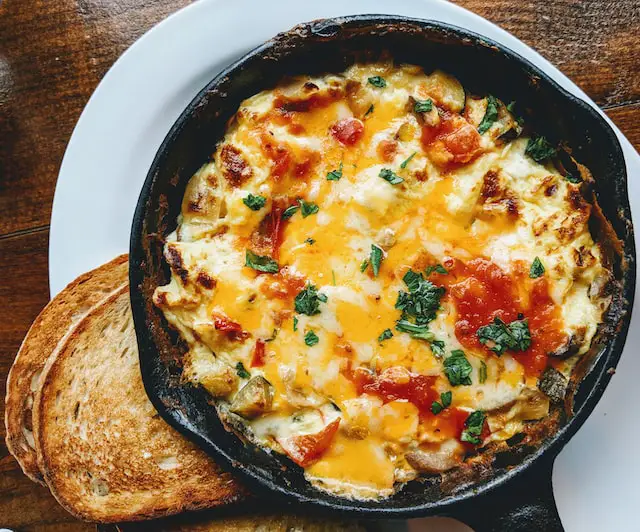 Many individuals got into cookery during the pandemic and its lockdowns. And some genius ways to spice up breakfast emerged from kitchens throughout the country. There's no reason to go backward now.
This is one of the healthy air fryer recipes suitable for breakfast, lunch, or dinner and is satisfying and tasty. If you are concerned about the inclusion of cheese in what is supposed to be a healthy recipe then you will be happy to know that there are good fats in goats cheese as well as protein, calcium, and riboflavin, and it's easier to digest than cheese made from cow's milk.
For this recipe, you will need a cake tin suitable for your air fryer.
Ingredients:
Olive oil cooking spray
Three large eggs
Milk 2 tbsp
Salt
Ground black pepper
Chopped red pepper (grilled or roasted, ideally)
Chopped spinach
Goats cheese
Method:
Put eggs, milk, black pepper, and salt (to your liking) into a bowl and whisk together thoroughly.
Use a light amount of cooking spray to grease your cake tin.
Pour the mixture into the cake tin. Cover half the egg mixture with red peppers and spinach while leaving the other half untouched. Place the pan into an air fryer basket and cook at around 350° until eggs are set – around 6 minutes or so.
Remove the pan and crumble goat cheese over the spinach and peppers. Now, using a pancake turner or something else suitable, fold the uncovered half of the omelet over the topped half, and serve.
healthy air fryer recipes – Teriyaki salmon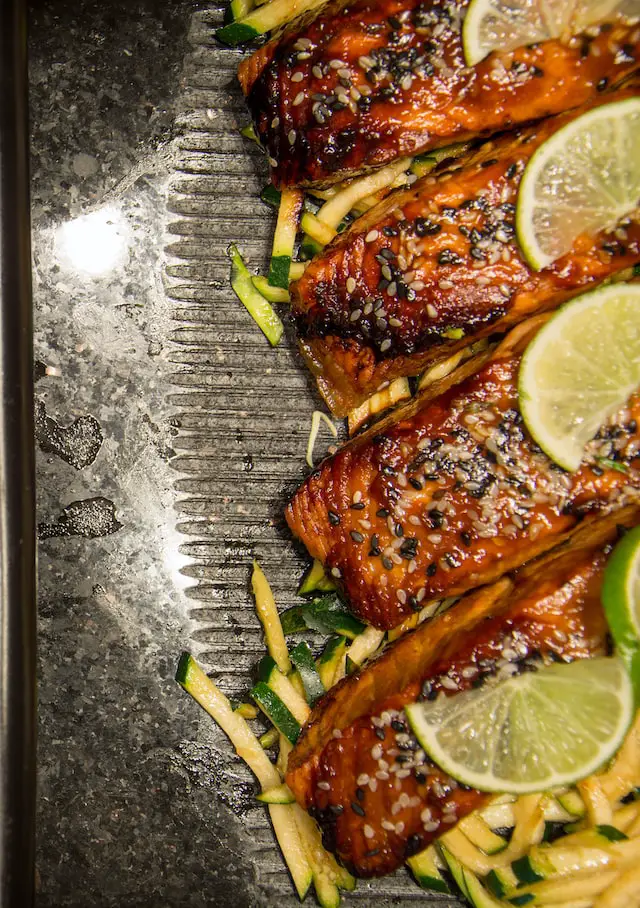 Many people invest in an air fryer because of the potential health benefits. One of the many tips for a healthier diet is to include more fish and less meat. Salmon works well in the air fryer and is stuffed with Omega 3, which the heart loves.
You can make your teriyaki sauce with easily purchased ingredients, but if you don't have a well-stocked pantry, it would be cheaper to buy a ready-made sauce.
In this healthy air fryer recipe, you only need three other ingredients:
2 Salmon filets – skin on one side
Sesame seeds
Spring onions
Method:
Despite what other recipes may say, do not rinse your fish before cooking. This old practice will only help to spread bacteria through splashing.
Place baking paper in the air fryer basket and lay filets on top with skin side up. Cook for 10 minutes at around 320°.
Now, turn the salmon over and coat the sides, and top with teriyaki sauce. Make sure you retain some sauce for serving. Cook for an additional 5 minutes or until the fish is done.
Serve with extra teriyaki sauce if you wish—top fish with chopped spring onions and sesame seeds.
healthy air fryer recipes – Spring rolls or lumpia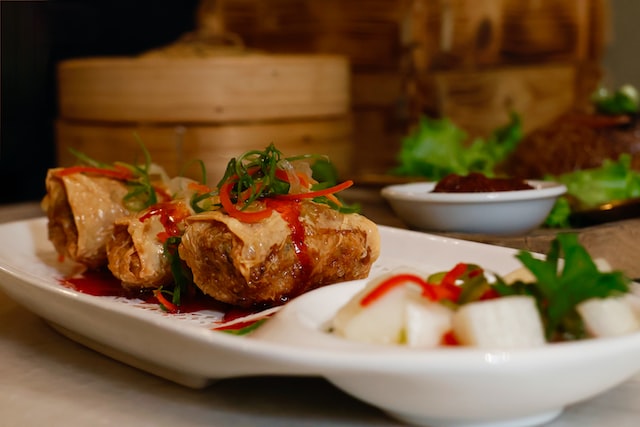 Most people who have visited a Chinese restaurant will know what a spring roll is, but lumpia may be a mystery. Lumpia is very similar to spring rolls, and they are to be found in Indonesia and the Philippines.
They can take some effort to prepare, and typically they are deep-fried. This should negate them being on this list of easy & healthy recipes. But never fear; cooking air fryer frozen lumpia means you get to enjoy this snack quickly and with reduced fat.
Lumpia are available in many stores, and if you get stuck, there is even a website specializing in lumpia that delivers across the country.
Chicken and vegetable fajitas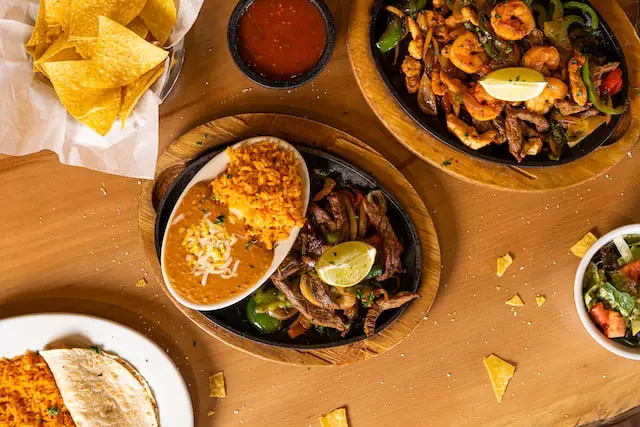 For anyone who is vegetarian, you can substitute the chicken for tofu and mushrooms or simply add more vegetables.
The USDA reports that around 12 grams of fat in fried chicken weighing 100 grams. Utilizing an air fryer can lower fat by up to 90%.
Ingredients:
1/2 pound skinless and boneless chicken breast (sliced into strips)
One medium onion
One red pepper (green or yellow are fine too)
Cumin 1 tsp
Chili powder 1 tbsp
Cayenne pepper 1 tsp (optional)
Lime juice
Salt & pepper
This recipe is very simple. Preheat the air fryer to 370°.
Combine all ingredients in a bowl and mix thoroughly. Once mixed, pour this into the air fryer and cook for around 10 minutes or slightly longer if needed. The thicker the chicken slices, the longer they will need.
NB. You can give the basket a good shake after 5 minutes of cooking and continue.
Once cooked, serve with flour tortillas.
Final Thoughts on Healthy Air Fryer Recipes
Once you have worked through these simple ideas, you can start exploring the hundreds of other recipes waiting to be tested in your air fryer.
The internet is full of resources for this versatile little appliance, and if a healthier diet is your aim, you could do worse than use an air fryer to help you get there.
---
Other Food Reading on Thumbwind
20 Famous Wisconsin Foods That Are Beyond Delicious – Ranked! – Over the past year, we have made several trips to Wisconsin to see family. We found that in the land of brewing beer and dairy farms, there are many famous Wisconsin foods. We've uncovered abundant comfort foods such as brats, cheese dips, pasties, cream puffs, and Kringles. But one American favorite makes a list with this simple, delicious topping.
Dill Pickle Soup Recipe – Warm And Savory – Vlasic Dill Pickle Soup is a quick, savory, hearty main course soup that is perfect for a camp lunch. The potential variations are endless, and prep is simple.
We Reveal The Top 9 Potential Michelin-Rated Restaurants In Michigan – 2022 – Michigan is becoming the home to new culinary destinations that are distinctive in their way. Michelin-rated restaurants in Michigan can offer foodies a superb gastronomic experience. The creativity of the dishes paired with unerring service makes them a prime choice for gourmet enthusiasts.