We love to seek out and sample the best local cuisine when traveling. Over the past year, we have made several trips to Wisconsin to see family. We found that in the land of brewing beer and dairy cows, there are many famous Wisconsin foods.  It's a fact that comes as no surprise to anyone who has visited—or even just made it through a Wisconsinite's refrigerator, which we have. We've found an abundance of comfort foods perfect on a cold day, such as brats, cheese dips, pasties, and kringles. 
Here is the ranking of famous Wisconsin foods and the search index appearance for 2022.
We conducted extensive research on which of these Wisconsin foods is the most sought-after by the number of searches. Using tools such as Google trends, we found these twenty foods rank in order of preference and searches. Here are 20 foods you should try if you ever find yourself in the Badger State:
20. Fish Boil – A Door County Tradition (769)
This tradition goes back over 100 years. Native Lake Michigan whitefish are boiled in a large vat with potatoes, sweet white onions, and sweet corn. This mirrors a similar tradition of a New England Crab boil. This cooking method is prevalent in Door County, where neighborhoods, church groups, and restaurants make a summer party out of it.  Since Door County is so close to the Green Bay Packers stadium, its possible you may see a fish boil at tailgate parties outside of Lambeau Field.
19. Morel Mushrooms – Springs Early Bounty of The Woods (992)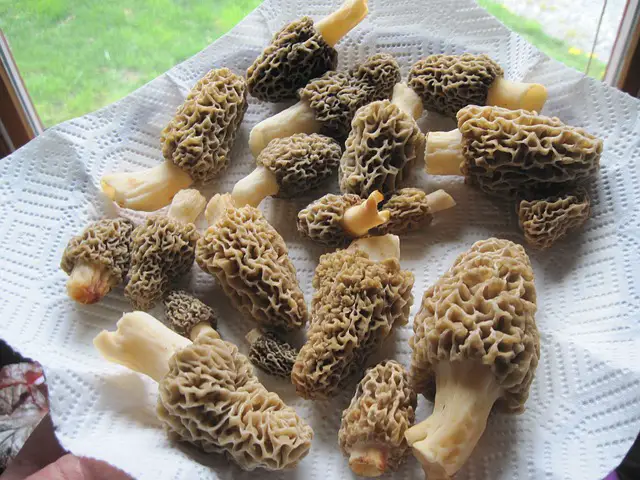 Each spring, mushroom hunters take to the woods across the Great Lakes region. The state of Wisconsin is known for its abundance of this tasty and expensive delicacy. In Wisconsin, the Brule River State Forest and the Chequamegon-Nicolet National Forest are the best places to find morel mushrooms.
18. Danish Kringle – A Sweet European Tradition Lives On (1073)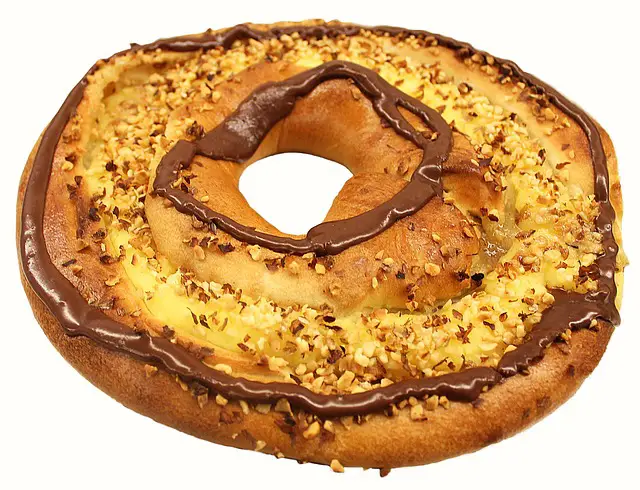 Kringles are a traditional Scandinavian pastry that can be found all over Wisconsin. Kringles are made from pastry dough, rolled into a large circle, filled with fruit pie, and baked. They are usually topped with icing or powdered sugar and eaten during the holidays.
17. Cornish Pasties – The Hot Lunch For Miners (1195)
Cornish pasties are delicious pockets of meat and vegetables baked in a pastry crust. If you're an American, you may wonder why this isn't called a "pasty," as it would be if you were in England. Today, pasties are always made by wrapping the filling in a circle around the crust and crimping the edges together. But back when they were first created by Cornish miners around 1300 AD, they had no such shape or form—instead, they were just oval-shaped pieces of unleavened bread folded over their fillings.
When these miners came to America at the end of the 19th century to build railroads through Wisconsin and northern Michigan, women brought their comfort food tradition. A home cook can create a pasty by folding over their filling so that it would stay warm for extended periods. Miners could warm it up by placing it on a shovel over a headlamp flame. The process continued until today when we have different fillings wrapped up inside our beloved pastry crusts!
16. Cranberries – Boggy Holiday Color and Flavor (1174)
Cranberries are Wisconsin's official state fruit, producing more than half of the entire world's supply. Wisconsin's economy is significantly impacted by the cranberry. The main fruit crop in Wisconsin generates roughly 7,200 jobs and brings in about $330 million for the state's economy. This little fruit, cultivated in bogs, offers several health advantages. Antioxidants and other substances found in cranberry juice may aid in the prevention of cancer and cardiovascular disease. Its tang provides a perfect match in the famous almond cranberry bread.
The "Cranberry Capital of Wisconsin" is Warrens, a small village, population 400, located in the northeastern corner of Monroe County in central Wisconsin. The Warrens Cranberry Festival is held the last weekend in September and draws over 145,000. 
15. Friday Fish Fry – A Year Around Lenten Tradition (1419)
A common lenten custom for Catholics is observing meatless Fridays. However, this adherence to a religious tenant has become a Wisconsin favorite meal. Every local eatery or home gives the traditional a new spin. Even so, you may frequently see 3–4 pieces of deep-fried, battered walleye, perch, bluegill, or "lawyer"—the local term for burbot. The fried fish is served with coleslaw, french fries, baked potato, or potato pancakes.
14. Beer Cheese Dip – a Football Party Must Have (1783)
This simple recipe combines two of Wisconsin's loved foods from America's dairyland for a savory treat. Monterey Jack and Cream Cheese are combined with a local brew and spiced up with a bit of cayenne pepper. Whisk them together over low heat for a few minutes and serve with pretzels. It is perfect for a tailgate party or watching the big game on TV. 
---
You Might Also Like: Famous Michigan Foods – Known for its comfort cooking, the Mitten state is famous for re-creating regular dishes by adding a twist like Detroit-style Pizza, Wet Burritos, Olive Burgers, and Coney Dog. Its home-grown foods like tart cherries and Michigan apples make Michigan a tasty food destination.
---
13. Wisconsin Bratwurst – Beer Brats For Your Grill (1862)
Beer brats are a Wisconsin staple. The sausage is made with beer, garlic, onions, and spices, then grilled or baked with your choice of toppings. Sauerkraut and mustard are often served alongside the sausages to add extra flavor. Wisconsin sausage or wurst was made popular by German immigrants in the 1800s. There are a million great recipes for making brats. One of the top butcher shops in Wisconsin is Klements Meat Company, located in Milwaukee, Wisconsin. Our personal favorite is found near Port Austin at Walt's Meats. Their "Everything Brat" is delicious. 
---
Inside Tip – The Secret to Grilling Bratwurst
Grilling brats correctly is a challenge, and they can be cooked similarly to a hot dog with casing. The experts say low and slow at first and suggest starting the cased sausages on low heat, then crisping them up at the end. The indirect cooking method will prevent the natural casing from exploding and drying out your sausage.
Bratwurst also braises well in beer. Fill a cast iron skillet with a half inch of beer, bring to a simmer, and cook until the Brats plump up and float to the surface. Once they're nice and plump with no pink showing, char them up in a skillet or on the grill. This is a great way to feed a crowd. You can return the brats to the skillet and keep them from drying out by adding more beer. Beer brats are also great in a sandwich paired with potato salad.
---
12. Burbot (AKA Lawyer) – Tasty Wintertime Ice Fishing Prize (1928)
This burbot fish—is an underappreciated cold-water fish known as "poor man's lobster" because, when appropriately prepared, the flesh tastes just like lobster. It is frequently captured during the ice fishing season in northern Wisconsin. Like the revered Wisconsin fish fry, a fish fry using burbot (aka the local moniker name of "Lawyer") is typically found beer-battered and deep-fried on a mound of french fries. It's a local favorite and tastes delicious.
11. Sprecher Root Beer – An American Recipe (1913)
Sprecher Root Beer is a root beer that was founded in 1985. It is made with pure cane sugar in the brew city of Milwaukee, Wisconsin. The company distributes its product throughout the Midwest and parts of the South. Sprecher Root Beer is available in bottles or cans, but it also comes packaged with a straw for those who want to drink straight from the source.
10. Blue Moon Ice Cream – Put Superman on Its Heels (2145)
If Michigan has its crazy fruity multicolored Superman ice cream, Wisconsin places its flag on Blue Moon. Connoisseurs say it tastes like a bowl of kids' fruity cereal; others say it is cotton candy or bubble gum. Copycat recipes to re-create the flavor at home commonly call for raspberry and lemon. Regardless on an evening after a day of fishing, there is nothing better than the neighborhood ice cream shop. Blue moon ice cream is one of the coolest famous Wisconsin foods around.
9. Secret Stadium Sauce – The Secrets In the Sauce (2174)
If you find yourself at a Milwaukee Brewers baseball game, chances are Stadium Sauce lovers surround you. This is a simple condiment of ketchup, BBQ sauce, liquid smoke, and a bit of mustard. If this blend sounds like it was made with a bunch of leftover ingredients at the bottom of a container, you would be right. Secret Stadium Sauce is now so famous it is bottled and sold at grocery stores all around Milwaukee. Its irresistible flavor combination is a good reason to pick up a bottle for the trip home. Using it on your next coney island will make anyone feel like they've been transported straight back to the ballpark. 
8. Beer Cheese Soup – A Warm Comfort Food (2339)
If you sense a pattern here that Wisconsin is the land of beer and dairy products, we agree. Beer cheese soup is creamy, flavorful, and spicy with carrots, onion, celery, and garlic cooked in beer, sharp Cheddar, milk, mustard, and Worcestershire.
7. Cream Puffs – A Wisconsin State Fair Must Try (2548)
If you want a genuine Wisconsin Cream Puff, you must visit the Wisconsin State Fair in August. Since 1924 its Cream Puffs have been the most popular food item among Fairgoers – the Wisconsin Bakers Association makes over 400,000 of Wisconsin's state pastry that is consumed each year.
You can find these delicious cream-filled pastries at the Cream Puff Pavilion. The fact that there is an entire building dedicated to the Cream Puff tells me these folks are serious. 
6. Cheese Plate Charcuterie – Because There is So Many Cheeses (2763)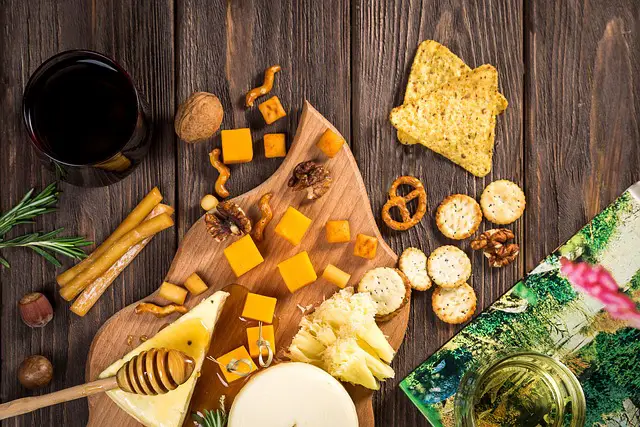 While it's not a meal in and of itself, a cheese plate is a perfect way to try many different kinds of Wisconsin cheeses. These are often served with crackers, fruits, nuts, and honey.
The state's history of cheese production dates back to the 1800s when immigrants from Germany brought their knowledge. Now there are over 350 different kinds of cheese produced in Wisconsin!
Your cheese board should have at least these three Wisconsin kinds of cheese. 1) Colby. In Wisconsin, we adore all of our cheeses equally, but many people think Colby would be the clear winner if there were an official state cheese. 2) Mozzarella, According to the Wisconsin Milk Marketing Board, this is the most popular type of cheese nationwide and in Wisconsin. 3) Cupola is a Wisconsin crowd-pleaser. This nutty, fruity-rich cheese was developed at the University of Wisconsin-Madison. 
5. Maple Syrup – The First Comfort Food (2948)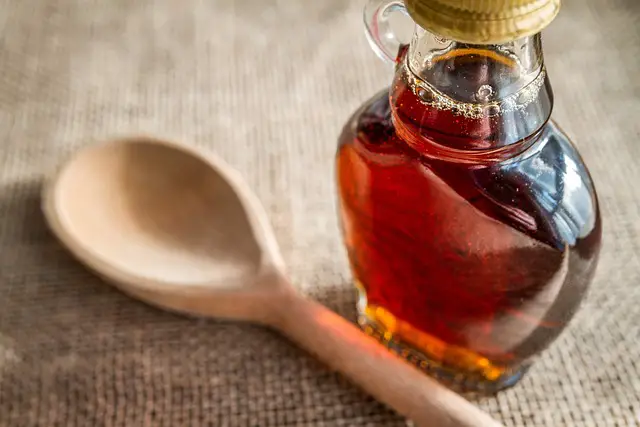 This is the oldest among the famous Wisconsin foods. The Great Lakes region has a long history of producing maple syrup. Native Americans first established sugar bushes by tapping the area's abundant sugar maple trees, the state tree. For Native Americans, maple sugar was essential because it provided calories and could be traded. When it comes to producing maple syrup, Wisconsin is fourth in the nation.  Some of the best first-run Wisconsin maple syrup can be found in farmer's markets. The state produced 300,000 gallons of syrup last year.
4. Frozen Custard – Smooth Chill in the Summer (3271)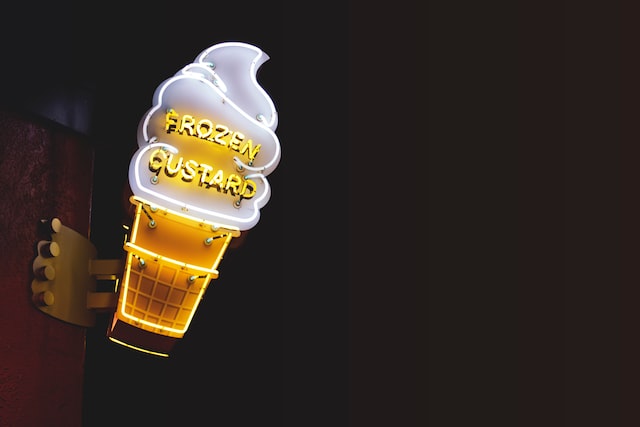 Here we go with another dairy product from Wisconsin. Frozen custard is a type of ice cream with a smoother, richer taste than regular ice cream. A popular way to serve it is in a waffle cone, which can also be served in a dish. Frozen custard is made with eggs and contains less air than ice cream. It's also served slightly lower temperature than ice cream, so its claim to fame is that the taste lasts longer because your taste buds are not shocked at being frozen. 
According to Culvers, the most popular flavor in Wisconsin and most of the Upper Great Lakes is called Turtle. It's a creamy vanilla frozen Custard that swirl in ribbons of old-fashioned salted caramel, novelty chocolate, and toasted pecan pieces. Yum!
3. Booyah – Never the Same Way Twice (3495)
Traditional Belgian stew, known as booyah, is substantial, filling, and thick. Booyah is often prepared in large amounts and served during gatherings for the community or families, such as picnics, parties, fairs, fundraisers, or holiday celebrations, because it is also supposed to be shared.
Like many famous Wisconsin foods, there is no standard recipe for booyah, although it is typically cooked with a whole chicken (and occasionally beef, too), rich chicken or beef broth, and as many vegetables, as can fit in the cooking pot without crowding it—typically carrots, cabbage, beans, celery, tomatoes, and/or maize. If you ever have the chance to try a bowl, be sure to pause and appreciate the time, effort, and love that went into producing it because it takes almost 12 hours for the soup to simmer and its flavors to develop.
2. Cheese Curds – Because Fries Are Boring(3667)
Wisconsinites consider fresh cheese curds to be one of their utmost delicacies. Cheese curds are a byproduct of cheese making. They are made from fresh cheese, have a salty flavor, and are known by youngsters as squeaky cheese because of the sound when you bite into one. They are fun to eat. Cheese curds can be served cold or deep-fried with a crunchy batter. Local lore says the famous curds were created accidentally when some soft white cheese was left out too long and dried up a bit. But others suggest it was discovered in ancient times in the Middle East. 
You can find deep-fried curds at fast food chains like A&W and Culvers. But they can be found in just about every tavern and bar in Wisconsin and the Upper Great Lakes. If you are ever in Canada, you are in for a treat. The famous dish Poutine is made with cheese curds that are slightly melted and soft and served atop Pomme Frites (french fries) and then smothered in gravy. They are sinfully good enough to make any cardiologist wince.
1. Butter Burger – Top It With Butter Make a Cardiologist Cringe (3675)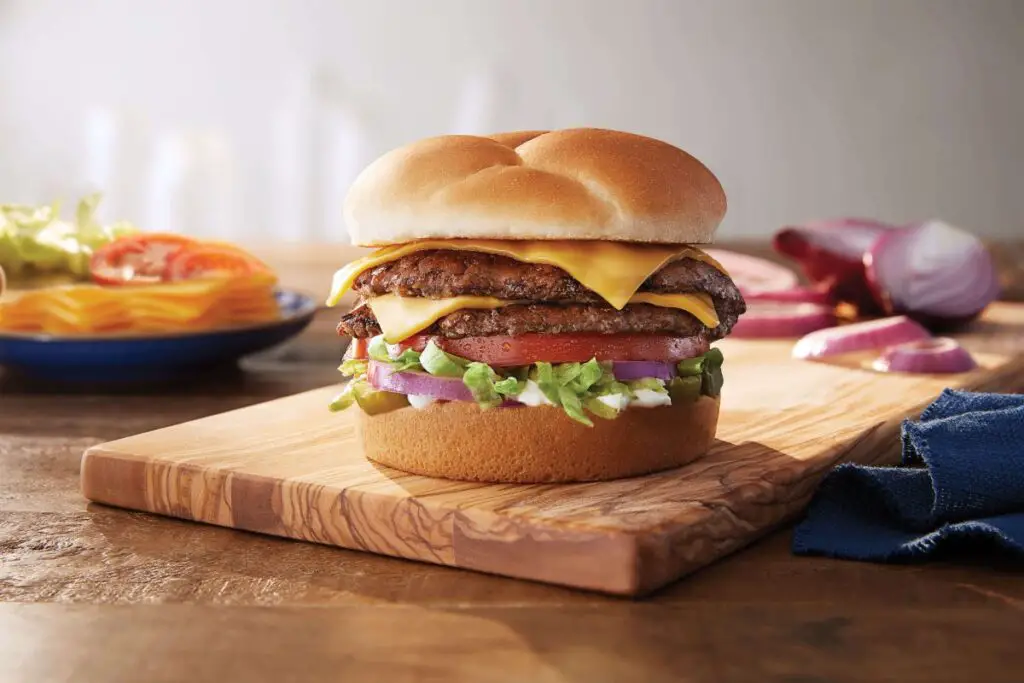 The Butter Burger is the most famous of Wisconsin foods. Local legend says it was created by the mother of Culver's co-founder Craig Culver. The method is simple lightly butter the crown of the bun with local Wisconsin butter, then add to the stack of cheese, lettuce, tomato, red onion, and grilled burger patty. The best part is that the butter topping tastes better than mayonnaise.
Final Thoughts on Famous Wisconsin Foods
They're all delicious, and if you've never tried some of the cuisines of Wisconsin, we highly recommend that you do!  If it is your first time in the state or the hundredth, with so many different flavors and styles, these famous Wisconsin foods will leave your taste buds wanting more.