We have made a little arrangement with the Minden City Herald to exchange stories from time to time. Nathan and Amber Mark's weekly paper has covered the lower Thumb since 1889. We are thrilled to offer some of their content and expand our greater Michigan Thumb area coverage. We thought this article about René Kladzyk, who grew up in the Thumb, was worth retelling.
Forestville Native Ziemba Releases New Album
The Thumb region of Michigan has a rich history of producing talented musicians and beautiful music. A wide variety of music has come from this area for decades, and now one Forestville native is releasing a new album that adds to the area's and her family's legacy of music. 
René Kladzyk spent her formative childhood years in Forestville. She lived in a house on Cedar Avenue across the street from the park. Though the house is empty now, she returned in 2016 to film a music video for her song "With the Fire." Many artifacts of her childhood remained, so the video was filmed both there and at the park across the street. The video has accrued thousands of views since then.
Growing up in Forestville has had a profound impact upon Kladzyk as both a person and an artist. Memories, nostalgia, and processing loss play a big part in her creative process. "Forestville is a place I dream about all the time," Kladyzk says. "There was just something magical about it. It has become a symbol of a past life and past reality for me, and it has an almost mythic quality to it now."
"There was a big willow tree with a large canopy in the backyard [of her house]," Kladzyk continues. "And it was just this magical place for me as a kid." The willow was hit by lightning during a storm many years ago, so the tree remains, but its large canopy is gone, having never regained its past grandeur. Kladzyk's understanding of being a child and her past child-like wonder is deeply connected to Forestville, and that is something she has held onto; she believes that it comes out in her music.
Kladzyk was involved with music from a young age but only began performing music in public in 2013. Her point of reference for when she had her first performance is that it was the day that Lou Reed died. Her sister began getting piano lessons at age 5, and at age 3, Kladyzk remembers imitating her sister's playing on one of the pianos in her home, a piano that remains there to this day. A love of music came naturally to her because her father was a local musician.
Frank Kladyzk played all around the Thumb and toured the state in the 1970s and 80s. He performed under the stage name Aurel Roy, playing mostly singer-songwriter music. René says her father's music was sometimes more folk and sometimes a little more country. He also recorded an album in Nashville that was more Rock N Roll. One of his biggest gigs, René recalls, was opening for the Nitty Gritty Dirt Band at the county fair in Bad Axe one year. 
René left Forestville at age 8 after having attended school in Ruth from Kindergarten to 2nd Grade. Her father moved to El Paso in the mid-90s and remained there until his passing earlier this year, on January 2nd. After college, she relocated to New York City before moving to El Paso this past year, where she now lives permanently. In addition to her music, she is now a reporter for El Paso Matters, an independent, non-partisan news organization "that uses journalism to expand civic capacity in our region," according to their website.
She found New York City to be startlingly different than her childhood home in Forestville. While babysitting kids that were growing up in the Big Apple, she realized how grateful she was to have had such a sheltered existence as a kid in the Thumb. "Kids in New York City are forced to grow up more quickly," she says. "I'm lucky that in Forestville, I didn't have to cope with a lot of what today's city kids do."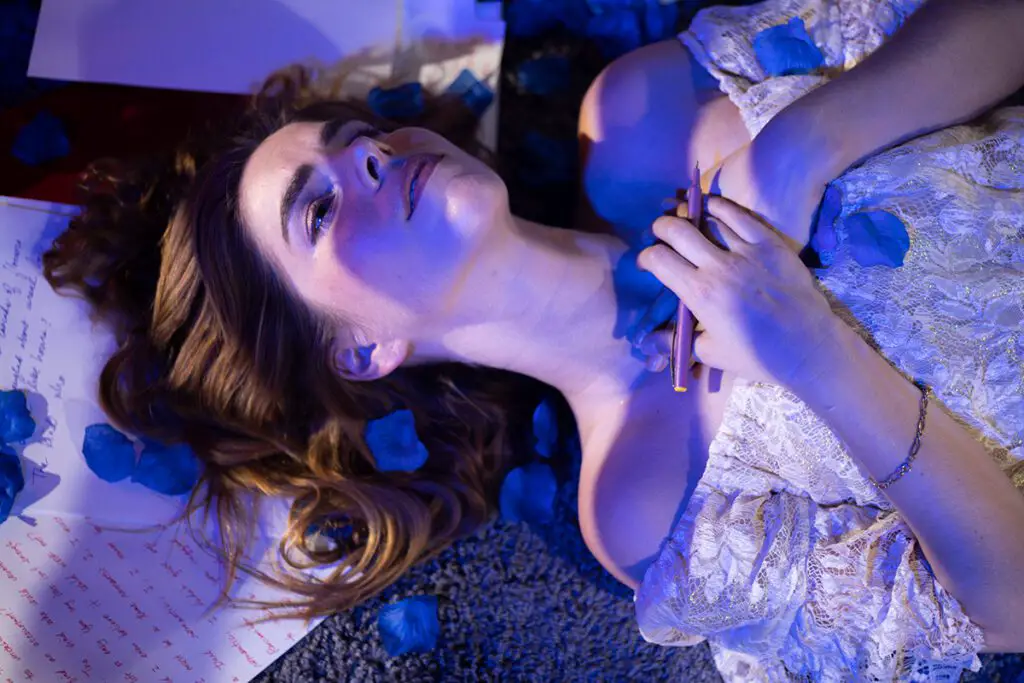 Living in New York City also helped push her into musical performance. She says being there gave her the courage to start sharing her music. "It's the energy of that place," she says. "You're just surrounded by all these people accomplishing great things, and it makes you believe that you can as well." In her time there, she says she really came out of her shell creatively, and now she can't imagine her life not playing music. 
Her busy schedule and now the COVID crisis have prevented her from visiting the Thumb since 2018. However, she still has family in the area, including an aunt in Bad Axe, and she tries to visit the area regularly during the summer and holidays. There are few things she enjoys more than summertime in the Thumb. "If I had my way, I would be in the thumb every summer," she says. 
She still feels a strong connection to the Thumb and is always thrilled when she runs into other people from the area. Her ties here run deep; her grandfather on the Kladzyk side was born in Parisville and managed the hotel in Parisville at one point. Her stage name, Zimeba, too, is a tribute to her family and a testament to her area ties. Zeimba was her grandmother's maiden and is also the name of a Polish songbird. "When I was a kid, I always thought it sounded so exotic and beautiful," Kladzyk says. She also appreciates the tie to her grandmother, Marie, who says she was "the most stylish lady in Bad Axe."
Ziemba – True Romantic
The new album from Ziemba, AKA René Kladzyk, is called True Romantic and is a departure from her previous work in that it features a full band. Her previous album had no guitars or lived drums and was mostly a synth-pop album. This new full-band release contains many references to the music she grew up with, with Kladyzk showing her appreciation for the history of pop love songs. She says this new album was liberating in several ways, both musically and lyrically.
One departure from previous releases is that the lyrics to this album show a higher vulnerability level than Kladyz has displayed in the past. "Some [of the lyrics] are literally diary entries," she says. "It can be easy as a lyricist to hide behind symbolism, but it is more challenging to write lyrics that are open, honest, true, and from the heart. It can be terrifying being so vulnerable." But that was a challenge she set for herself for this album. She didn't want to be afraid to confront embarrassing feelings and hard moments. The songs that have helped her most throughout her life are to the point, rather than those layered in symbolism, and that is what she set out to accomplish on this release.
"I hope this record will be comforting for someone experiencing heartbreak or who is giving the love that is not being returned. I want it to help people through their hard times."
True Romantic was released on September 25th, 2020. Digital copies of the album can be found at online retailers, including Bandcamp.com. The music is for fans of independent pop music in general, particularly alternative pop. Ziemba's soaring voice, haunting melodies, and powerful lyrics can be appreciated by music lovers from all ends of the pop music spectrum.  
Reprinted by permission by Nathan Marks; editor of Minden City Herald. To subscribe, visit the publication's website at MindenCityHerald.com
Related Reading