Today we explore Michigan's Michelin Guide Hotels, where luxury is a standard. Each hotel offers a unique experience, steeped in excellence. From Ann Arbor's cultural charm to Detroit's opulent stays, these hotels redefine elegance. Explore what sets them apart in the hospitality realm. Experience the best of Michigan's accommodations.
Lets Explore
The Prestige of the Michelin Guide
The allure of the Michelin Guide has long transcended the culinary world, becoming synonymous with the pinnacle of travel and gastronomic luxury. This storied guide, originated by the French tire company Michelin in the early 20th century, initially served to encourage road tripping and, by extension, tire sales. Today, it represents the gold standard in dining and hospitality excellence.
Unlike our feature article We Reveal The Top 9 Potential Michelin Rated Restaurants In Michigan these nine hotels are really featured in the Michelin Guide Hotels publication.
Unveiling the Michelin Key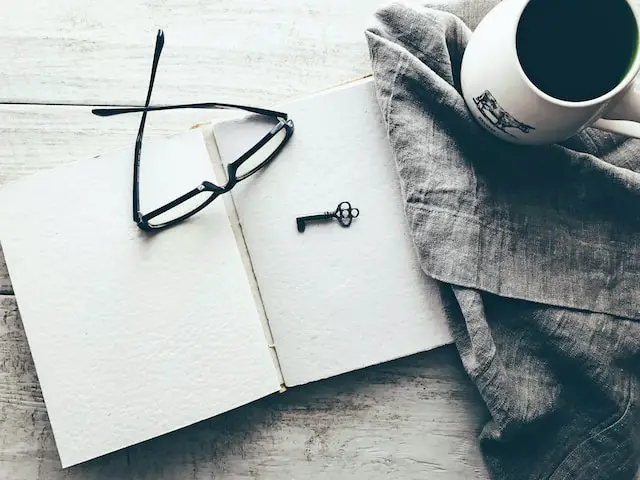 Recently, the Guide has expanded its purview to specifically honor the crème de la crème of accommodations with the introduction of the Michelin Key. The Michelin Key is a prestigious award similar to the Michelin Star for restaurants, given to the world's top hotels for their exceptional service, outstanding design, and unique character. This award is not just a recognition of luxury, but also a testament to the hotel's commitment to providing an unparalleled guest experience.
The announcement has created a buzz in the industry, with many wondering which hotels will receive the inaugural Michelin Key. Michigan has nine hotels on the list of over 5,000 worldwide, which is an impressive feat that showcases the state's dedication to providing high-quality hospitality. This is an exciting time for Michigan's luxury travel scene, as the award would be a significant achievement for any of the state's finest hotels.
Hotels that aspire to the Michelin Key distinction are evaluated on five stringent criteria: they must be a destination in their own right, showcase architectural and design excellence, provide consistently outstanding service, reflect a distinctive personality, and offer value that aligns with the quality of the experience. From 2024, the Michelin Key will emerge as a unique distinction for hotels that are not just places to stay but destinations themselves. This independent and rigorous selection process aims to guide travelers to the finest accommodations that elevate a simple stay to a memorable journey.
Spotlight on Michigan's Michelin Guide Hotels
Michigan is a popular destination for people seeking both adventure and relaxation, thanks to its scenic landscapes and bustling cities. The Michelin Guide distinguishes nine hotels in this great state, due to their exceptional service. Each of these select establishments has a unique charm, and they are considered beacons of excellence in Michigan's hospitality scene. They promise guests an experience that is beyond the ordinary stay.
Cultural Beacons: Ann Arbor's Esteemed Escapes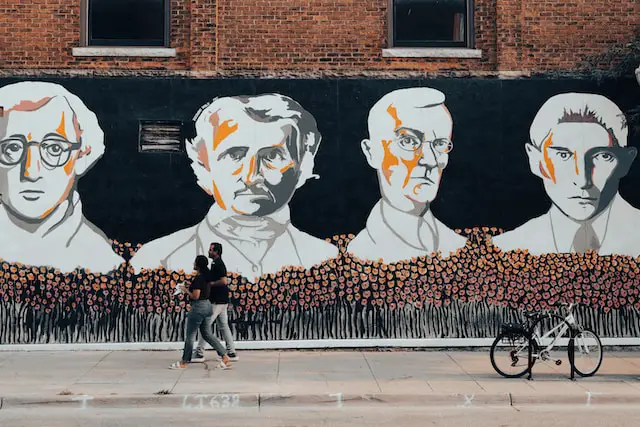 Ann Arbor, a nexus of arts, education, and innovation, owes much of its allure to the dynamic atmosphere shaped by the University of Michigan. Its Michelin Guide hotels further enhance the city's rich tapestry of cultural experiences.
Weber's Boutique Hotel
Weber's Boutique Hotel, located at 3050 Jackson Ave, is a family-owned establishment celebrated for its sophisticated decor and renowned on-site restaurant, which offers a fine dining experience. Just a short distance from the hotel, guests can explore the University of Michigan Museum of Art or enjoy performances at the Hill Auditorium.
Graduate Ann Arbor
Graduate Ann Arbor, situated at 615 E Huron St, captures the spirit of college life with its scholastic-themed decor. Steps away from the central campus, it allows easy access to the Nichols Arboretum for nature enthusiasts. It is a stone's throw from the culinary delights at the famed Zingerman's Delicatessen.
Sophistication and Charm: Birmingham's Boutique Gems
Located just north of Detroit with its quaint downtown and tree-lined streets, Birmingham, Michigan, exudes an air of small-town charm blended with urban sophistication. Having two Michelin Guide hotels is a fantastic find. Renowned for its upscale shopping, fine dining, and arts and culture scene, the city is a haven for those seeking a refined yet welcoming atmosphere. The seamless fusion of luxury and community spirit makes Birmingham a standout destination in Southeast Michigan.
The Townsend Hotel
The Townsend Hotel, situated at 100 Townsend St, is the epitome of elegance, boasting a stunning design that echoes the sophistication of Birmingham. Guests are treated to personalized experiences, with nearby attractions like the Birmingham Museum and upscale dining at the Rugby Grille.
The Daxton Hotel
The Daxton Hotel, located at 298 S Old Woodward Ave, is a contemporary gem that captivates with its avant-garde art pieces and bold design choices. It stands just steps away from Shain Park and a host of gourmet eateries, embodying the city's vibrant spirit.
Motown to Five-Star Town: Detroit's Luxe Transformation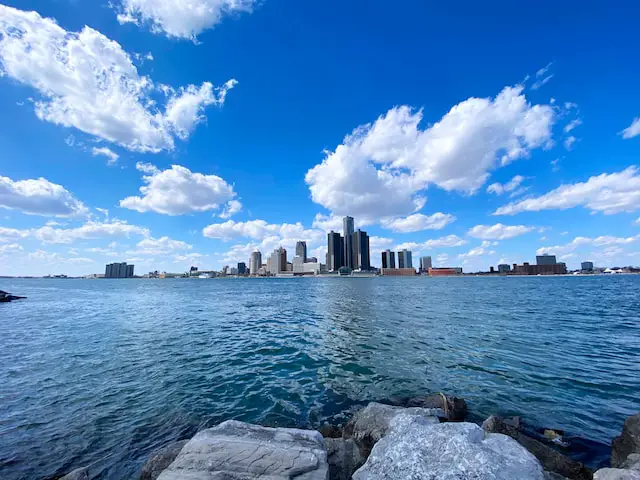 Detroit, often hailed as the birthplace of Motown and the American automotive industry, is a city of rebirth and innovation. Its rich history is woven into the fabric of its vibrant music scene, world-class museums, and stunning architectural landmarks. As Detroit is experienceing a renisance with hotel restoration projects, its no surprise that it sports two Michelin Guide hotels. Detroit continues redefining itself, offering a blend of cultural diversity, artistic expression, and culinary excellence that beckons travelers worldwide.
Siren Hotel
The Siren Hotel, located at 1509 Broadway St, is housed in the historic Wurlitzer Building, its design weaving together classic elegance and modern flair—a tribute to Detroit's rich cultural tapestry. Nearby, guests can visit the Detroit Opera House or the renowned Detroit Institute of Arts.
Detroit Foundation Hotel
Detroit Foundation Hotel, at 250 W Larned St, is set in the former Detroit Fire Department Headquarters, offering a stay that is both luxurious and steeped in history. The commitment to service and maintenance here is unparalleled, ensuring a memorable experience.
Nestled at 1400 Woodward Ave, Shinola Hotel is a hallmark of luxury in Detroit. Its value-driven approach to upscale lodging provides a gateway to the city's rejuvenation, with attractions like Campus Martius Park and premier dining options (including the American and Lafayette Coney Islands) just a stroll away.
Academic Elegance: East Lansing's Premier Stays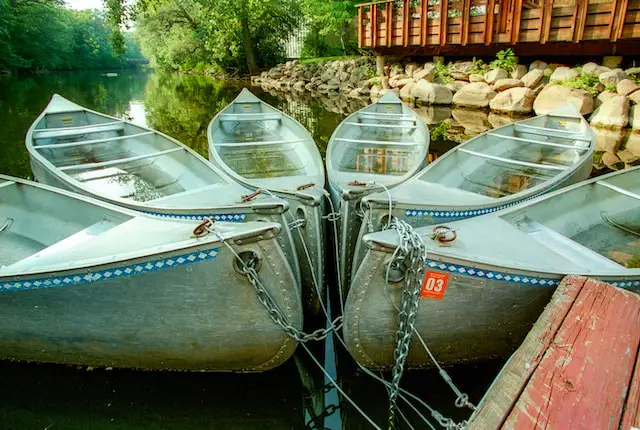 East Lansing, a hub of academic pursuit and Big Ten sports is invigorated by the energy of Michigan State University's students and faculty. This city melds intellectual curiosity with a lively cultural scene, offering various performing arts, galleries, and seasonal festivals. The verdant campus and surrounding area, with their paths winding along the Red Cedar River, provide an idyllic backdrop for educational endeavors and community gatherings. Having a listing in the Michelin Guide hotels speaks well for this college town.
The Graduate East Lansing
The Graduate East Lansing, located at 133 Evergreen Ave, captures this spirit with its collegiate-themed decor and scholarly charm. Within walking distance to Spartan Stadium and the Wharton Center for Performing Arts, the hotel enhances the local experience by immersing guests in the heart of East Lansing's energy and pride.
Crafting Excellence: Grand Rapids' Pinnacle of Comfort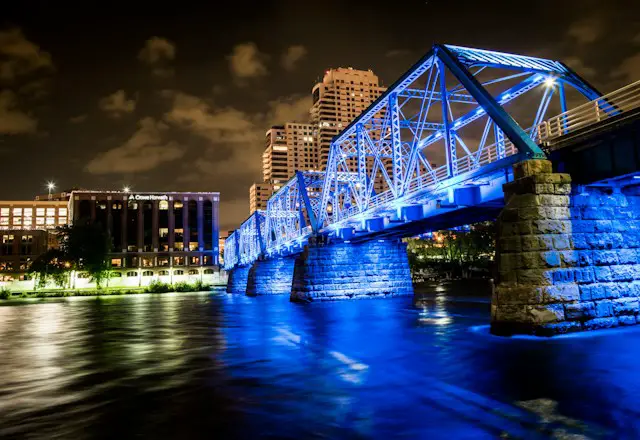 Grand Rapids, known as the craft beverage capital of Michigan, boasts a vibrant arts scene and an array of museums, including the world-renowned Frederik Meijer Gardens & Sculpture Park. Its downtown pulses with energy, offering a fusion of culinary delights and live entertainment that showcases the city's creative spirit. Furthermore, Grand Rapids' commitment to sustainability and innovation has earned it the title "Greenest City in America," reflecting its forward-thinking community ethos. Being among the Michelin Guide hotels is further evidence of a wonderful town to explore.
Canopy by Hilton Grand Rapids Downtown
The Canopy by Hilton Grand Rapids Downtown is an emblem of the city's contemporary vibe, nestled amid the buzz of over 80 local breweries and the serene flow of the Grand River. Located at 131 Ionia Avenue SW, this hotel celebrates mid-century modern design with handcrafted furnishings by Amish artisans, offering an authentic slice of Grand Rapids craftsmanship. Guests can savor a café style breakfast at the Portico restaurant, featuring local craft coffee, or indulge in the panoramic views and artful mixology at the rooftop bar Knoop. With attractions like the Gerald Ford Presidential Museum and the verdant Frederik Meijer Gardens mere minutes away, the Canopy by Hilton stands as a stylish gateway to explore the city's rich offerings.​
The Michelin Guide Hotels Selection Process
The Michelin Selection Process is highly confidential to ensure a fair and unbiased assessment of the hotels. Michelin inspectors visit the hotels incognito, like any other guest, to assess the overall experience without any preferential treatment. They examine the hotels based on the following criteria: the destination appeal, the quality and design of the architecture and interiors, the consistency and excellence of service, the uniqueness of the hotel's character, and the value of the experience in relation to the cost. This rigorous process ensures that only the most exceptional hotels, consistently excelling in these areas, are recommended in the Michelin Guide.
The Impact of the Michelin Key in Michigan
If any hotels in Michigan were to receive the Michelin Key rating, it would be a major breakthrough for the state's tourism and hospitality industry. This highly respected recognition would likely attract global attention and discerning travelers to Michigan in search of exceptional accommodations. Such an achievement could trigger a surge in economic growth, with local businesses and attractions benefiting from increased foot traffic and spending. Furthermore, this accomplishment would establish a new benchmark for hospitality in the state, motivating other hotels to enhance their services and facilities. The potential Michelin Key rating could boost Michigan's economy and strengthen its position as a top choice for high-quality travel experiences.
What makes Michelin Guide Hotels in Michigan special?
Michelin Guide Hotels in Michigan offer exceptional quality, unique character, and are often destinations within themselves, providing guests with a luxury experience that is unparalleled in the hospitality industry.
How are Michelin Guide Hotels selected?
Hotels are anonymously evaluated by Michelin inspectors based on criteria like architectural excellence, superior service, and distinctive personality, ensuring an unbiased selection of top-tier accommodations.
Can I find Michelin Guide Hotels in smaller Michigan towns?
Yes, Michelin Guide Hotels are not limited to major cities; they can be found throughout Michigan, offering luxury accommodations in diverse locations.
Experience the Exceptional: Staying at a Michelin Key Hotel
Hotels that earn the Michelin Key offer more than just luxury accommodations. They offer an exceptional experience. Michigan is anticipating recognition for its fine establishments. This recognition won't only be for the hotels, but also for the guests who stay there. It will affirm that Michigan is a world-class destination where every stay promises something remarkable.
The Michelin Key serves as a testament to the dedication and excellence embodied by Michigan's hospitality industry. It's not just a nod to the quality of hotels, but also a spotlight on the state's rich culture, history, and the warmth of its people. It will encourage travelers and enthusiasts from around the world to come and experience the best of what Michigan has to offer. Those who stay at one of these acclaimed hotels will have the opportunity to partake in a legacy of unrivaled hospitality, creating not just a memory, but a story to share.
What Was Your Experience?
Share your stories of staying in one of Michigan's Michelin Guide hotels in the comments below. Your experiences will enrich the narrative of Michigan's hospitality and guide future guests towards making their own memories.
Related Reading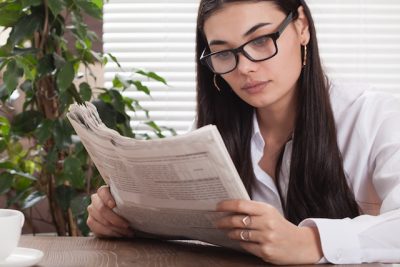 8 Educational Places In Michigan To Visit That Every Smart Student Should See
18 Michigan Indoor Water Parks – The Complete Guide to Wet & Wild Fun
Michigan Adventures – 4 Seasons of Unending Fun
We Reveal The Top 9 Potential Michelin Rated Restaurants In Michigan