Looking for a great place to cool off? Or do you have cabin fever and want a getaway with the kids for the weekend? Check out our list of the best Michigan indoor water parks to visit on weekends! From public pools to water parks, we've got you covered. 
Let's Cover The Indoor Water Parks In Michigan
Map of Michigan Indoor Water Parks
Are you looking for a great place to gather the family on a long, cold winter weekend? Visit one of the best Michigan indoor water parks! They offer something for everyone and are perfect for a dreary winter. Watch the kids swim and blast each other with water toys while Mom and Dad are enjoying a cocktail from the deck.
---
If you have a pool at home but want to give it more of a luxurious feel, you can always add some of the features these pools come with. You can get lounge chairs and umbrellas to relax while enjoying the sun or install slides and diving boards to add an extra element of fun. In ByRossi you will find all the supplies you need for your pool.
---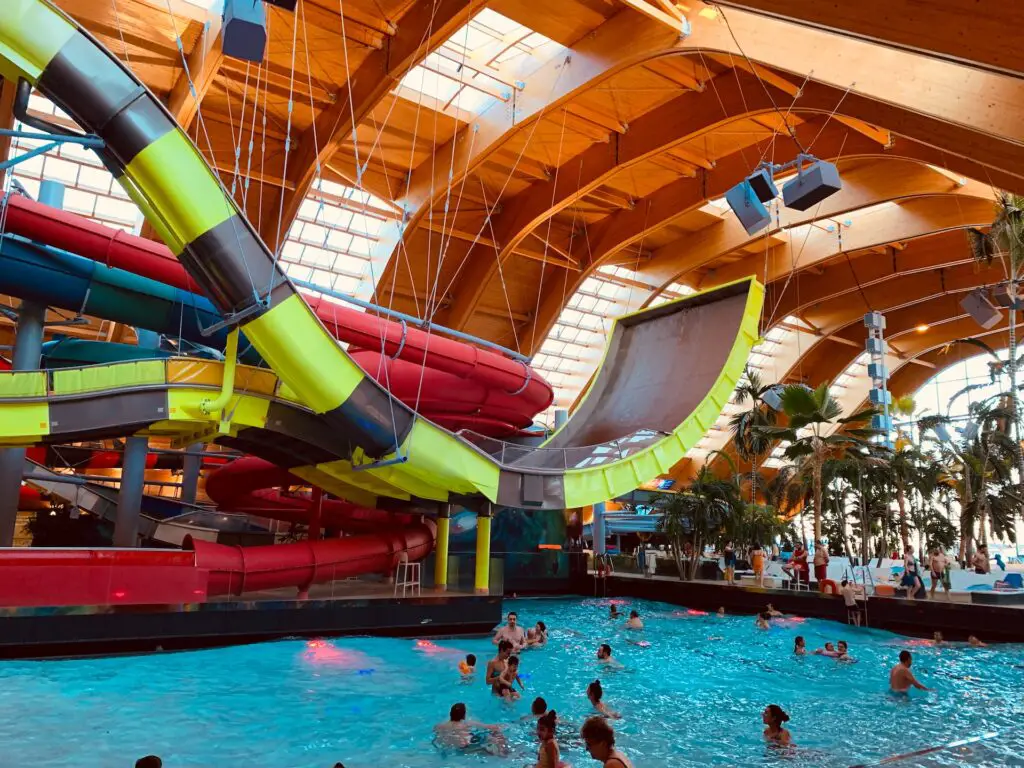 But if you don't have a pool yet, you can still enjoy Michigan's best ones! Here are some of the top places to visit on the weekend.
Top Places to Visit in Michigan for Weekend Swimming
Are you looking for the perfect place to spend a hot summer weekend? Look no further than Michigan. Whether it's the calm waters of Lake Michigan or the warmer indoor pools, there are plenty of great places to cool off and enjoy a refreshing swim. 
Here are some of the best Michigan indoor water parks you can visit on weekends.
Pirate's Adventure – Mackinaw City
This is one of the best places to escape the heat and splash around in this resort's many pools, slides, and hot tubs. With a breathtaking view of Mackinac Island, you can enjoy your weekend getaway and take a break from the hustle and bustle of everyday life. This Michigan indoor water park is in the Crown Choice Inn & Suites.
A tipping bucket shaped like a pirate's head, three waterslides, bubbler jets, crawl tunnels, water pistols, climbing nets, an expansive indoor pool with a whirlpool sauna, and a heated outdoor pool are all included in the waterpark.
Address: 720 South Huron, Mackinaw City, MI 49701 Telephone: 231-436-5929
The Great Wolf Lodge – Traverse City
The Great Wolf Lodge in Traverse City offers over 38,000 square feet of water-filled fun with eight water slides, a 1,000-gallon tipping bucket, an interactive play structure, and five different pools, making it a beloved destination for families and one of the largest indoor waterparks in the state​. Plus, the facility boasts other family activities like mini-golf and laser tag. 
But it's the pools that are worth talking about: there are two connected pools, one for adults and one for kids, as well as a lazy river and zero-entry pool. So, no matter what type of water experience you want, the Great Wolf Lodge has everything. 
Address: 3575 US-31, Traverse City, MI 49684 Telephone: (866) 478-9653
The YMCA of Greater Grand Rapids
It is one of the best Michigan indoor water parks to visit on weekends. Located just minutes from downtown Grand Rapids, this YMCA pool offers something for everyone. The pool features three different levels of swimming space, an indoor lazy river, and a full-sized water slide. 
It is also home to numerous aquatic classes, like aqua aerobics and swimming lessons. Whether you want to swim laps or float around with your family, the YMCA of Greater Grand Rapids has something for everyone.
Address: 475 Lake Michigan Dr NW, Grand Rapids, MI 49504 Telephone: (616) 855-9600
Gold Rush Indoor Waterpark – Rothbury
This indoor water park in the Double JJ Resort near Rothbury and offers a great family experience. Gold Rush features water slides, a lazy river, an indoor pool area, and hot tubs. 
Plus, there's even a kid-friendly activity pool with interactive water games that are sure to entertain kids of all ages. And if you want to take a break from the water, you can also enjoy outdoor activities like mini-golf and horseback riding.
Address: 5900 S Water Rd, Rothbury, MI 49452 Telephone: (231) 894-4444
Splash Universe Water Park Resort – Dundee
This is another great water park resort located in Dundee. The facility boasts not one but two giant slides, along with a leisure pool and a heated outdoor pool for adults. 
The Splash Universe resort also offers family-friendly activities like interactive water playgrounds and kid's splash pools. And if you're feeling brave, there's even a FlowRider Surf Simulator where you can test your skills on the waves.
Address: 100 Whitetail Dr, Dundee, MI 48131 Telephone: Phone: (734) 529-5100
Avalanche Bay – Boyne City
If you're looking for a more traditional water park experience, then the Avalanche Bay Indoor Waterpark is perfect. This facility is located in Boyne City and offers over 88,000 square feet of wet and wild fun with slides, two lazy rivers, and an indoor pool area. 
Avalanche Bay Indoor Water Park, located at Boyne Mountain Resort, boasts an adrenaline-pumping experience with the Big Couloir, heralded as the ultimate thrill ride with the steepest drop in the industry and a full 360-degree loop​​. The Rip Zone Surf Simulator offers a unique opportunity to catch waves indoors, inviting both boogie boarders and surfers to test their skills on the region's first indoor surf simulator​​. For those seeking more leisurely enjoyment, the Lazy River Adventure provides a soothing float down the indoor Boyne River, making it an ideal chill-out spot for visitors of all ages​​. The Splasherhorn further adds to the excitement with its multi-level play structure, complete with bridges, dumping buckets, slides, and water sprays, ensuring hours of entertainment​​.
And for adults, there's also a relaxing hot tub area perfect for unwinding after a long day of swimming. But that's not all: Avalanche Bay also offers a FlowRider Surf Simulator, so you can take your skills to the next level. 
Address: 1 Boyne Mountain Rd, Boyne Falls, MI 49713 Telephone: 866-976-6972
Soaring Eagle Waterpark & Hotel – Mt. Pleasent
Soaring Eagle Waterpark & Hotel offers a great weekend getaway. This luxurious facility includes an indoor water park with thrilling slides, an interactive play structure, and a wave pool. There are also plenty of hot tubs and pools to relax in after your day of adventure. Plus, the hotel has several dining options so you can refuel and get back to action.
This waterpark provides over 45,000 square feet of water attractions, including five slides, a rock climbing wall, a body slide, and pools explicitly designed for toddlers and younger children, offering a range of activities for the entire family​​.
Address: 5665 E Pickard St, Mt Pleasant, MI 48858 Telephone: +1 989-817-4800
Zhender's Splash Village – Frankenmuth
Zehnder's Splash Village in Frankenmuth, Michigan, delivers an expansive indoor aquatic adventure, sprawling over 50,000 square feet. It is a family-centric waterpark featuring the six-story Tantrum Twist family raft ride and a heart-pumping Super Loop Speed Slide that takes you through a 273-foot loop in under seven seconds​​. For those seeking less adrenaline, the zero-entry activity pool is perfect for toddlers, and the Whimsical Whirl hot tubs offer a relaxing soak​​​​.
Unique to this venue is the Action River, challenging visitors to fight the current, and the Splash Landing play area, which includes water geysers and lily pads for playful exploration​​​​. Additionally, Zehnder's provides a land-based arcade with over 40 games, a gift shop for souvenirs, and a nightly family movie in the main lobby for a cozy end to an exciting day​​​​​​. Dining options like the Elf Hollow Café and the Mushroom Grille cater to all tastes, ensuring that families have various options to refuel during their visit​​.
Bavarian Inn Lodge – Frankenmuth
Bavarian Inn Lodge in Frankenmuth adds to the town's charm with its water park features that include two 300-foot slides, a kiddie pool with additional play structures, a hot tub, and a lazy river, creating a delightful experience for visitors of all ages​​.
Bavarian Blast Opens in 2024
The Bavarian Inn Lodge in Frankenmuth is set to open a new, grand indoor water park called Bavarian Blast in 2024. This exciting development represents an $80 million investment and will feature 16 new waterslides, including body slides, tube slides for single riders up to six riders, and options suitable for all ages​​.
The water park will include a variety of attractions such as a "Not So Lazy River" for a fun-filled family adventure, a huge wave pool, an indoor/outdoor family spa, and Michigan's first swim-up bar offering an exclusive adult area with large-screen TVs​​. In addition to the aquatic fun, Bavarian Blast will boast a vast laser tag arena, a three-story rope course with various aerial obstacles, skyscraper rock climbing walls, and rock 'n' roll mini bowling alleys​​.
This expansion aims to enhance the family entertainment offerings at the Bavarian Inn Lodge, making it the largest and one of the most varied and engaging indoor waterpark destinations in Michigan.
Fairview Beachfront Inn & Waterpark in Mackinaw City
The Fairview Beachfront Inn & Waterpark in Mackinaw City is a charming location that offers guests direct access to Lake Huron and a private sandy beach with views of Mackinac Island. Guests at the Inn can enjoy the Cast-a-way Bay Waterpark, which is complimentary for all guests, as well as unlimited access to an Indoor/Outdoor Waterpark Facility located at a sister property​​.
The Inn provides many amenities designed to enhance your stay, including a pool and complimentary breakfast. For those arriving by vehicle, free parking is available. The hotel is also in close proximity to several popular restaurants and attractions in Mackinaw City, such as the Old Mackinac Point Lighthouse and Shepler's Lighthouse Cruises​​.
Additionally, the Inn is family-friendly, open year-round, and offers WiFi to all guests. This makes it a convenient and enjoyable place to stay for families looking to explore the area and enjoy water-based activities no matter the season​​.
Address: 907 S Huron Ave, Mackinaw City, MI 49701 Telephone: 231-436-8831
Michigan Municiple Indoor Water Parks
It may surprise you to know that you may have a great indoor water park in your community. While these tend to be smaller they are typically connected to community centers and tend to be inexpensive alternatives to having to stay in an expensive hotel to travel a long distance. We found a few of the more notable indoor community water parks that are deffinatly worth checking out.
Livonia Recreation Center's Leisure Pool
The Livonia Recreation Center's Leisure Pool is a family-friendly aquatic haven that spans 6,500 square feet, designed for adventure and fun. It features a zero-depth entrance leading to a water playground with sprays and geysers, perfect for young children to explore safely. The lazy river invites guests to meander along its path on an inner tube, while the spa area provides a space for relaxation. For those seeking a bit more excitement, a 250-foot water slide awaits, starting from a 25-foot high platform and winding down to make a splash in the plunge pool​​.
Address: 15100 Hubbard St, Livonia, MI 48154 Telephone: 734-466-2900
Macomb Township Parks and Recreation Aquatics Center
The Macomb Township Parks and Recreation Aquatics Center offers a vibrant aquatic experience with two main pool areas and a whirlpool for varied water enjoyment​​​​. The Lap/Slide Pool is equipped with four 20-yard lap lanes for swimmers to practice their strokes and includes a fun water slide, log run, and a lazy river/vortex that features a waterfall for a gentle sensory experience​​.
The Feature Pool is designed with a zero-depth entry area, making it accessible and safe for all ages, and includes an SCS play structure that provides interactive water play elements allowing for various cause-and-effect reactions. This play structure, also known as a 'Treehouse', encourages active engagement with the water features, including a tipping bucket for a splash of excitement​​. These facilities combine the elements of exercise, play, and relaxation to cater to a wide range of preferences, making the center a versatile destination for family fun and fitness.
Address: 20699 Macomb St, Macomb, MI 48042 Telephone: 586-992-2900
Warren Community Center Indoor Water Park
The Warren Community Center Indoor Water Park, nestled within a multifaceted facility that includes a fitness center, gymnasium, and more, offers a diverse array of aquatic activities. The pool area is designed with a section for lap swimming and a children's splash play area equipped with several slides and a big bucket that fills and spills, providing delightful surprises and laughter for the little ones. A lazy river offers a gentle, meandering experience, with zero-depth entry sections ensuring accessibility for all. The center also boasts a hot tub specifically for adults, ensuring that visitors of every age can find an enjoyable water-based activity​​.
Address: 5460 Arden Ave, Warren, MI 48092 Telephone: 586-268-8400
Summit on the Park's Aquatic Center in Canton Township
The Summit on the Park's Aquatic Center in Canton Township is undergoing renovations to enhance its facilities, including the lap pool, family pool, spa, and sauna, with additional updates to the locker rooms and the addition of a new water feature​​. Post-renovation, the center will offer a comprehensive schedule, open approximately 100 hours per week, accommodating a range of activities like lap swimming, aquatic fitness classes, swimming lessons, and open swim times for all ages​​.
The center is set to provide a variety of aquatic fitness classes within both the lazy river and the lap pool, catering to different fitness levels and needs, including Aqua Tone, Arthritis Aqua, and Aqua Fit, among others​​. Specialized swim times, such as Parent Tot Swim, will offer tailored sessions for families with small children, while the Open Swim sessions will allow access to all pools, including the water slide and leisure pool​​. The River Walk feature is an innovative exercise option, where guests can walk along the lazy river for a unique fitness experience​​.
The enhancements promise to make the Aquatic Center a versatile and inviting space for community recreation and fitness, set to reopen in late December 2023.
Address: 46000 Summit Pkwy, Canton, MI 48188 Telephone: 734-394-5460
Troy Community Center Indoor Pool
The Troy Community Center Indoor Pool is a versatile aquatic facility offering a leisure pool with a temperature maintained between 82–84ºF, featuring slides, kiddie water features, and lap lanes at a depth of 4 feet for a mix of fun and fitness activities. Additionally, there's a separate therapy pool with warmer waters between 88–91ºF and a depth of 3.5 feet, catering to therapeutic needs. The center provides programs including water aerobics, swim lessons for all ages, both private and group, and hosts special events. Access to the pool comes with TCC memberships or a day pass for residents and non-residents​​.
Address: 3179 Livernois Rd, Troy, MI 48083 Telephone: 248-526-2655
Ford Community & Performing Arts Center in Dearborn
The Ford Community & Performing Arts Center in Dearborn features an indoor aquatic complex that includes both a lap pool and a leisure pool. The leisure pool boasts a zero-depth entry, making it safe and accessible for all ages, and is coupled with a lazy river and water slides for fun and entertainment. Additionally, a whirlpool spa provides a relaxing space for adults to unwind. The lap pool accommodates serious swimmers with scheduled times for lap swimming and water exercises, ensuring facilities for both fitness enthusiasts and recreational users​​​​​​.
The pool schedule is thoughtfully structured, offering early bird lap swimming, open family swim sessions, and dedicated times for water exercises. This allows for a variety of aquatic activities to be enjoyed throughout the week. The leisure pool also features a river walk and hosts public schools, suggesting a community-oriented approach to aquatic programming​​.
Address: 15801 Michigan Ave, Dearborn, MI 48126 Telephone: 313-943-2350
Romulus Athletic Center
The Romulus Athletic Center, known as The RAC, offers an extensive aquatic experience with its 5-pool complex, providing over 280,000 gallons of water fun suitable for all ages. It includes a variety of aquatic activities such as lessons, water aerobics, lap swim, open swim, and water walking, along with facilities for birthday parties and corporate rentals. The complex is designed to cater to every type of aquatic adventure imaginable​​.
Key features of the center include a splash pool with zero-depth entrance, a lap pool with four lanes and a deep end for serious swimming, a lazy river for a leisurely float, and a hot tub/spa area for relaxation. Additionally, thrill-seekers can enjoy the 2-story water slide that spans over 120 feet, ending with a splash in the plunge pool​​. During the summer months, an outdoor splash pool also becomes available, offering an interactive playscape for members of all ages​​.
Address: 35765 Northline Rd, Romulus, MI 48174 Telephone: 734-942-2223
Holland Community Aquatic Zone
The Holland Community Aquatic Center, known as HAC, is a facility in Holland, Michigan, that provides a wealth of aquatic and wellness activities suitable for all ages and abilities. Established in 1968, it has been a cornerstone for the local community, offering high-quality natatorium facilities for various purposes such as swimming instruction, competitive swimming, community wellness, and leisure swimming and play​​.
The center is community-supported and places a strong emphasis on creating a welcoming environment that encourages guests and families to invest in their health. It's designed as a space where people can improve their health through swimming, diving, fitness, and recreation​​.
The Aquatic Center has undergone significant improvements, including a recent $26 million expansion funded by the local community. This has cemented HAC's reputation as an aquatic and fitness gem, not just for residents but also for visitors in West Michigan. Nationally, it has been recognized as a premier competition venue for swimming and diving​​.
The facility offers a variety of features, including a 50-meter competition pool, a warm-water lap pool, a fitness room, and a therapy pool. For family fun, there is a Splash Zone with slides and water toys, a 150-foot long slide, a spinning vortex, and water cannons. It also boasts a new lazy river and an obstacle course known as the Alpine Challenge​​​​.
The Holland Aquatic Center has gained international acclaim, being rated the best indoor public/non-profit facility in the country by Aquatics International Magazine, which speaks volumes about its quality and the services offered​​.
Address: 550 Maple Ave, Holland, MI 49423 Telephone: 616-393-7595
Final Thoughts on the Michigan Indoor Water Parks
Michigan has amazing indoor water parks and pools to visit on weekends, from luxury resorts with heated indoor pools to outdoor recreational centers and hidden gems. Whether you want to dip in the pool or soak up some sun, there's sure to be the perfect spot for you.
Related Reading
Michigan Boat Tours – Experience A Real Taste of the Great Lakes With 35 of The Best
6 Top Attractions near Manistique Michigan Not To Miss
Top 12 Snarky And Unique Restaurants In Michigan You Must Try
Exploring Banff Hot Springs at the Cave & Basin National Historic Site – 2 Steamy Pools Of Wonder