A collapsible hiking cart has become popular among hunters and nature lovers.
Even though this is the case, many still wonder: do I need one? While carrying a backpack is the most common form of transporting goods during hiking, things can get admittedly heavy over time. Thus, many people prefer a hiking cart.
A collapsible hiking cart is a more straightforward way to transport gear and supplies when hiking, backpacking, or hunting. However great as these carts may seem, some negatives must be considered.
The Pros of A Collapsible Hiking Cart
2022 ePack Wheel. One Trip Out!
There are many positives when it comes to a collapsible hiking cart. Here are a few reasons:
1. It's Much Easier to Maneuver
While backpacks are amazing and will never go out of style, they can be so cumbersome. Hiking is a time when you should be able to see, enjoy, and be in the beauty and solace of nature—not struggle with a heavy backpack on your shoulders. 
Furthermore, a backpack can make hiking trips so tiring. All of the added stress and weight on your shoulders isn't enjoyable. You will not be able to go far with excessive weight on your shoulders.
A cart allows you to carry your stuff around without worrying about securing them or putting too much weight on your hips, shoulders, and knees.
2. A Hiking Cart Enables You To Use Less Energy
Studies have shown that walking with your load on your back is less energy-efficient than walking with it. When you pull or push a hiking cart, you will likely be able to go farther and longer in your hike. You can even go faster and reach your destination in record time.
3. Versatility – A Hiking Cart Can Be Used In Many Ways
Although it is called a hiking cart, many people use these to hunt. Most carts should have the ability to haul gear up to 150 pounds, which means you can easily transport a deer.
While carts can carry a fair amount of weight, it is best not to overload your cart with too many items. It would be best if you considered how much weight you are able to carry or push. You don't want your body to get hurt while out in the wild.
4. You Can Carry More Supplies
2022 Pack Wheel Take Your Adventure Further!
You can transport so much more stuff in a hiking wagon. While a backpack is great, you are limited in size and depth. With a hiking cart, you don't have to sacrifice items you want to bring—you can bring everything you need. This is especially great if you plan on camping out.
The amount of gear you can carry in this gear will depend on its brand and model. Because weight is distributed evenly on the handles and wheels, a cart can carry a lot of weight. The cart's ability and strength to support heavy gear will depend on the trail conditions, your strength, weight position, and load security.
5. It's Collapsible
A collapsible hiking cart can be folded up and taken with you wherever you go. Many hikers, backpackers, hunters, and other outdoor enthusiasts use them to transport their gear because it's so easy.
The Cons of A Collapsible Hiking Cart
While collapsible hiking carts are extremely helpful, there are a few problems you might run into. Here are a few:
1. Not Helpful In All Terrains
Many terrains are not meant for wheels.
Therefore, you may find that a hiker's journey is more difficult if they have a cart than if they do it with a backpack. For example, it would be much easier to bring your backpack up the stairs than to transport a hiking cart.
Furthermore, these heavy, bulky objects are often difficult to transport. Therefore, you should make sure you can wheel it along with you on your walking trip. Even if it can be wheeled by someone all the way, it might make your journey more challenging.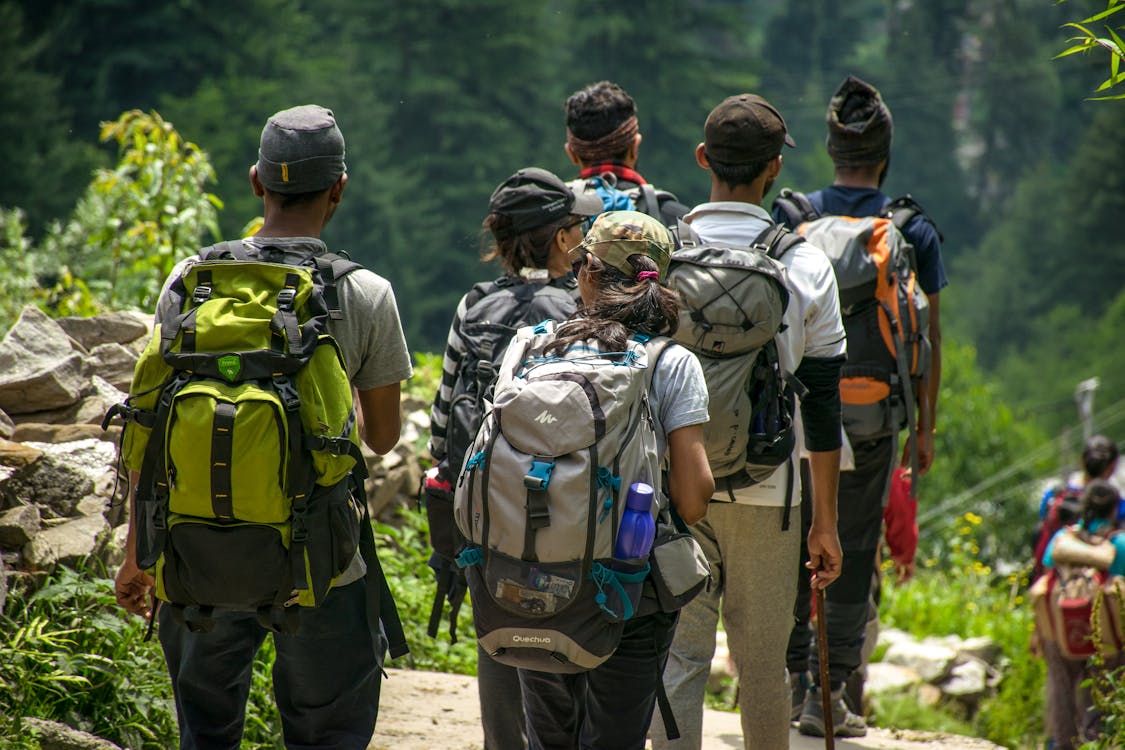 2. Often Not Very Portable
Hiking carts can be heavy and bulky, so they are often difficult to pack.
This means that being in cars, buses, and public transport can be complicated and require special arrangements. Also, they can make it difficult to enter shops, hotels, and crowded streets.
In order to avoid getting caught in a situation like this, it's important to look for a cart that is lightweight and easy to break down when necessary.
3. Hiking Carts Can Be Pricey
Making the decision to purchase a hiking cart is definitely an investment.
They can be a bit pricey because of the materials, technology, and details behind the design. However, you are not just paying for the cart…you are paying for convenience and ease. 
There are many different types of hiking carts on the market. Some are big, while others are more compact. The various details will depend on your needs and what you prefer to have.
---