Immersed in an exceptional tapestry of enriching and exhilarating natural attractions is the cozy town of Manistique, Michigan. From the glistening shores of Lake Michigan to its pristine parks, the town holds a quintessence of America's heartland. The top attractions near Manistique Michigan include iconic landmarks such as the vibrant Kitch-iti-kipi Spring, the captivating Manistique Lighthouse and Boardwalk, and the serene Indian Lake State Park. Step into the past at the Schoolcraft County Historical Park or cast a line at the Rainbow Lodge. Nestled within this charming corner of Michigan is a rich assortment of experiences waiting to be explored.
Table of Contents
Kitch-iti-kipi Spring

Discover Michigan's Largest Natural Freshwater Spring: Kitch-iti-kipi
Nestled within the borders of Palms Book State Park, Kitch-iti-kipi – hoisting the moniker of 'The Big Spring' – proudly holds the title of Michigan's largest natural freshwater spring. Displaying hues of emerald green, this sprawling water body engulfs a remarkable 200 feet area and reaches depths up to 40 feet.
Breathtaking Scenery and Wildlife
This magnificent spring is encased by a ring of sturdy, ancient trees that provide a refreshing outdoor atmosphere. Beneath the clear waters, the site teems with large trout, effortlessly navigating the spacious spring. These colorful fish can often be observed from the surface, amazing visitors with the vitality of the spring's underwater ecosystem.
Unique Viewing Experience on a Self-Operated Observation Raft
A trip to Kitch-iti-kipi isn't complete without embarking on the self-operated observation raft. This unique vessel transport visitors across the breadth of the spring, offering unparalleled panoramic views. From the raft, you can marvel at the mesmerizing sights of the spring: the boiling sands from numerous spots on the bottom, the clear, deep blue water, and the fascinating fish darting around.
A Revered Natural Attraction
Kitch-iti-kipi is a local secret and a hidden jewel in Michigan's Upper Peninsula. Engulfed by the verdant surroundings, it's the perfect setting for those seeking tranquility. They can bask in the lush environment while indulging in the spring's unique beauty. With its stunningly clear waters and the promise of an unforgettable rafting adventure, Kitch-iti-kipi beckons newcomers and seasoned visitors alike with its unspoiled allure.
Manistique Lighthouse and Boardwalk
Witness the Historical Beauty: Manistique Lighthouse
Overlooking the idyllic harbor of Manistique rests a picturesque site, the historic Manistique Lighthouse. Established over a century ago in 1916, this popular masterpiece of architecture rises above the water, serving not just as a navigational guide, but as a beacon of beauty in the area.
Every night, this towering monument radiates a bright light, adding a soothing aesthetic charm to the night sky. Its fame extends beyond its functional role, becoming a favorite among photographers and artists who find inspiration in its mystical glow and classic red and white exterior.
Immerse in Serene Surroundings: 360 View Lake Michigan Boardwalk
Adjacent to the iconic lighthouse sprawls the two-mile-long boardwalk, gracefully meandering along the captivating shores of Lake Michigan. This boardwalk is not just a walkway, but a scenic journey, offering unobstructed, magnificent views of the expansive water body.
Time spent here could be described as soul-cleansing, especially during sunrise or sunset. As the hues of the sky gently shift, walkers on the boardwalk are treated to a calmness that's almost therapeutic. Regardless of the season, a stroll along this boardwalk offers a sense of peace, and a chance to connect with nature in its raw beauty.
The Best of Both Worlds
The combination of a visit to Manistique Lighthouse and a leisurely walk along the Lake Michigan Boardwalk makes for a highly recommended to-do for both locals and tourists in Manistique, Michigan. From history buffs to nature lovers, this duo offers a uniquely rewarding experience for everyone.
Indian Lake State Park
Explore Nature at Indian Lake State Park
Indian Lake State Park, situated in the stunning upper peninsula of Michigan, offers a unique blend of natural beauty and recreational opportunities. This expansive park, consisting of 847 acres, is home to several wildlife species. Tourists often visit the park for bird watching, nature photography, or simply a serene walk amidst the charming landscape.
Outdoor Activities Galore
From camping to fishing, the park is a treasure chest of outdoor activities. There are two sand beaches perfect for a warm day of relaxation, and a boat launch for those ready to explore the waters of Indian Lake. The park is also an excellent spot for fishing enthusiasts, with a variety of fish, including Walleye, Northern Pike, Smallmouth Bass, Yellow Perch and more residing in the lake. The campgrounds, with modern facilities including electricity and heated restrooms, offer a memorable camping experience.
A Dive into History at Thompson Fish Hatchery
Indian Lake State Park is not just about nature's beauty and outdoor activities; it also offers a peek into the region's history. Situated within the park is the historic Thompson Fish Hatchery, which was operational from 1906 till 1969. Here, visitors can tour the hatchery's building, learn about its history, and get a glimpse of what life looked like back then. This is perfect for those who appreciate history, fishing, or both!
Year Round Fun
The park does not lose its charm even when the temperatures dip. Cooler months see the park transforming into a winter wonderland. Activities shift from kayaking and swimming to ice fishing, skiing, and snowmobiling. A trail designed specificaly for snowmobiles runs directly through the park making it a fun and convenient destination for thrill seekers.
Indian Lake State Park is, therefore, an all-season destination. Whether you're a nature enthusiast, a history buff or an adrenaline junkie, there's always something to do here. Make sure this beautiful Michigan gem is on your must-visit list when you're near Manistique, Michigan.
The Old Manistique Historical Water Tower
History Preserved: The Manistique Historical Water Tower
Nestled in the heart of Manistique, Michigan, lies a true gem of history and recreation. The Schoolcraft County Historical Park is a haven for history buffs and nature aficionado alike. At its core, the Park houses the historic Water Tower – an architectural wonder stemming from 1922. This monumental structure offers a unique glimpse into past epochs, acting as a time capsule of early 20th-century design.
The Water Tower is not the only historical marvel here. The park also maintains other historic structures that showcase the rich and diverse background of Schoolcraft County. Each structure holds stories of past inhabitants, their lifestyle, and their endeavours, waiting to be discovered and explored by curious visitors.
Recreation and Relaxation: Making the Most of your Visit
Don't mistake it as just another historical site. The Manistique Historical Water Tower also promises a day of fun and relaxation. Its vast sprawling greens provide the perfect setting for an impromptu picnic. Under the shade of towering trees, you can enjoy a calm, serene meal amidst nature.
Besides, the park's winding paths allow you to stretch your legs and explore the area. With meticulously manicured landscapes and diverse flora, it lends itself as a serene escape from the hustle and bustle of daily life.
A visit to Manistique Historical Water Tower is not just a history lesson but an immersive experience. This combination of history and leisure creates an ambience that is both enlightening and relaxing. Whether you are aimlessly meandering through the verdant surroundings or keenly exploring the historic structures, a trip to this beautiful park is an experience that should be on your to-do list when visiting Manistique, Michigan.
Kewadin Casinos – Manistique: A Gamble Worth Taking
If you're looking to add a dash of excitement to your Manistique adventure, Kewadin Casinos is the place to be. This entertainment hub offers a variety of gaming options, from slot machines to table games like blackjack and poker. The casino is designed to provide a thrilling experience for both novice and seasoned gamblers, ensuring an unforgettable night out.
Beyond the gaming floor, Kewadin Casinos offers more than just a roll of the dice. The venue is home to a top-notch restaurant where you can indulge in a sumptuous meal. Whether you're in the mood for a quick bite or a lavish dinner, the culinary team has got you covered. And let's not forget the bar, a perfect spot to unwind with a cocktail in hand, as you relish your victories or ponder your next strategic move.
What sets Kewadin Casinos apart is its commitment to customer satisfaction. The staff are attentive and professional, always on hand to assist with any queries you may have. Additionally, the casino frequently hosts live entertainment and special events, adding an extra layer of excitement to your visit. Whether you're there for the games, the food, or the atmosphere, Kewadin Casinos in Manistique offers a comprehensive entertainment experience that shouldn't be missed.
St. Francis de Sales Church
Embracing the Serene Sanctity at St. Francis de Sales Church
Located in Manistique, Michigan, St. Francis de Sales Church stands as a timeless testament to timeless spirituality and architectural finesse. Spread across a vast area of rich landscape, the church marks a significant space for those seeking divine tranquility.
Equipped with beautiful stained glass windows, the historic church greets every visitor with an artistic array of light and colors. The captivating hues of sunlight passing through the stained glass windows create a mystical aura within the church, providing an ambiance of solemnity and introspection that's awe-inspiring.
The architectural grandeur of St. Francis de Sales Church also sets it apart. The meticulously crafted structure boasts of an intricate design that reflects the dedication and devotion instilled in the craftsmanship. The ambience welcomes you with open arms and provides a harmonious space for soul-soothing spiritual contemplation.
The Spiritual Endeavor at St. Francis
The essence of St. Francis de Sales Church far exceeds its architectural beauty. It serves as a spiritual home to many locals and travelers who seek a comforting place of quiet and devotion. Unfailingly, it provides a soothing atmosphere that aids in spiritual rejuvenation. Prayer sessions and masses held at this church foster a deep sense of community, yet also provide ample space, quietness, and peace for personal soul-searching and solitude.
Historical Significance of St. Francis
Stepping into St. Francis de Sales Church isn't just a spiritual journey, but also a historical expedition. Its significance stretches back to the early 20th century, making it a cherished spot in Manistique's history. The church stands as a witness to countless life events — from christenings to weddings, and funerals — maintaining the town's narrative as much as it cherishes its spirituality.
Include St. Francis In Your Itinerary
St. Francis de Sales Church in Manistique, Michigan, is definitely worth a visit. Whether the attraction is its calmness, stained glass marvel, historical significance, or the community it nurtures — the church has something to offer to everyone. Don't miss the chance to include this spiritual and architectural marvel in your itinerary when you are near Manistique.
The Manistique Marina and Harbor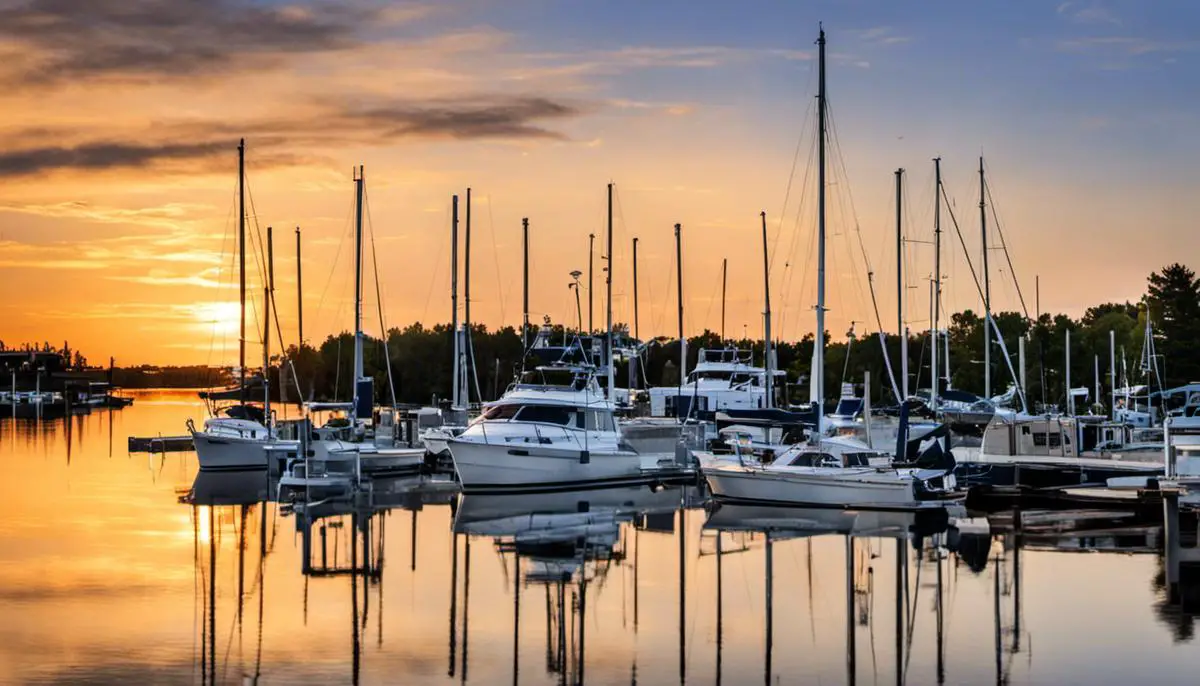 Experience the Beauty of Manistique Marina and Harbor
Situated in the quaint city of Manistique, the Marina and Harbor is a stunning destination that offers a wide array of activities for visitors to enjoy. It's a big hit among boating enthusiasts due to its beautiful surrounding landscapes and easy access to Lake Michigan's vast waterscape. Boating is not just a leisure activity here but a lifestyle. You can easily rent a kayak or a paddle board, strap on a life jacket, and venture off into the serenity of the picturesque lake.
During your visit, make sure to take full advantage of this nautical haven. The marina provides all the necessary facilities and amenities for boating, including fuel pumps, electrical hookups, water connections, and restrooms. It also has a fish cleaning station to help prepare the day's catch.
But there's more to this place than just its fantastic boating facilities. If you're not a fan of water sports, you can still enjoy the marina by simply relaxing along its stunning harbor or taking a long walk around the well-maintained grounds. The marina is designed to offer stunning views of the sunrise and sunset over the waters of Lake Michigan.
Beyond that, it's a perfect place to witness the diversity of wildlife that Michigan has to offer. The surrounding areas of the marina serve as a habitat for a variety of bird species. Therefore, it's an excellent spot for birdwatching.
Another must-see feature near Manistique Marina and Harbor is the historic Manistique Lighthouse. Dating back to 1916, this lighthouse stands tall, guiding boats to the safety of the harbor. A short walk towards the lighthouse also offers some of the best views of the marina and Lake Michigan.
No matter what kind of traveler you are – an adventure enthusiast, bird watcher, history buff, or someone who enjoys quiet and relaxing moments – a visit to Manistique Marina and Harbor offers something for everyone. It's a place where the beauty of nature and the charm of maritime tradition combine to provide an unforgettable experience.
Final Thoughts About Top Attractions Near Manistique Michigan
The tranquility and beauty that encapsulates Manistique offers more than just a physical exploration. Engage in a spiritual respite at the historical St. Francis de Sales Church, or surrender to the soothing lullaby of Lake Michigan at the Manistique Marina and Harbor. Each attraction holds a unique touch, reflecting the town's mellow rhythm and diverse landscape. This captivating array of attractions establishes Manistique as a true gem for both adventure seekers and tranquility yearners. So soak in the splendor of nature, relish historical treasures and enjoy a trove of riveting experiences that Manistique, Michigan, generously offers.
Related Reading
Michigan Boat Tours – Experience A Real Taste of the Great Lakes With 35 of The Best
Discover Lexington MI: 15 Must-Do Activities in a Charming Lakeside Town
14 Extraordinary And Unusual Sites To See in Minnesota