This is another series of converging Native American trails in Michigan that roughly ran parallel to the famous Saginaw trail. An 1825 map of Michigan clearly details this minor trail. Starting near Detroit west of Fort Shelby and the Côté des Pays, ( County Side) road.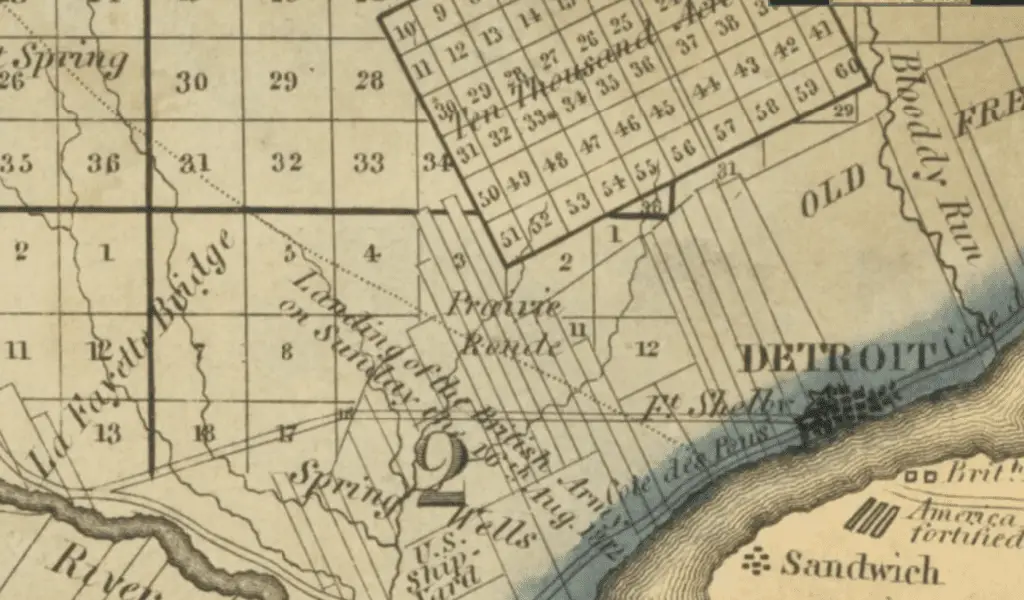 The trail and ran northwest, passing first through the Tonquis's Village in present-day Southfield. The trail continues northwest between the many lakes that dot the region.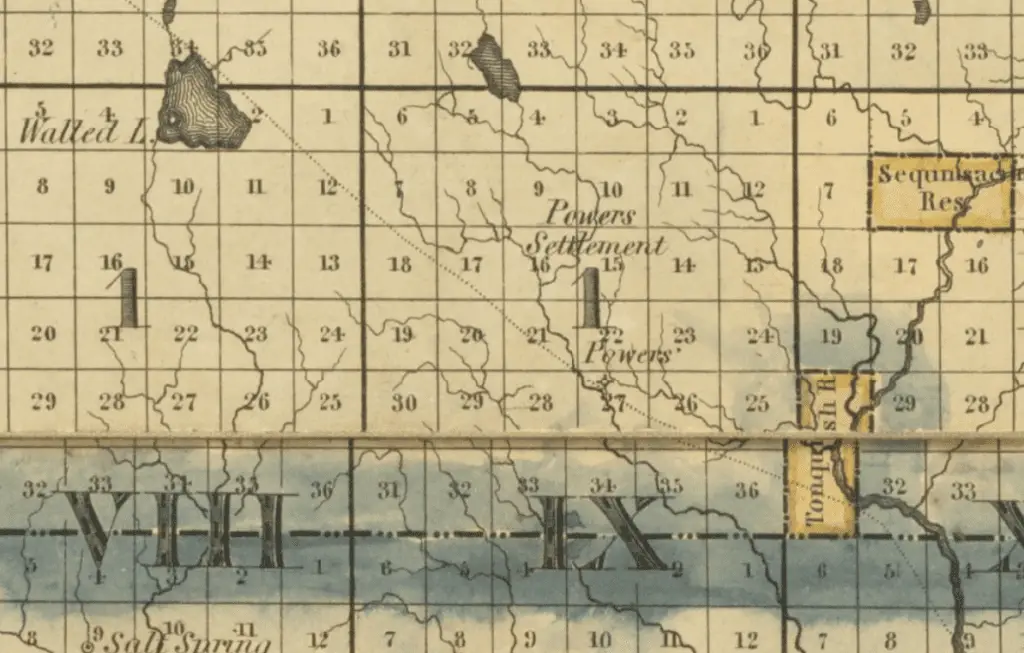 The Convergence of Other Trails on the Shiawassee Trail
In Highland Township, the Walled Lake Trail intersects and merges with the Shiawassee Trail. The trail continued northwest across the lower half of the Township. The trail passes close to Dunham and Lower Pettibone Lakes. Today the trail remains as part of Reid and Milford Roads in Highland Township.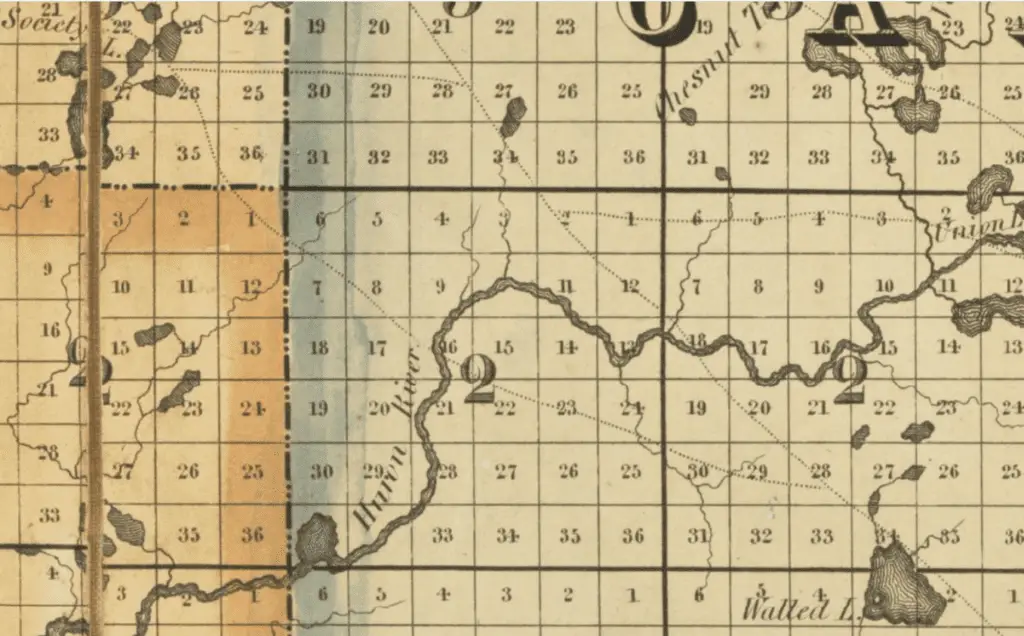 The trail splits just north of Walled Lake, the location of an established Indian Village. The Walled Lake Trail veers further west by northwest while the Shiawassee trail continues roughly parallel northwest. Both trails cross the Huron River, an important transport down to Lake Erie. In the 1830s, the Buckhorn Tavern was built on the trail near White Lake, which became a mail and a stagecoach route from Pontiac to Shiawassee. Mail was first carried on horseback.
It should be noted that many crossing Indian trails intersect this area of today's Oakland county. Both White Lake and Shiawassee trails continue to extend through the many Indian villages on the Shiawassee River. South of Bryon's village, the Shiawassee Trail converges with another unnamed trail from Orchard Lake. The boyhood village home of Chief Pontiac.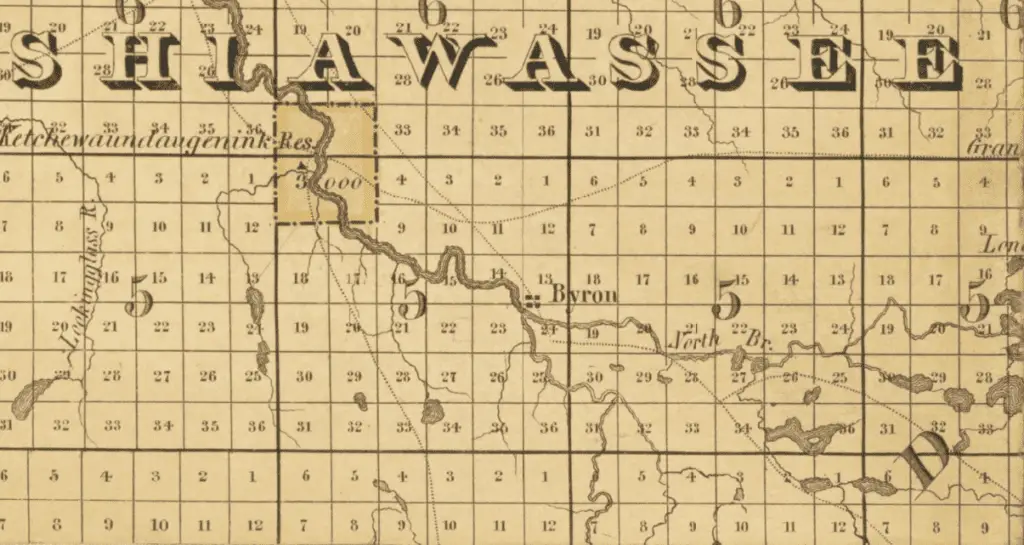 The trail is typically said to stop at Kechewondaugoning and Shigemasking (meaning "soft-maple place"), near Shiawasseetown. However, the map clearly shows at least two trails continuing north to Saginaw.
fred meijer clinton ionia shiawassee trail
The Fred Meijer Clinton-Ionia-Shiawassee Trail is a non-motorized, non-equestrian trail through Clinton, Ionia, and Shiawassee counties in mid-Michigan. It uses a disused railroad corridor to connect the villages of Owosso, Ovid, St. Johns, Fowler, Pewamo, Muir/Lyons, and Ionia. The path is somewhat more than 41 miles long. It's twelve feet wide, with a packed crushed limestone bed and a ten-foot-wide asphalt surface in towns.
The route runs adjacent to M-21 and primarily through rural regions and farming settlements. However, it also runs near and through the basins of Stoney Creek, Maple River, and Grand River in Ionia County.
The trail is part of the Midwest Regional Rail-Trail Network. It connects the eastern end with the Fred Meijer Grand River Valley Trail (which runs from Ionia to Lowell). The 125-mile trail system continues with the Fred Meijer Flat River Valley Trail (Lowell to Greenville) and the Fred Meijer Heartland Trail (Greenville to Edmore to Alma).
Michigan Indian Trail Resources from Amazon
Images on this page may contain affiliate links in which we may receive a commission. See our affiliate disclosure for details.
More Reading and Research on Indian Trails