It's challenging to travel without breaking your budget. We did some research and found these 16 cheap places to visit in Michigan that were fun to explore.
There's no denying that Michigan has some truly beautiful places. As of 2021, Michigan generated over $23 billion in tourism. Tourism supports over 214,000 workers making it one of the largest employers in the Great Lakes State. In addition, the state is home to more than 38,575 square miles of Great Lakes waters and 1,305 square miles of inland waters. Its territorial waters are second in area only to those of Alaska. With all that focus on hospitality, we found these 16 spots you can visit this summer that won't break the bank:
Is Michigan An Expensive Place To Visit?
Michigan is an affordable place to live and visit, making it ideal for weekend getaways and short breaks for exploring The Great Lakes State.
The cost of living is rising everywhere and making life difficult across the nation, but it is 10% lower in Michigan than the national average. One interesting statistic is around housing. The home price in Michigan is 23% lower than the country's average, and over 72% of people own their homes.
While America is not one of the cheapest countries to live in and visit, Michigan is affordable for residents and tourists.
If you are going to be visiting The Wolverine State (there is more than one nickname for Michigan) soon, then here are a few places worth visiting that are also budget-friendly.
Detroit Institute of Arts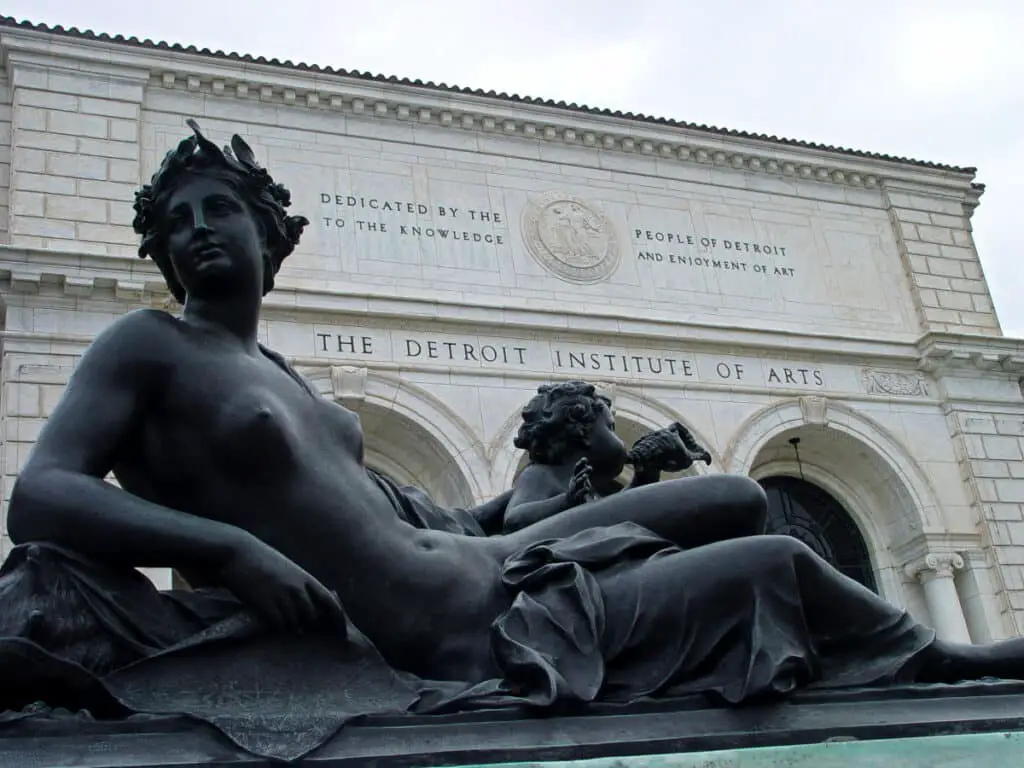 This institute houses what is considered one of the finest public collections of art in the country. You can view The Thinker by Auguste Rodin here, or at least one of the earliest versions he created. Rodin created 40 casts in total, one sold through Christie's for $11 million.
Other works here include Van Gogh, Cézanne, and Monet. General admission is always free for members and residents of Macomb, Oakland and Wayne counties.Admission costs $14, youth 6-17 $6, children five and under can go for free.
Take A Road Trip
In Michigan, the travel and tourism sector is significant. Over 122 million people visited Michigan in 2017, spending $24.7 billion there, according to Travel Michigan. As a result, efforts have been made to develop designated scenic travel routes that visitors may use to reach their destination. The fact that Michigan boasts 22 picturesque byways astounded us. These roads connect the metropolitan Detroit area with the Keweenaw Peninsula in the Upper Peninsula. Any holiday schedule can include these activities.
Heritage Route 23
If you like to drive, and you love beautiful scenery and stopping to appreciate different towns and ways of life, then The Sunrise Coast awaits. 200 miles of coastline with views of Lake Huron can be enjoyed by anyone traveling on Heritage Route 23.
AuSable Bayway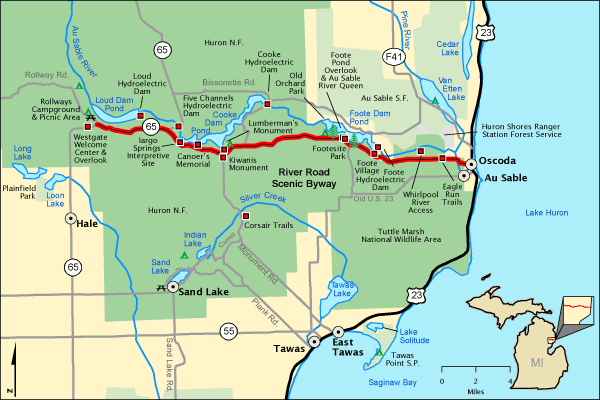 We found that the 22-mile River Road Scenic Byway runs westward from Lake Huron to the Huron National Forest. It runs parallel to the historic Riviere aux Sable, which in French means River of Sand. We decided to skip the endless commercial strip that makes up the lakeshore to make a trip along this Byway on our way back to Bay City
National Scenic Byways
The United States Department of Transportation selects a National Scenic Byway, a road recognized with six "intrinsic qualities": cultural, historical, natural, recreational, scenic, and archeological. The list was authorized by Congress in 1991 to preserve and protect the nation's scenic but often less-traveled roads and promote tourism and economic development.
The most scenic byways are chosen to be All-American Roads, which must satisfy two of the six intrinsic qualities. The classification means they have peculiarities that do not exist elsewhere in the United States and are different and valuable enough to be tourist destinations unto themselves.
Of the 120 National Scenic Byways and 31 All-American Roads, Michigan has 3 routes with this national designation.
Mackinac Island State Park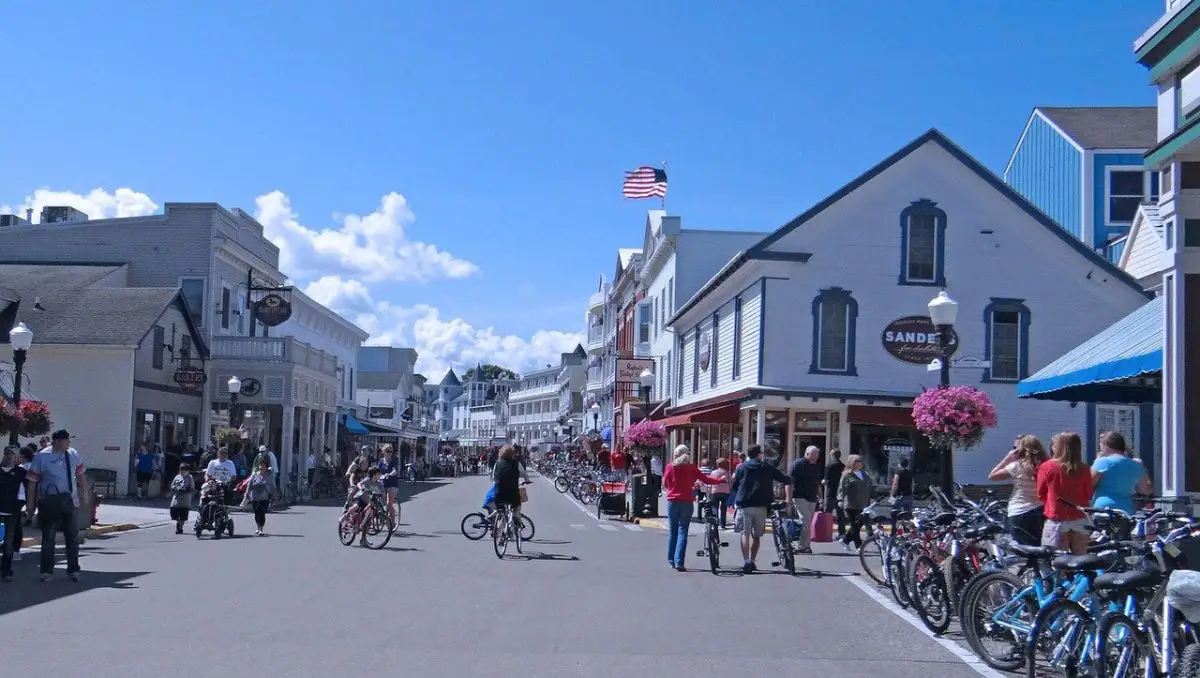 A popular destination for locals and tourists alike. No cars are allowed on the island save for some exceptions, such as emergency vehicles, and it's been this way since 1901.
If you have taken the road trip above then you should take time out for a visit to this Lake Huron island. There is a fee for the ferry to the island, but once you are there, you can explore by bicycle or foot for free. You can also learn about the history of the island and some of the more interesting buildings or indulge in outdoor activities such as kayaking.
Arch Rock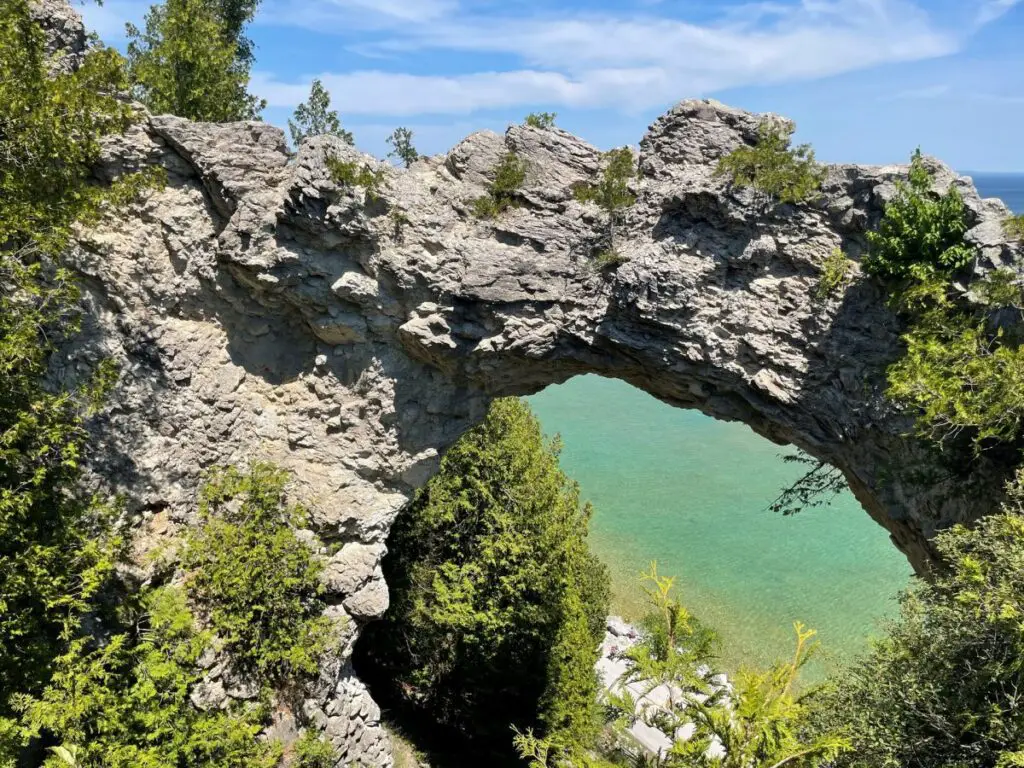 While on Mackinac, you should take time out to see this interesting geological marvel. Over the Straits of Mackinac is Arch Rock which appears to hang in the air 149 feet up.
Tahquamenon Falls State Park – Paradise, Michigan
Tahquamenon Falls State Park is a state park in the U.S. state of Michigan, located on the southern shore of Lake Superior in the village of Paradise. The park's main attraction is Tahquamenon Falls, a set of two waterfalls, which descend into their own small basins and then tumble together down to form larger pools before they exit out through another channel cut through rock.
The main falls are located at, while an additional smaller waterfall can For two or three days each spring (the exact timing varies), snowmelt from higher elevations causes a rare phenomenon known as "the veil," where water flows over both sets of falls simultaneously rather than one after another.
Sample A Real Cornish Pasty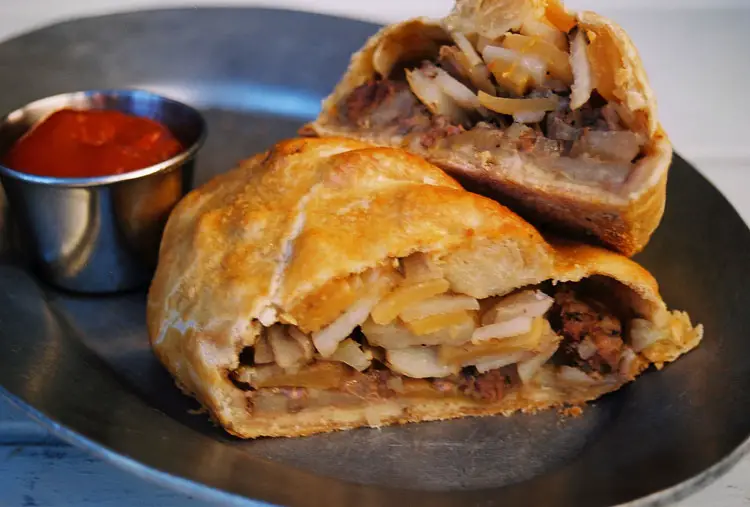 The first Cornish beef pasty, a delicacy unique to Michigan, was imported from Cornwall by English copper miners in the 1840s to the Upper Peninsula of Michigan. In the depths of the copper mine, the miners would set the pasty on top of their shovel and warm it over the headlamps. There are several ways to make this little meat pie, but we prefer to stick with the Michigan Tech beef pasty recipe.
This once-ethnic meal is baked daily to produce this genuine Michigan delicacy more than 180 years later. The Beef Pasty has a flaky shell with warm meat and vegetables inside. They are filled with a substantial mixture of meat, pork, potatoes, rutabaga, and carrots in a flaky crust.
Once prepared, these tender, flaky pastries can be warmed in the oven for just a few minutes to truly enjoy the taste of Michigan.
Go ToKitch-iti-kipi (Big Cold Water) – Manistique, Michigan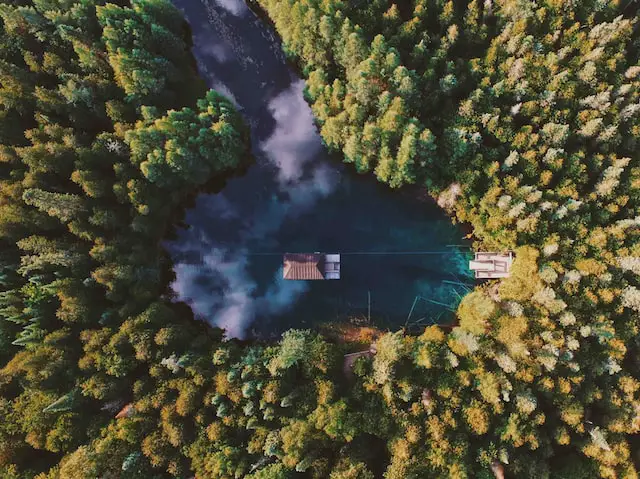 Located just north of the town of Manistique in Michigan's Upper Peninsula, Kitch-iti-kipi is the largest spring in the state. It pumps out more than 8 million gallons of water daily and is a beautiful sight to behold. Kitch-iti-kipi means "big cold water". The water is 45 ft deep at its deepest, but it is crystal clear. If you look closely, you can see the fish swimming in this aerial shot. It's definitely worth a visit!
Michigan Loves Its Coney Island Hotdogs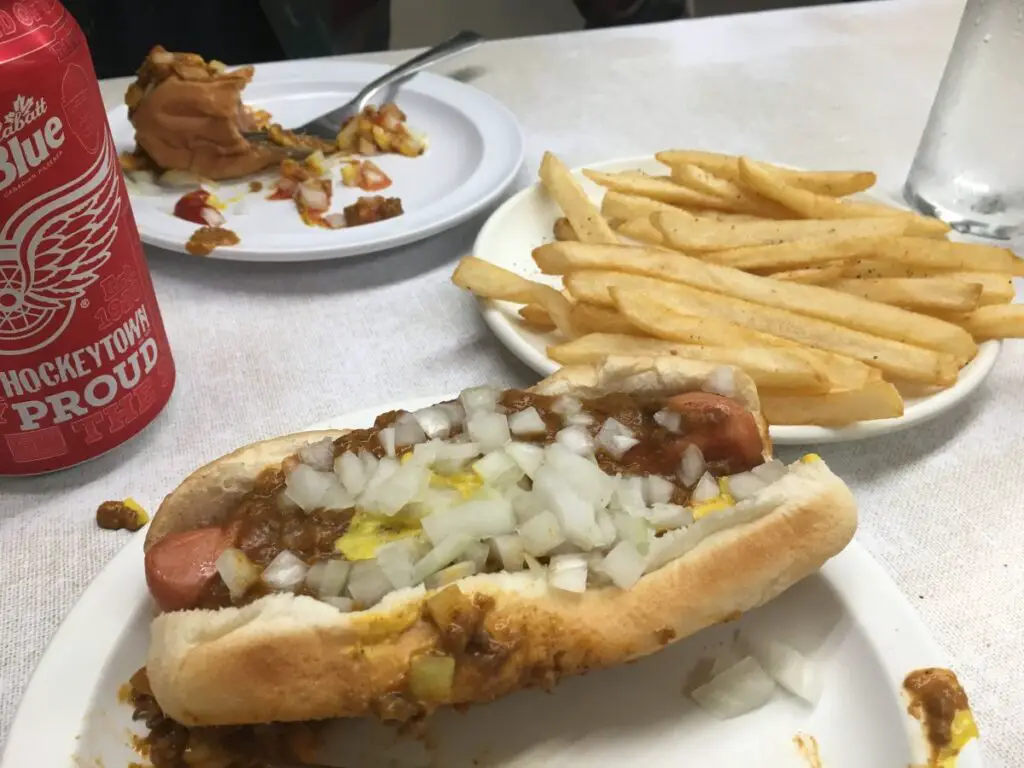 It's true that Coney Island is in New York, not Michigan, but that hasn't stopped a ton of eateries from emerging and serving this distinctly American cuisine. Who created the original Coney Island in Michigan is still up for discussion. It's comparable to requesting your mother's chili recipe. You never get the same response again because it depends on who you ask. However, we examine the ongoing argument between the Kalamazoo, Detroit, Flint, and Jackson varieties of Michigan Coney dogs.
While Michigan doesn't have official food like some states, the Coney dog could be described as the unofficial one. After a hard day exploring or driving around the state you can reward yourself with a tasty but cheap bite to eat by visiting one of the many Coney Island diners that abound in Michigan; there are 500 in Metro Detroit alone.
Michigan is A Great Place To Go Camping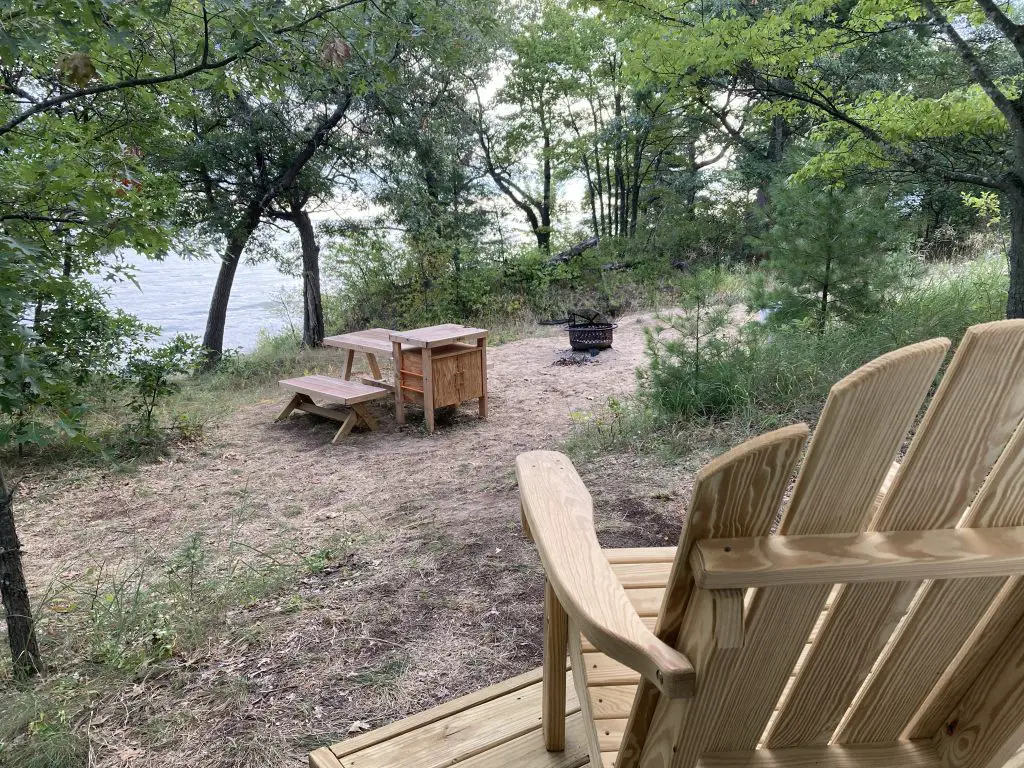 To reduce accommodation costs and enjoy the outdoors, you can go camping in various spots in Michigan. Ludington State Park Beach has three different grounds for camping and is great for exploring, which costs nothing. Beaches, wetlands, forests, and a famous lighthouse, make for photo opportunities and outdoor fun.
Matthaei Botanical Gardens
If you are near Ann Arbor, a lovely place to visit that costs next to nothing are the Matthaei Botanical Gardens. There are 300 acres in which you can follow nature trails and learn about a huge variety of botanicals.
Entrance to the gardens is free, although there is a parking fee. This is currently $2 an hour with a maximum daily fee of just $5. So, the whole family can visit for a relatively minimal cost.
 Ann Arbor Farmers Market – Ann Arbor, Michigan
The Ann Arbor Farmers Market is a great place to visit on Saturday mornings. With over 40 vendors, you will find everything from fresh produce to homemade cheeses and baked goods. The market is open year-round and has plenty of delicious options for you to choose from.
Michigan Science Center
There are several educational places to visit in Michigan. Ann Arbor itself is home to the highly-rated University of Michigan.
The Michigan Science Center is recommended for all ages for educational fun. There is an entry fee of $18 for adults up to 64 and $14 for children between 2 and 15, but you can save money by bringing a picnic to enjoy in the park and make a day of it.
Motown Museum
One of the more expensive entry fees, unfortunately, but for $20, you can visit the former home of Berry Gordy and learn about how the great Motown hits were created and recorded.
Concessions are available for veterans, children, students, and seniors.
Detroit Eastern Market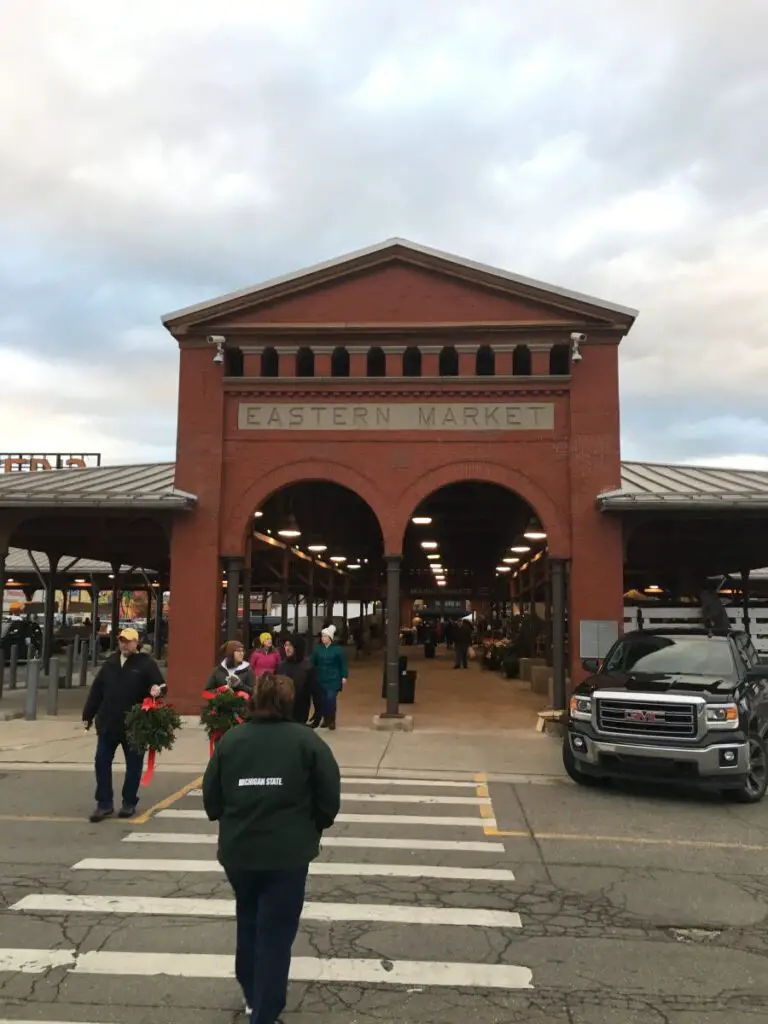 Detroit is a diverse city with a rich cultural history shaped by waves of immigrants and their food traditions. Eastern Market is a historic public market in Detroit, Michigan. It is located at Gratiot Avenue and Russell Street in Midtown Detroit. The market is the largest historic public market in the United States, dating from 1891 and operating continuously since then. The Eastern Market is one place you can experience this diversity in the form of the many restaurants, cafes, and food stalls that line its streets.
Enjoy Free Live Music In Detroit
After spending money to learn the history of Motown, how about some free live music to help balance the budget? If you're traveling as a broke student in Michigan but want entertainment, or if you're a couple out for the night, what better than free music and cheap drinks?
July sees the 8-day free festival, Concert of Colors, in Detroit. But, there are venues with free music every night in the city. PJ's Lager House and Trixie's Bar are popular live music venues with affordable drinks.
Final Thoughts on Cheap Places To Visit in Michigan
Michigan offers some splendid places to visit that are either free or cheap. And there are too many to mention here.
But now that you've enjoyed some of the delights of Michigan, you might have the travel bug as many others do now. Travel and tourism are on the rise again, and many budget-friendly destinations remain. As this article was written, a flight from Michigan to Romania was just $330. So, Europe and further destinations may not be as out of reach as you might imagine. Just remember to return to Michigan to explore the countless other places that need to be seen.