The Mitten State has a dependable wintery climate because its surrounded by the Great Lakes and its northern location. The enormous amount of ice and snow that Michigan receives each winter is one of the state's many claims to fame. Winter festivals in Michigan allow locals to celebrate the season and break that cabin fever. It's fun outside in the freezing streets. Here are a few of the top Michigan winter festivals this weekend and during the winter, no matter what area you are in!
Winter Festivals In Michigan's Upper Penninsula
It's time to bundle up and get your winter-ready on! Michigan's Upper Peninsula is the perfect place to celebrate the season with festivals, activities, and events. Here are the top six Michigan winter festivals 2023 in the UP.
Winter Carnival at Michigan Tech (Houghton)
The annual Michigan Tech Winter Carnival in the Upper Peninsula is well-known and has been held there for a century! The carnival, which takes place in mid-February, is a distinctive celebration of the significant snowfall northern Michigan receives.
Visitors can enjoy sleigh rides, outdoor activities, snow and ice sculptures, and the crowning of the Winter Queen. Additionally, Michigan Tech students do different acts, including comedic sketches. Moreover, there are awards for the most extraordinary snow sculptures!
Sault Ste. Marie Downtown Winter Festival Of Ice (Sault Ste Marie)
Every February, Sault Ste. Marie's downtown area is transformed into a unique ice sculpture gallery. This winter celebration has live carvings and allows kids to extract prizes from ice blocks.
The day also features a Penguin Parade and a ton of food, beverages, games, and other activities. An evening ice war with competitive chainsaw ice cutting marks the festival's conclusion. Based on public voting, the winner is selected.
Michigan Ice Festival (Munising)
The locals host the annual Michigan Ice Fest in some of the iciest locations around Lake Superior. The opportunity to participate in ice climbing, a novel and thrilling outdoor activity unlike any you've attempted before, makes this more than just a time to rejoice.
All visitors are welcome to join, and classes and equipment are provided for novices. Anyone who enjoys outdoor winter sports should attend this festival, a 30-year winter tradition in Munising.
Christmas in the Village (Escanaba)
This festival is ideal if you enjoy vintage Christmas customs and the spirit of year-round holiday enjoyment. The so-called Antique Village puts on an "old-fashioned" holiday celebration with all the elements that give the season a cozy and cheery vibe. Along with bonfires and sleigh rides, there are a ton of holiday decorations, lights, and carols to enjoy.
Additionally, complimentary and for-purchase goodies are available, including hot chestnuts, chocolate, popcorn, and Christmas cookies. Remember to enter the raffle to win a quilt made by hand! Finally, look at this breathtaking film of Christmas in the Village.
Tahquamenon Sled Dog Race (Muskallonge State Park)
Sled dog races are undoubtedly something you've heard about, but you might have yet to witness one in person. Since 1999, the Tahquamenon sled dog race has been an annual event in Muskallonge State Park. Numerous weekend races are held that feature amateur and professional race teams.
Additionally, there will be food trucks on-site where spectators can enjoy hot cocoa, BBQ, and other delights while taking in the race next to a bonfire.
Heikki Lunta Festival (Negaunee)
There is no other place in the world where Heikki Lunta, a legendary character, exists. The immigrants from Scandinavia who settled in Michigan's Upper Peninsula created this fable. These festivities are exclusive to the local communities!
It's said that Heikki Lunta represents winter. So the annual festival celebrates everything chilly and wintry in his honor! Food and entertainment are abundant, as well as a parade, arts & crafts, and games.
Winter Festivals in Michigan's Thumb
If you're looking for a way to keep the winter chill out of your bones, Michigan's Thumb is the place to be. Some festivals and celebrations throughout this region will keep you warm and entertained all season long.
Caseville Shanty Days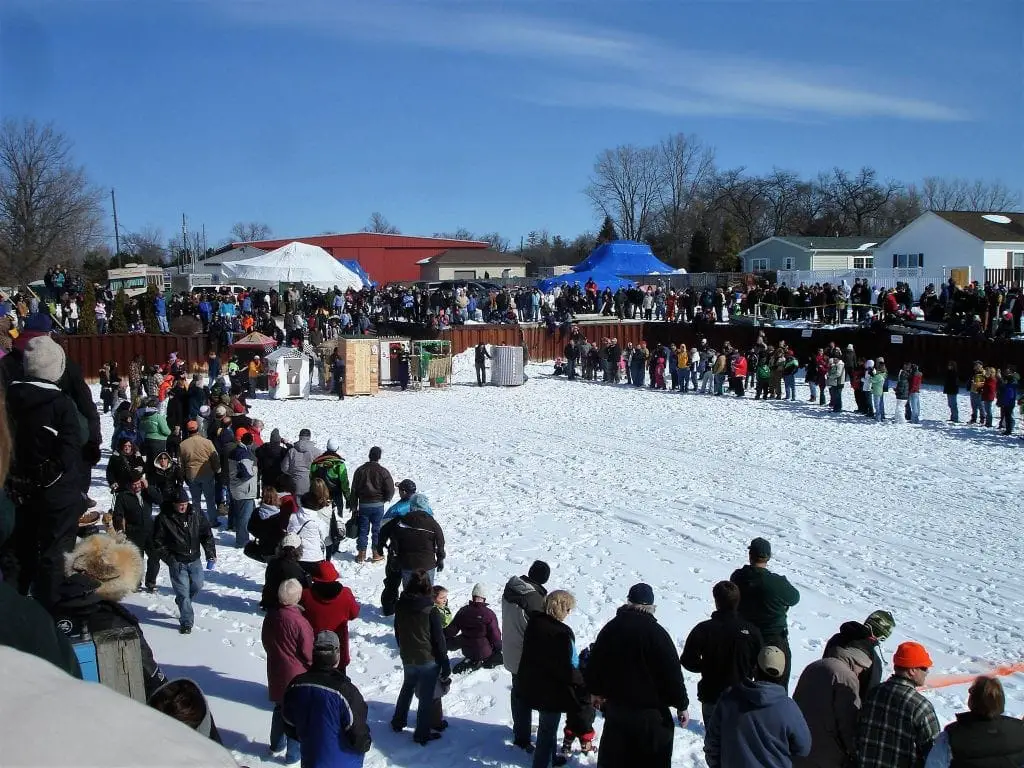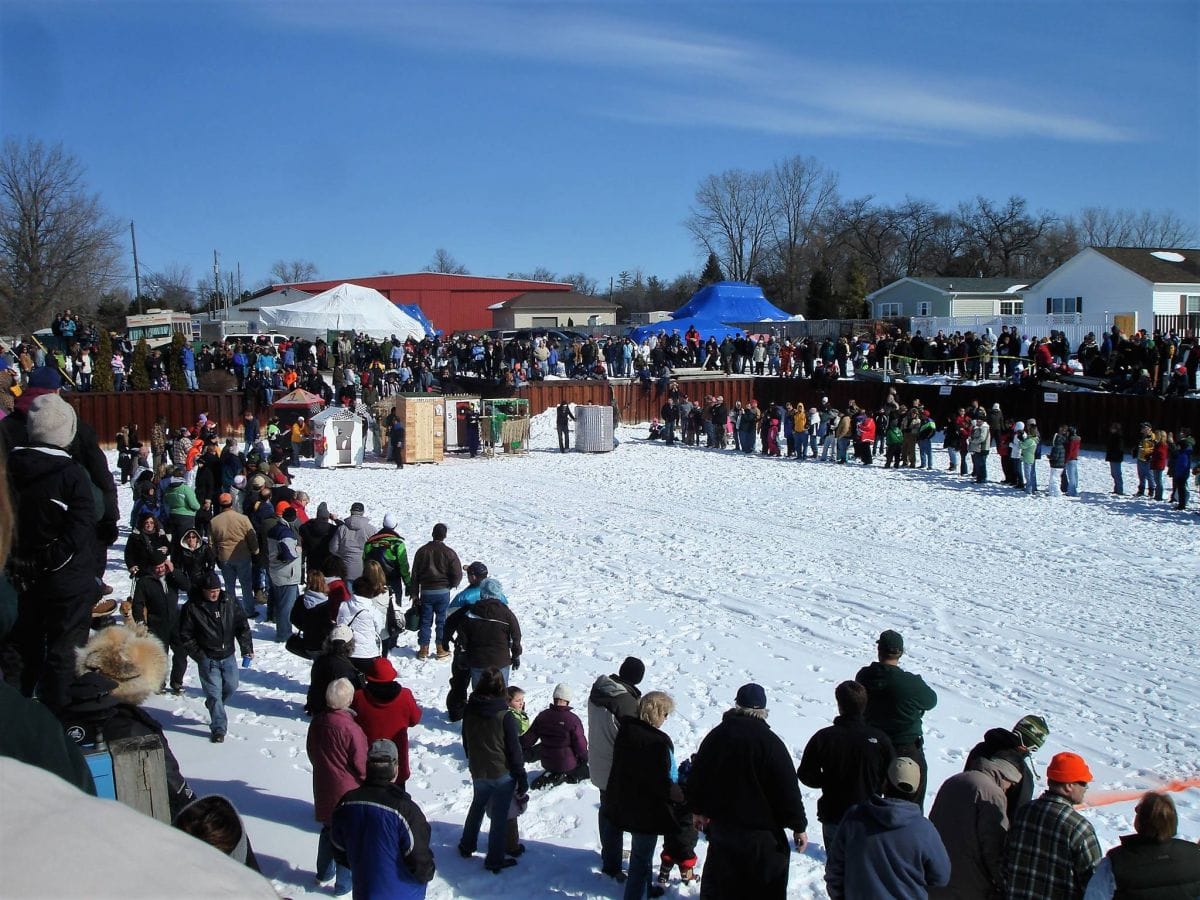 Caseville Shanty Days is a festival that takes place in Caseville, Michigan. It's held on February 10-11 and celebrates the area's heritage as a fishing village. The festival has been held for about 30 years and features a Broom Ball Tournament, an ice sculpture competition, and a polar bear plunge.
Port Austin Winter Carnival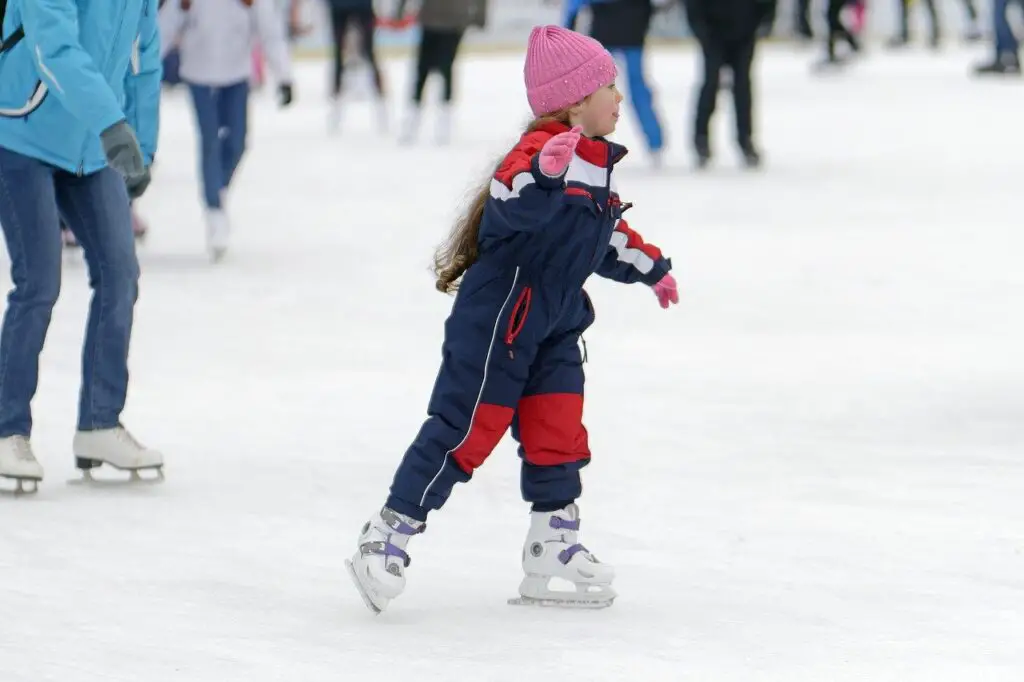 The Port Austin Winter Carnival takes place during the last weekend of January every year, and it's one of the biggest winter carnivals in Michigan's Upper Thumb. It features a winter cornhole and broomball tournament and one of Lake Huron's coolest polar bear dips.
Winter Festivals in Michigan's Lower Peninsula
When it comes to winter festivals, Michigan's Lower Peninsula has no shortage of options. Whether you prefer an old-fashioned holiday celebration or want to get your adrenaline pumping, there's something for everyone!
Tip Up Town USA (Houghton Lake)
Winter outdoor competitions are the focus of Tip-Up Town USA! This festival should be on your radar if you enjoy sweating outside in the winter. The residents of Houghton Lake get together each year for chilly entertainment, including a 5k run, a tug-of-war, games, an ice fishing contest, and snowmobile drag racing.
You are welcome to participate in the Polar Bear Dip in Lake Michigan if you are particularly adventurous. There is much to enjoy from the sidelines if you'd like to observe, such as cuisine and live entertainment.
Traverse City Restaurant Week (Traverse City)
Here is one of the winter festivals in Michigan where you can be indoors. Visitors to Traverse City can sample the distinctive menus of regional eateries every February. Every year, the participating restaurants change, offering choices such as neighborhood breweries, coffee shops, bistros, steakhouses, and fine dining.
You can win a $75 gift card to any participating establishments if you dine at one of these neighborhood Traverse City eateries and post about it on social media. However, even if you don't, this event still allows you to sample some incredible new foods while assisting Traverse City's small businesses.
World of Winter (Grand Rapids)
Making the most of living in a chilly climate is the primary goal of Grand Rapids' World of Winter celebration. The Grand Rapids Winter Festival 2022 was a success they look to repeat in 2023. To that end, the event seeks to offer enjoyable and lively neighborhood activities that are reachable even in chilly, snowy weather!
All visitors to World of Winter are welcome for free, and it is ideal for everyone. Public art pieces, a light maze, unique tours, scavenger hunts, snowman-building competitions, and other activities may be found here.
Southern Michigan Winter Beer Festival (Jackson)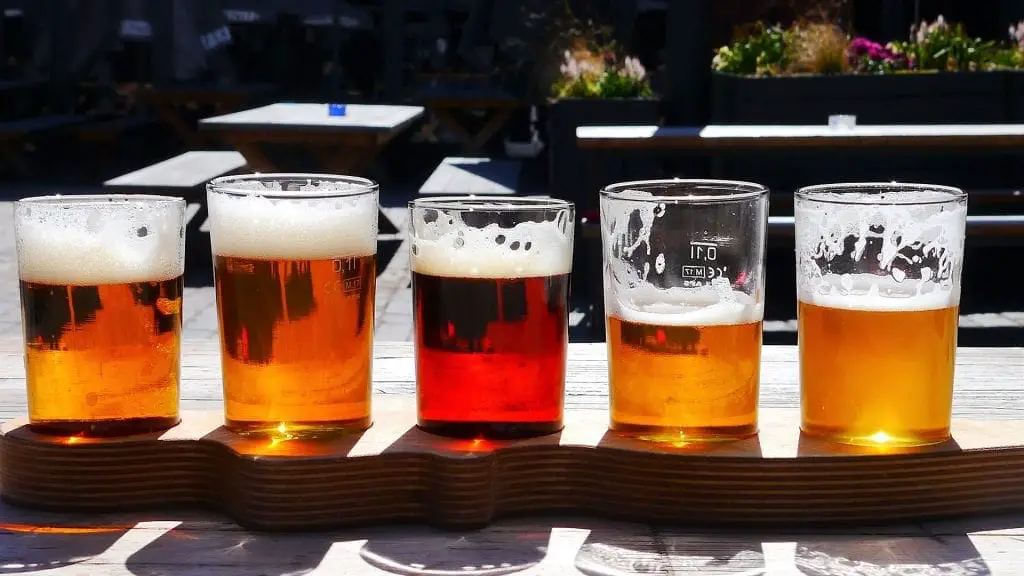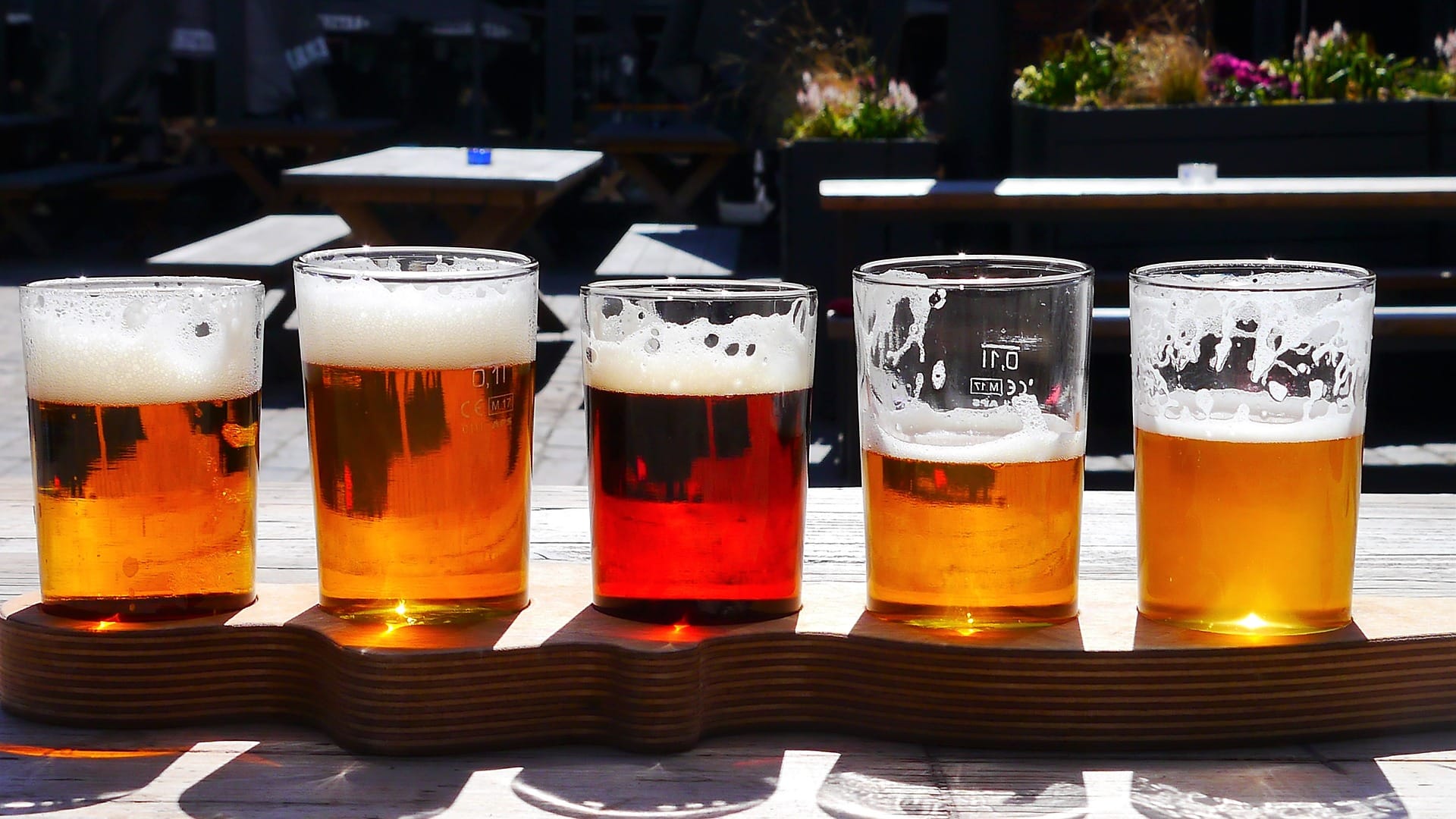 People from Michigan understand that occasionally a decent drink will do the trick for chasing away the winter blues. The Southern Michigan Winter Beer Festival, a craft beer celebration in Jackson, is one of the events and things to do in west Michigan that allows the opportunity to sample 150 craft beers, including domestic and imported brews.
Every year, more than 50 breweries participate. There is a ton of food, entertainment, and games during the event, which takes place indoors and outside. Outside, there are bonfires where you may have a meal and a beer while lounging in the snow.
Zehnder's Snowfest (Frankenmuth)
The Frankenmuth ice festival 2023 and Zehnder's Snowfest have grown to be one of North America's most well-known ice sculpture festivals! The giant ice and snow sculptures you have ever seen may be found at the Frankenmuth Ice Festival, but there are other attractions.
This unique event includes a petting zoo, many crafts and games, and even a fireworks display. The size of team entries in sculpture competitions can reach 100 ice blocks, up to and even single-person participation!
Cold Rush (Warren)
The annual Cold Rush festival is held in late January as an outdoor celebration of all things chilly and wintery. Visitors can participate in events like ice skating, ice carving, and live music in the city's center for one day. Glow skating is also available.
The best in regional delights are available on-site from local food trucks. Stop by one of the bonfires to have a s'more and some hot chocolate if you're feeling chilly.
Final Thoughts on Best Winter Festivals in Michigan
Suppose you are a college student and want to spend the weekend checking out the festivals but have a paper due. You can hire a paper writer to ensure you keep up with your academic performance and go to ice, snow, or other winter festivals in Michigan to experience!
There is plenty of wintertime entertainment around Michigan, regardless of where you are. So this year, avoid feeling gloomy by searching for the closest festival and participating in your community's celebration of the ice and snow.