Want to find a new and exciting way to explore Michigan? There are so many miles of trails and campgrounds that make camping a breeze here, but if you want to try something new, why not try backpacking Michigan's lower peninsula? Hiking is one of the classic Michigan adventures because there are so many trails and areas to explore. You will undoubtedly discover something new. Here are the best hikes and trails for backpacking in Michigan's lower peninsula and how to get the best out of them. 
What We Will Cover
What Is Backpacking Michigan Lower Peninsula?
Firstly, what is backpacking, and how does it differ from regular camping? The key is in how you get around. When you backpack, you'll travel during the day with all your camping gear in a pack on your back, hence the name. It's a stripped-back way of traveling that lets you see everything in the area and gives you much freedom. 
The Best Backpacking Michigan Lower Peninsula Trails
Want to start exploring Michigan by backpacking? Here is some important information about some of the best trails to start. 
Arcadia Dunes
This hiking trail has everything a backpacker could want, no matter your level of experience. There are trails for both beginners and more advanced hikers so that everyone can enjoy the area. If you're coming with children, the Pete's Woods Trail is 1.5 miles and perfect for inexperienced hikers. 
If you want something more challenging, there's the Baldy Trails. You'll enjoy some beautiful views of Lake Michigan on this trail, and scenic overlooks are great for taking pictures. 
The trails at Arcadia Dunes are also the best place to go birding, trail running or mountain biking, so there's lots to see and do here. 
North Country Trail Loop
If you want the best in backpacking Michigan's lower peninsula, then many agree that the North Country Trail Loop is where it's at. To get there, you must drive about 30 miles west of Cadillac, but backpackers agree it's worth it.
This loop connects to the Manistee River Trail. It gives you 19.5 miles total of some of the best views of incredible natural scenery when you hike. This includes a 245-foot suspension bridge that connects the two trails. 
While on your trip, you can try salmon fishing, see the waterfalls, or simply relax in one of the top campground sites on the trail. 
Jordan River Pathway Trail
This trail is a must-do for any animal lovers thinking of backpacking. Here, you'll see many wild animals, such as otters, dark-colored minks, and more. 
It's a moderate trail with 19 miles to hike and explore. The best part is that there are no insects, so there's no risk of getting bitten while enjoying your trip. 
Potawatomi Trail
This is another moderate backpacking Michigan lower peninsula trail that you'll want to check out. With 28.3km of trail to explore, the average day hikes takes about 6 hours. 
Many recommend visiting during the fall. As when the leaves change color, the trail becomes very picturesque. If you enjoy being active, it's also a popular trail for mountain bikers and cross-country skiing. 
Huron Sunrise Trail
If you want to go backpacking with the family, you'll want to try this trail. It starts in Rogers City, with 11.1 miles of trail along the shores of Lake Huron. In the end, you'll find yourself in Hoeft State Park. A campground in the state park makes it the best spot to end your day. 
For those that want to explore further, there's the Volger Conservation Area, which contains 270 acres of forest. 
Pigeon River Country State Forest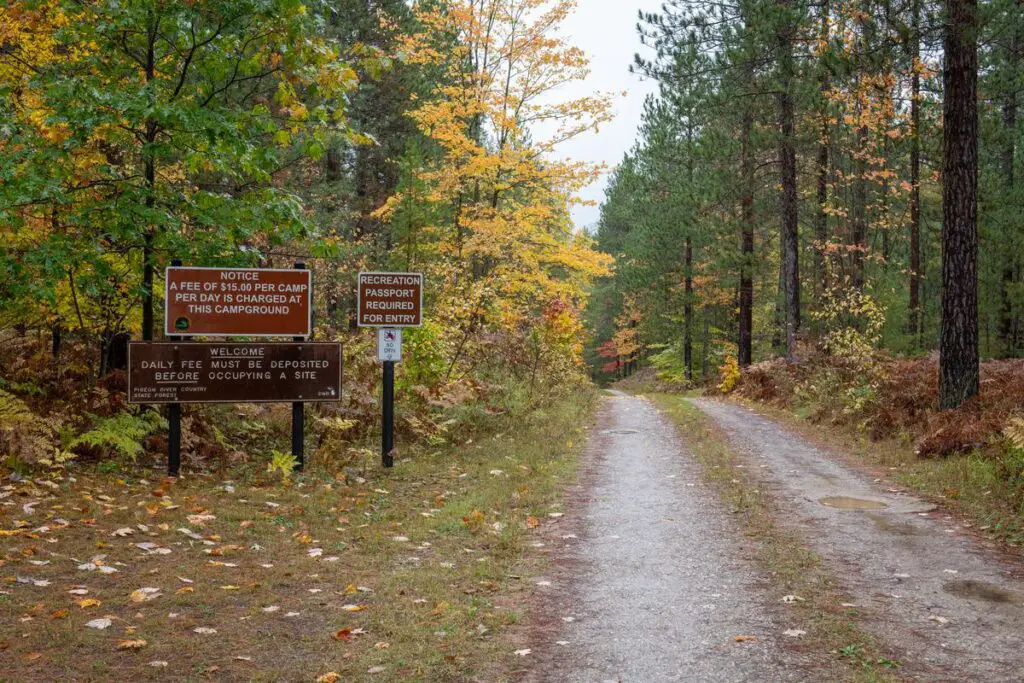 This is one of the top trails for the adventurous looking to try backpacking Michigan's lower peninsula. There are 19.6 miles of wilderness here, with lots of unmarked pathways if you're the kind of person who likes to strike out and explore. 
If you visit at the right time of year, you can spot wildlife such as large elk and blue ribbon trout in the numerous streams. 
Sand Lakes Quiet Area
You can enjoy a relaxed and laid-back hike here in the Pere Marquette State Forest. Motorized vehicles are prohibited, so the trail has become a very popular backpacking Michigan lower peninsula for those that want to get away from it all. 
It's another excellent area for wildlife spotting, too, as you'll be able to find turkeys, deer, woodland birds, and much more besides. You can set up camp at the Guernsey Lake State Forest Campground when night falls. 
Leelanau State Park Trails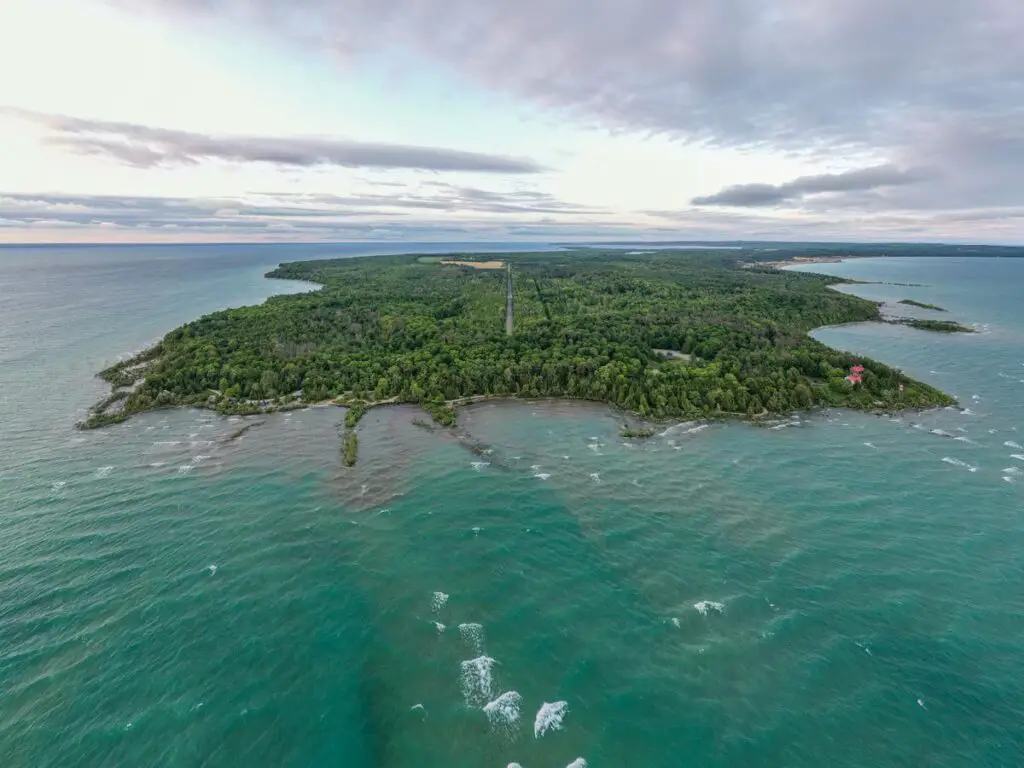 If you are on the west side of the state and near Traverse City, this is one of the most scenic hikes in the area. This is an excellent spot for a shorter trip, as there are 8.5 miles of trails to hike and check out here. While there are fewer miles to cover, there's still plenty to see here, such as endangered Piper Plovers flying around and making their nests along Lake Michigan. 
Negwegon State Park
Located in Harrisville, this is another backpacking lakeshore trail that's a little shorter but still packs in lots to see and do. It's an easy hike of no more than 10 miles total, and it's the best place to go if you're looking for a rustic getaway. The state park is full of undeveloped land, so you can enjoy exploring the trails and relaxing on the beach of Lake Huron. 
Sleeping Bear Dunes National Lakeshore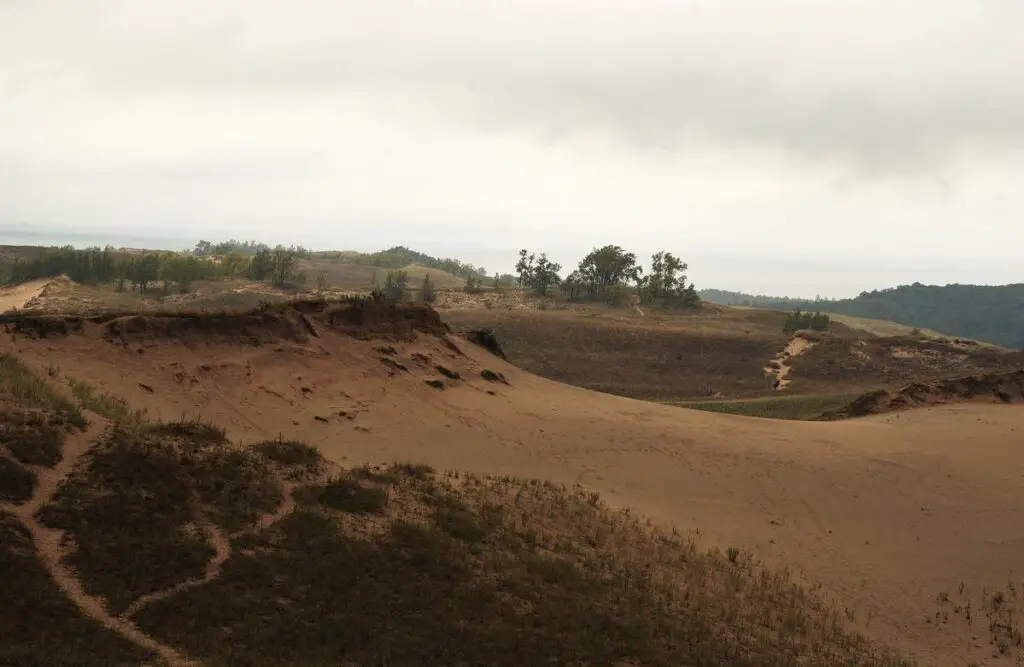 Sleeping Bear Dunes, National Lakeshore has some of the greatest backpacking in Michigan. This is one of seven national parks located in Michigan. Sand dunes hiking is considered one of the most strenuous in the state. The park has miles of state-designated trails, and there are detailed maps available at the park
The 4 four backpacking camping areas at Sleeping Bear Dunes National Lakeshore
White Pine Backcountry Camp – Permits for White Pine can be purchased at the Platte River Campground Ranger Station during the summer or at the Philip A. Hart Visitor Center for the rest of the year. This camp has six campsites and is located approximately 2 miles from the Path's End Road trailhead on the Platte Plains hiking trail south of Empire, right off M-22. The camp is about a half mile from the Lake Michigan coast, where you may get fresh water.
It takes a bit under a two-hour ferry ride to get to South Manitou Island. It has three campgrounds: the Bay (25 individual sites and three group sites), the Weather Station (20 individual sites and three group sites), and Popple Campgrounds (7 Individual Sites). When you acquire your permit, get a map of the island and a list of hiking paths. The rule is to camp in a low-impact manner. This island is ideal for multiple-day treks.
North Manitou Island is subject to wilderness camping regulations (see below). Before camping, backcountry permission and payment must be completed. When you acquire your permit, get a map of the island and a list of hiking paths. All rubbish must be removed from the island. Camping is permitted practically any place on the island except within 300 feet of the high water mark of Lake Michigan, lakes, streams, ponds, springs, structures, or other campers. Camping is not permitted on any path.
Backcountry Camping Regulations
Camping Permits and Park Passes are required.
Pets are prohibited in the campgrounds.
Camp only in designated sites (does not apply to North Manitou Island).
Fires are permitted only in the communal metal fire rings.
Use down and dead wood only.
Do not leave a fire burning unattended. Put out all fires before leaving the campground.
Carry out all trash.
Snowmobiles, bicycles, or wheeled vehicles are prohibited from being on the trail or campground.
How To Get The Most Out Of Backpacking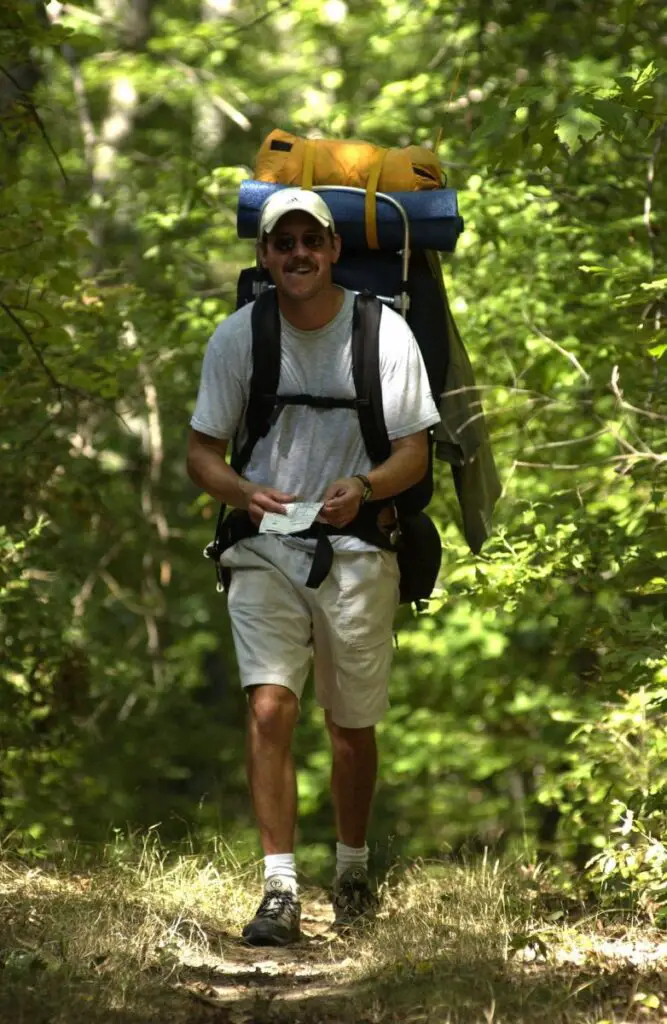 If you're considering backpack hiking in Michigan's lower peninsula, you must ensure you're prepared. Firstly, you'll need everything to camp safely and comfortably, but it must fit in a backpack. Don't forget to bring enough food and water for your trip. Also, ensure that you are physically fit for your next Michigan hike, as many involve elevation gain.
Before you set out, ensure that you do your research. Some campgrounds will require you to get permits, so it's a good idea to get them ahead of time so you're prepared. 
Backpacking in Michigan is a fantastic way to explore the state and enjoy nature. It can't be beaten if you want to try a trip away with a difference. Start planning your trip now, and look for a trail that will offer everything you're looking for. Do you know of any Michigan backpacking secret locations? If so, comment below.