Producer and director David Siev continues to shake up the international indie films world and has taken the 2022 Critics Choice Award for the best first documentary film:  Bad Axe. 
"Bad Axe," David Siev's first feature-length documentary, is a touching account of his family's struggles to manage Rachel's of Bad Axe restaurant in 2020, at the height of the pandemic. They encounter racial discrimination in the rural, predominantly white city of Bad Axe in Michigan's Thumb. The pandemic escalated anti-Asian sentiment when some called it the "Wuhan Virus" or "China Virus."
Background of the Making of the Film Bad Axe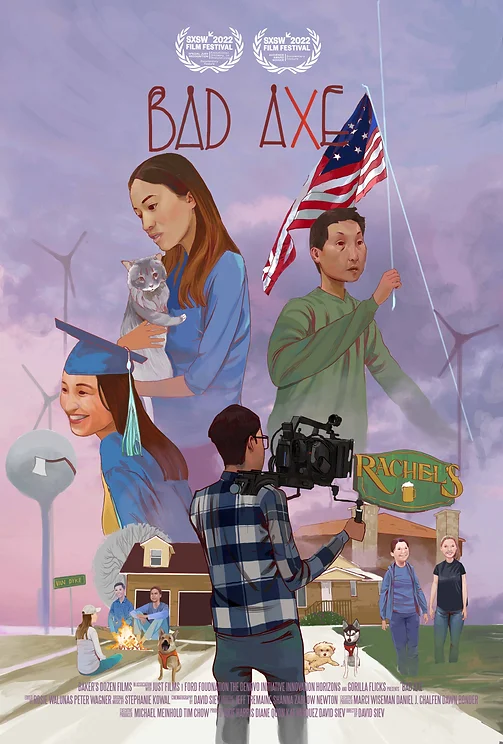 Chun Siev, the father of David Siev, escaped the Cambodian killing fields in the middle of the 1970s. He fled to Thailand with his mother and five siblings before looking for safety in the United States. They eventually settled in Michigan, where Chun Siev wed Rachel, a Mexican-American woman. They started a doughnut shop and worked hard for years to transform it into Rachel's, the family restaurant.
A Wary Bad Axe Community – At First
Some in Bad Axe were skeptical of the film and thought it cast the people of the rural community in a bad light. Therefore, a screening was held to thank those in the community who supported and funded the project. Between 20 and 30 tickets were given out to the public.
In an interview with Washington Square News, David talked about the afterglow of the public after seeing the film. "Many of the people that filled those open seats were skeptical, for one reason or another, but they decided to show up to the screening anyway. After the credits rolled and the lights came up, the film was really met with love from everyone in that room, including those skeptical individuals. They said, "I'm sorry for judging your family and your story before I had the chance to even watch it myself."
This isn't the first major award for Siev. With accolades from the South by Southwest Film Festival and the Detroit Free Press, the autobiographical documentary has already enjoyed a successful run at film festivals. In addition, it has been predicted to be an Oscar candidate as the best documentary feature and has garnered 17 other awards.
Bad Axe is To Be In Theaters Soon
The Michigan film made its public debut at the Detroit Institute of Arts in April. Over the summer, the film was screened in over 30 cities. It's uncertain if David Siev's movie will start a new tour. However, a Facebook Post from Rachels Restaurant indicated that the film is set to be in theaters starting on November 18th.
The last time Bad Axe was featured in a film was Sean Penn's This Must Be the Place.