So, you're going to a new place? Everything is exciting until you realize how much you have to pack. Moving is an inevitable part of life. A report by the U.S. Census Bureau indicates that the average American relocates 11.7 times in their lifetime.  We discovered some excellent packing tips for moving houses that you will find useful.
What We Will Cover
Packing and Moving Is Never Easy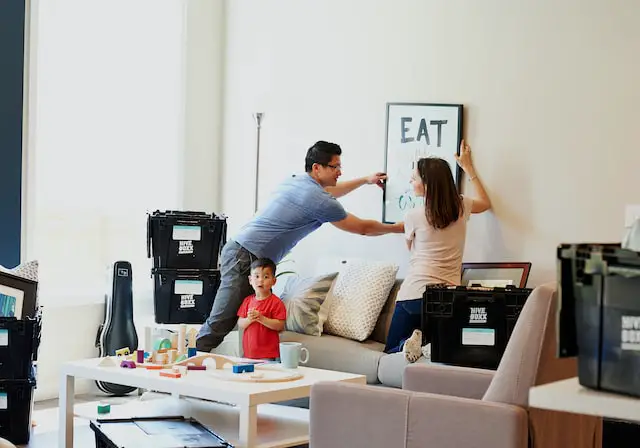 Moving is a notoriously stressful process that can wear even the most meticulous planner down, whether you move frequently or for the first time in a long time. While moving is never easy, here are some tips for packing and unpacking faster, reducing the amount of work, and making the process go a little more smoothly.  
 Use these packing tips to make the process less stressful: 
1. Create a Checklist 
One of the best packing tips for moving house is to create a checklist, which, while it may seem monotonous, is practical. Writing or typing your to-do list will assist you in memorizing it, saving you time by preventing you from wasting it trying to recall what you need to do. This is extremely useful if you are relocating abroad. 
Start putting all of your new addresses, documents about renting or buying, contracts about moving, and other things into a single folder. (Consider making a paper copy instead of a digital one in case your phone or computer batteries die while you move.) You'll have the answer, as well as proof of contracts, payments, and other things, on hand in case any questions come up during planning or the move.  
2. Research Movers and Costs 
Decide on your next steps right now. Do you want to handle it on your own? Do you prefer working with a professional? Begin by becoming acquainted with your options and financial situation. According to Forbes, moving companies charge $25-$50 an hour on average per mover. That's besides other costs such as materials, transportation, and gas.  
If you decide to hire movers, check online for an extensive network of reputable and trustworthy moving companies in your location. For instance, you can search International movers in San Francisco. 
If you don't have willing family and friends or are moving out of the country, it may make sense to hire professional movers. Given how much effort they save you during this trying time, they may be well worth the extra cost. 
Hiring professional movers can be a fantastic experience if you choose the right company. Don't be afraid to ask questions before signing a contract. How many hours will it take to pack your things? How many movers will handle the task? What are the other costs involved? This diligence will give you peace of mind as moving day approaches. 
3. Get Packing Supplies 
To make your relocation a success, you'll need many moving supplies. The following items are essential: 
Boxes: There are several resources for finding low-cost or free moving boxes. Check sites like Craigslist, BuyNothing, NextDoor Neighbor, or Facebook Marketplace for used boxes, or ask your friends and family. Check that the packing boxes are in good condition and get a variety of sizes. 
Bubble wrap: This is used to protect your belongings during the relocation. You can get it at a reasonable price at department or office supply stores. Remember, it is always better to buy bubble wrap in bulk for better value. 
Packing tape: You'll undoubtedly use more than you anticipate when packing your home, so keep a few extra rolls on hand. 
Name maker or marker: You can use a marker you already have or spend money on a Bluetooth label maker to label your boxes with their rooms. You'll also need scissors or a box cutter to unload those boxes in your new home. 
Dolly: Moving boxes around can be exhausting and result in drops. To avoid them, rent a dolly from a home improvement store or buy one online to assist with heavy lifting. 
4. Pack an Essentials Bag
The day of packing will be crazy, so get started by assembling your necessity bag. Pack only the things you'll need access to throughout the move and immediately after arriving at your new home. One of the best packing tips for moving house is to include the following items in your essential bag: 
Important paperwork 
Medications 
Chargers 
Basic toiletries 
Clothing changes 
Anything else you might require during your initial days in your new house 
 It's unlikely you will want to unpack your belongings, do your laundry, and go shopping when you first move into a new home. When choosing a suitcase for moving to a new home, size is an important factor to consider. Opting for a big-sized sustainable suitcase is a great way to pack all the essentials before moving to a new house. To make packing easier, consider using packing cubes as well. Making a moving basics tote in advance is beneficial because moving may be very taxing on your family. 
5. Take Inventory 
Making a list of all the items is essential. This way, you can track what you own and what the movers are transporting. Check your driver's inventory sheet as well. Make a list of any missing or damaged items ahead of time. Photograph fragile items, such as appliances or lamps, for insurance and liability purposes. 
Doing this will help you and your movers find every box in your new home. Label each box with a number and keep an inventory list in a small notebook. This will help you keep track of everything you've packed and make sure you have everything when you unpack. 
Final Thoughts About Packing Tips For Moving House
Moving can be stressful and more difficult than expected. These packing tips for moving houses can help ensure everything is in order before, during, and after the move. Spend some time developing an action plan. A solid strategy will ensure your relocation goes as planned, reduce stress, and help you move without too much annoyance.  
Related Reading About Travel and Moving
Moving to Michigan: Here are 5 Amazing Reasons Why – Michigan is one of the best tourism and vacation destinations in the United States. Besides tourism, it is also one of the ideal places to raise a family.
Movers Pittsburgh PA – 7 Simple Tips To Find The Perfect Moving Services – There are many factors to consider when selecting the right moving service. However, finding a mover for your needs doesn't have to be daunting. With a bit of research and due diligence, you can find the perfect movers in Pittsburgh Pa, for your needs. 
Top 10 Best States to Live In the USA – After Covid – That's why anyone considering transferring to another region right now will find several states worth the effort. So, what are the best states to live in the USA.