Drive from any point south of the Thumb north toward Port Austin, Michigan, to its tip, and you will encounter small towns and villages hanging on by a thread. Vacant storefronts, abandoned shops, and remnants of roadside stands abound in the formerly robust four-corner rural villages that were common in Michigan at the turn of the last century. (Make that from 1800-1900)
These small towns were social and economic hubs in the days before the car and paved roads. Stories of travel in the historical fiction murder mystery The Thumb Pointed Fingers noted took a solid day or two to get from Bad Axe to Detroit via the railroad. The area's remoteness made it sensible for each village or town to have several stores, hotels, and diners.
Today these small towns are struggling to survive. Caseville Cheeseburger Festival offers merchants a chance to make their year profitable in a week. Thousands of tourists descend for a burger and a beer while wearing a grass skirts and having a good time. Indeed, summer festivals in the Thumb celebrate beans, polka, sugar, potatoes, fish sandwiches, and chicken wings. Each of these small rural towns is looking for ways to draw folks in and keep their local businesses going.
---
Port Austin, Michigan – Not an Event but a Destination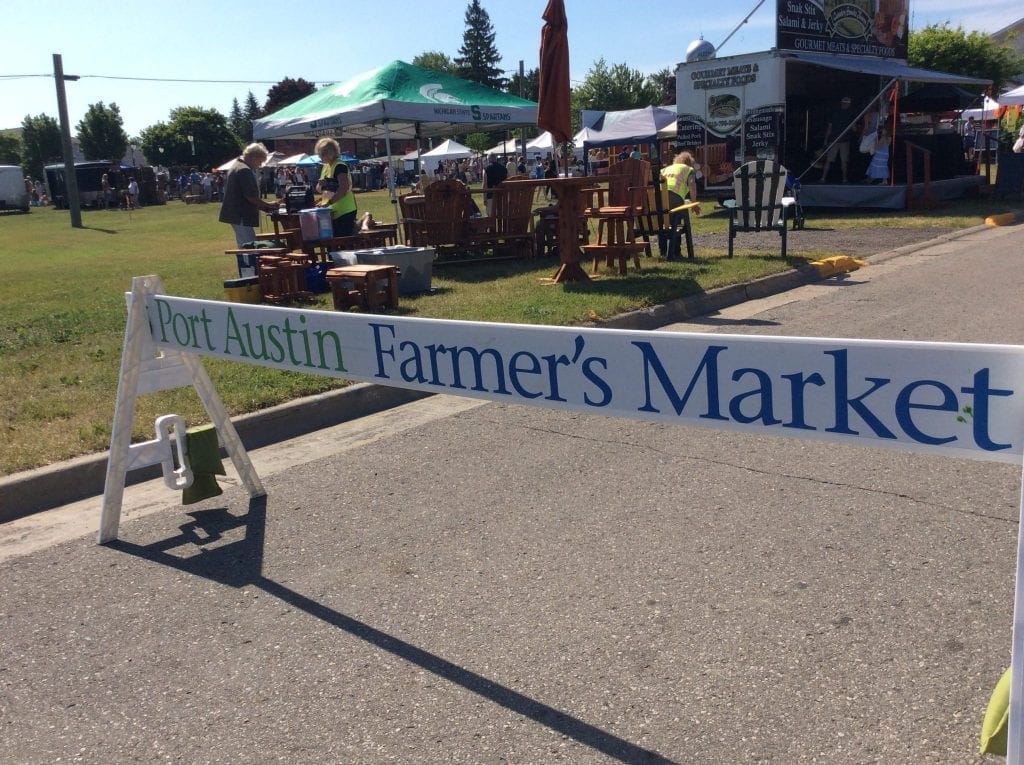 The town at the tip of the Thumb has taken a different approach; offering the community a destination for the entire summer season. On the 4th of July weekend in 2005, Port Austin Farmer's Market debuted with just over 50 vendors. Now with over a dozen years in operation, Port Austin claims one of the largest outdoor markets in Michigan.
Today permanent vendor booths have been built, and the market operates each Saturday for six months of the year. The market offers over 150 vendors. The Farmers Market offers one of the best examples of farm-to-table opportunities with fresh produce, fruits, meats, fish, and baked and gourmet canned goods. It was the vision and early leadership of John and Lisa Pridnia, who, along with many others, had the energy and forethought to get the Port Austin farmers market to the success it has become today.
A Lawyer Makes a Float Plan for Port Austin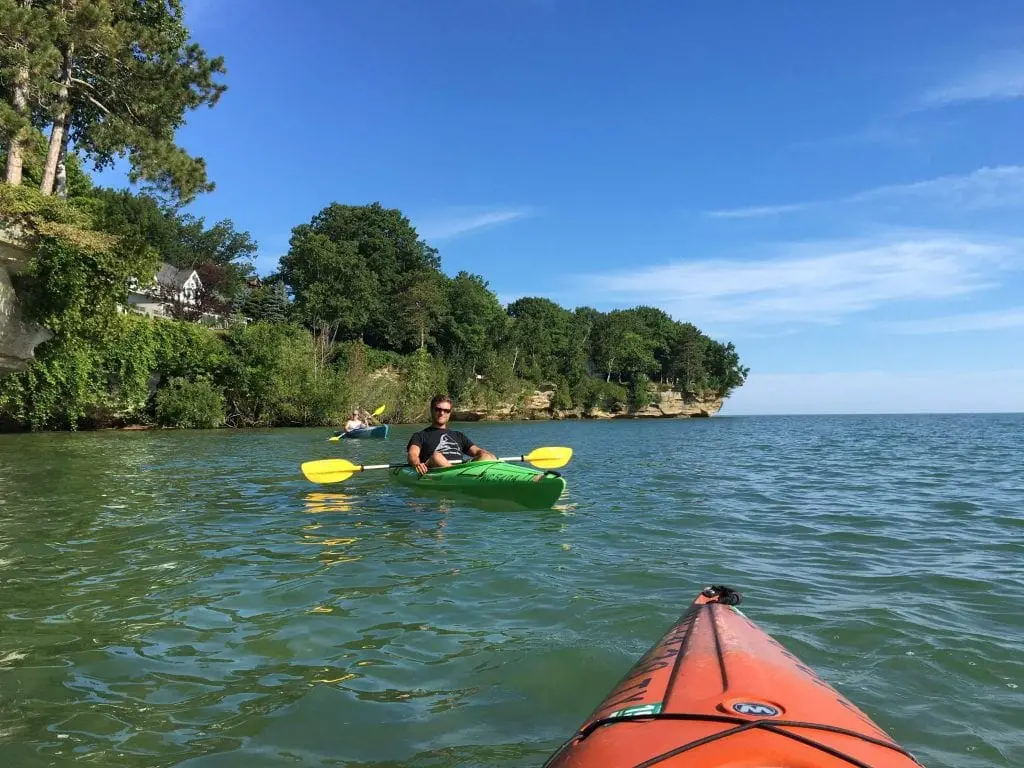 The paddler crowd was operating outside the fringe of the Port Austin Farmers Market. In 2007 Chris Boyle, a local attorney, founded Port Austin Kayak. (Affectionately called "PAK")  He invited paddlers to join him in 2008 to a summer of weekend paddles circumventing the entire Thumb shoreline on the Tip of the Thumb Heritage Water Trail along with its 25 access points. 
In 2012 Boyle worked with Michigan State University faculty and students to create a concept of a  "third place,";  an informal gathering spot outside home and work to share and express ideas. As a further outcome, Boyle and his wife came up with the concept of C.R.E.A.T.E., which stands for Community, Recreation, Environment, Arts, Tourism, and Entertainment. A moniker that has seemed to take on a life of its own in this coastal community.
Two Simple Kayak Trails Have Sparked a New Interest in Port Austin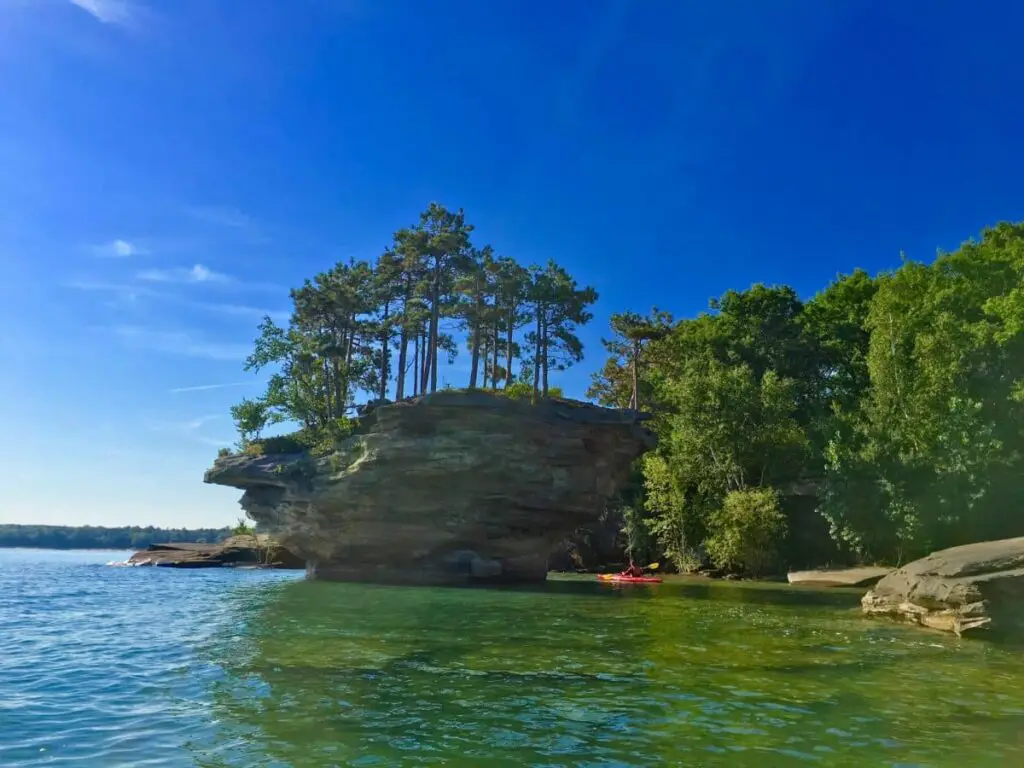 Today the PAK offers novice and experienced kayakers the opportunity to explore some of the most scenic sea kayaking trails in lower Michigan. From the Port Austin Harbor, a few miles along the beach is all that separates one from a site deemed by CNN as the "Most Unique Rock Formation in America," Turnip Rock,  which lies a few miles east. While a gentle paddle to the west reveals the accessible and climbable Broken Rocks formations along the shore. The PAK has offered 1000's an opportunity to see a beautiful bit of Michigan and offers Port Austin as an entry for the experience.
An Old Barn Offers a Blank Canvas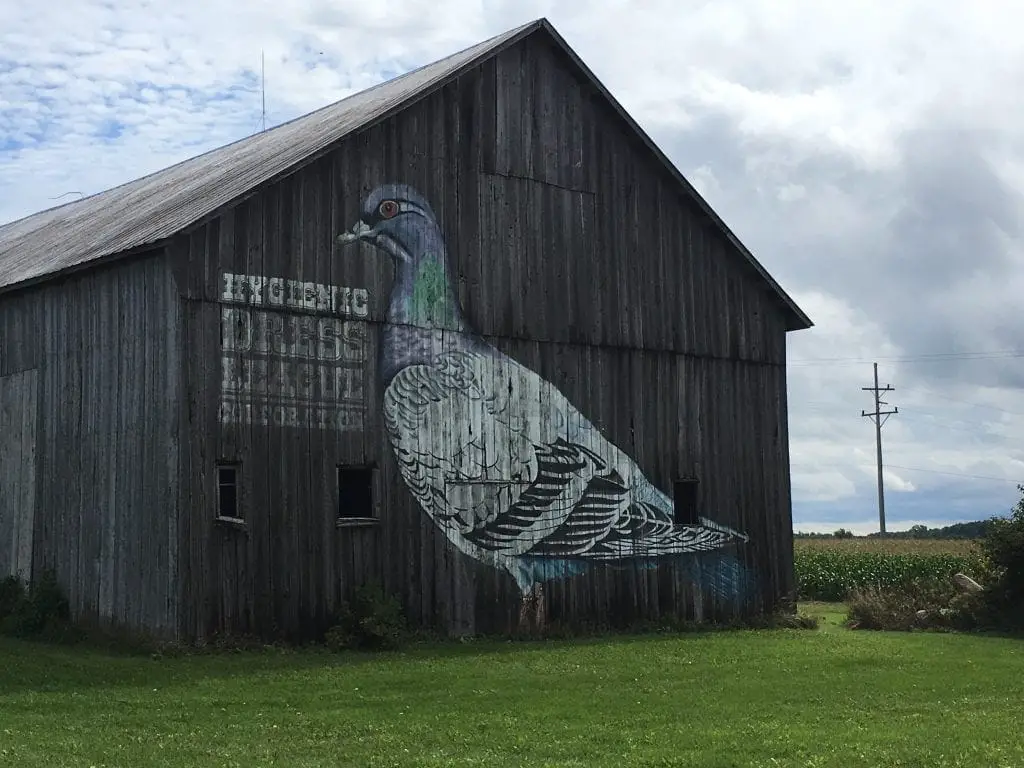 It was a simple idea. Paint a large mural on the side of a very weathered barn. Husband and wife visual artists Steve and Dorota Coy came to such a barn in the Upper Thumb in 2013 and changed the direction of Port Austin's art scene.
Their company, Hygienic Dress League, works in the community by combining business and art with its use the platform of street art and public art to create its own marketing campaign and bring art to the masses. Their public interventions have surfaced in over nineteen different cities in nine countries spanning three continents. With the painting of a pigeon on one side of the barn and a version of American Gothic on the other, the barn has a new life. (However, the work has faded over the past 5 years) It's one of the ten destination barns for viewing.
---
Barn to Ark in Port Austin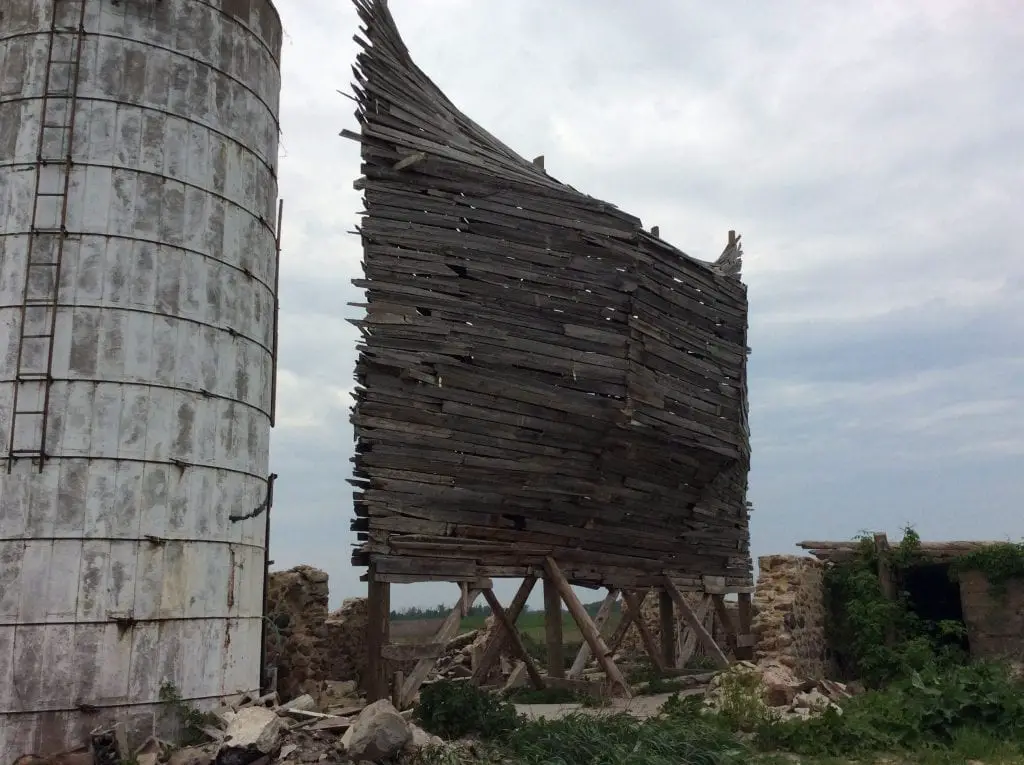 In June 2015, artist Scott Hocking came to Port Austin with the encouragement of former Port Austin native Jim Boyle. They wanted to start a series of 10 projects around Port Austin. Finding an 1800's barn south of Oak Beach, he transformed the structure into a larger-than-life form entitled "Emergency Ark." The looming work denoted sanctuary and safety and took five months to construct. This represented another destination piece from a local project called 10 barns in 10 years. This offers an ongoing exposition of "art on barns" that enthusiasts can travel about Huron country to view.
The Community Expands Beyond Port Austin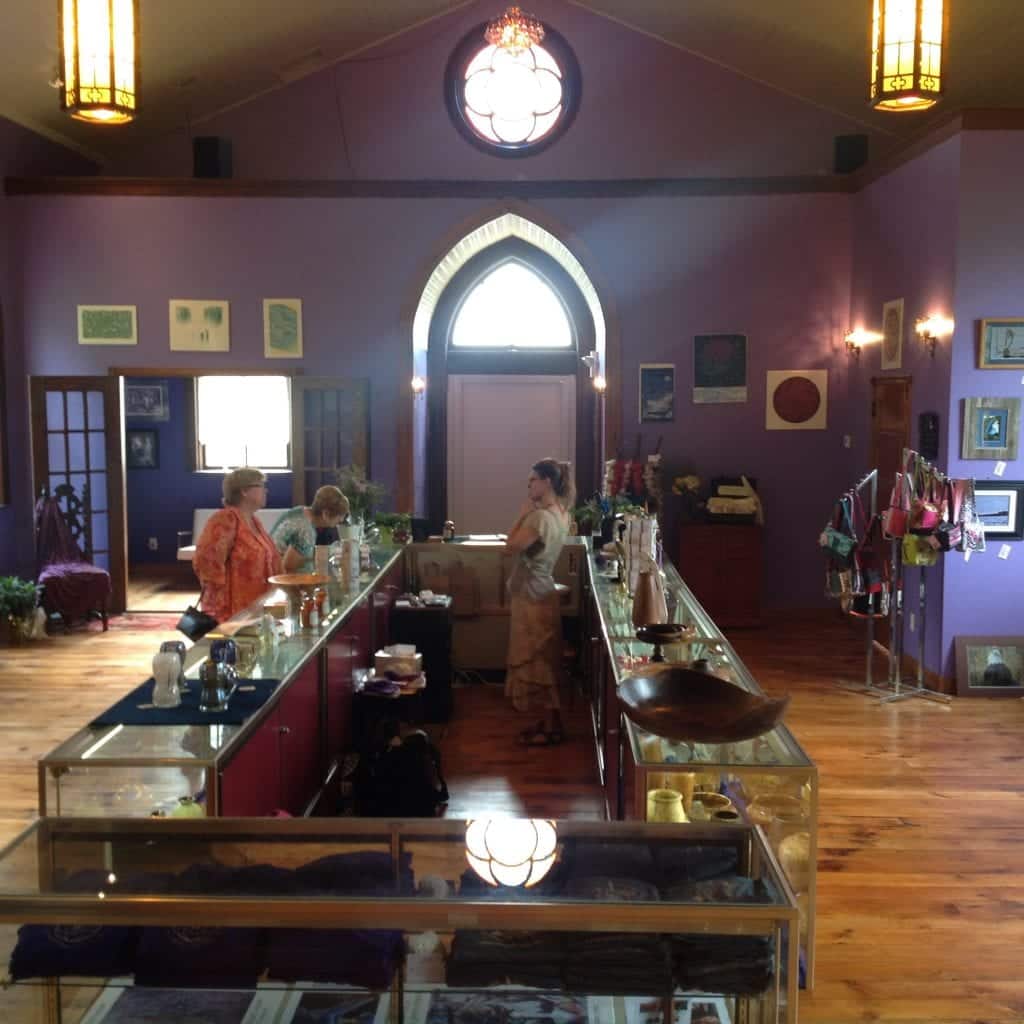 Efforts to make Port Austin a unique and welcoming destination seem to be paying off. The Detroit News ran an article in 2018 that noted that Port Austin had become an "Artistic Beacon" of the region. This series of investments by the Upper Thumb community, such as the nearby  White Church Gallery and, more recently, The Cove in Port Austin, looks to have resulted in more visitors trekking up M-53 for a day trip or for a beachfront cottage for the entire summer.
Related Port Austin Michigan Reading
Find The Litte Alley in Port Austin – This little place with its neat little Port Austin alley was once a paint store and an antique shop. It's only steps away from the Port Austin Farmers Market. It's also a short walk from the Cove Art Gallery, Butterfly House, and the Garfield Inn. Play in a 1980s style arcade. (Remember the token wars of the arcades back then?) This little place has a big name.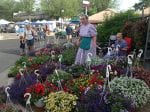 We have some fantastic and unique ideas if you're looking for something new to do on your visit to Port Austin. Here are a few of the best. Things to do in Port Austin. The area has plenty of places to stay, and camp and even has its own beach a short walk from the downtown area.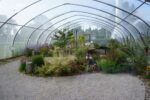 Port Austin Butterfly House and Gardens – The Butterfly Garden Project was due to an effort by the local community to utilize a seldom-visited park in Port Austin, Michigan and transform it into a visitor destination. The 30×50 netted house and surrounding gardens are beautifully landscaped, and many plants are identified.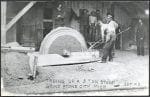 History of the Upper Thumb's First Industry – The accidental find of the Marshal Sandstone formation in Michigan's Upper Thumb in 1834 gave rise to one of the area's first industries. Grindstone City became famous for producing huge grinding wheels until a disruptive technology change slid the industry into obsolescence.
A Visit to Charity Island – An Oasis in the Bay – Captain Tom Carriveau started as a scuba diver seeking adventure in the Great Lakes and Florida. Soon he was a professional captain plying the waters of Lake Huron and the Everglades. Now his Explorer Charters tours offer a chance to visit one of the most isolated, yet visible islands in the Great Lakes.
---