We received this news update from the Huron County Sheriff's Department Today about Kayakers rescued near Port Austin in 40F waters of Lake Huron
Yesterday afternoon (24th) at 16:30, the Huron County Sheriff was contacted by a concerned resident of the Port Austin Lakeside Subdivision who reported seeing three kayakers heading to the Port Austin Reef Light, which is nearly 3 miles north of Port Austin. Although the air temperature at the time was near 80, stronger southwest winds were blowing, with Doppler radar indicating thunderstorms developing to the south about an hour away.
Concerned Onlookers Call For Help
The resident was concerned about a possible predicament that the kayakers could be getting themselves into because the kayakers were going to have to eventually paddle back against the strong wind, not to mention possibly in a storm. He and other residents of that subdivision have watched situations like what this one was appearing, go bad many times over the years with kayakers.
Although there had been no calls for help from the kayakers and they appeared to still be moving, one of our Patrol Deputies immediately responded while I attempted to find someone with a boat nearby to check on them. Unfortunately, this time of season very few boats are in the water, which includes our patrol boats. It was then decided to alert the Port Austin Fire Department of the situation, at that very time one of the kayakers was calling 911 reporting that he had overturned with him in the cold water (maybe mid-40s). The other two were also having a difficult time in the rough water.
Port Austin Fire Department Heads Out In Storm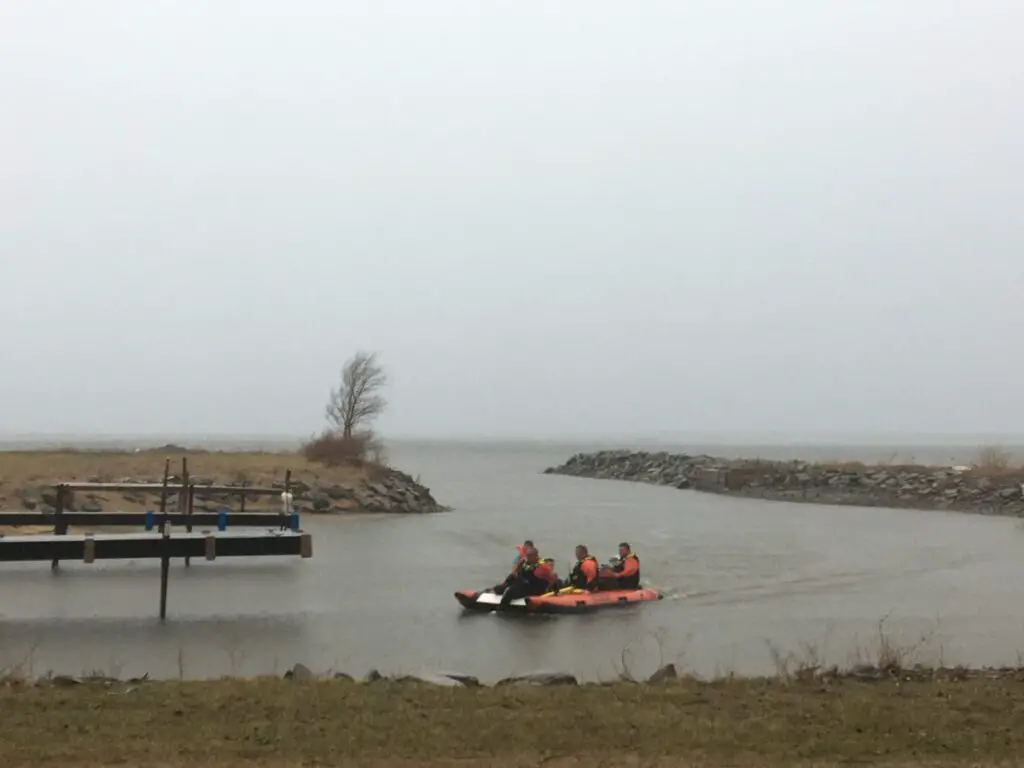 Port Austin Firemen then responded in the inflatable rescue boat to make the nearly 3-mile trip, with storms getting closer. The firemen were able to get all 3 kayakers aboard their boat, leaving the kayaks adrift, and headed back toward Port Austin in rough water and heavy rain with a thunderstorm in the area. They ended up coming into the Lakeside Subdivision private marina and turned all three over to a Central Huron Ambulance North crew to be checked over. Those rescued includes, Nathan R. Miller age 26 of Deford, Troy L. Martin age 20 of Decker, and Arnold L. Shirk age 27 of Cass City refused further treatment and were released.
Lake Huron is Still Extremely Cold
With yesterday's event having an eventual good outcome, I cannot emphasize enough how Lake Huron can't be taken for granted, especially so early season with cold water and limited options for the rescue. All 3 could have easily been blown past the Port Austin Reef with the strong southwest breeze and all would have ended up in the water. Fortunately, they did have life jackets and a cell phone but exposure to the cold water could have taken their lives in a short time, regardless of the air temperature is 80. Paddlesports are strongly discouraged this time of year and when water conditions aren't favorable any other time. Certainly, there are times that our Lake will safely allow it but enthusiasts need to realize what they're up against if they're not properly equipped, don't have the proper experience, or haven't paid attention to weather forecasts.
Related Reading Like Kayakers Rescued Near Port Austin
Huron County Drug Task Force And Local Law Enforcement Have Had A Busy Four Months Of Drug Arrests And Investigations.
Spring 2022 Is Bringing Avian Flu – Let's Keep Our Michigan Bird Feeders Out Of Sight? Again!
Letters From Chernihiv – The Russian War Against Ukraine Civilians – Part 3
6 Photos From Chernihiv – More Personal Ukraine War Accounts From North Of Kyiv