On September 8, the Biden administration released a report by the Department of Energy with plans for the United States to get 40% of its electricity from solar energy by 2035, a significant jump from the 4% solar contributes today. "The study illuminates the fact that solar, our cheapest and fastest-growing source of clean energy, could produce enough electricity to power all of the homes in the U.S. by 2035 and employ as many as 1.5 million people in the process," said Secretary of Energy Jennifer M. Granholm. Unfortunately, this ambitious plan is being undermined before it can even begin; a global chip shortage due to the COVID-19 pandemic.
White House Sets Ambitious Goals Set to Grow Solar Energy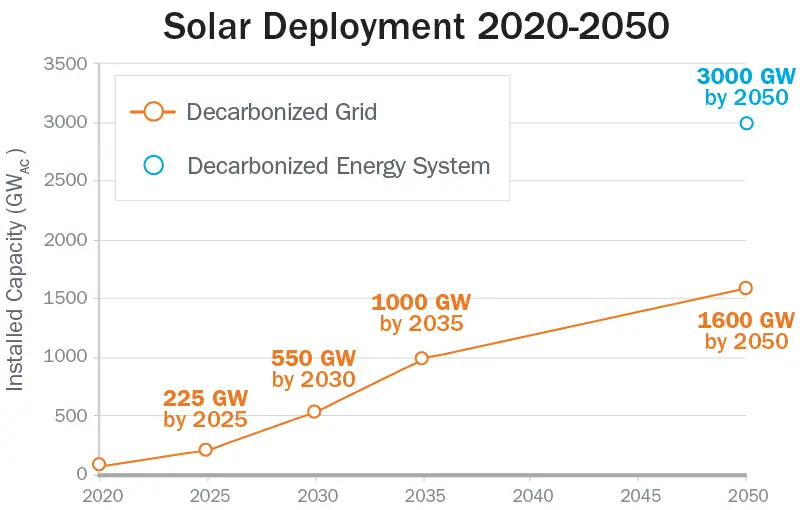 The DOE report outlines that up to 1.5 million people could be employed to support this growth while not increasing the cost of energy. In 2020, the U.S. installed 15 GW (gigawatts) of new solar installations, bringing 76 GW. This represents 3% of the current electricity supply. The plan looks to quadruple its yearly solar capacity additions and provide 1,000 GW of power to a renewable-dominant grid. By 2050, solar energy may provide up to 1,600 GW, effectively removing ne need for fossil fuels.
Impact of the Current Computer Chip Shortage
As areas of the world implemented stay-at-home orders because of the COVID-19 pandemic, many factories were idled, making the raw material required for chip manufacturing unavailable. In addition, as people stayed home, there was a reduction in demand for light trucks and automobiles. Each requires up to 1000 chips per vehicle. This forced chip manufactures to shift production to electronics and other consumer goods. 
The Taiwanese company TSMC accounts for more than half of the global semiconductor foundry market. It makes more than 90% of the world's most advanced chips. The Whitehouse has acknowledged the importance of encouraging additional semiconductor manufacturing capacity in the United States. Biden signed an executive order to fight concerns over a global semiconductor shortage. The order called for a 100-day government review of supply chains to address shortfalls in procuring chips.
The Chip Shortage is Affecting More Than The Auto Industry
Because of the chip shortage, approximately 5.2 million passenger vehicles will be lost from global production in 2021, according to a release from Duisberg, Germany-based Center for Automotive Research. However, the chip shortfall also affects another critical area in our economy: global electric utilities. 
The production of smart meters and the installation of solar panels have been affected by the global pandemic. Anecdotally, a scan of social media posts revealed reports of solar installations stalled in Illinois due to the lack of electrical meters. In addition, solar installers in Minnesota hear that there are a limited number of meters available. These personal observations could be a canary in the coalmine of struggles utilities, and solar installers will face in the coming months. 
The Fallout of the Chip Shortage is Expanding
On August 5, 2021, Itron (ITRI) made a startling yet unsurprising announcement. Its second-quarter 2021 earnings fell short of expectations. The reason, according to management, the shortfall in revenue is mainly attributable to "semiconductor shortages for components commonly used in industrial and automotive applications." According to BusinessWire, five companies provide most of the world's electrical meters; GE, Landis+Gyr, (LAND.SW), Itron, Elster, Sensus, and GE. However, so far, only Itron has acknowledged being impacted by the chip shortage in the production of electrical meters. 
Solar Faces More Headwinds
The broader solar industry faces two headwinds, the global chip shortage and the rising cost of raw materials. This is explicitly affecting battery storage and inverters. Both are vital components in solar installations.
Final Thoughts on The Chip Shortage Affecting Solar
The Biden Administration is banking on a massive investment in solar technology to help curtail climate change and invest in the next wave of renewable energy technologies. Both are commendable. However, it appears this plan is underpinned with the assumption that infrastructure capabilities are already in place and working. The Whitehouse is hampered right out of the gate. Prior administrations and policymakers didn't foresee the global catastrophic impact of a pandemic on the U.S. supply chain. 
Sources
Solar Resources for DIY Projects
Images on this page may contain affiliate links in which we may receive a commission. See our affiliate disclosure for details.
Related Reading