The village of Elkton, Michigan in Huron County was first known as Oliver Center from its location in Oliver Township (named for pioneer settler John Oliver) when organized in 1877. The village was founded in 1886 by W. J. McGillivray, a blacksmith who built the first house here. He named it to commemorate his killing of a huge elk entangled in his wife's clothesline. Simon Hoffman became the first postmaster on Nov. 24, 1886. The location was a station on the Saginaw, Tuscola & Huron Railroad. Incorporated as a village in 1897. Today Elkton is a vibrant agricultural community hosting many festivals throughout the year. Elkton sits in the middle of what is considered the Wind Energy capital of Michigan.
---
Things to Do in Elkton Michigan
Elkon hosts a great nine-hole golf course. Century Oaks Golf Course offers a challenging course and a wonderful clubhouse with great food. If it's a rainy day, they also have pool tables and a golf simulator.
Suppose you want a great bar burger and beer, head over to the Hitching Post Inn. The building was once a hotel, and you can see an interesting arrangement of stained glass.
Elkon also has an interesting collection of colorful murals. Some are prominently displayed, while others are located in a quiet alley or sidestreet. They are interesting to find. Most have the hashtag of the artist #LVMELKTON.
Elkton Mi Log Cabin Museum
Enos Mayhew built this 18 x 22-foot Michigan pioneer log cabin in 1865, just north of Pinnebog. It consists of two stories with an upper dormer design similar to the Baur and Notter cabins near Pigeon.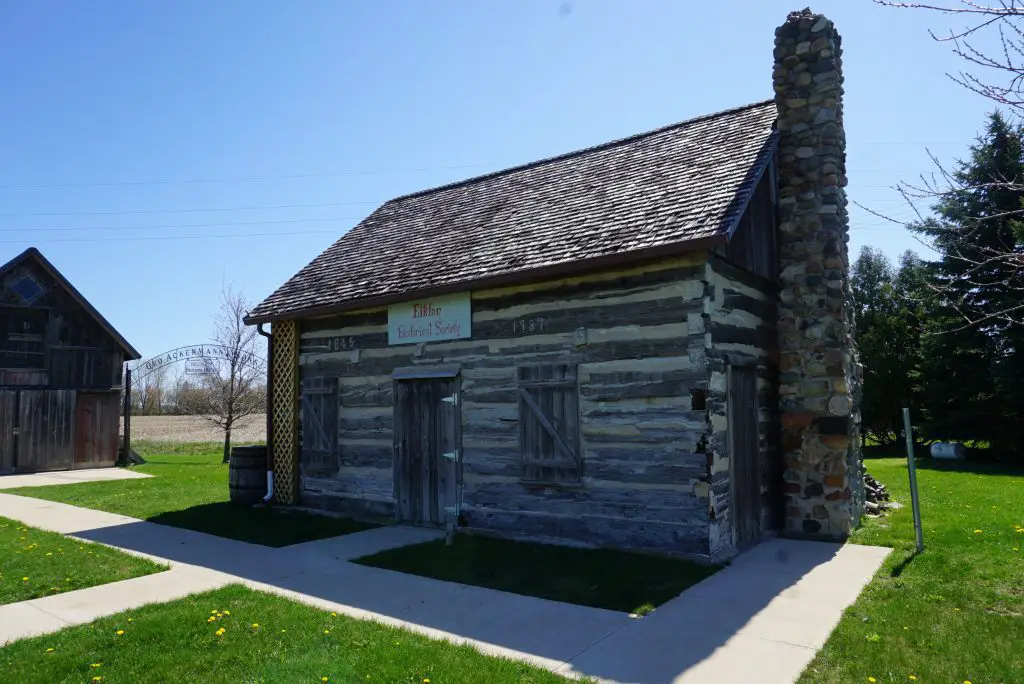 The Cabin was donated by Dr. & Mrs. Henry Schoenhals of Port Austin to the Elkton Historical Society. In 1987 it was dismantled, moved, and restored at the southeast corner of Ackerman memorial park in Elkton. The Elkton Historical Society maintains the cabin. Limited hours of visiting. Free admission. Call before you visit.
Huron County has the largest collections of pioneer log cabins in the State of Michigan. The Pigeon Historical Society is in the process of restoring an 1860s log cabin from the Ora Labora Colony.
The Thumb Animal Shelter In Elkton Michigan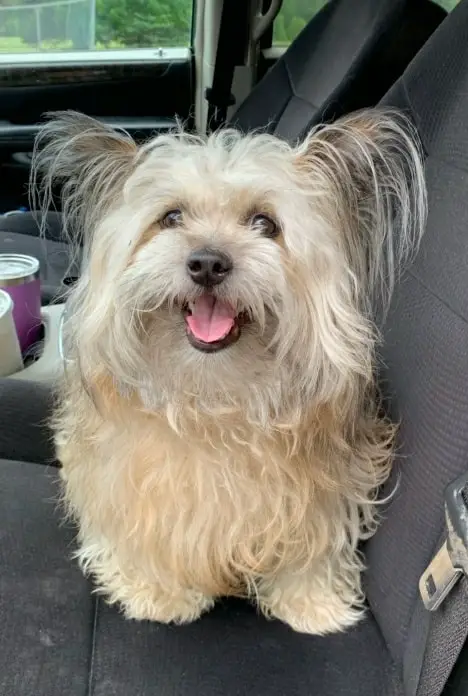 Elkton is home to the Thumb Animal Shelter if you're looking for a companion dog or an addition to your own family. The shelter was established in 1996 by Deen Forster and her late husband, Ron. They both have a lifetime passion for dogs; they are dedicated to saving the lives of as many of the homeless canines in Huron County as we can. If you want to see who is available for adoption, visit the Thumb Animal Shelter Facebook Page.
Elkton Michigan Autumn Fest
During the end of the summer, Elkton hosts its annual Autumn Fest during Labor Day weekend. This is three days of music, food, contests, and fun. One of the weekend highlights is the Thumb Tractor pull Association's Pickup Tractor and Pickup Pull event. Considered the largest in the State of Michigan. Check out the Elkton Autumn Fest Facebook page for their latest updates.
---
Elkton Michigan Themed Products on Amazon
Images on this page may contain affiliate links in which we may receive a commission. See our affiliate disclosure for details.
---
Related Reading For Things to Do in Elkton Michigan
Elk Lake Mi Why It Is Almost Too Beautiful to Be Real
Elk Lake Mi Why It Is Almost Too Be...
Kinde Michigan – Our Bean Town – Kinde was once renowned as the "Bean Capital of the World". Michigan white navy bean soup has been a staple for over one hundred years in the U.S. Senate dining room in the form of Senate bean soup. 
Kilmanagh General Store – Saving A Great Thumb Icon – One of the roadsides treats for me when I come up the Thumb on Fridays after work is to go through the tiny village of Kilmanagh. The iconic Kilmanagh general store and vintage gas pump are always worth a slow roll to see what has changed. The owner of the 1870's store has begun a painstaking restoration process that's now in its second year. 
Huron County Nature Center – The Huron County Nature Center is located midway between Caseville and Port Austin. The wilderness arboretum offers over 120 acres of woods, dunes, marsh connected by an intensive trail system. This offers a glimpse of the upper thumb as it appeared 100 years ago. Alternating dune ridges (now with mature growth) and wide pine areas, oak, fern, and huckleberry.
An Amazing Bar Burger in Elkton – When the party is in high gear during the Cheeseburger Festival in Caseville we find ourselves in the little town of Elkton about ten minutes away. There you will find the Hitching Post Inn. The Post is located in a historical hotel that was also once a church. (The stained glass is still in place). This is a great Bar Burger joint. 
12 Free & Family-Oriented Things To Do In Michigan's Thumb – If you are ever at a loss for things to do in Michigan's Upper Thumb, you found the right spot. We went looking for a dozen neat and interesting things to do and came up with this list of free things to do in Michigan's Thumb.
Harvest Wind I & II Farm Details And Reports – The Harvest I & II Wind Project is owned by Exelon Generation. Phase I of this wind farm has been in operation since 2008. Phase II began operations in 2012. The renewable energy project was Michigan's first commercial-scale wind farm.
---