There is nothing more exciting for Great Lakes sailors than looking forward to endless summer days spent on Lake Huron's magnificent waters or any of the other marvelous lakes. For generations, Michiganders have enjoyed the rugged shores and clear waters of northern Michigan and the upper lakes. Each year as the spring approaches, sailors start prepping with sailboat maintenance to be ready for the summer's seasonal first-day sail.
Consider Sailboat Maintenance As An Investment
A sailboat is a big investment, financially and in the time it takes to enjoy the sport. With proper preparation and maintenance, your boat will last you through years of sailing with minimal issues. When you keep your boat in excellent condition, it is more likely to take you safely through rough waters and maintain the best performance.
Having your own sailboat is a bit of an extravagance but, it is also a lot of work. Even if you can safely store your boat indoors during the long Michigan winter, there is still a long list of preseason chores to tend to before you can launch your sailboat for the season.
You may need to do repairs, repaint, or repair your canvas with Far East Sails' help. It's important to review your list and get working on your boat maintenance early in the spring so you are ready to hit the waves when the sailing season arrives.
The list of annual preseason boat maintenance can be extensive. It's a good idea to split up your chores to focus on a particular section that needs attention. Make a list of weekly tasks that need to be done to ensure that your inspections and repairs are complete before good sailing weather sets in.
Your boat maintenance will take time if it is done right. Let's take a look at some of the imperative tasks that you should include in your seasonal boat preparation.
Checklist for Sailboat Maintenance This Season
#1 General Cleaning
After many months sitting under a tarp or in a dry dock, your boat is going to need a good cleaning. You can start by washing your entire boat and scrub covering all outer and interior surfaces. Clean your windows, all decking, and hatches. Polish your wood surfaces and wax your exterior hull.
#2 Drains
Make sure that all of your drains are allowing water to flow naturally and there are no blockages. Insects and small critters love to build nests in these areas over the winter.
#3 Lights
Inspect all of your running and instrument lights to ensure they are working properly. You may have to replace some fuses or bulbs.
#4 Seacocks
All seacocks should be freshly lubricated and inspected.
#5 Water Lines
Test all water lines to make sure there are no blockages or leaks.
#6 Bilge Pumps
Inspect and test that both your manual and auto pump settings are in working order.
#7 Inspect Battery
#8 Radio & Antenna
Your radio and antenna are your lifelines to shore. Make sure that both are in good repair and working properly.
#9 Fuel Filter
#10 Sailboat Maintenance Includes Sails
Your sails need to be fully unraveled and inspected for any rotted areas, loose seams, or abrasions. Consider cleaning your sails every few years. We utilized Kent Sail Company in St. Clair Shores.
#11 Safety Equipment
You should never leave the shore without the right safety equipment on board. Make sure that your life preservers are in good condition and that you are carrying a flare, a first aid kit, and a fire extinguisher.
All through the sailing season approaches, it's important to take the time to thoroughly inspect and maintain your boat just as you did when conducting sailboat maintenance at the first of the season. Once the work is done, you can confidently enjoy the thrill of the water with family and friends all summer long.
Related Sailboat Maintenace Reading
Aboard the Miss Port Sanilac 1960 – The Miss Port Sanilac is a 38-foot fishing vessel that was built in 1958 in Pigeon Michigan. Today the Miss Port Sanilac operates out of Port Sanilac Marina for charter tours, wreck viewing, and diving.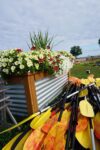 Plan a Day of Michigan Kayaking the Upper Thumb – If the weather looks to keep Saginaw Bay calm and the winds low, consider a morning of paddling the waters of the Upper Thumb. The region offers some of the finest Michigan kayaking areas for both the novice and expert.
Day Sailing a Catalina 27 Sailboat – When you have a sailboat the most common question is where have you gone with it. We have taken Trillium, a 1973 Catalina 27 across the Saginaw Bay from Caseville over to Tawas and took a two-week vacation up and back to Mackinac Island. However, we have taken this Good Old Boat on numerous day sails between Caseville and Charity Island.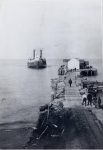 Steamship Excursion From Detroit 1910 – While railroads had been in service for much of the major cities in southern Michigan, excursion steamships were still a comfortable and viable option to get to Michigan's northern resort areas. You could board a ship on a Friday evening, have dinner on board, and arrive in north Michigan the next morning.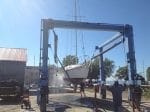 Lowering the Mast on A Catalina 27 Sailboat – I struggled to find reference material on the process for larger boats. Specifically, a step-by-step guide that one could use as a reference to dropping a mast on a Catalina 27. It just doesn't exist. Hopefully, you will find this a useful bit of information for your own boat. This assumes that you're using a crane or a gin-pole and have at least one or two helpers.
---