by Michigan and Washington Department of Natural Resources
News Digest
Estimated reading time: 4 minutes
The snow is already down across Michigan, and there are still plenty of bird species flitting about in the snowflakes. Northern cardinals, red-breasted nuthatches, downy woodpeckers, dark-eyed juncos, and American tree sparrows are ready to visit your backyard winter bird feeders.
This year, Michigan is experiencing a rare irruption – a sudden, sharp increase of a natural population due to favorable changes in the environment – of northern finches. Common redpolls, pine siskins, and evening grosbeaks have arrived in record numbers searching for cone and seed crops across the state. Now that Michigan winter weather has set in, you can watch these seasonal songbirds flock to your outdoor bird feeders.  
Choose Your Winter Bird Feeder Wisely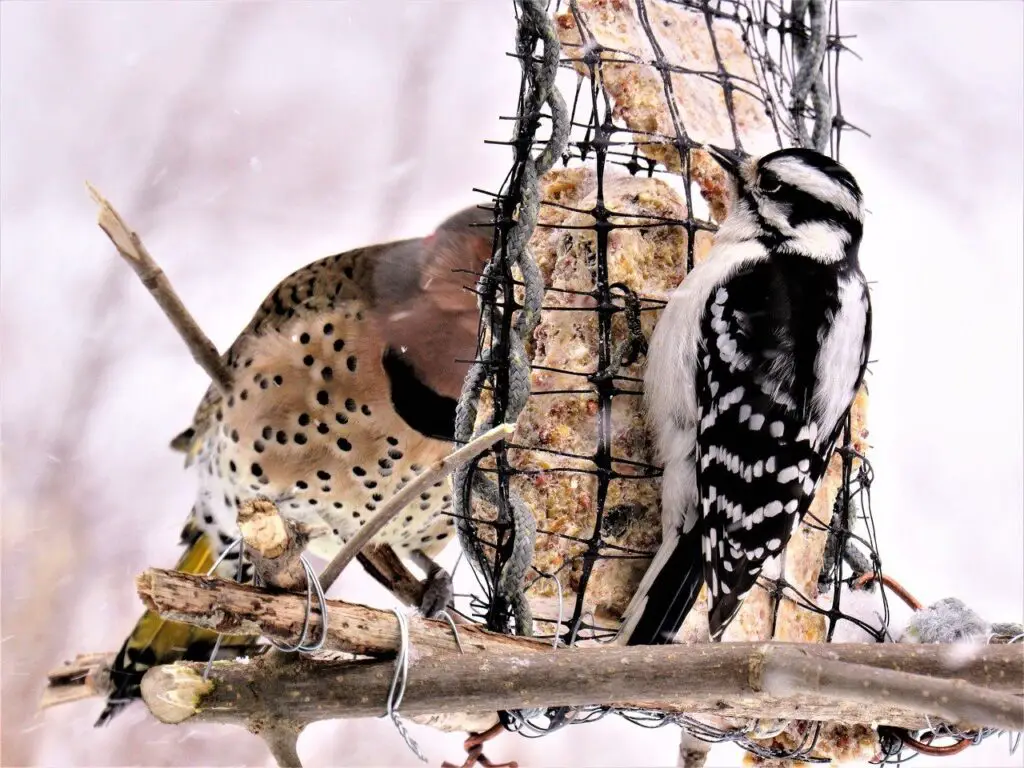 When deciding which feeder to use, consider using a tube, hopper, suet, or platform bird feeder, rather than spreading the seed directly on the ground. This will help prevent uninvited guests, like squirrels and bears, from visiting.
Be sure your feeder is inaccessible to deer and elk, too, as feeding these animals is banned in the Lower Peninsula and the Upper Peninsula's core chronic wasting disease surveillance area, covering portions of Delta, Dickinson, and Menominee counties. Mess-free birdseed can help keep the ground clean, and a fence around the feeder can keep it out of reach. You can find more tips on the DNR Bird Feeding Tips page. Learn more about CWD and the deer and elk feeding ban at Michigan.gov/CWD.
If you live in the black bear range, don't worry about your winter bird feeders! Most black bears should be settled in for their winter hibernation. Just mark your calendars for taking your feeders inside come March, when bears exit their dens and begin searching for a replenishing meal. 
Watch for Reports Of Salmonella
In January 2021, the Washington Department of Fish and Wildlife (WDFW) recommends that people temporarily discontinue feeding wild birds or take extra steps to maintain their winter bird feeders.
The newspaper Daily Cronicile notes that the state is currently witnessing a die-off of finches, such as pine siskins, as well as other songbirds. This is attributed to salmonellosis, a common and usually lethal bird disease caused by the salmonella bacteria.
The range of the disease this winter could be worsened by what appears to be a food-driven migration of winter-roaming finches. This year, there seems to be an oddity where finches, which generally winter in Canada's northern forests, move south and are spotted in areas in larger numbers than in normal years.
Northern Michigan is the southern range for these finches, and no reports have been made in the state for this disease.
More Winter Bird Feeder Resources
Are you a birding beginner? Listen to the Wildtalk Podcast episode "This Podcast is for the Birds" to hear from MI Birds, a public outreach program by Audubon Great Lakes and the DNR, on resources to help you get started.
Learn about Michigan birds by following MI Birds on Facebook, Instagram, and Twitter and visiting MI Birds online.
Questions? Contact the DNR Wildlife Division at DNR-Wildlife@michigan.gov or 517-284-9453.
Related Birding Reading and Other Topics