Michigan winters are oftentimes ranked as the worst in the country. But despite the cold and harsh weather, Michigan winters are beautiful and magical, especially during the holidays. If you're not up for a walk to admire the beautiful and picturesque landscapes, spend your indoor time productively with these easy and creative DIY Christmas decorations projects to make your home more festive. When you make DIY decorations, you save money, create stylish decorations, and have fun.
1. Garland Accents
Let's start with a classic Christmas decoration idea – garlands. Fresh garlands are not only beautiful but also very easy to make. You can use them to decorate the banister, the fireplace, or any other part of your home where a garland fits.
Make sure it suits the existing décor or use vibrant contrasting colors. Use ornaments you already have to decorate, grab some construction paper, and cut some trees, stars, or other seasonal shapes. Hang the ornaments from the garland with a matching ribbon.
If fresh garlands are not your thing, you can make artificial garlands with tinsel or ornaments. They look just as good as the fresh ones, and when the festive season is over, you can store them with the rest of your Christmas decorations and reuse them next year.
2. Rustic Christmas Sign
Rustic Christmas signs are perfect if you prefer a farmhouse Christmas vibe. They are also easy to make as DIY Christmas decorations. All you need is a piece of wood and a lettering tool. You can use a quality router for woodworking to carve a traditional Christmas sign message, such as Merry Christmas and Happy Holidays, or a more creative one, like Jingle All The Way, Candy Cane Land, Santa Stop, and so on.
You can use wood stain and wood paint to personalize the sign. Also, you can add Christmas light bulbs and light up the sign. Let your creative side take over, and you will have endless decorative options for your Christmas sign. This is one DIY outdoor Christmas decoration that will last year after year.
3. Make A Christmas Village With Mini Houses & Trees
Mini wooden houses and mini Christmas trees look fantastic in any décor style. You can use a mini wood house or tree kit or make them from scratch if you have leftover wood pieces from a previous DIY project.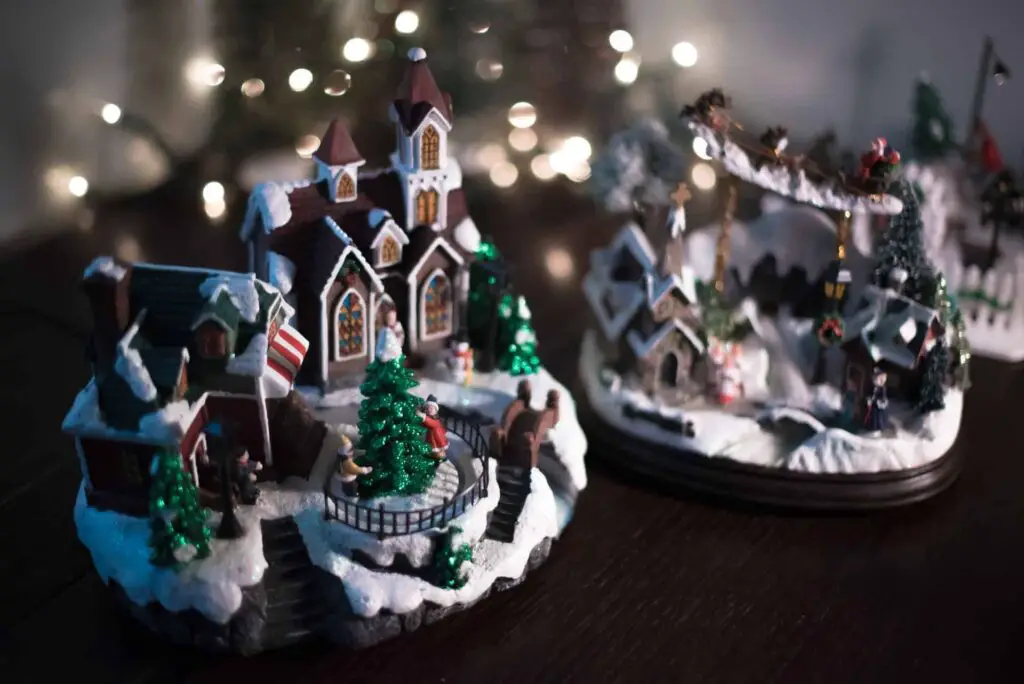 For a neutral, rustic décor, don't paint the wood or paint it with neutral colors. If you want the mini houses and trees to blend in with the rest of your décor, paint them in colors that match the existing ornaments. You can also use glitter, tiny pieces of tinsel, or fake snow to create a story around your wooden houses and trees and decorate a corner of your home. This is one easy DIY Christmas decoration.
4. Ornament Wreath
The Christmas wreath is another classic easy DIY Christmas decoration you can easily make at home. You can make a DIY Christmas wreath door decoration or make different ones for every room in your home.
You can opt for a natural wreath and decorate it with ornaments, ribbons, bows, or sprays. Artificial wreaths are nice too, and you have more creative freedom when making them. For example, you can glue ornaments in vibrant colors on a Styrofoam wreath form or wrap the wreath form in twine, then use a few tiny Christmas brunches and pine cones to decorate.
Christmas wreaths instantly add a touch of cheer, so you can even hang them over the fireplace or on the walls.
5. Christmas Stockings
Another easy and creative winter project is making Christmas stockings if you know how to sew. These timeless DIY Christmas decorations will surely put a smile on your face, and you can use them year after year.
Use colorful materials, decorate the stockings with hand embroidery, or glue tiny decorations onto the stockings.
You can hang the DIY stockings from the fireplace or use tape to hang them from walls or doors. Another way to use Christmas stockings is to make 12 little ones and turn them into an advent calendar. Don't forget to fill the stockings with candy or other little gifts for yourself and your family.
6. DIY Alternative Christmas Trees
If you don't have the space for a traditional Christmas tree or you feel like having one Christmas tree in your home is not enough, alternative Christmas trees are a fun and creative DIY project that will easily make your home more festive.
Alternative Christmas trees can be made in many different ways. You can use cardboard to carve a lovely Christmas tree shape you can glue to your doors or walls with double-stick tape. Alternatively, you can use washi tape to make a cute little tree on your door.
You can also use wrapping paper or wooden logs to make the trees. Pretty much anything can turn into an alternative Christmas tree, as all you have to do is find a way to create the shape of the Christmas tree. Of course, you can use ornaments, fairy lights, and tinsel to decorate.
7. DIY Lighting Ideas for Holidays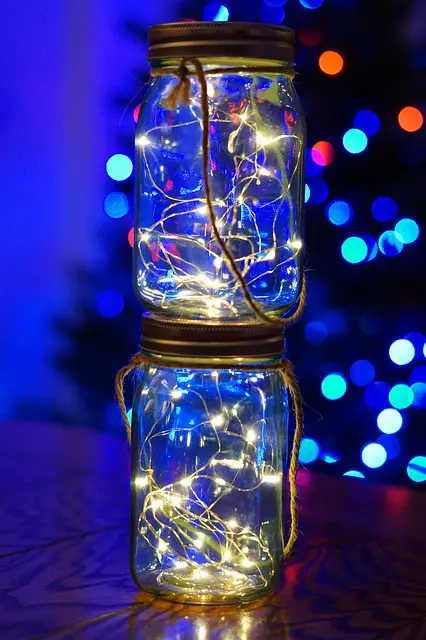 Winter holidays without lights are a bit boring. So get creative with lighting and turn your home into a Christmas wonderland. The dazzling string lights cannot be missed, but there are other DIY Christmas decoration lighting projects you can try, like mason jar lightning, snow lanterns, etc.
Mason jars can be painted, sprayed, and decorated in many different ways. To light them up, you need tiny candles. This is such a simple festive decoration idea but so effective. Plus, mason jars are versatile – you can paint different shapes on them or use a template to paint around, glue different decorative objects onto the jars, make them shine with glitter, or keep them as they are for a basic, rustic feel.
8. Outdoor Nativity Scene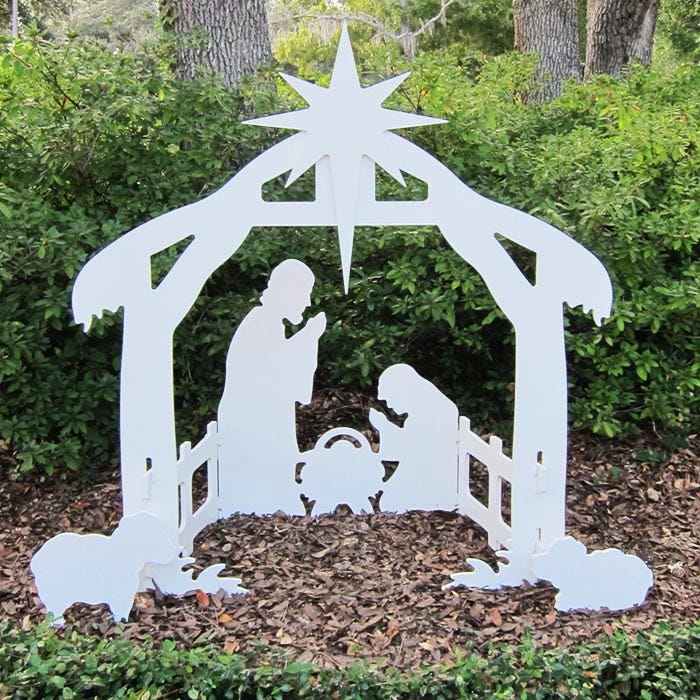 There is nothing more warmly traditional than an outdoor nativity scene. When carefully placed, it can give your home a warm, cheery look for the holiday season. With a bit of imagination, craft your own with spare wood you may already have in your garage or workshop. If you are not that handy, you can purchase complete sets online. For more details, visit this website.
Final Thoughts
Making Christmas decorations is a fun and relaxing project you can do on your own or with your entire family. Before you start working on these easy and creative Christmas DIY projects, dress in your favorite cozy clothes, put on some Christmas music, and make sure you enjoy a glass of Michigan wine, hot cocoa, or your favorite Christmas beverage while working on your decorations.
---
DIY Christmas Decorations From Amazon
Images on this page may contain affiliate links in which we may receive a commission. See our affiliate disclosure for details.
---
Related Do It Yourself (DIY) Reading