Known for its beautiful lakes and sights, Michigan is also famous for serving some of the best foods in the Midwest region of the USA. No trip to Michigan can be complete without trying out some of the favorite Michigan foods in the area. Known for its comfort cooking, the Mitten State is famous for re-creating regular dishes by adding a twist like Detroit-style Pizza, Wet Burritos, Olive Burgers, and Coney Dog. Its home-grown foods like tart cherries and Michigan apples make Michigan a tasty food destination.  
Table of Contents
Here are the top fifteen foods that made Michigan famous that you must try on your next road trip to the Mitten state.  
Images on this page may contain affiliate links in which we may receive a commission. See our affiliate disclosure for details.
Listen to this Post
1. Mackinac Island Fudge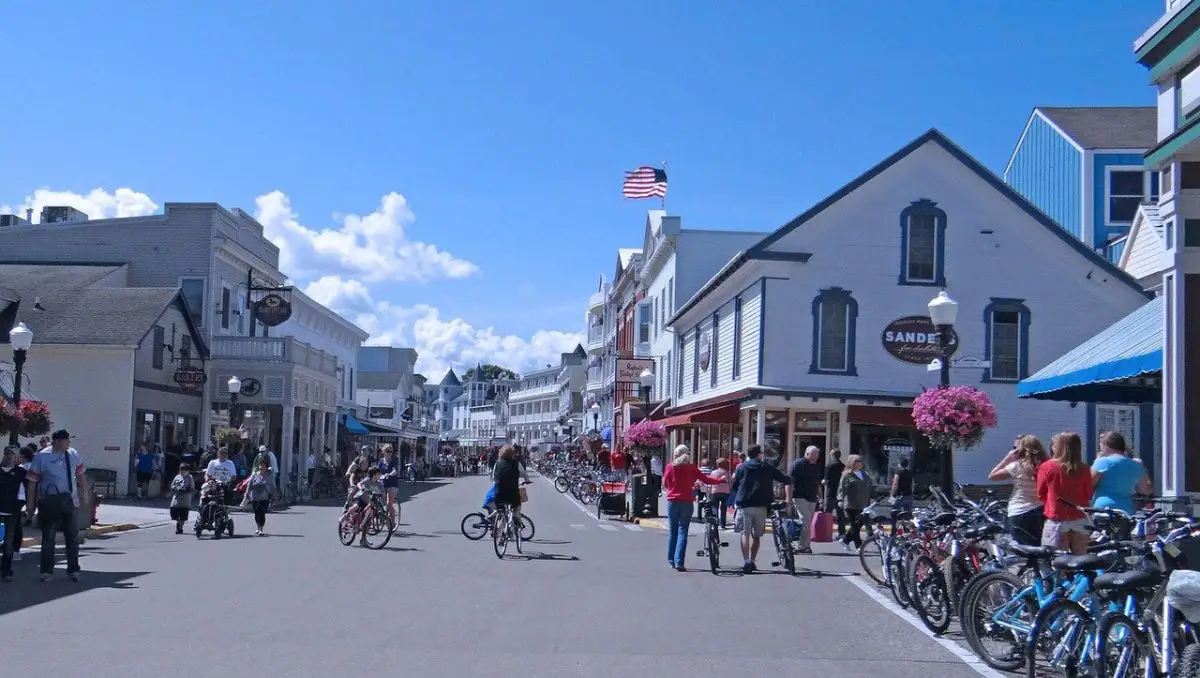 Mackinac Island in northern Michigan is rated as a top vacation destination in the United States. A trip to this small, car-free island is incomplete without treating yourself to the famous Mackinac Island fudge. The entire island is spotted with fudge confectioneries, and the irresistible smell of chocolate wafting across the island makes it impossible to keep away from them.
Most shops boast flavors ranging from peanut butter and German chocolate to Michigan walnut chocolate. The famous fudge here has also inspired several ice-cream flavors. With this variety, there's something for everyone to enjoy. Make sure to carry your box of fudge back home for friends and family – check out resources like Foodsharkmarfa to find out how to keep your box of fudge fresh for longer.
2. Famous Michigan Foods – The Coney Island Hot Dog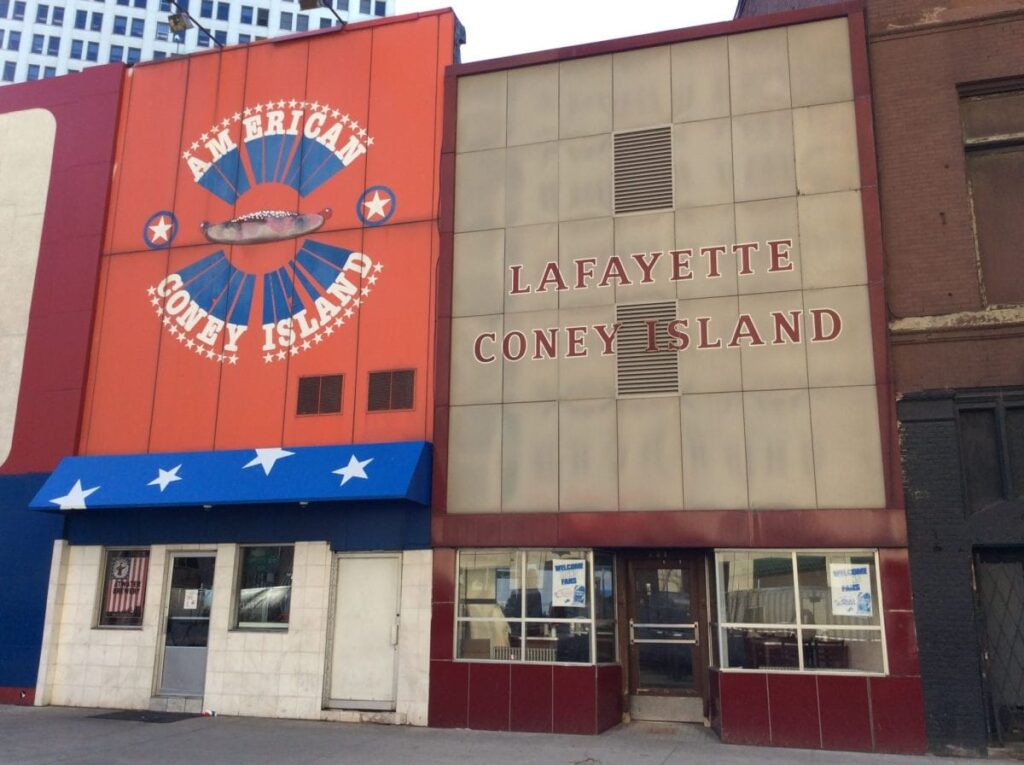 If you're visiting Detroit, don't miss out on a delicious Detroit coney dog. The coney dog is Detroit's twist on the hot dog. Made of a beef hot dog, slathered with chili and mustard, and finally topped with raw onions, a coney dog is best eaten with hands. The city has several coney dog shops that offer various flavors; but if you want some original coney dogs, try out the American Coney Island and Lafayette Coney Island joints.  
Many folks are surprised to know that Michigan is home to several styles of Coney island hot dogs. Besides Detroit, Jackson, Flint, and Kalamazoo Coney sauce flavors bring a unique blend to the state.
3. Famous Foods in Detroit Michigan – Buddy's Detroit Style Pizza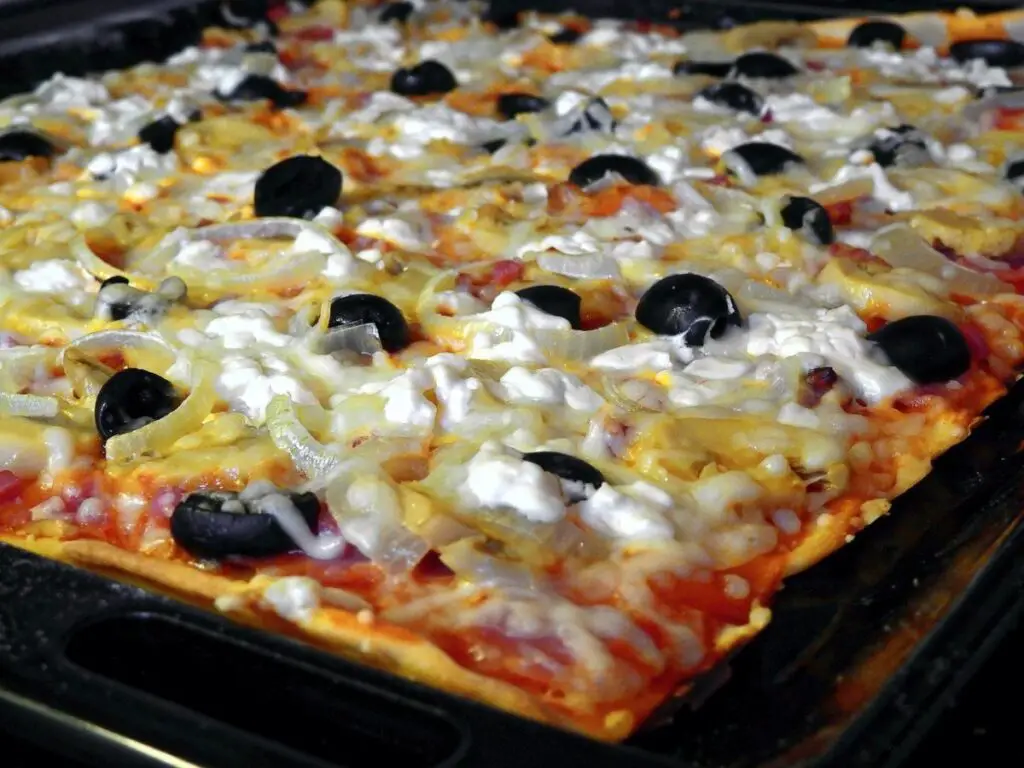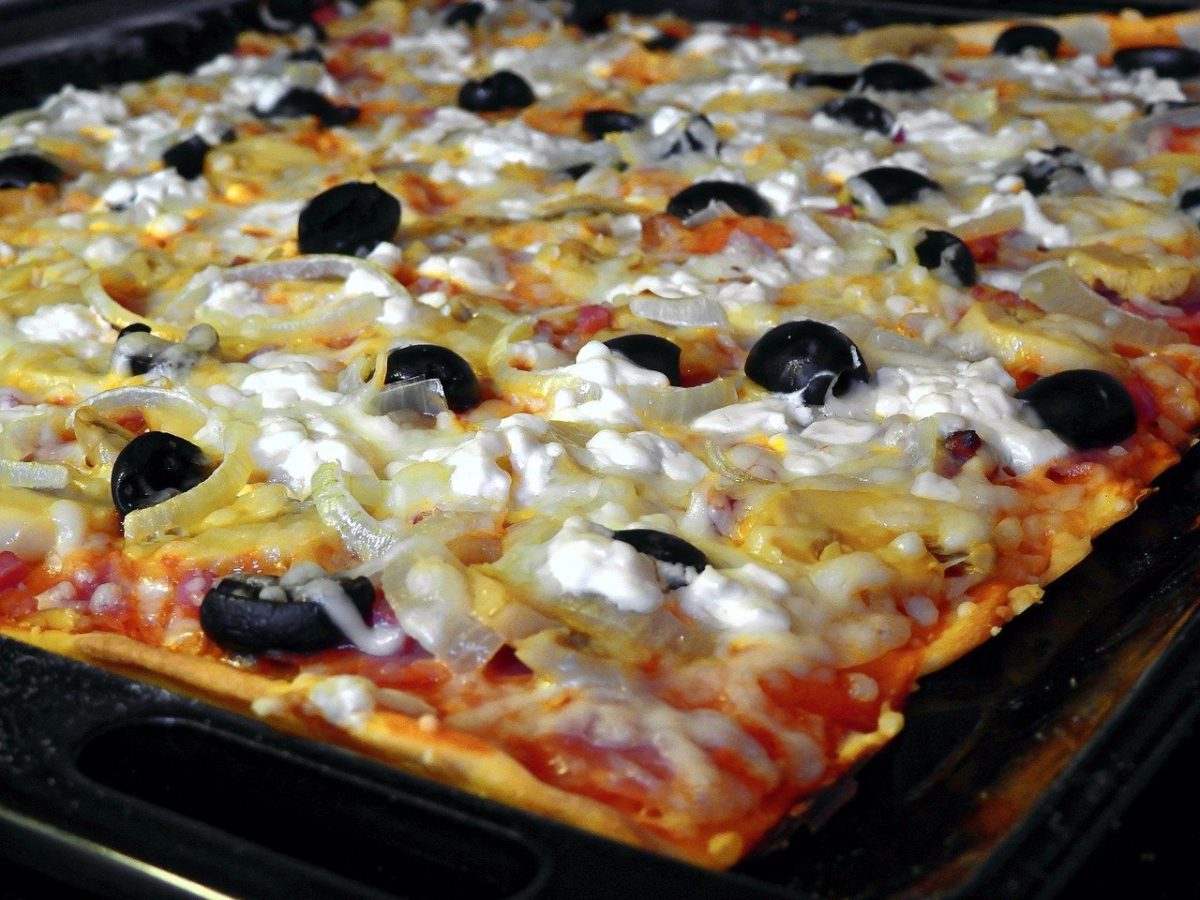 This deep-dish Pizza was started in the mid-1940s by Buddy's Pizza. If there is one food that is Michigan is famous for, this is it. The square-shaped pizza is made of double-stretched dough and lots of cheese and topped with sauce. Buddy's bakes the pizzas in square pans that were once used to deliver parts in Detroit's auto factories. Though you can find them with various toppings, the classic Detroit pizza is made with pepperoni layered under the cheese and sauce. Buddy's Pizza is consistently highly ranked in national pizza surveys. You must try this pizza; drive fast to the cafe with a Detroit airport car rental.
4. Famous Michigan Foods – Tart Cherries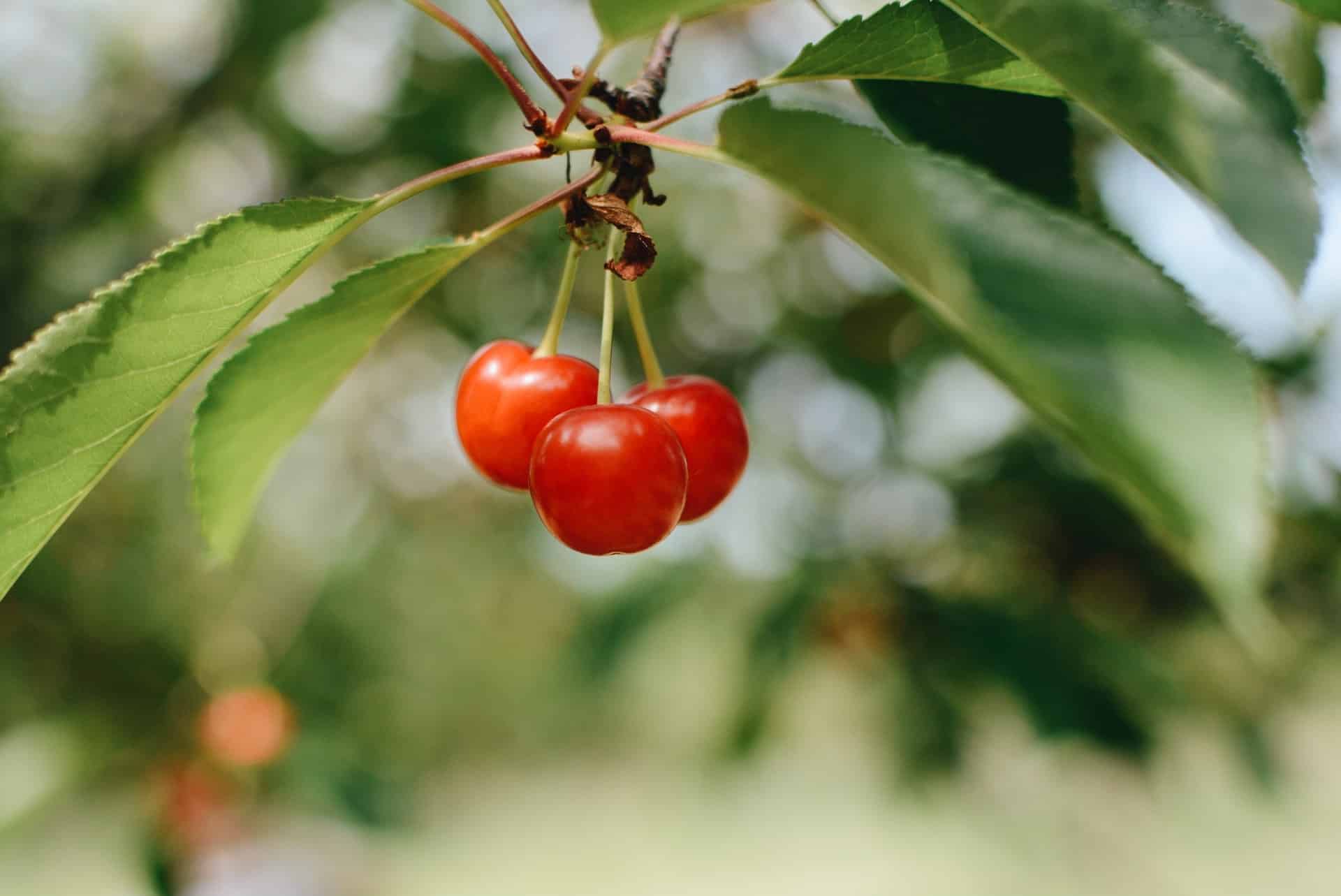 A short distance from the shores of Lake Michigan, Traverse City, Michigan, is known as the cherry capital of the world or the cherry republic. There's a national, week-long festival held every July to celebrate the cherry harvest that consists of events, carnival games, and, of course, cherry-filled foods. In addition, the state hosts many cherry farms that provide farm tours and tastings. On these farms, you can find several cherry-based foods ranging from cherry barbeque sauce to cherry coffee to hot cherry sauce.  
5. Michigan Tech Beef Pasty – Michigan Technological University – Houghton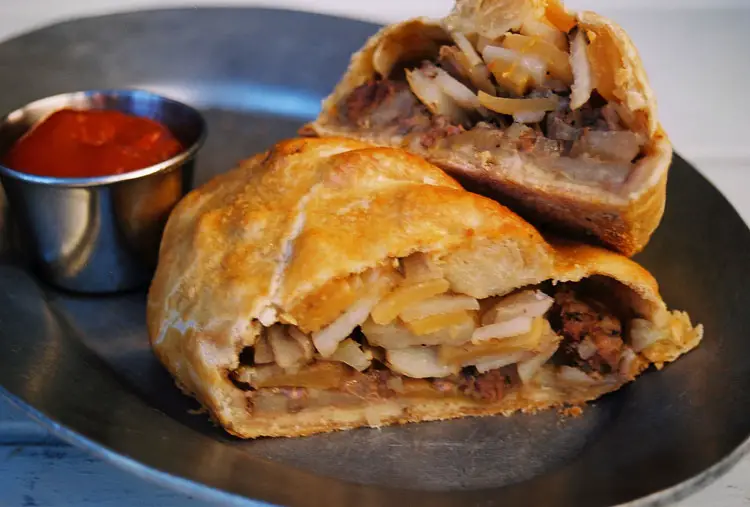 One famous Michigan food is the Pasty. Pasties originated from the Cornish immigrant copper miners who bought this easy meat pie in Michigan. Today, it's a staple of Upper Peninsula food. Restaurants serve pastry shell pasties with various fillings, but the most traditional fillings are meat fillings made of beef and potatoes, chicken, and pork. To make a meal of it, top it with gravy, and you're set for a hearty, easy-to-carry meal. For the best pasties, visit Lawry's pasty shop and try their traditional meat-stuffed pasties.  
6. Famous Michigan Foods – Frankenmuth Chicken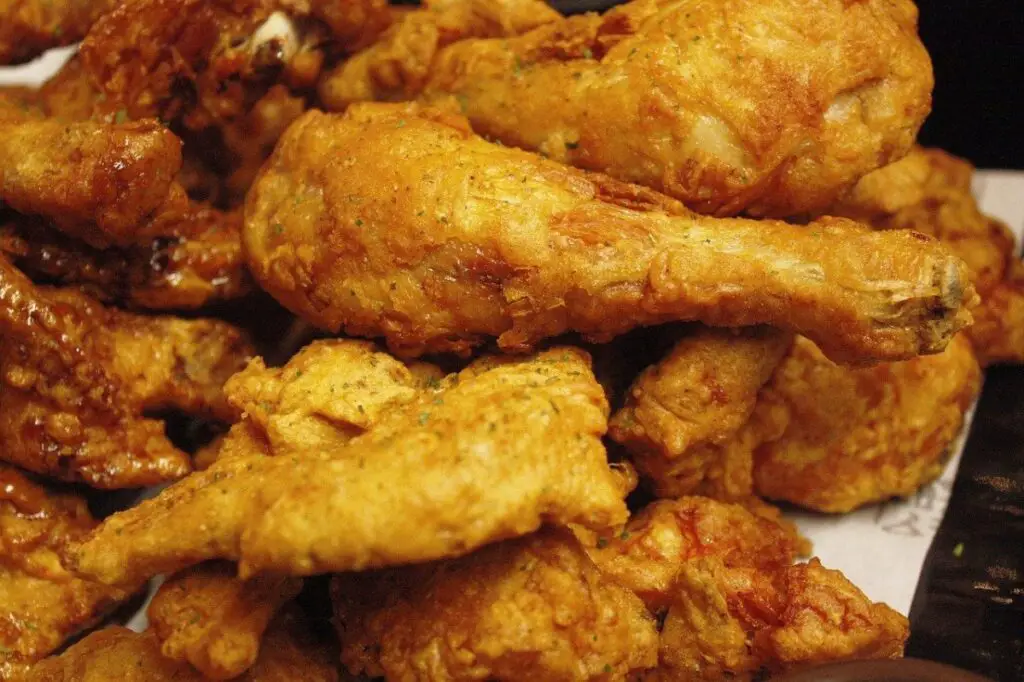 Frankenmuth is a charming little town known for Christmas and chicken dinners. Also known as Little Bavaria, Frankenmuth boasts the world's largest Christmas store, Bonners, where you can shop for Christmas-related things throughout the year. Bavarian Inn Restaurant and Zehnder's are famous for their house specialty family-style chicken dinners with many sides. You can also pick up some delicious Zehnder's chicken seasoning here. 
7. Best Michigan Foods – Chipati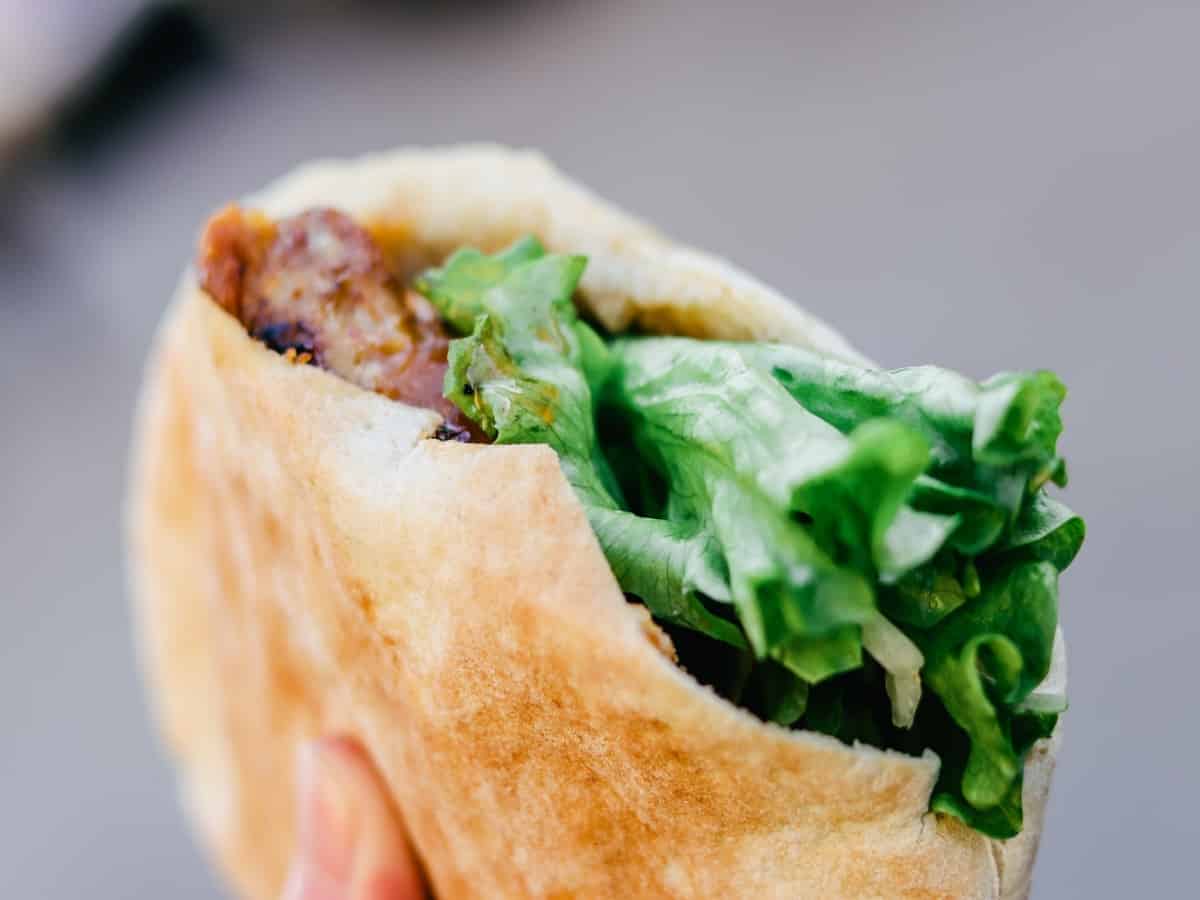 This is a staple for the students of the University of Michigan in Ann Arbor. Chipati is a pita filled with a simple salad of lettuce, mushroom, and cheese, topped with a creamy, tangy sauce. Chipati was introduced by Pizza Bob in the 1970s and remained a popular go-to snack for local Michigan residents.  
8. Paczkis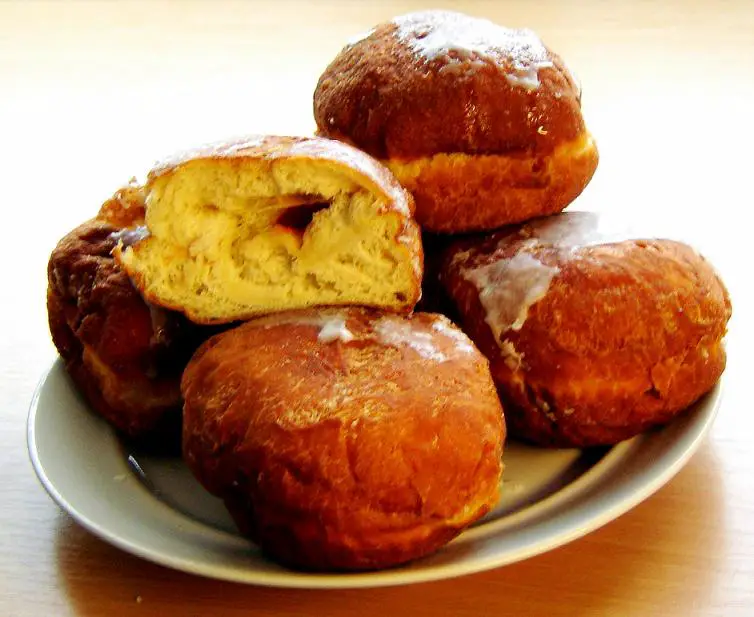 One of the famous foods in Detroit, Michigan, is the Paczki. A Paczki is a traditional Polish sweet often eaten on Paczki Day or Fat Tuesday. Pronounced as "punch-key," this famous Polish desert is a donut-shaped pastry filled with rosehip or stewed plum jam. It's considered one of the most famous foods in Detroit, Michigan. However, now you can find paczkis with several variations in fillings.  
9. Foods Made Michigan Famous – Better Made Potato Chips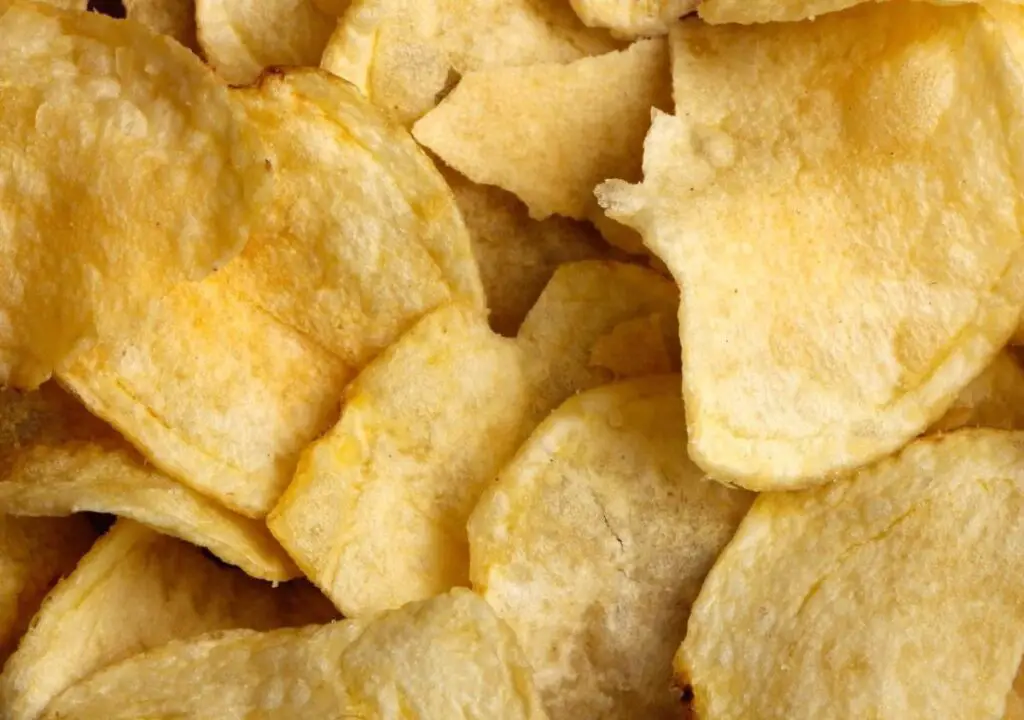 Michigan farmers produce more potatoes for making potato chips than any other state. It's no wonder Michigan is the home of some of the best makers of potato chips. The largest is Better Made. One can find Better Made potato chips everywhere in Michigan. The regional favorite for locals prefers Better Made potato chips to any other brand. You can find them in various flavors like garlic, dill pickle, red hot, and sweet barbeque.  
10. Superman Ice Cream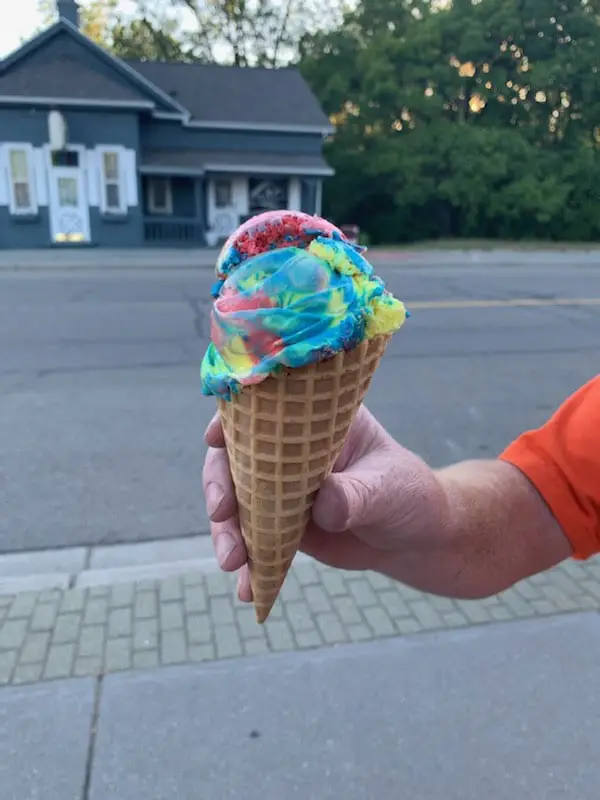 Nothing says you are from Michigan than saying that you like Superman Ice Cream. This ultra-sweet swirls of the colors of Superman's costume: red, yellow, and blue. The flavors are typically cherry, lemon, and blue moon and were supposedly first formulated by Detroit's own Stroh's Ice Cream company. Stroh's started making ice cream during prohibition, and the brewery has kept at it ever since. This ice cream is a Midwest favorite. The folks at the heart of the Great Lakes region have claimed it as their own.
11. The Olive Burger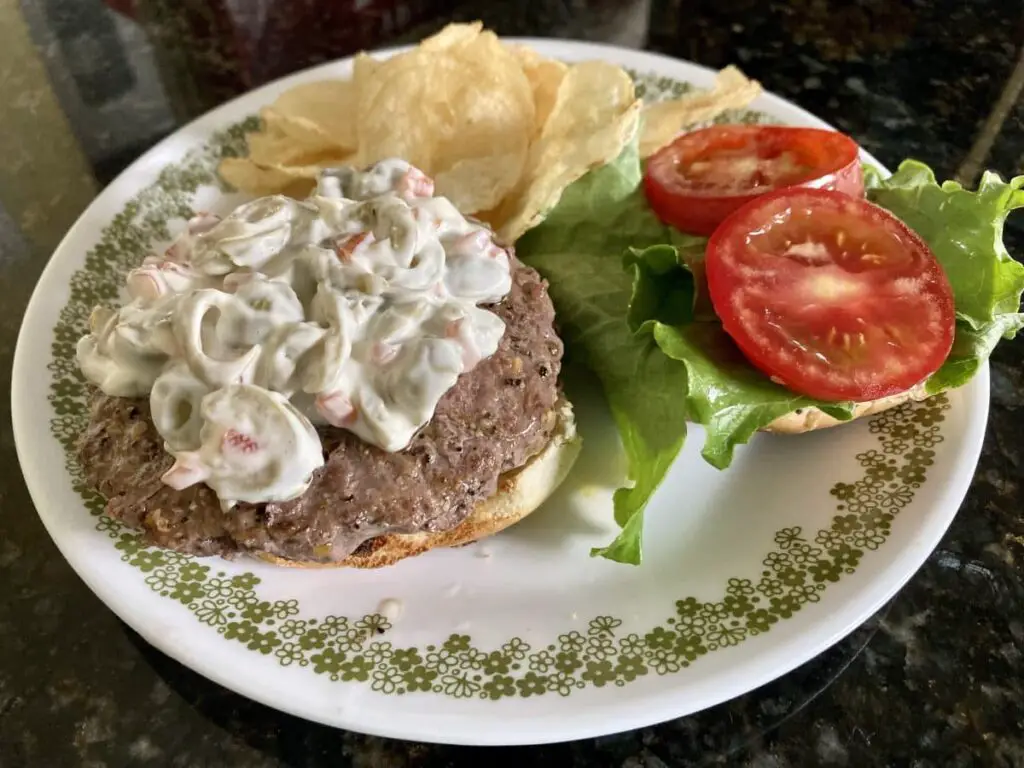 This simple topping is a Michigan favorite. It's thought that the city of Flint introduced the original olive burger. Flint is also known as Buick City and is the location of the famous sit-down strike by workers at General Motors assembly plants that kicked started the United Auto Workers Union. In 1923, Kewpee Hamburgers started in Flint as one of the early fast-food chain restaurants. The "Kewpee Hotel Hamburgs" were a hit. Particularly in Michigan's state capital of Lansing.
What food is Lansing, Michigan, famous for? Look no further than the Olive burger. Some of the best olive burgers in Lansing can be found at Weston's Kewpee Burger and Olympic Broil. In East Lansing, check out the Peanut Barrel and Crunchy's. All of these burger joints have been making saucy briney burgers for decades.
The olive burger sauce recipe is straightforward. The original recipe calls for chopped green olives and a little of the olive brine mixed with mayonnaise.
12. Fried Whitefish & Whitefish Chowder
For 1000s of years, lake whitefish were an important food source for Native Americans around the Great Lakes. When the European settlers arrived, they praised the lake whitefish for its excellent flavor and abundance. It's a fun fact that the Great Lakes whitefish boasts a long list of health advantages. The fish is considered a high-quality, low-cost protein option with beneficial omega-3 fatty acids, vitamins, and minerals.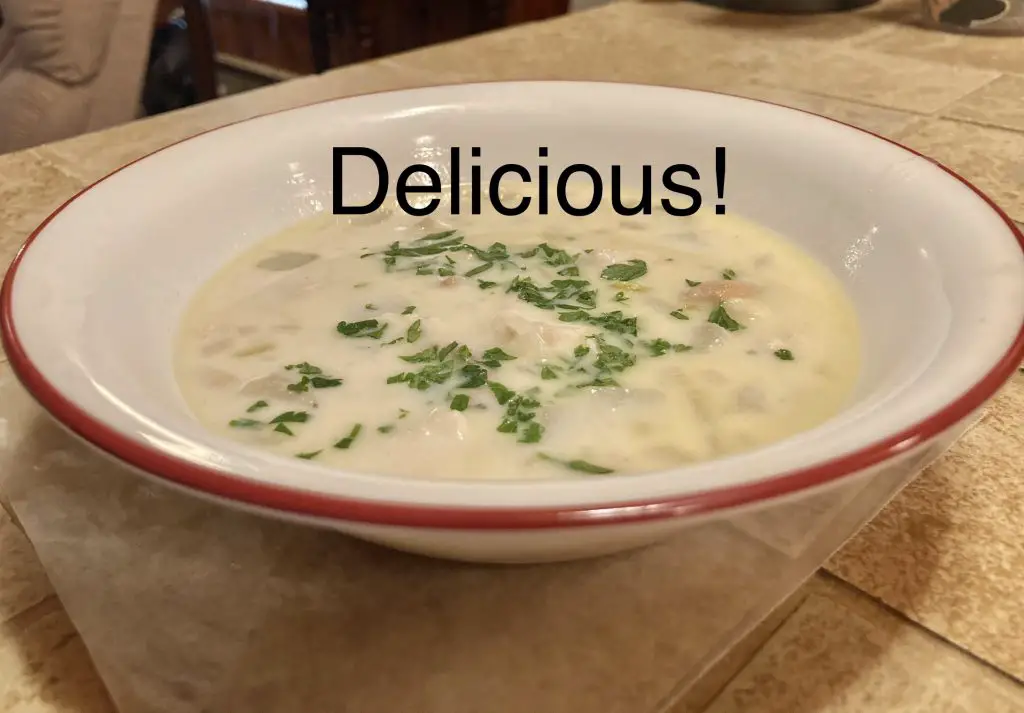 The Great Lakes whitefish is more popular than ever. One chain that got its start in Traverse City and Mackinaw City is Scalawags Whitefish. They have been taking whitefish cooking to the next level for years. One of the iconic dishes and comfort foods that we enjoy is the easy-to-make Whitefish Chowder.
13. Vlasic Pickle Is Michigan's Favorite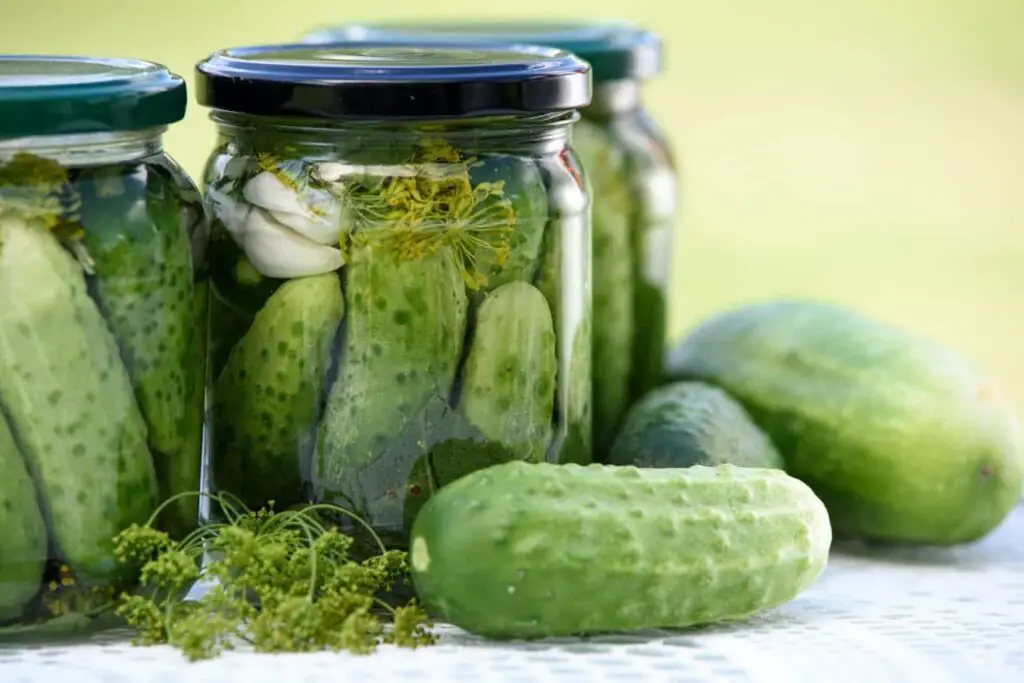 Vlasic Pickles, located in Imlay City, is at the extreme southern portion of Michigan's Thumb. The company is one of the largest in the area, and Vlasic is a significant regional employer. Michigan farmers supply tons of cucumbers for America's #1 pickle, and scores of workers work at the Imlay City plant and distribution.
Vlasic makes its famous pickles, such as the renowned garlic dill pickle, and over 100 other products in  Imlay City, Michigan. The plant produces more than 150 million jars of pickle products annually.
14. The Wet Burrito
You would think that Michigan would be the last place that would be the place for a tremendous Tex-Mex favorite. However, you cannot ignore the influence of Mexican and Latino culture and foods on Michigan cuisine. One such dish that Michiganders love to order is the Wet Burrito.
A wet burrito is made similarly to any other burrito, with various contents wrapped in a flour tortilla. Although many recipes call for shredded beef or pork as a filler, a wet burrito can also be made using beans and rice. On top, shredded cheese is melted.
The finishing touches are what distinguish the wet burrito. The hot-filled flour tortillas are served on a small dish, topped with tomatoes, shredded lettuce, and sour cream, and drenched with red meat or enchilada sauce. Delicious.
15. Pickled Bologna
You either love it or loathe it. Pickled Bologna can be found in just about every local bar and party store in Michigan. It's a simple cased bologna ring packed in a jar or in a package with a brine that penetrates every morsel.
We typically cut it into slices and serve it with cheese and crackers. This simple snack is great around the campfire on a crisp fall day.
16. Jampot Preserves
Tucked away in the tranquil setting of Eagle Harbor, Michigan, near the mesmerizing Jacob's Falls, lies the Jampot, a unique bakery and storefront. This quaint establishment, which operates seasonally from May through mid-October, is the proud home of Poorrock Abbey Jams and Jellies, a line of monk-made preserves renowned for their variety and quality​​​​. The Jampot is more than just a bakery; it manifests the monastic life. The Society of St. John monks, who run this establishment, have been selling these artisanal preserves since 1986, with a catalog that includes a range of flavors from wild thimbleberry to golden raspberry and chokecherry​​​​.
Poorrock Abbey's preserves are not just delicious but also a means of supporting the spiritual endeavors of the monks at the Holy Transfiguration Skete, a Byzantine Catholic Monastery. Each jar sold contributes to the works of the Holy Protection Monastery, adding a layer of meaningful purpose to each purchase. Visitors to the Jampot can expect to find a treasure trove of organic treats, including fruitcakes and muffins, all made with the same dedication and care as the famed preserves​​. The Jampot is a testament to the harmonious blend of faith and labor, offering visitors a taste of Michigan's natural bounty and the monks' devotion.
17. Pinconning Cheese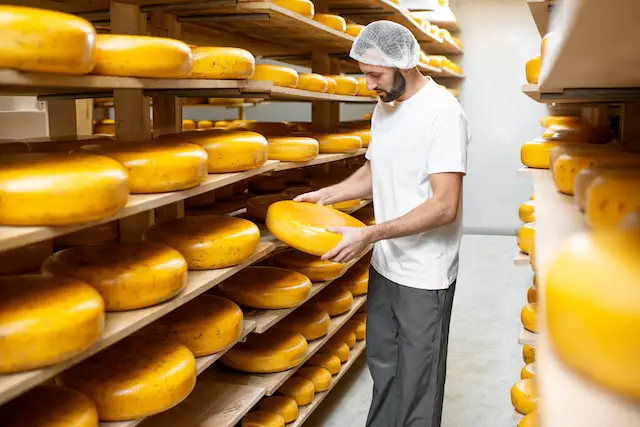 Pinconning, a small town in Michigan, has earned the "Cheese Capital of Michigan" due to its rich history and deep-rooted association with cheese production. This community's claim to fame is the unique "Pinconning" cheese, a Colby-style cheese first created in 1915 by local dairy farmer Dan Horn. Unlike other cheeses, Pinconning cheese is aged for an extended period, allowing it to develop a distinctive flavor and texture highly esteemed among cheese enthusiasts. Today, the town continues to be a leading cheese producer and distributor, with numerous cheese shops and factories contributing to its well-deserved reputation. Visitors and locals celebrate Pinconning's dairy legacy during the annual CheeseTown Festival, ensuring its cheesy heritage remains strong.
18. Kellogg's Cereal
Kellogg's Cereal, a globally recognized brand, is deeply planted in Battle Creek, Michigan, where it was founded. Known for producing a wide variety of breakfast cereals, Kellogg's has become synonymous with the start of many people's day. The company's origin in Michigan, with the accidental creation of cornflakes by the Kellogg brothers, marks an essential chapter in the state's food industry history. This connection, along with the Kellogg Company's ongoing influence and presence in Michigan, cements its status as a significant part of Michigan's culinary identity.
19. Bell's Oberon (In the Summer)
Bell's Oberon is a popular wheat ale brewed by Bell's Brewery, a well-known beer producer in Michigan. This beer is especially famous for its refreshing taste and slight hints of citrus, making it a favorite during the warmer months. Oberon's release is eagerly anticipated each year in Michigan, marking the unofficial start of spring for many locals. Its strong association with Michigan's culture and the seasonal excitement it generates among beer enthusiasts highlight its significance in Michigan's diverse culinary landscape.
20. Apple Cider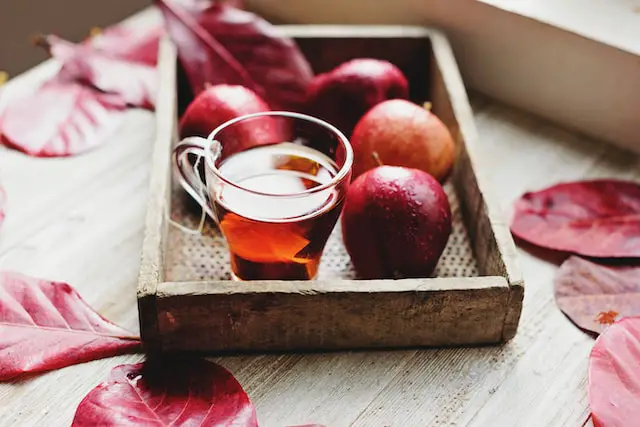 Apple cider, a quintessential fall beverage, is deeply ingrained in Michigan's culinary identity, mainly due to the state's status as one of the leading apple producers in the U.S. This beloved drink is made from the fresh-pressed juice of apples, often found in Michigan's numerous orchards. It can be enjoyed both sweet and unfiltered or as a fermented hard cider.
The process of making apple cider in Michigan is a cherished autumn tradition, involving local communities and families in the harvest and pressing of apples. Its rich, sweet, and sometimes tangy flavor captures the essence of Michigan's autumn and is a staple at local markets, cider mills, and fall festivals. The popularity and cultural significance of apple cider in Michigan highlights the state's agricultural prowess and its commitment to preserving and celebrating seasonal, locally sourced foods and drinks.
21. Almond Boneless Chicken
Almond Boneless Chicken, also known as ABC, is a unique dish that has become a beloved part of Michigan's culinary scene, particularly in the Detroit area. This dish, a twist on traditional Chinese-American cuisine, features breaded and deep-fried chicken cutlets, served with a mild, savory brown gravy, and topped with crunchy almonds and green onions. Its origins and popularity are largely attributed to Michigan's Chinese-American restaurants, where it has become a menu staple. The dish's distinctive blend of textures and flavors, along with its adaptation and evolution in Michigan, showcases the state's diverse and innovative culinary landscape.
22. Hudsonville Ice Cream
Hudsonville Ice Cream is a famous brand of ice cream that originated in Michigan and has become a beloved part of the state's food culture. Known for its rich, creamy texture and wide variety of flavors, Hudsonville Ice Cream reflects Michigan's love for classic, comforting desserts. The company started in 1926 in the small town of Hudsonville, and it has grown in popularity, becoming a symbol of Michigan's culinary traditions. Its commitment to using local ingredients and creating unique flavors inspired by the state has made Hudsonville Ice Cream a true Michigan favorite.
23. Brede's Prepared Horseradish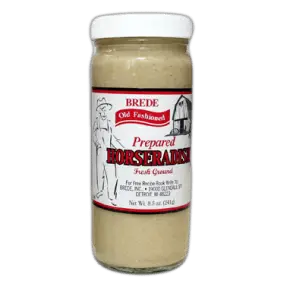 If you use horseradish, there is a fair chance you have one of Brede Foods' products in your refrigerator. Known first for its horseradish, Brede Foods also has an award-winning cocktail sauce. They also have mustard, grilling, and tartar sauces. They offer a private label service for those who wish to market their own special recipe. Brede's also offers Orthodox Union Kosher Certification.
Brede Foods is family-owned and operated and has been since its founding in 1923. In 1923 Edwin Brede began distributing sauces and condiments for a major food manufacturer. As the Great Depression of the '30s took its toll on the economy, he turned to food manufacturing to supplement his income. Brede, Inc. originally sat on Cobo Hall's site in downtown Detroit, Michigan.
24. Ma Cohen's Creamed Herring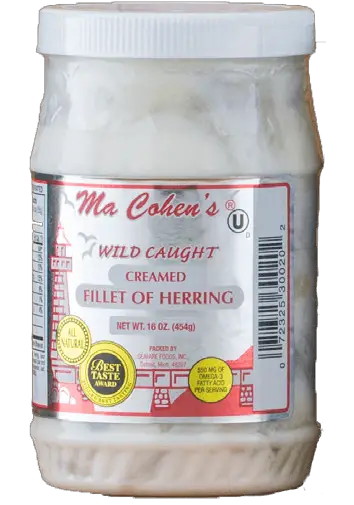 Sea Fare Foods was established in 1959 by Solomon Abraham Lincoln Sack, known affectionately to his friends and family as Linc. Lincoln's father, William, had served as a 'jobber' in the herring trade throughout Lincoln's childhood and teens. A jobber was jargon for working as a wholesale distributor. Willy would travel to Scotland for part of the year to monitor his suppliers and the rest of the year in New York, working with buyers. He would eventually lose his business when several buyers did not repay the credit lent to them.
Sea Fare Foods was born in Detroit, Michigan. The original plant was at Fort and Green Streets, in front of the railroad tracks, which was how the fish was delivered then. They are known for their creamed herring, smoked trout, and lox under Ma Cohen's brand.
25. Sanders & Morley Candy


Morley Candy Company, or Morley Candy Makers, is a confectioner based in Clinton Township, Michigan. The company, founded in 1919, is famous for its peanut butter blocks and assorted chocolates. Morley Candy owns and markets the Sanders Confectionery line, which is famous for its Bumpy Cakes, sundae toppings, and ice cream, particularly in and around Detroit, Michigan. Michigan school children often sell Morley Candy for school fundraisers.
One story of note tells that President Bush stopped by the candy factory on his way to a fundraiser to purchase their famous fudge sundae topping.
26. Downey's Original Potato Chips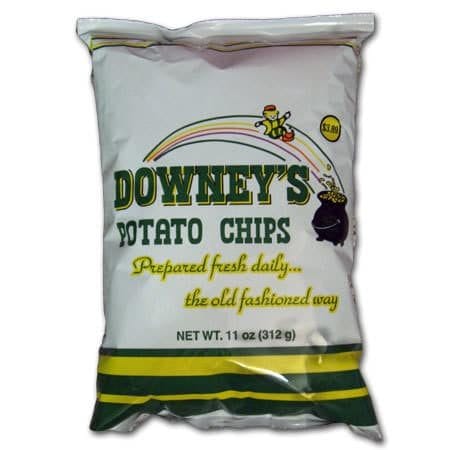 This is a hometown favorite for Thumbwind. Since 1984 this little potato chip company has produced its famous kettle chips in Waterford. Unlike most kettle chips, this unique chip is light and has a great flavor from its peanut oil blend. Downey's Chips uses locally grown Michigan potatoes cooked and hand-seasoned daily. Hard to find. Look for them in gourmet groceries.
If you're near Waterford, you can stop in their retail store and purchase their slightly burned chips in bulk.
27. Country Smoke House Buffalo Salami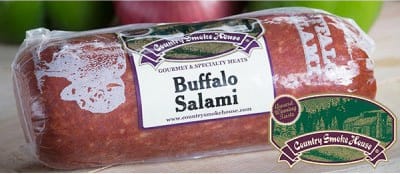 The Country Smoke House started in 1988 by processing deer from their garage in the tiny town of Almont, Michigan. The Country Smoke House became a viable business in 1991 when a "deer shop" was constructed north of Almont on M-53. The processing plant and retail shop are a short drive south of I-69.
In the new facility, customers were offered deer processing and homemade venison sausage and jerky. Today, Country Smoke House is the largest deer processor in Michigan, attributing it to the popularity of homemade smoked sausages and jerky. Today, Country Smoke House continues to grow and has become a Michigan destination. Tourists worldwide stop by for a picture with their giant 20-foot tall steer, smoking BBQ cabin, and rustic log cabin store. It's one of the Michigan food companies that is turning into its destination.
28. Jiffy Mix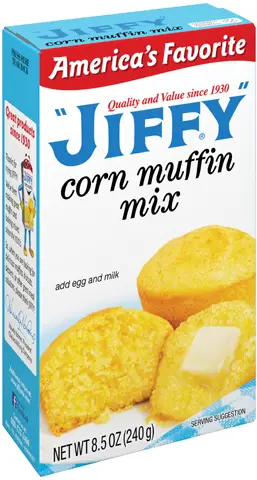 Established in 1901, the Chelsea Milling Company started as a traditional flour mill. By the 1930s, the mill expanded into other products in the baking mix market. Their first was the "JIFFY" Mix. Today, "JIFFY" is the market share leader in retail-prepared muffin mixes. In addition to retail products, they produce mixes for the Foodservice and Institutional markets. When the JIFFY mix was introduced, it was marketed to make biscuits "so easy even a man could do it."
The Chelsea Milling Company's corn muffin mix is its most popular product accounting for over 90% of its retail sales. Interestingly the company spends no money on advertising. The company is noted for its local sourcing of Michigan products.
29. Kars Nuts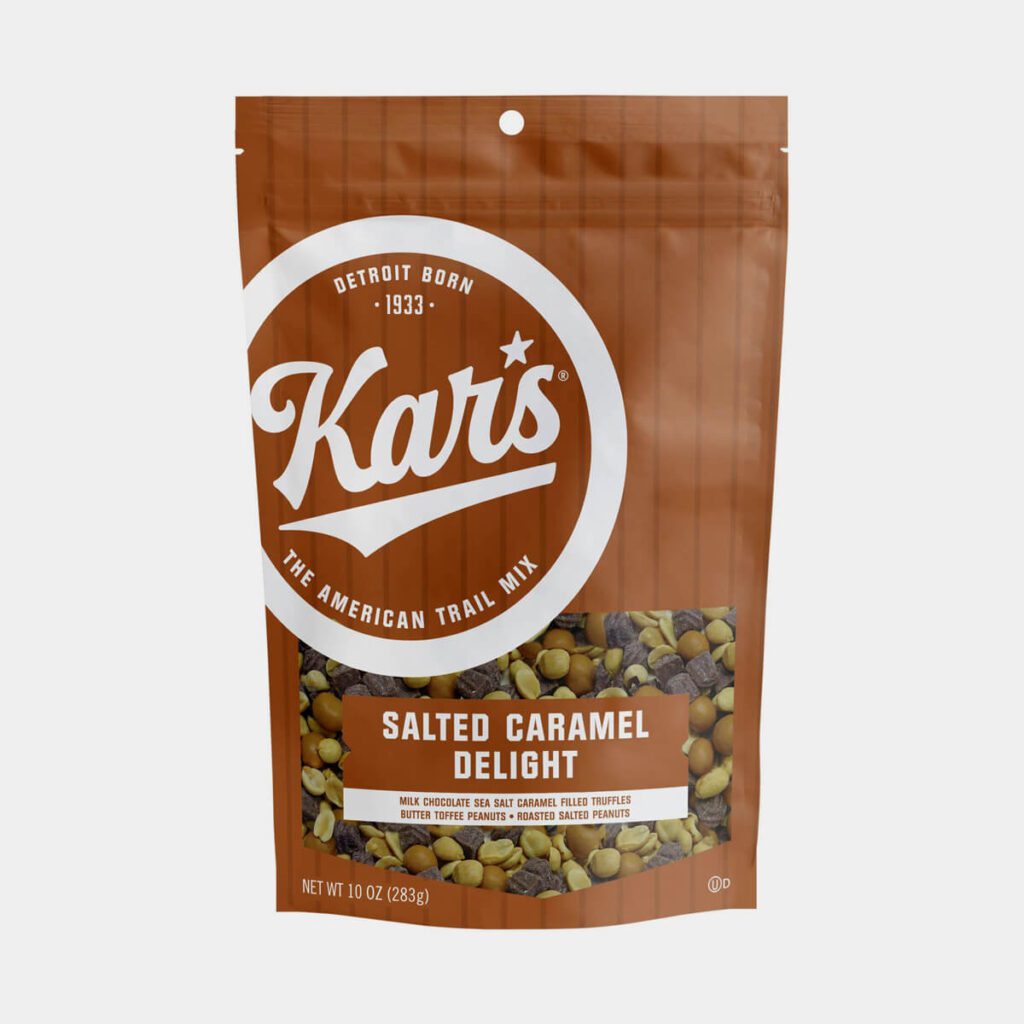 Kar's Nuts was founded in 1933 by Sue Kar. She roasted peanuts in her home and sold them outside Detroit's Tiger Stadium. Kar's Nuts makes a full line of confections using nuts and candy. Their products are at local party stores, clubs, and snack vending machines.
According to Food-Drink Magazine, the company renovated its logo and rebranded most of its popular trail mix packaging to tap into its hometown pride. "We wanted to pay homage to our Detroit roots," said Bob Bryan, vice president of marketing. "We're American-made in Detroit."
30. Zip Sauce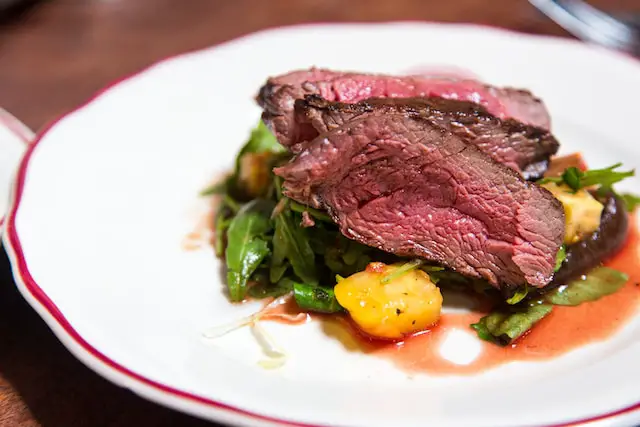 Zip Sauce, a staple in Michigan cuisine, was popularized by Lelli's Restaurant near Detroit, renowned for its exquisite steaks and fine dining experience. This savory buttery sauce, known for its rich and tangy flavor profile, is a cherished addition to steaks, enhancing the meat with a deep umami essence. Its creation is a bit of culinary innovation of Detroit's upscale steakhouses, where it first gained acclaim. The sauce's blend of beef stock, butter, and a mix of secret spices creates a luxurious complement to any steak. The widespread popularity of Zip Sauce, thanks to Lelli's and other fine dining spots, has cemented its status as a distinctive and beloved element of Michigan Cuisine.
31. The Hummer Cocktail
The Hummer Cocktail is a creamy, indulgent drink first mixed in Detroit, Michigan, in the 1960s. It's a blend of ice cream, rum, and Kahlúa, creating a rich and smooth beverage that's both a dessert and a cocktail. Invented by Jerome Adams, a bartender at Detroit's Bayview Yacht Club, the Hummer quickly gained popularity for its unique and delicious taste. Its origins and widespread enjoyment in Michigan make it a notable part of the state's culinary and beverage culture, showcasing Michigan's creative contribution to cocktails.
32. Dinty Moore
Dinty Moore is a hearty beef stew that has become a comfort food staple in Michigan, particularly in Detroit. Named after a comic strip character, this dish consists of tender beef, vegetables, and a rich, savory broth. It gained popularity in Michigan's Irish pubs and eateries, becoming a favorite for its filling and warming qualities, especially during the cold winters. The dish's enduring presence in Michigan's food scene reflects the state's appreciation for hearty, traditional meals that bring warmth and satisfaction.
33. Kowalski Polish Sausage
Kowalski Polish Sausage is a type of kielbasa that is particularly famous in Michigan, especially in areas with a strong Polish-American community. Made by the Kowalski Sausage Company, a family-owned business based in Hamtramck, Michigan, this sausage is known for its flavorful blend of spices and high-quality meat. It's a staple in many Polish dishes and is often enjoyed at family gatherings, community events, and traditional celebrations. The popularity of Kowalski Polish Sausage in Michigan highlights the state's rich cultural heritage and its love for hearty, flavorful meats deeply rooted in Polish culinary traditions.
34. Kolgel's Hot Dogs
Koegel's Hot Dogs are a famous brand of franks that have become a beloved part of Michigan's culinary scene. Produced by Koegel Meats Inc., based in Flint, Michigan, these hot dogs are known for their distinctive snap and savory flavor. They are a crucial ingredient in Michigan's iconic Coney Island hot dogs, a regional specialty topped with chili, onions, and mustard. The widespread popularity of Koegel's Hot Dogs in Michigan, particularly in Coney Island restaurants and backyard barbecues, showcases their role as a staple in the state's rich and diverse food culture.
35. Fried Walleye and Yellow Perch
Perhaps no fish is more revered in Michigan by both chefs and sportspeople as the Walleye Pike. Abundant in the Great Lakes, these mellow-tasting fish are easy to find and prepare. We have made a step-by-step how-to guide on how to prepare the perfect walleye dinner.
One little-known fact about walleye in Michigan is that the only walleye sold in retail markets or restaurants is imported from Canada unless you fish for them yourself. Michigan commercial fishers are not allowed to catch walleye.
36. Teleway, Brays, or Hunter House Sliders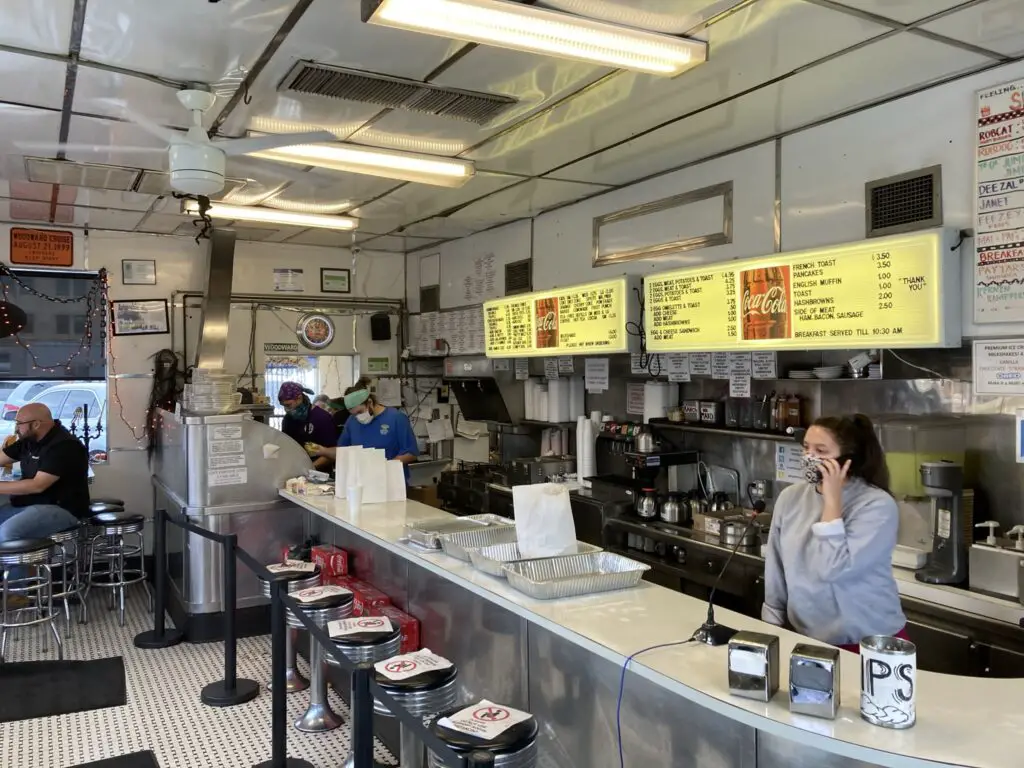 Detroit's culinary landscape is dotted with establishments serving iconic sliders, a staple of the city's rich food heritage. Each of these eateries has its own story, a testament to the city's love for these delicious mini burgers.
Teleway Hamburgers is a classic pitstop known for its mouthwatering sliders. This tiny establishment has been serving some of the best burgers in Michigan since it opened its doors in 1944. Known for its retro aesthetic that feels frozen in time, the Telway Hamburger System is a nod to a bygone era with its porcelain pill-box diner style. It's a place where the sliders are a bite of delicious food and a taste of history​​​​​​​​.
Bray's Hamburgers carries a legacy that began in 1950, founded by Gordon and Roy Bray. With a nostalgia-infused theme reminiscent of the 50s, Bray's is a place where one can relive the bygone days of drive-ins and sock hops. Over time, Bray's has maintained its classic charm and continues to serve hamburgers priced to beat all. Known for its BellyBusters and Combo Meals, Bray's also surprises its patrons with homemade Potato Chips, adding to the authenticity of the dining experience​​.
Hunter House Hamburgers, born in 1952, features classic sliders with a unique touch: juicy, sweet onions smashed into the meat with the buns steamed to perfection. Nestled on Woodward Avenue, America's first paved road, Hunter House boasts a rich history and has consistently been in Birmingham, Michigan. It is the oldest operating restaurant and one of the oldest businesses in the area. The founders' dedication is evident in the fresh ingredients sourced from local, family-run businesses, ensuring that each slider is a fresh and authentic taste of Detroit​​.
37. Trenary Toast
Trenary Toast is a Michigan Upper Peninsula bakery tradition loved by thousands from Manitoba to Toledo. At its peak, the area around Trenary was a logging and mining town. Now, there is a mill, a small grocery store, a gas station, a couple of bars, and churches. Yet the bakery is still going.
The toast is a complex, crunchy, twice-baked bread covered in cinnamon. It travels and stores well because cinnamon acts as a natural preservative. The owner of the Trenary bakery said it best, "You sit down, you collect your thoughts, you introspect, have your morning coffee or afternoon tea and have your toast, or you have people around you, and you have dunks together."
Trenary Toast is available across the Great Lakes region, typically at gourmet and independent groceries.
38. Wigley's Corned Beef Eastern Market in Detroit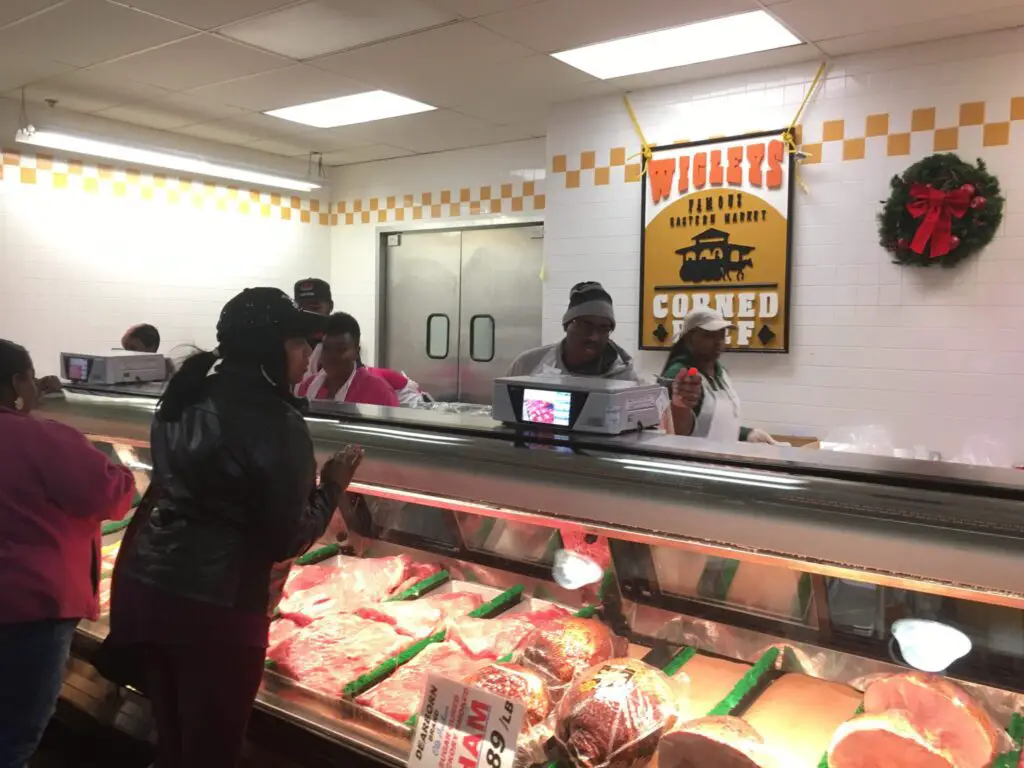 Wigley's corned beef has been a Detroit favorite since the 1920s. Job Wigley, the original owner and founder, came to Detroit with a collection of family meat recipes perfected by his father, Frank Wigley, back in the 1880s. It's a treat for those who love to eat beef. The shop trims each brisket perfectly, so there is no waste. The secret is not to add any additional seasonings. Instead, simmer in plain water, then enjoy. Only available for retail sale at Detroit Eastern Market location.
39. Bacon Sausage – Walt's Meats – Port Austin
Just about everyone loves bacon. How can you possibly make it better? Well, Brandon at Walt's Meats near Port Austin, Michigan, stepped it up a notch. Taking lightly smoked bacon and combining it with lean ground pork with his special blend of spices makes for a truly awesome breakfast experience. It's great on the grill and barely flares up. Food on the grill is always a perfect recipe for summer.
Florida snowbirds order Walt's bacon sausage just before they beat it back down I-75. Since Walt's is a seasonal gourmet butcher shop, this is only available during summer. Fear not; Brandon's ability to freeze the cryo pack means the taste of summer is available year-round.
40. J.L. Hudson's Maurice Salad – Cherry Creek Golf Club – Shelby Township
Mention J.L. Hudson Department Store, and you may get some folks born after 1970 to give you a strange look. The flagship store in Detroit closed in 1983 and was demolished in an implosion in 1998. Nevertheless, the tallest department store in the world did leave a legacy of great service and memories of eating in the 13th-floor dining rooms. These dining areas each had a theme and were named. The Pine Room, The Georgian Room, and The Early American Room were remodeled and renamed the Riverview Room.
The iconic store was renowned for its Maurice salad and Canadian cheese soup. The salad can be found all around the Detroit area. Finally, we found one that says true to the original at Cherry Creek Golf Club in Shelby Township. There are dozens of variations, but the classic salad recipe and its famous dressing follow.
41. Whitefish Chowder – The Vierling – Marquette
Michigan is blessed with some of the tastiest freshwater fish in the world. Walleye Pike, Yellow perch, and Whitefish are always at the top of the order.  Whitefish are offered in just about every restaurant and pub in northern Michigan. However, Marquette's waterfront restaurant "The Vierling" offers one of the better versions of a local Michigan food favorite. Their Whitefish Chowder is a local standby, and online reviewers gauge it as one of the best. So, if you find yourself in Marquette, stop at the historic Verling near the harbor and order one of their home-brewed craft beers and a chowder. You won't be disappointed.
Final Thoughts on Famous Michigan Foods 
When it comes to distinct food culture, Michigan has a lot to offer. From deep-dish pizzas and Tex-Mex burritos to traditional Polish paczkis, the state is home to several diverse dishes celebrated for their uniqueness and flavor. Here, the various festivals and cultural nuances surrounding food offer visitors much more than a dining experience. These foods are an experience in itself that has made Michigan's savory dishes famous all over the world.  
---
Famous Michigan Foods You Can Buy Online
Images below may contain affiliate links that, if purchased, we may receive a commission. See our Affiliate Disclosure for more information.
---
Related Reading for Famous Michigan Foods
20 Famous Ohio Foods That Are Worth The Drive To The Buckeye State – If you've ever wondered what Ohio is famous for, their food is part of that discussion. How the culture of a state shaped its culinary creations, we're here to shine a spotlight on what makes those menus unique. These 20 Ohio foods have everything from real-deal recipes to unheard-of flavors, but they all have big claims to fame.
Famous Indiana Foods – We Found 10 Of The Best – As Indiana shares its southern border with Kentucky, there is a southern influence in many famous dishes. The Hoosier State is renowned for many foods, but some stand out more than others. In this article, we'll explore ten different foods that are iconic to the Hoosier state.
7 Genius Ways To Spice Up Breakfast Even During Lockdowns – If you want help making breakfast the high point of your day, you're in the right spot. We're about to brainstorm seven of the best ways to spice up your breakfast instantly – even if lockdowns have you stuck at home and unable to visit your favorite breakfast place.
The Oldest Michigan Coney Island – Open just about any foodie magazine or Google about Michigan Coney Islands, and chances are you will stumble onto voluminous articles and posts discussing the back-to-back Detroit standbys of American and Lafayette Coney Islands.
4 of the Best Michigan Potato Chip Companies – Michigan is the nation's leading producer of potatoes for making potato chips. Michigan State University's scientists and researchers created many of the potato varieties used for making potato chips.
10 Delicious Michigan Foods and Recipes You Have to Try – Michigan food is blessed with such variance in culture and resources that you can't pin down any specific Michigan foods as being "the" iconic favorite. Here are a few Michigan foods and classic Michigan recipes that are our favorites.
These Hometown Foods Scream That You're from Michigan – Michigan has unique and tasty varieties of comfort food dishes originating from Michigan's Upper Peninsula to the Ohio and Indiana border. We hit upon some of the top delicacies that the Great Lakes State loves to enjoy from many of our hometowns.
Explore New Tastes With These Five Michigan Wines – Michigan winemaking has come a long way. Michigan has three wine regions; the northwest along Old Mission Point and the Leland Peninsula, The Southwest clustered around St. Joeseph and Niles, and the Thumb region along Saginaw Bay.