Located in Michigan's beautiful Upper Peninsula, the Hiawatha National Forest offers an array of vibrant experiences to the nature lover and adventure seeker. Steeped in rich history and brimming with a diverse array of flora and fauna, this forest covers a sprawling space that is an explorer's delight. Hiawatha National Forest Hiking Guide. Nestled in Michigan's Upper Peninsula, this forest offers more than just scenic beauty. Not merely for the scenery, the forest is also a hotspot for a multitude of pursuits, with hiking being one of the most popular.
Magnificent landscapes, changing terrains, and numerous distinctive trails make this forest a haven for hikers of all levels. Understanding this forest's unique aspects and familiarizing oneself with the various hiking trails is key to truly appreciating what it has to offer. Moreover, effective preparation and a solid understanding of the rules and regulations governing Hiawatha ensure a safe and fulfilling forest experience.
Table of Contents
Understanding Hiawatha National Forest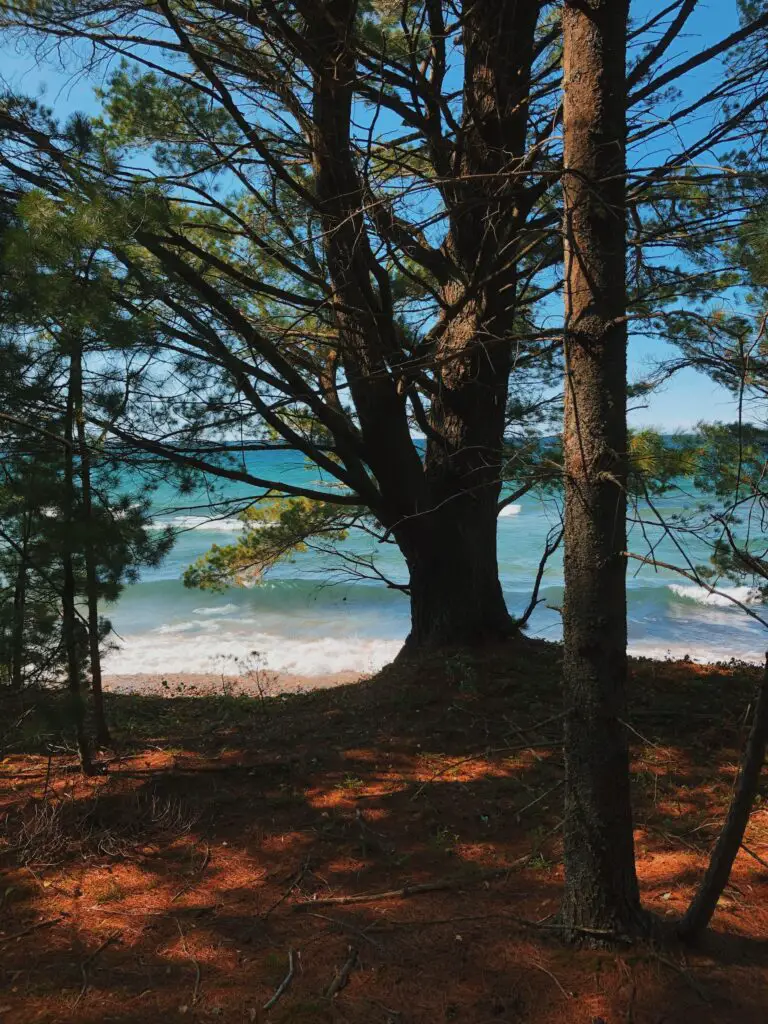 Location and History of Hiawatha National Forest
Situated between the northern shorelines of Lakes Michigan and Superior, Hiawatha National Forest spans across an area of over 890,000 acres in the Upper Peninsula of Michigan. The forest was established by President Theodore Roosevelt in 1909 and is renowned for its diversity of unique ecosystems.
During the era of glacier retreat over ten thousand years ago, the region was dominated by spruce and pine forests, providing a compelling backdrop for historical and archeological discoveries including native American artifacts, old railroads, and lighthouses.
Unique Landscape and Climate
Hiawatha National Forest showcases a variety of landscapes and ecosystems, including boreal forests, bogs, wetlands, dunes, and hardwood forests dominated by maple and birch. The region's topography ranges from relatively flat to gently rolling hills.
The forest experiences a humid continental climate, characterized by warm, humid summers and cold, snowy winters. In summer, temperatures may reach up to 80 degrees Fahrenheit, while in winter, they can drop as low as -20 degrees Fahrenheit. The forest can get quite snowy due to lake effect snow from Lake Superior, making winter hikes a beautiful but challenging experience.
Flora and Fauna
The Hiawatha National Forest is home to a plethora of plant and animal species. The fauna is diverse, including species such as the gray wolf, coyote, black bear, beaver, porcupine, and many species of birds like the American bald eagle and osprey. The forest's richness of habitats support numerous species of flora, including cedar, balsam fir, and various hardwood species, packed with wildflowers in spring and summer.
Hiking in Hiawatha National Forest
Hiking in the Hiawatha National Forest can be a thrilling experience, with more than 100 miles of trails winding through the forest. Among them, the North Country Trail is the most extensive, stretching about 4,600 miles from New York to North Dakota, with about 100 miles crossing through the Hiawatha Forest.
It offers a variety of hiking experiences, from flat easy walks along the shoreline of Lake Superior to more challenging treks in the hilly terrains. For the flora and fauna enthusiasts, bird watching and plant-identification hikes can be equally rewarding.
Winter brings a whole new perspective for those willing to brave the cold. The snow-covered landscape is serene, and the forest becomes a hotspot for activities such as snowshoeing and cross-country skiing.
Donning appropriate clothing and gear for changing weather conditions is crucial for anyone considering a hike, no matter the season. Take extra precautions during the warmer months as the forest becomes a breeding ground for ticks and mosquitoes. Using insect repellents will help you protect yourself. Learn and adhere to the Leave No Trace principles to ensure we can continue to enjoy this pristine environment in all its original grandeur for years to come.
Hiking Trails in Hiawatha National Forest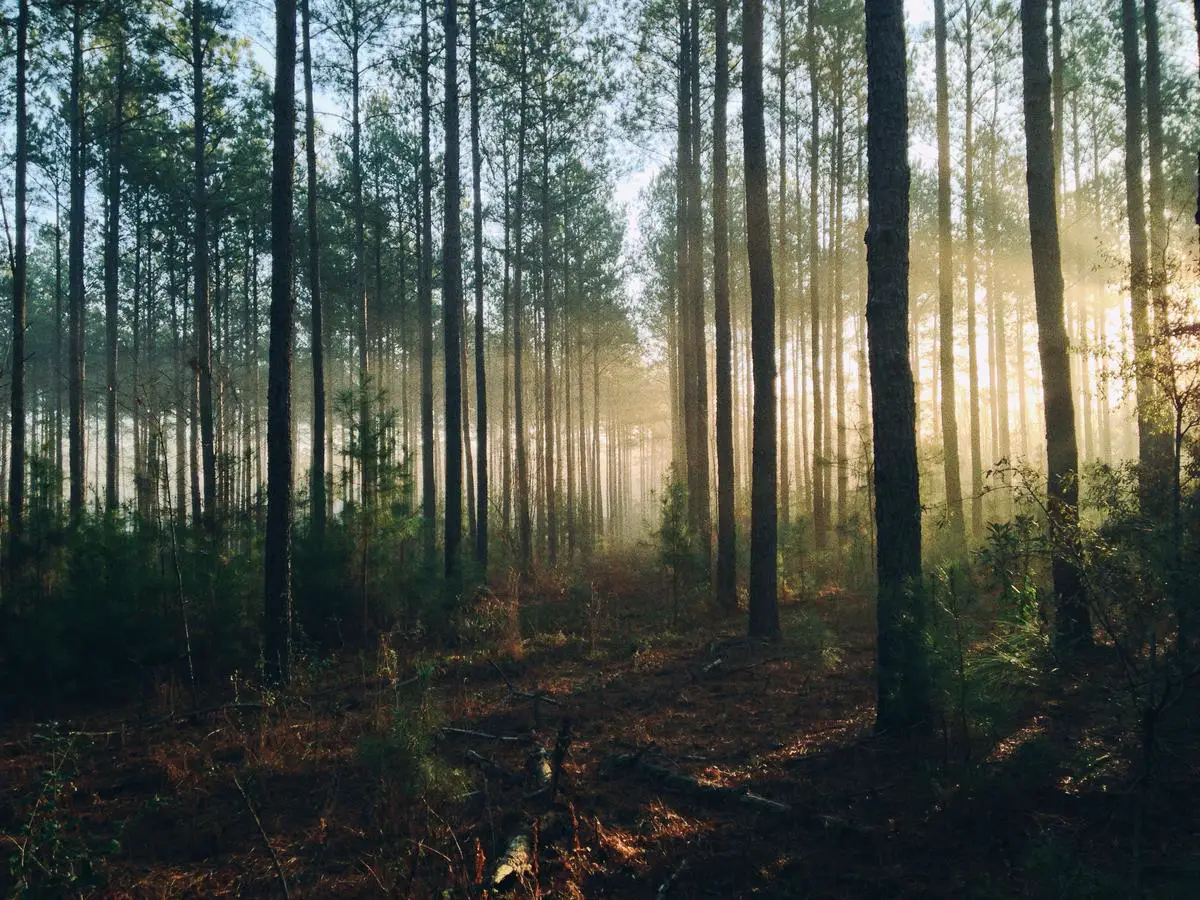 Discover the Beauty of Hiking in Hiawatha National Forest
Located in Michigan's Upper Peninsula, Hiawatha National Forest spreads across more than 880,000 acres, encapsulated by Lake Superior and Lake Michigan. Residing at this vibrant intersection of majestic Great Lakes, the forest boasts diverse wildlife and rich vegetation complemented by an extensive trail system perfect for any hiking enthusiast.
Hiking Trails and Their Difficulty Levels
Several hiking trails weave through the Hiawatha National Forest's vast natural terrain, each offering unique experiences to hikers of varied skill levels. The Bruno's Run Trail is an intermediate 9-mile stretch that winds around several lakes, into hardwood forests, and across streams – a true immersion in nature. For a more challenging trek, the Big Island Lake Wilderness trail stretches about 23 miles and incorporates more uneven terrain, perfect for experienced hikers.
Points of Interest and Landmarks
Hiking the North Country National Scenic Trail, one of the longest in the forest, is truly rewarding. This trail meanders for approximately 75 miles through Hiawatha National Forest. It offers majestic views of rivers, waterfalls, hardwood and pine forests, and a sleek stretch of Lake Superior shoreline. Nature enthusiasts may find serenity at the Whitefish River and Sturgeon River Sloughs, spots that harbor a wealth of migratory birds and waterfowl.
Accessibility and Distance
The trails are easily accessible from Forest Roads and nearby towns, ensuring convenience for hikers. Moreover, the ability to choose between shorter hikes – like the 4-mile Monocle Lake trail circle, and longer treks – like the 40-mile Bay de Noc-Grand Island trail, enhances the forest's appeal to both amateur and seasoned hikers.
Estimated Time to Complete the Trails
The time it takes to hike a trail can vastly differ based on personal pace, frequent breaks, and the overall condition of the trail. Generally, a 10-mile hike can take around 4-7 hours to complete. Hikers should plan according to the trail's length and their own endurance and speed.
Safety Measures Towards Hiking in Hiawatha National Forest
Hikers should always carry a map or trail guide and stay on marked trails to prevent disorientation. During certain seasons, mosquito repellent is essential. As the forest is home to black bears, learning about bear safety is vital. Always check the weather forecast before setting out and inform someone about your hiking plans. Proper footwear enhances comfort and mitigates the risk of injuries on uneven terrain, while having enough water and high-energy snacks can help maintain stamina and hydration levels.
The Hiawatha National Forest in Michigan provides a unique and enriching experience for hiking enthusiasts, offering a chance to immerse in the untamed wilderness and explore the forest's extensive landscape, encompassing the beauty of flowing rivers and tranquil Great Lakes. It represents a truly remarkable showcase of Michigan's natural charm and offers a hiking experience that is not easily forgotten.
Major Trails Though Hiawatha National Forest
North Country Trail
Stretching an impressive 4,600 miles from New York to North Dakota, the North Country National Scenic Trail (NCT) offers a unique hiking experience as it crosses the Upper Peninsula of Michigan. Within the east zone of Hiawatha National Forest, the trail covers 83 miles, winding through both the Sault Ste Marie and St Ignace Ranger Districts. The terrain here is relatively flat, featuring a mix of hardwoods and pinelands. Local volunteers from the North Country National Scenic Trail Association (NCTA) diligently work to build and maintain this section, which is clearly marked with blue blazes. The trail is easily accessible thanks to numerous road crossings, allowing hikers to explore different sections with ease. However, be cautious when parking; if a trail access point is not designated as a parking area on the map, you're parking at your own risk.
Fisherman's Hike Trail
This trail, popular among fishermen in spring for smelt and steelhead, is a beautiful 0.35-mile walk through rolling forested countryside.
Ridge Interpretive Trail
Nestled within the scenic Brevoort Lake Campground, the Ridge Interpretive Trail offers a unique hiking experience on an ancient Lake Michigan dune. This self-guided, half-mile trail provides an easy to moderate hike that involves both climbing and descending. As a responsible hiker, wipe your shoes at the end of the trail to prevent the spread of invasive species to other parts of the forest.
Au Train Songbird Trail
This hiking loop, located next to Au Train Campground, is only 2 miles long and is perfect for observing wildlife. To find the trailhead, take the first campground loop to the right and look for it near campsite #11. The trail will take you through a variety of landscapes, including forests, fields, bog, and lakeshores. There's even an observation platform on Buck Bay, which is part of Au Train Lake. The best time to visit is in the morning when the birds are most active and you can enjoy a "woodland concert." However, you can walk the trail at any time of the day. In the forested areas, you may spot chickadees, cedar waxwings, and nuthatches. From the observation platform, you can see ducks, shorebirds, and if you're lucky, even an eagle or osprey.
Bay De Noc Grand Island National Recreation Trail
The Bay de Noc/Grand Island Trail runs alongside the Whitefish River, starting from half to two miles east of the river. The trail follows an old portage route used by the Chippewa Indians to carry their canoes and supplies between Lake Superior and Lake Michigan. The trail offers many scenic views to hikers, bikers, and horse riders as it follows the river bluff for a considerable distance, providing a great view of the Whitefish River Valley to the west. Please note that this trail is designated for "non-motorized" use only. As per the agency's interim direction, the trail is not open to e-bikes at this time.
The trail winds through the southern quarter, adorned with jack pine, red pine, and aspen trees, with intermittent grassy clearings. The terrain is mostly level, with occasional stream crossings. As the trail stretches north, it goes through a forest of maple, paper birch, and beech trees, with rolling hills that are typical of glacial terrain. These hills are interspersed with flat stretches of land that support a forest of pine and aspen. For a trail map, please click on the following link.
Bay Furnace Historic Site and Interpretive Trail
There is a short accessible trail that is 1/8 mile long and circles around the recently stabilized ruins of a blast furnace. This furnace was used to make pig iron between 1870 and 1877. It is one of the last remaining structures of its kind in the Upper Peninsula. The trail is a great spot to view Lake Superior and Grand Island.is a great spot to view Lake Superior and Grand Island.
Preparing for Hiking in Hiawatha National Forest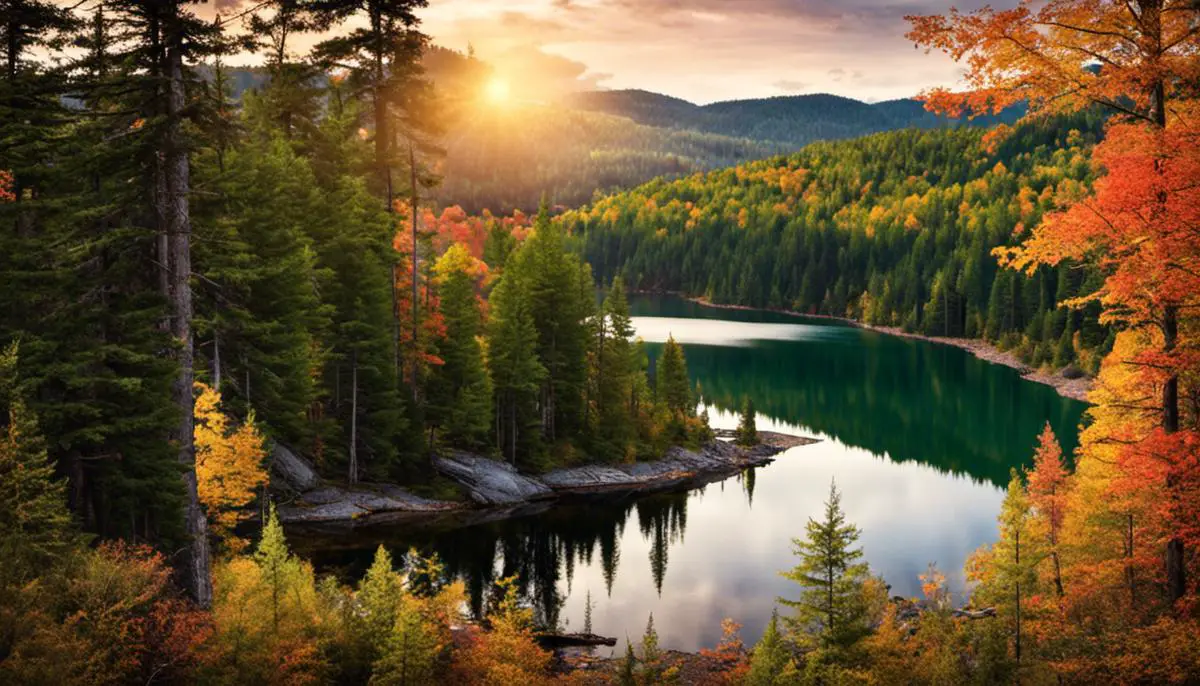 Preparing for Your Hiawatha National Forest Hiking Journey
To ensure you have a smooth and enjoyable trek through this vast forest, which spans a staggering 890,000 acres, there are a several important aspects to consider. These range from determining the appropriate attire for your journey, investing in the right hiking gear, being mindful of the reporting procedures for wildlife sightings, following key safety guidelines, and identifying the most suitable times within the year to embark on your hiking adventure.
Clothing
To start with, the clothing you wear to hike in the Hiawatha National Forest should be weather-appropriate. As the forest experiences three main climatic seasons, dressing in layers is highly advisable. This strategy facilitates easy adding or removing of clothes as necessary. In the spring, expect rain and potentially chilly temperatures. Waterproof, breathable clothing is ideal to stay dry. Summer temperatures range from mild to hot, so light, moisture-wicking clothing is best. During the autumn, temperatures can be quite frigid, requiring warmer, thermal clothing. Regardless of the season, always pack a lightweight, packable rain jacket.
Hiking Gear
As for hiking gear, a reliable map and compass are essential, given the vastness of the forest. Packing extra water and food is also crucial. Despite the forest's numerous fresh water bodies, having your water supply is a reasonable precaution. A suitable camping tent, sleeping bag, and cooking equipment will be needed for anyone intending to spend a night or more in the forest.
Wildlife Reporting Procedures
Wildlife reporting procedures are crucial in ensuring the safety of hikers and the preservation of wildlife in the forest. If wildlife like bears, wolves, or moose are sighted, it's essential to report the sighting to the Forest Service. Appropriate methods to deter wildlife from approaching your camping area, such as hanging food bags from trees, should be practiced.
Safety Tips
General safety tips while hiking in the Hiawatha National Forest include a strict adherence to marked trails, avoiding hiking alone, especially in extensive forest areas, and informing someone of your hiking plans and expected return time. Be sure to check weather forecasts immediately prior to your hike to avoid getting caught in intense weather events.
Best Times to Hike
The best times to hike in the Hiawatha National Forest is during the late spring and early fall. This is due to the moderate temperatures and decline in certain insects such as mosquitoes and ticks that may prove a nuisance or health risk in the summer months.
Necessary Permits for Hiking in Hiawatha National Forest
When planning for an incredible journey of hiking in Hiawatha National Forest, an essential aspect to consider is ensuring all required permits are secured. The forest's visitor permits are often reserved for those utilizing motorized recreational vehicles, but in certain areas within the forest, permits may also be required for camping.
Rules and Regulations for Hiking in Hiawatha National Forest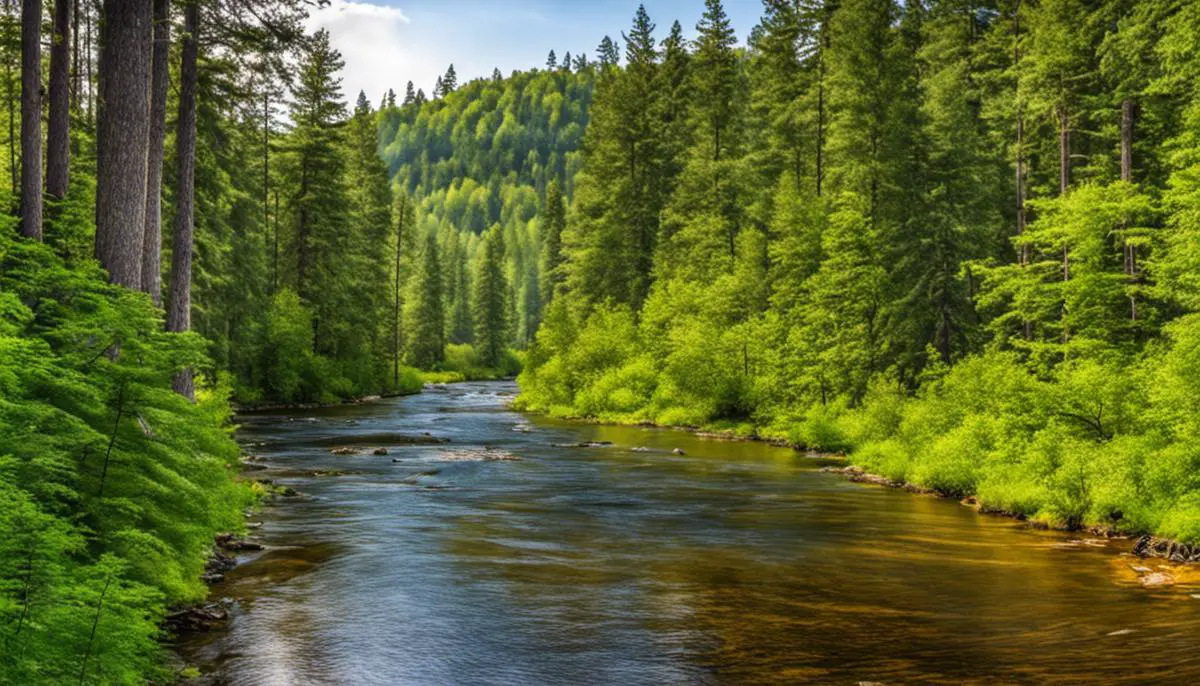 Respecting Hiawatha National Forest: Rules and Regulations for Hikers
The allure of six designated wilderness areas, a multitude of lakes and streams, and miles of winding trails through breathtaking natural scenery are what draw many hikers and nature enthusiasts to Hiawatha National Forest. The continuous preservation of this national gem depends largely on respectful visitors adhering to a set of rules and guidelines, thoughtfully laid out by the U.S. Forest Service, to help maintain its beauty.
Camping Etiquette
When it comes to camping in the Hiawatha National Forest, all campers must adhere to a 'Leave No Trace' principle. This means that all campsites should appear untouched after usage, with all trash carried out and disposed of appropriately. Fires are only allowed in designated campfire rings, and campers are urged to acquire firewood locally to limit the spread of invasive species.
Fire Regulations
Fire safety is a paramount concern in Hiawatha National Forest. Visitors are required to douse campfires thoroughly with water before leaving a site, and keep fires within designated fire rings. The use of fireworks is strictly prohibited. Depending on conditions and local laws, fire restrictions may be instituted, including fire bans during periods of high fire risk.
Waste Disposal
Pack it in, pack it out is the basic premise of waste disposal in the forest. Visitors are expected to carry out any trash they bring in, including litter and recyclable items. Biodegradable waste, such as food or human waste, should be buried at least 200 feet from water sources, trails, and campsites.
Wildlife Interactions
For the safety of wildlife and visitors alike, feeding and approaching wildlife is prohibited. If you encounter wildlife while hiking, keep a safe distance and never block an animal's path. All pets should be leashed and under control at all times to prevent unwanted interactions with wildlife.
Trail Etiquette
Remember to stay on designated trails to protect fragile plant life and avoid contributing to erosion. As a general rule, hikers going uphill have the right of way. Groups should always yield to single hikers. In wet conditions, hikers should travel through, not around, puddles and muddy spots to minimize trail damage.
Respect for Natural and Cultural Resources
Visitors to Hiawatha National Forest should respect all natural and cultural resources. This includes, but is not limited to, refraining from carving names or symbols into trees or rocks, leaving artifacts and historic sites undisturbed, and not removing plants or rocks.
Compliance with these regulations ensures the continued health and beauty of Hiawatha National Forest. Ignorance of these rules is not an excuse for breaking them, so ensuring that all visitors are aware and willing to comply is essential.
Final Thoughts About Hiawatha National Forest Hiking Guide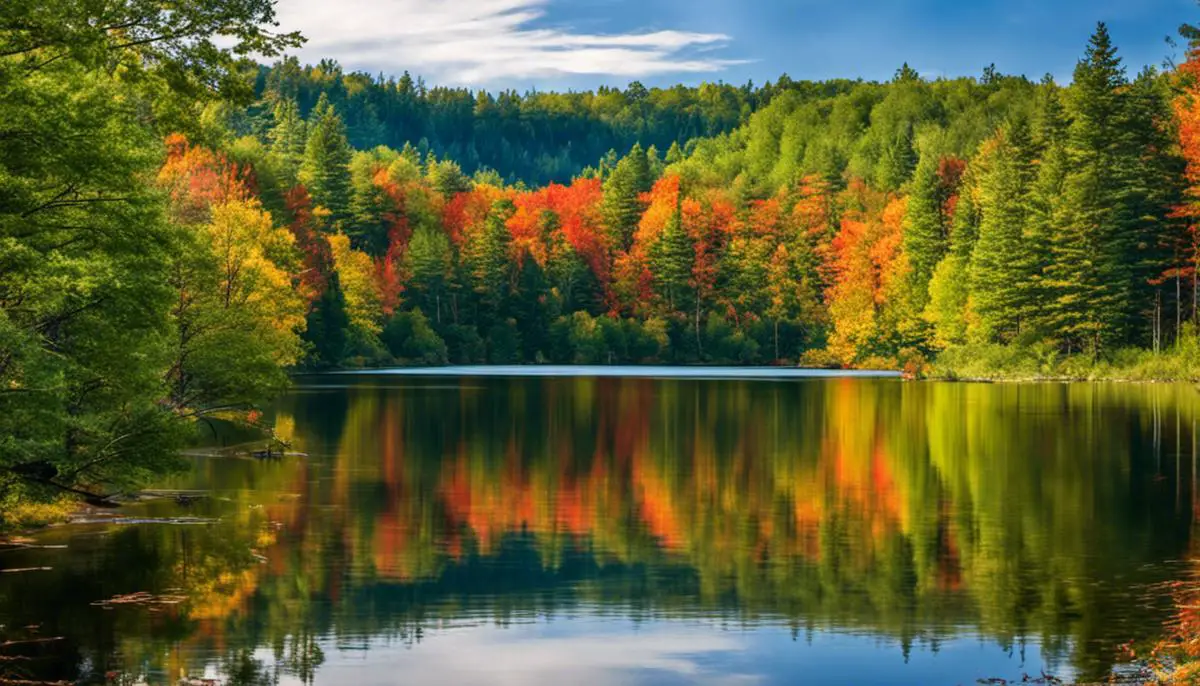 The beauty, diversity, and tranquillity found in Hiawatha National Forest make it an ideal location for hikers seeking an immersive outdoor experience. Each trail offers a memorable journey through history, vibrant ecosystems, and stunning vistas that captivate the senses. Equipped with a thorough understanding of the forest's unique geography, varied trails, and various regulations, hikers can thereby embark on an adventure that is as safe as it is enlightening and exhilarating. Preparation plays an essential role in ensuring the outing does not compromise safety and conservation mandates. By embracing these guidelines, every hiker can partake in maintaining the pristine condition and natural splendor of Hiawatha National Forest, ensuring its wonders continue to captivate outdoor enthusiasts for years to come.