Nestled in the heart of America's Midwest, South West Michigan unfolds as a collection of freshwater canvases, each painting uniquely portraying beauty, tranquility, and adventure. The region's spectacular southwest Michigan inland lakes offer visitors an escape into nature, where the gentle waters dictate life's rhythmic ebb and flow. In this edition, we invite you on an enchanting journey through the best inland lakes in South West Michigan – from the inviting shoreline of Austin Lake to the recreational paradise of Paw Paw Lake.
Table of Contents
Southwest Michigan Inland Lakes Map
Austin Lake
Austin Lake is a stunning body of water nestled in the city of Portage, Michigan. This 1,100-acre lake is known for its scenic beauty and is a popular destination for locals and visitors who enjoy water-based activities.
The lake offers several recreational opportunities, including boating, fishing, kayaking, and swimming. Anglers will find a variety of fish, including Bluegill, Largemouth Bass, Northern Pike, and Walleye, to name a few. There's a public boat launch available on the eastern shore, making it easy for boating enthusiasts to access the water.
At the heart of the lake's attraction is Lakeview Park. This public park spans over 12 acres and is a favorite gathering spot for families and outdoor enthusiasts. With a sizeable swimming beach, Lakeview Park provides a great spot for cooling off during the warm summer months. Facilities at the park include picnic tables, grills, a playground, and a volleyball court, making it an ideal location for a fun-filled day out.
Beyond the lake's recreational allure, the Austin Lake community offers a range of amenities, including restaurants, shopping centers, and accommodation options. Several annual events and festivals occur in and around Austin Lake, contributing to a vibrant local culture and community.
Muskegon Lake
Located near Lake Michigan's eastern shore, Muskegon Lake is a vital waterbody serving as a natural harbor. The lake provides a beach at Heritage Landing in downtown Muskegon, a lively hub of activity with an array of festivals, including the Lakeshore Art Festival. 
Gull Lake
Gull Lake is a beautiful body of water located near Richmond in Kalamazoo County, Michigan. Spanning over 2,030 acres, it's a popular destination for residents and tourists alike who appreciate aquatic activities and the outdoors.
The lake is particularly famous for its clarity and water quality, making it an excellent spot for swimming, boating, and other water sports. Gull Lake's depth, reaching down to 110 feet at its deepest point, also makes it a desirable spot for anglers, with a healthy population of fish species, including bluegill, largemouth bass, northern pike, smallmouth bass, walleye, and yellow perch.
Gull Lake has multiple public access points for convenience. The most popular of these is the Gull Lake Public Access and boat launch facility located off East Gull Lake Drive. The park features a public swimming beach, picnic areas, and ample parking.
The Gull Lake View Golf Club and Resort is another notable spot near the lake. It offers golfing options for all skill levels with five unique courses. For history enthusiasts, the W.K. Kellogg Manor House, located on the eastern shore of the lake, offers a fascinating look into the past with its beautifully preserved historic home and gardens.
Richmond, Michigan, itself offers a range of amenities, including restaurants, shopping, and accommodations, making it a convenient base for those visiting Gull Lake.
Gun Lake
Gun Lake is an impressive freshwater lake nestled in the Yankee Springs Recreation Area in Barry County, Michigan. Covering a massive expanse of approximately 2,680 acres, it's one of the largest inland lakes in West Michigan, promising plenty of adventure for water lovers.
The lake's location in the Yankee Springs Recreation Area, which spans over 5,000 acres, presents outdoor enthusiasts with various activities to engage in. From excellent trails for hiking, mountain biking, and horseback riding to cross-country ski paths and snowmobile trails, there's year-round enjoyment to be had.
Anglers are especially fond of Gun Lake due to its diverse range of fish species, including largemouth and smallmouth bass, crappie, northern pike, walleye, and a variety of sunfish. The lake's vastness and maximum depth of 65 feet create an ideal habitat for these species, promising a fruitful fishing expedition.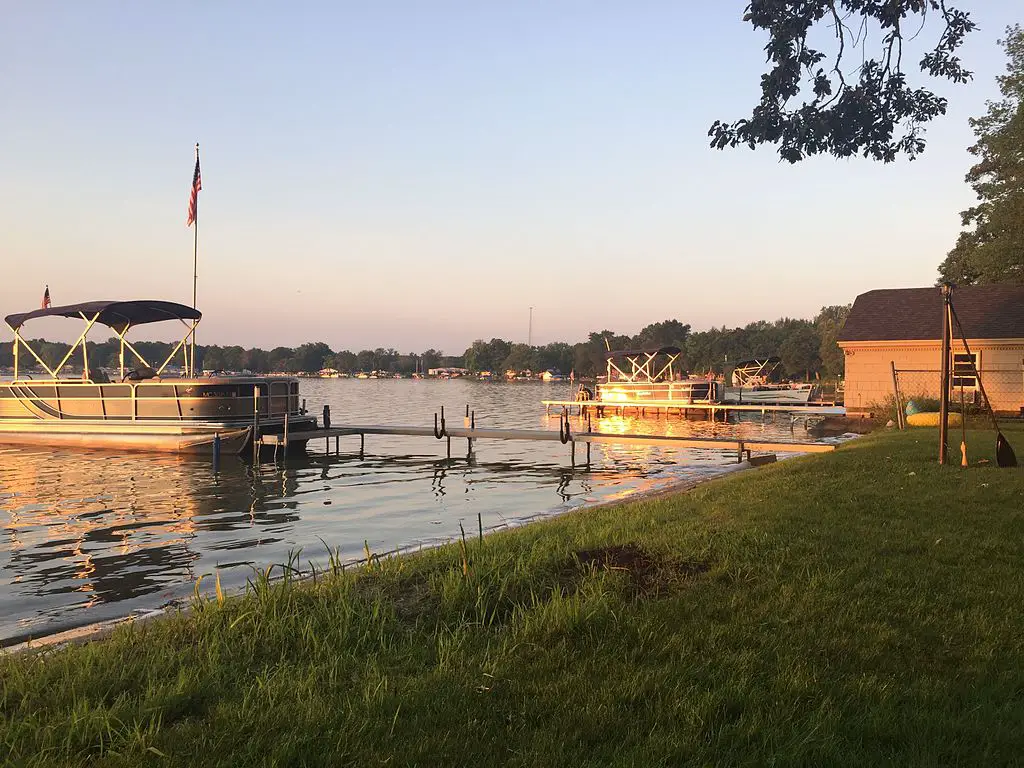 The lake is not just for anglers, though. It's a favorite spot for swimming, boating, water skiing, and jet skiing, with ten public access points providing a gateway to these waterborne delights. The Yankee Springs Recreation Area provides two public beaches on the shores of Gun Lake, perfect for families to enjoy a sun-soaked day at the lake.
For those wanting to extend their stay, there are over 200 modern camping sites in the Recreation Area, providing the perfect spot to immerse oneself in the tranquility of nature. You'll find picnic tables, fire pits, and modern restroom facilities at these campgrounds.
Within close proximity to the lake is the quaint Gun Lake Casino, offering entertainment, dining, and gaming options for adults. Wayland, just a short drive away, offers charming restaurants, stores, and services.
Kalamazoo Lake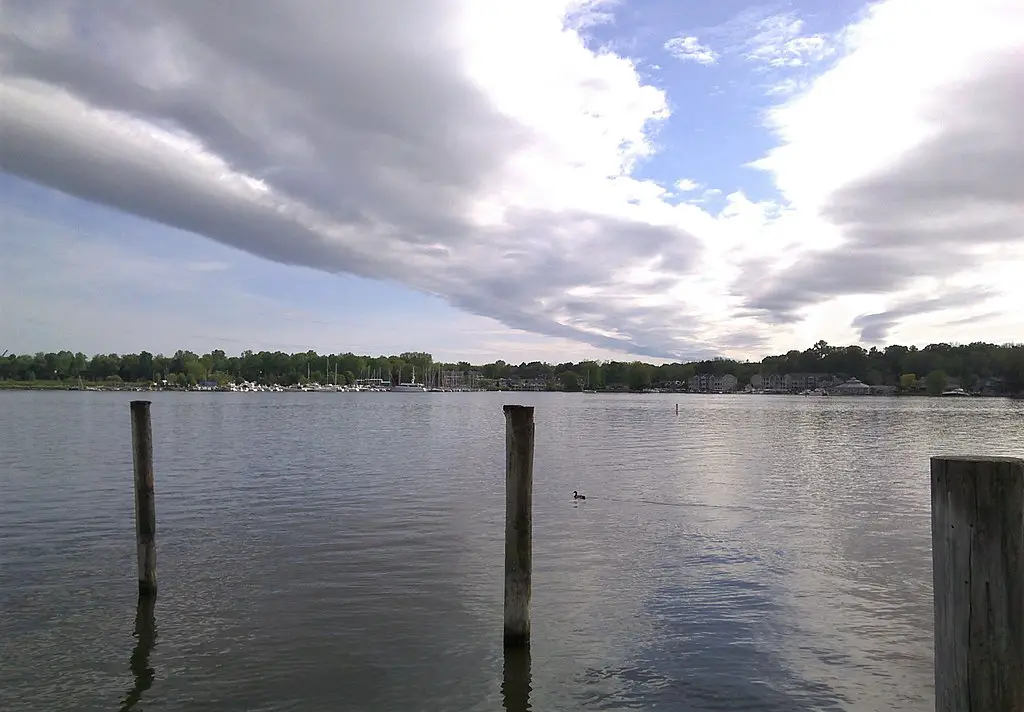 Located in Allegan County, Kalamazoo Lake is interconnected with Lake Michigan. Though lacking a public beach, its proximity to Saugatuck, a vibrant arts community, lends it a unique charm. The annual Saugatuck Venetian Festival uses the lake for its boat parade and fireworks.
Lake of the Woods
Lake of the Woods is a captivating freshwater lake located near the village of Decatur in Van Buren County, Michigan. Covering an area of about 300 acres and with a maximum depth of about 35 feet, the lake is home to a variety of fish species. Anglers are particularly drawn to Lake of the Woods for its abundant populations of largemouth bass, bluegill, crappie, and perch. Ice fishing is also a popular activity during the winter months.
For water enthusiasts, Lake of the Woods offers a multitude of recreational activities beyond fishing. The clear waters are ideal for swimming, boating, paddleboarding, and kayaking. There is also a public beach area that provides a lovely spot for sunbathing, picnicking, or simply enjoying the beautiful lakeside scenery.
The lake has DNR public access on the western shore, available through the Lake of the Woods Public Access site. The site offers a boat launch, making it convenient for those who want to explore the lake by boat. There is a beach at Red Woolfe Park that offers swings and playground equipment as well as a pavilion, picnic tables, stationery bar-b-que grills, a horseshoe pit, a volleyball net, and swimming.
Surrounding the lake, the village of Decatur offers charming local attractions. There are dining options, antique stores, and various community events throughout the year, such as the Decatur Farmers Market and various holiday celebrations.
Coldwater Lake
Coldwater Lake is a delightful body of water located near Coldwater Lake State Park in Michigan. The lake spans approximately 1,610 acres, providing an extensive playground for water enthusiasts. With a maximum depth of 92 feet, the lake's varying depths accommodate many water activities.
Coldwater Lake offers an array of recreational possibilities, such as fishing, boating, and swimming. Known for its exceptional fishing conditions, the lake teems with various fish species, including largemouth bass, smallmouth bass, bluegill, and walleye, making it a favorite among anglers.
Moreover, its clear, clean waters make it a great place for swimming and other water sports like skiing, tubing, and paddleboarding. With several marinas on the lake, it's easy to access the water with your boat or rent one locally.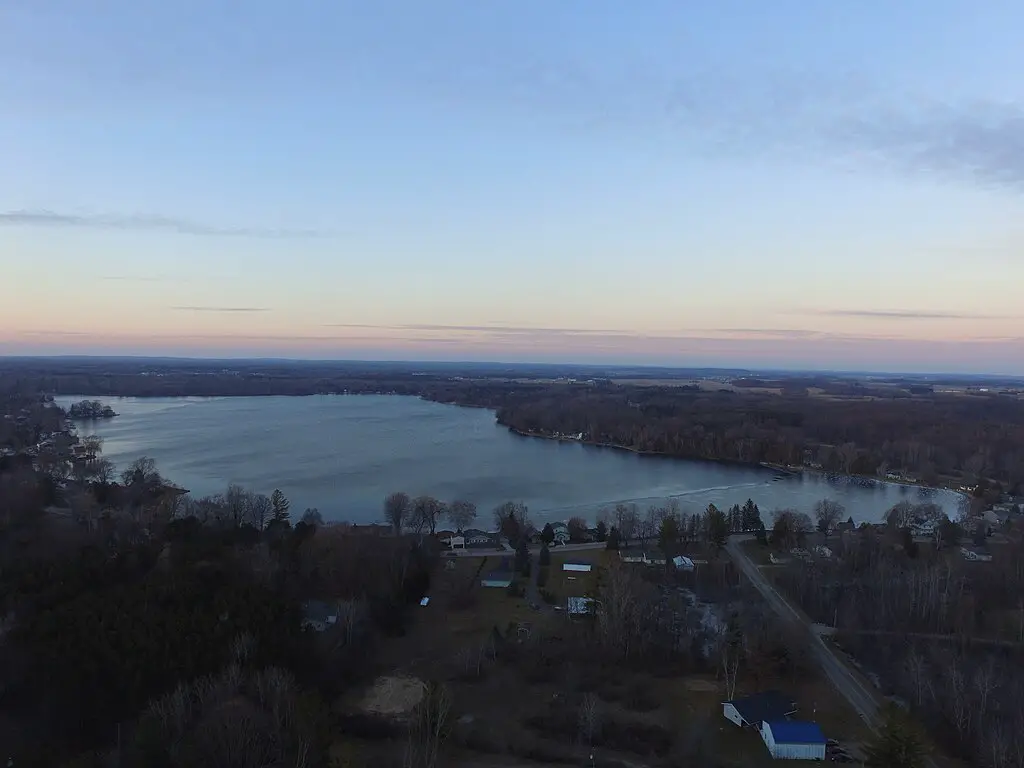 Public access to Coldwater Lake is accessible through Coldwater Lake State Park located on the eastern shore. The park offers a boat launch, picnic facilities, and a beautiful beach area where visitors can enjoy the lake's scenic views while basking in the sun or taking a refreshing dip in the water.
The nearby town of Coldwater is filled with quaint boutiques, dining spots, and historical sites that visitors can explore. 
Stone Lake
The city of Cassopolis is home to Stone Lake. Stone Lake is a picturesque 148-acre lake nestled in the village of Cassopolis in the southwest region of Michigan. This freshwater lake is relatively shallow, with an average depth of around 58 feet, making it a warm, welcoming site for residents and visitors.
Stone Lake is known for its recreational opportunities, which are numerous and varied. Given its ideal size and depth, the lake is particularly popular for boating, kayaking, and paddleboarding. If you are an angler, you can look forward to catching a variety of fish species, including largemouth bass, bluegill, and yellow perch.
Public access to Stone Lake is available through a park located on the south shore of the lake. Stone Lake Beach Park is a local favorite, offering a sandy beach for sunbathing, a roped-off swimming area, and a playground for children. It's a perfect spot for a family day out by the water. The park also features a boat launch for public use, making it a great spot for visitors wanting to explore the lake on a kayak, boat, or paddleboard.
In the surrounding area of Cassopolis, you'll find various amenities and attractions to enhance your visit. Cassopolis is a small but vibrant community with restaurants, shops, and outdoor recreational spaces. Plus, being less than two hours drive from Chicago, it's an easily accessible location for those wanting a quick getaway from city life.
Three Mile Lake
Three Mile Lake is a charming inland lake near Paw Paw in the southwestern region of Michigan. This freshwater lake is approximately 175 acres and provides visitors and residents with a wide array of recreational activities, embodying the ideal lakeside experience.
One of the main attractions of Three Mile Lake is its abundant fishing opportunities. The lake is home to a diverse range of fish species, such as largemouth bass, smallmouth bass, bluegill, northern pike, and walleye, making it an angler's delight.
Public access to the lake is made easy with a Michigan DNR public boat launch situated on the western shore of the lake. Whether you're a boating enthusiast or someone who simply enjoys the tranquility of the water, the boat launch provides an excellent starting point for your lakeside adventure.
In addition to water-based activities, Three Mile Lake is nestled in a vibrant community. The surrounding areas of Paw Paw offer plenty of dining, shopping, and recreational opportunities, from vineyards and breweries to outdoor parks and trails.
Moreover, Paw Paw is known for its annual Wine & Harvest Festival. While this festival is not directly on Three Mile Lake, the lake certainly contributes to the beautiful environment that makes the festival so unique. This event could be a great way to end a day of fishing or boating on the lake.
Long Lake
Long Lake, located near Kalamazoo, Michigan, is a beautiful freshwater lake that offers numerous recreational activities and a peaceful retreat from the hustle and bustle of city life—covering approximately 575 acres, it's the fourth largest in the county. The lake is a perfect blend of scenic beauty and ample opportunities for outdoor fun.
Long Lake is known for its clear, calm waters that are ideal for boating, swimming, and fishing. The lake is rich in various fish species, making it an angler's paradise. You can expect to catch largemouth bass, smallmouth bass, bluegill, yellow perch, and walleye among others.
The lake provides public beat access at Ramona Park on its western shore, which can be found off of Sprinkle Road. The lake is ringed with charming homes and cottages, but the area maintains a serene, natural environment that's perfect for a getaway.
In terms of the surrounding area, Long Lake is a stone's throw away from the Kalamazoo Nature Center. This Nature Center features a variety of trails and wildlife viewing opportunities, educational programs, and a visitor center with exhibits on local natural history.
Paw Paw Lake
Paw Paw Lake, nestled in Berrien County, Michigan, is a scenic and activity-filled destination. Covering around 900 acres, this inland lake is one of the largest in Southwestern Michigan, providing ample opportunities for boating, fishing, and other water sports.
Located close to Coloma and Watervliet, Paw Paw Lake offers the perfect blend of tranquility and accessibility. The shoreline of the lake is dotted with charming cottages, impressive estates, and two public beach access sites – Forest Beach Park and Sunset Park
The lake is well-known for its fishing, featuring species such as bluegill, largemouth bass, yellow perch, and walleye. Whether you're a seasoned angler or a novice, Paw Paw Lake offers an excellent fishing experience.
Paw Paw Lake's standout feature is perhaps its natural beauty, offering stunning views, especially during sunrise and sunset. A boat ride on the calm, shimmering waters provides a picturesque view of the lakeside homes and lush greenery.
An interesting feature of Paw Paw Lake is the "Paw Paw Lake Yacht Club", one of the oldest inland yacht clubs in the United States, which hosts sailboat races during the summer. This draws sailing enthusiasts from far and wide, contributing to a vibrant community atmosphere.
Additionally, the surrounding area offers various recreational activities like golfing, with the Paw Paw Lake Golf Club nearby. In terms of annual events, the Lake is home to the "Paw Paw Lake Ride" – a biking event around the lake, promoting health and community spirit.
For nature lovers, the Sarett Nature Center is a short drive away, offering hiking trails, bird-watching opportunities, and educational programs about local wildlife and ecosystems.
White Lake
White Lake, located near Whitehall in Muskegon County, Michigan, is a freshwater lake that connects to Lake Michigan through a short channel. This beautiful lake covers an area of approximately 2,571 acres, providing plenty of space for water-related activities.
The lake's proximity to Whitehall makes it a great location for those who want to enjoy the tranquility of lake living while still being near the conveniences of a city. White Lake is known for its stunning views and is home to a wide variety of fish species, making it a great spot for fishing. Common species include bluegill, largemouth bass, northern pike, and yellow perch, among others.
The lake's shores are lined with private residences and rentals, but there are also public access points for visitors. Maple Grove Park, located on the eastern shore of the lake, offers public access with a swimming area, picnic facilities, and pavilion.
One unique aspect of White Lake is the White Lake Area Sportfishing Association which holds an annual fishing tournament. It's an event that draws anglers from around the state to compete and enjoy the beautiful setting of the lake.
Photo by John Bridgewater on Unsplash
White Lake is also surrounded by various natural attractions, including the White River Light Station, a historic lighthouse and a museum that provides panoramic views of Lake Michigan and White Lake. In addition, the surrounding area has trails for hiking and biking, making it an excellent choice for those who love outdoor activities.
Final Thoughts About Southwest Michigan Inland Lakes
The sparkling inland lakes of South West Michigan weave tales of natural splendor, community spirit, and timeless memories. Their serene waters provide the perfect backdrop for exhilarating festivals, peaceful retreats, and adventurous outings. As we conclude our journey, we hope these beautiful water bodies have ignited your wanderlust. Discover the distinctive charm of each lake, take part in their vibrant celebrations, and lose yourself in the magic of Michigan's freshwater wonderlands. May the enchanting waters of South West Michigan be your next destination for unforgettable experiences. Happy traveling!
Related Reading
14 Best Inland Lakes in Northwest Michigan
12 Best Inland Lakes in Northeast Michigan