Michigan's freshwater treasures extend far beyond its Great Lakes. Nestled within the state's Northeast region, you'll discover an array of captivating inland lakes. These aquatic gems offer breathtaking vistas, diverse recreational activities, and opportunities to connect with nature uniquely. In this segment, we'll explore the ten best inland lakes in Northeast Michigan, each distinguished by their beauty and charm. Let's dive in!
Table of Contents
The Inland Lakes Of Northern Michigan
Northern Michigan's inland lakes present a diverse and exciting array of experiences for visitors. With opportunities for a wide range of water activities, they stand out as some of the state's most treasured attractions. These lakes offer more than just stunning views; they provide unique recreational possibilities from fishing to boating, all within a tranquil natural setting. Each lake holds its distinct character, inviting exploration and adventure. Step into the world of Northern Michigan's inland lakes, where natural beauty meets outdoor fun.
East Twin Lake
Located in Montmorency County, East Twin Lake covers an impressive 830 acres. Famous for its sandy bottom and clear waters, it provides an ideal setting for swimming and boating. The public beach area in Lewiston called Birchwood Beach offers amenities like picnic tables and a playground, adding to its appeal. This area is dotted with approximately 40 other lakes that are within a short drive from town as well. Most lakes have public access and produce a variety of fish, including pan fish, northern pike, bass, and walleye.
Grand Lake
In Presque Isle County, Grand Lake's sprawling 5,660 acres make it the 15th largest inland lake in Michigan. This lake hosts numerous activities, from swimming to fishing. Grand Lake Marina provides public access, although a traditional beach area is absent. Its sheer size and variety of fish species make it a unique spot for avid anglers and boating enthusiasts.
Oak Lake
Little Oak Lake in Oscoda County makes our list of best inland lakes in Northeast Michigan is a haven for outdoor enthusiasts. While the lake doesn't have a dedicated public beach, its peaceful waters are perfect for canoeing and kayaking. The abundance of surrounding trails offers an added layer of exploration opportunities, setting Oak Lake apart.
Otsego Lake
Otsego Lake is a remarkable gem located in the northern part of Michigan's Lower Peninsula, specifically in Otsego County near the town of Gaylord. The lake spans approximately 1,972 acres, making it the county's largest.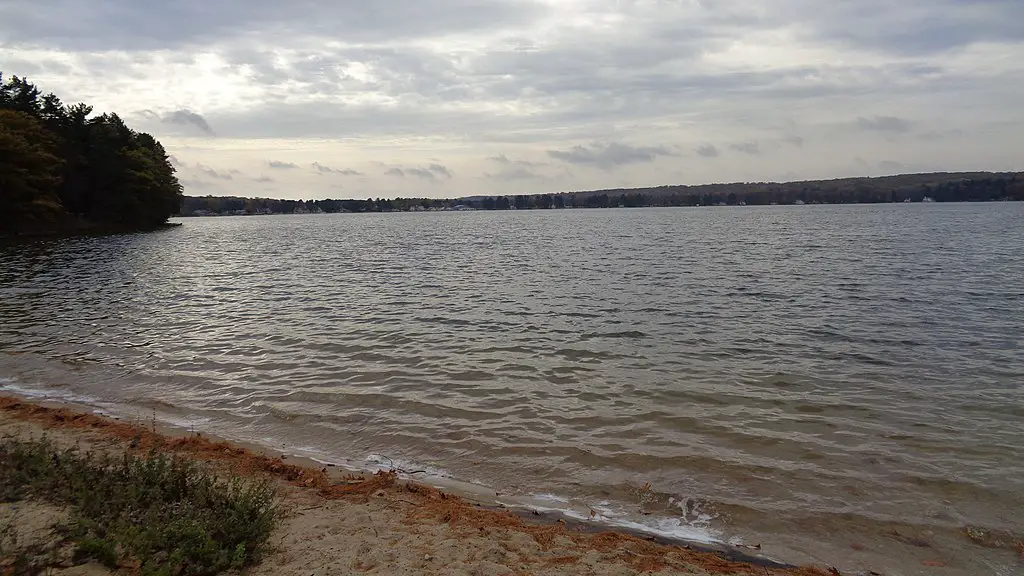 Otsego Lake offers a beautiful public beach area, Wah Wah Soo Park, on the lake's southeastern shore. It's an ideal spot for sunbathing, swimming, and picnicking. Moreover, the park provides amenities such as campgrounds, a boat launch, a playground, and volleyball courts, making it an excellent place for family outings. There are also two other beaches located at Otsego State Park.
The lake boasts a diverse fishery, including species like northern pike, largemouth bass, smallmouth bass, yellow perch, and walleye. Thus, it's a popular spot among fishing enthusiasts, both locals and tourists.
What's unique about Otsego Lake is its perfect blend of recreational opportunities and tranquil beauty. On its shores and in the nearby town of Gaylord, you'll find a variety of accommodations and dining options, adding to the convenience for visitors.
In terms of events, Otsego Lake is included in the Alpenfest, a five-day celebration held in Gaylord every July. While the festival takes place primarily in the town, the lake's beauty adds to the overall festive atmosphere.
In summary, Otsego Lake makes our list of best inland lakes in Northeast Michigan because it's a hub of community life and a destination offering a multitude of recreational possibilities. With its beautiful beach park, diverse fish species, and its connection to local festivities, it exemplifies the allure of Michigan's inland lakes.
Hubbard Lake
Hubbard Lake, situated in Alcona County in Northern Michigan, is the tenth-largest inland and natural lake, spanning about 8,850 acres. The lake is primarily fed by springs, and it boasts a maximum depth of 85 feet, which allows it to support a diverse ecosystem.
The lake is adorned with a beautiful sandy beach where locals and tourists alike can bask in the sun and enjoy the pristine waters. Visitors are also attracted to Hubbard Lake for its excellent opportunities for boating, sailing, and waterskiing.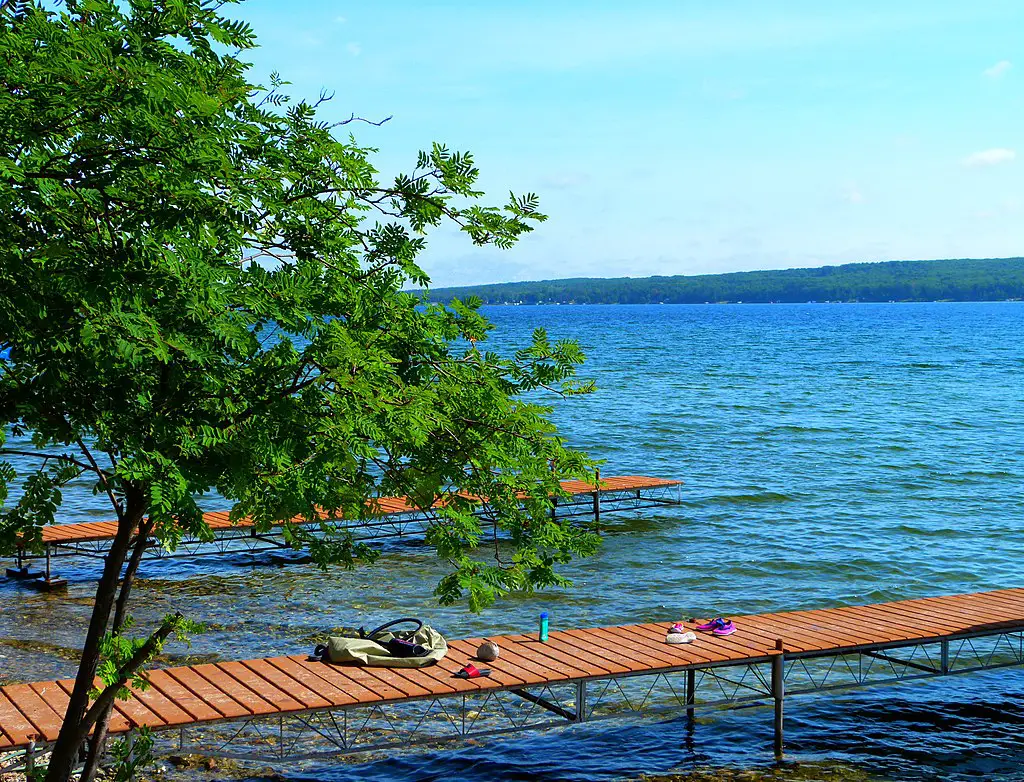 As for fishing, Hubbard Lake makes the list of best inland lakes in Northeast Michigan because it's known for its fantastic fishery. The lake is home to a variety of fish species, including Smallmouth Bass, Northern Pike, Yellow Perch, and, notably, Walleye, making it a favorite spot among fishing enthusiasts. Ice fishing is also popular during the winter months.
What's unique about Hubbard Lake is its shape and its surrounding landscape. The lake has a distinctive triangular shape that provides a large area for exploration and water activities. Moreover, it is surrounded by rolling hills covered in hardwood forests, offering stunning panoramic views, especially during the fall when the leaves change color.
Although there are no specific festivals centered on Hubbard Lake itself, the lake is a crucial part of the local community's life. Local events, such as community picnics and celebrations, often feature the beautiful backdrop of Hubbard Lake.
Mullett Lake
Located in Cheboygan County in the northern part of Michigan's Lower Peninsula, Mullett Lake is part of Michigan's famed Inland Waterway and is the state's fifth-largest inland lake, covering a significant area of about 16,744 acres.
Mullett Lake has a public beach located at Aloha State Park on its eastern shore. The park features a beautiful sandy beach where visitors can relax and enjoy swimming in the lake's crystal-clear waters. You can visit the state park's website for more information.
The lake supports a variety of water activities such as sailing, power boating, and waterskiing, making it a hotspot for water enthusiasts. For fishing aficionados, the lake boasts a diverse fishery, including species like northern pike, muskellunge, yellow perch, smallmouth bass, and walleye.
One unique aspect of Mullett Lake is its role in the Inland Waterway. This 38-mile recreational boating route offers a unique and adventurous way to experience the natural beauty of Michigan. The waterway passes through several lakes and rivers, including Mullett Lake, providing a scenic and diverse boating experience.
While there are no specific festivals centered around Mullett Lake, the surrounding communities host events throughout the year, and the lake often forms a stunning backdrop to these festivities. One of the notable events is the annual Top O' Michigan Outboard Racing Club marathon, a boat race that encompasses much of the Inland Waterway.
Black Lake
Located in Cheboygan and Presque Isle counties in Northern Michigan, Black Lake is the state's seventh-largest inland lake, spanning over 10,130 acres. Its ample size, coupled with its natural beauty and recreational offerings, make Black Lake a popular destination for both locals and tourists alike.
One of the main attractions of Black Lake is Onaway State Park, situated on the eastern shore of the lake. This park provides public access to the lake and features a beach area where visitors can enjoy a refreshing swim or a relaxing day of sunbathing. You can visit the state park's website for more information.
Black Lake is a paradise for water sports enthusiasts, offering opportunities for boating, jet skiing, and paddleboarding. The lake is also renowned for its fishery, which includes a variety of species such as northern pike, walleye, yellow perch, and smallmouth bass. Interestingly, Black Lake is one of the few lakes in Michigan where lake sturgeon can be found, making it a unique spot for fishing.
A unique event that takes place on Black Lake is the annual Sturgeon Shivaree, hosted by the local chapter of Sturgeon For Tomorrow. The event includes a sturgeon spearing season and a winter festival, celebrating the lake's remarkable sturgeon population and the local culture.
Sand Lake
Sand Lake, located in Iosco County, is known for its sandy bottom, providing an enjoyable swimming experience. While it doesn't have a designated public beach or an official site, its sandy shores and clear waters make it an attractive spot for local residents and visitors.
Long Lake
Long Lake, situated in Presque Isle County, spans 5,320 acres, making it the 16th largest lake in Michigan. Long Lake Park provides a public beach, a boat launch, and picnic facilities. It's size and recreational options make it a unique spot for all types of water enthusiasts.
There are two public boat launch areas, ensuring convenient access for boaters. The lake doesn't have an official public beach; however, the sandy shores are welcoming for those who wish to sunbathe or have a leisurely picnic.
The lake is home to a variety of fish species, including largemouth bass, yellow perch, and northern pike, making it a favorite among anglers. Whether you're casting from the shore or a boat, there's a good chance you'll reel in a catch.
What sets Long Lake apart is its seven islands, providing a unique backdrop and exploration opportunity. The largest of these islands, Brown Island, even hosts a few private residences.
Visitors to Long Lake can also explore the nearby Presque Isle County Historical Museum to learn about the local history or venture into the beautiful Presque Isle State Harbor. With its natural beauty and a multitude of recreational opportunities, Long Lake is undoubtedly a prime spot to enjoy the charm and outdoor adventure of Northern Michigan.
Lake Saint Helen
Lake Saint Helen, located in Roscommon County, is well-known for its sandy bottom and clear waters. Lake St. Helen Bluegill Festival is a unique annual event attracting many visitors. Richfield Township Public Park provides public beach access, a boat launch, and picnic areas.
Houghton Lake
Houghton Lake, located in Roscommon County, is the largest inland lake in the state of Michigan, covering a vast area of almost 20,000 acres. This impressive body of water is renowned for its recreational opportunities, making it a popular destination for both tourists and locals.
Visitors to Houghton Lake can enjoy the excellent fishing conditions, with species such as Walleye, Northern Pike, Bluegill, and Crappie found in its waters. The lake's large size and plentiful fish make it a top choice for fishing tournaments, including the renowned Tip-Up Town USA winter festival, which has a host of activities, not just ice fishing.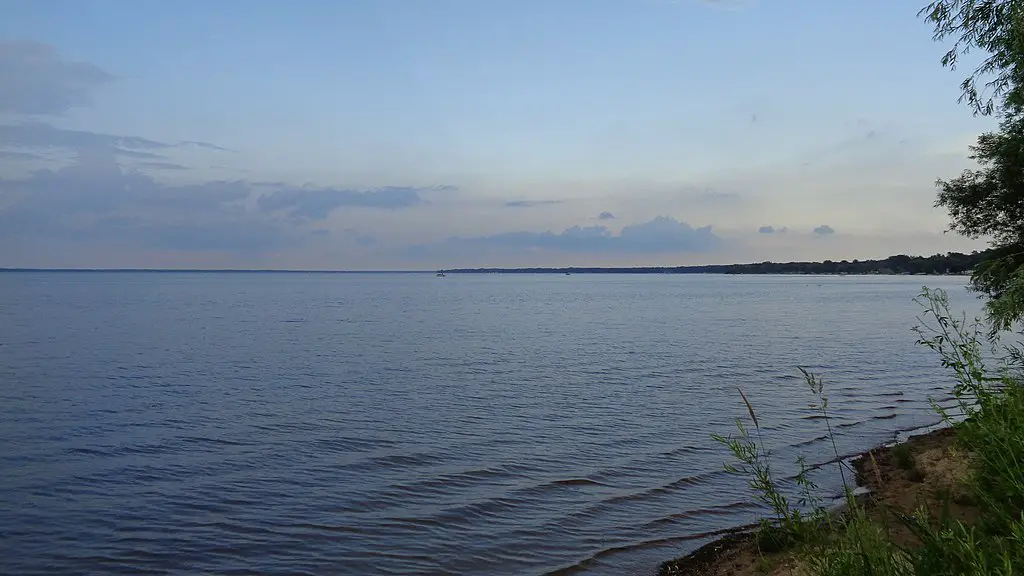 The lake boasts several public access points, including the Houghton Lake Flats, an expansive wetland area ideal for bird watching. Hikers and nature lovers can explore the Cut River Nature Trail, which offers beautiful views of the lake and surrounding landscape.
One of the unique aspects of Houghton Lake is its variety of sandy beaches. The most notable is probably the public beach in the Houghton Lake State Park, where visitors can enjoy a refreshing swim, picnic in the park, or a peaceful walk along the shoreline.
Aside from its natural attractions, Houghton Lake also offers numerous nearby dining, shopping, and entertainment options, including golf courses and resorts. Whether you're an outdoor enthusiast, an angler, or someone looking for a relaxing beach day, Houghton Lake has something to offer.
Final Thoughts On The Best Inland Lakes in Northeast Michigan
From the expansive waters of Grand Lake to the tranquil shores of tiny Elbow Lake, Northeast Michigan's inland lakes offer diverse and delightful experiences. Whether you're an angler, boater, hiker, or simply a nature lover, these lakes provide the perfect backdrop for creating lasting memories. As you plan your next adventure, consider these freshwater gems and let the beauty of Northeast Michigan captivate your heart. The lakes are waiting to welcome you with their unique charm, promising unforgettable experiences. Happy exploring!
Related Reading
14 Best Inland Lakes in Northwest Michigan – Our definitive guide on Michigan's best inland lakes beckons! Dive in, explore the splendor of these natural jewels, and uncover unique local events you won't want to miss.
Absolute 50 Top Michigan Beaches – After extensive research and sand in our shorts, we have collected ratings and descriptions of the 50 top beaches in Michigan. These beautiful bits of shoreline are ideal spots to stick your toes in four of the five Great Lakes.