Embarking on a camping trip in Michigan and concerned about keeping your group entertained? Fear not! There are many fun-filled group camping activities to enjoy in the great outdoors, none of which require electronic devices. This guide includes engaging daytime and nighttime activities to entertain everyone and enhance your camping experience.
Table of Contents
Daytime Adventures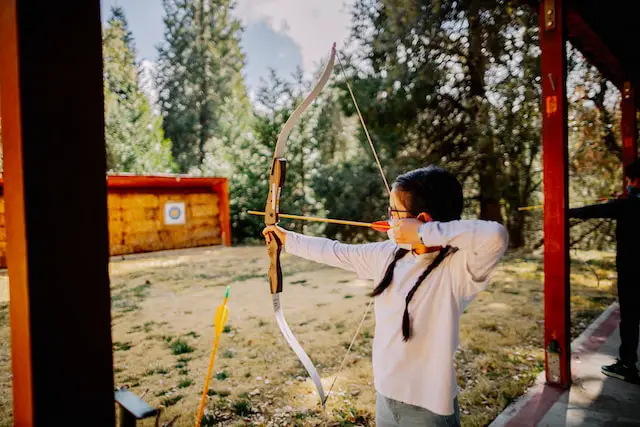 With its safety and warmth, the daytime naturally lends itself to various group activities. Once your campsite is all setup, you're ready to venture out. Here are some thrilling daytime adventures:
Hiking Trails
No camping trip is complete without a hearty hike. Besides offering a chance to appreciate Michigan's stunning natural beauty, hiking provides great bonding time and keeps everyone physically active.
Planning is key to a successful hiking adventure. Plot your route, rest spots, and notable sights to see. Prepare necessary supplies and, if you're hunting, don't forget your archery gear. Keep everyone informed and gear up for the journey!
Archery Challenges
Archery is another captivating activity that blends fun with a touch of competitiveness. It's a unique way to engage your group while in the wilderness, enhancing your camping experience.
While archery is a skill-based activity, you don't need to be an expert to enjoy it. Beginners can learn the basics, while those experienced can improve their precision. Safety should always be a priority, so ensure everyone understands the safety guidelines before starting.
Before leaving for your camping trip, check if your campsite has an archery range nearby. If not, consider bringing your own archery equipment, such as portable targets and bows. Remember, the fun lies not in winning but in the camaraderie of the activity.
Lakeside Swimming
Swimming is a refreshing, fun activity that keeps everyone cool and fit. All you need are swimsuits and sunscreen! Whether it's a lake, river, or an inflatable pool, swimming is an affordable group activity.
Plan ahead to find safe, legal swimming areas near your campsite. Some campsites may offer designated swimming areas with docks, or even swimming pools with lifeguards, ensuring fun for all ages.
Volleyball Matches
Volleyball is an excellent ice-breaker that gets your group talking, cheering, and having a blast.
All you need is a net and a ball. Some campgrounds even provide volleyball facilities. Set up a tournament, explain the rules, form teams, and let the games begin!
Nighttime Excursions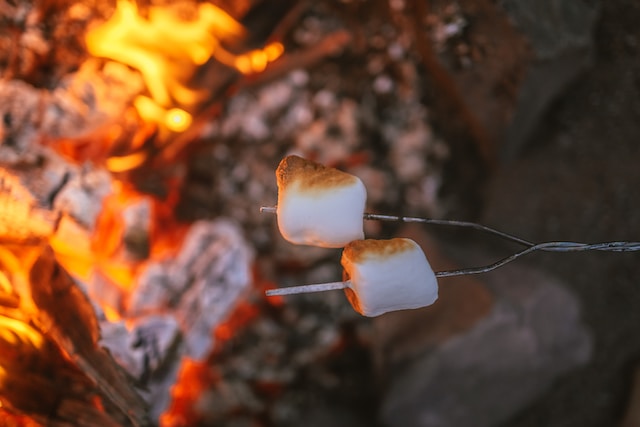 Nighttime activities, illuminated by the moon and campfire, offer a different charm. Here are some activities to try as the sun sets:
Marshmallow Roasting
Wind down after a long day of activities by roasting marshmallows over a campfire. This is one of the simple group camping activities that let your group relax, chat, and savor the night.
Find a safe fire pit, start a fire, and hand everyone a twig and marshmallows. For a sweet treat, consider bringing along supplies to make s'mores.
Campfire Sing-along
Campfire songs bring people together and set a cozy mood. Arm someone with a guitar, choose family-friendly songs, and let the music flow!
Snipe Hunt: A Nighttime Adventure
As night falls and the owl's hoot echoes in the distance, it's time to embark on one of the classic group camping activities: the snipe hunt. Now, for those new to this, a snipe hunt is a type of practical joke where we set off searching for a creature that doesn't exist, the elusive snipe.
This fun-filled activity, steeped in the tradition of American camping lore, involves tricking newcomers into hunting for the mythical snipe. Armed with bags or pillowcases, the 'hunters' are led into the wilderness to catch this nonexistent bird.
While it's all in good fun, keeping safety a priority is essential. Ensure that the designated hunting area is safe and close to the campsite. Also, let everyone in on the joke afterward, sharing a hearty laugh around the campfire.
Star Gazing
Outside of city lights, camping offers a unique opportunity to marvel at the night sky. Star gazing only requires a comfortable sitting spot and a sense of wonder.
Learn about stars, the universe, and constellations to share exciting facts while everyone gazes upward.
Final Thought About Group Camping Activities
Camping in Michigan offers a perfect getaway from everyday pressures. With the above activities, your group is bound to have memorable moments of fun and camaraderie. Remember, leave the campsite as clean, if not cleaner, as you found it!