If you live in Southeast Michigan, getting out into the wild and woods can be a struggle. The area is urban and built up. Roads and highways crisscross the "motor-city" making it hard to imagine anything resembling nature nearby. Fortunately, many old abandoned railways that crossed the region have turned into urban greenways. We found six of the top hiking trails near Detroit in Southeast Michigan. These are perfect for a healthy workout or even an overnight campout. All are a short drive away from Detroit.
Detroit Hiking Trails Map
We created a little map of the five trails mentioned in this article. You can zoom in to see the details. Feel free to share it with your trek buddies.
Pinckney State Recreation Area  – Waterloo-Pinckney Trail
Michigan is home to many natural landscapes, and the Pinckney State Recreation Area Waterloo-Pinckney Trail is no exception.
This well-marked trail system offers a variety of hiking opportunities for visitors of all levels. The trails wind through a variety of terrain and provide scenic views of the recreation area and the surrounding countryside.
Beginner hikers will find easy, level trails that take you through scenic woodlands and along the banks of the Pinckney River. More advanced hikers can explore easy to intermediate courses that take you over rocky ridges and through meadows with vistas overlooking both the river and countryside.
The Waterloo-Pinckney Trail is a 34-mile trail that begins in the Waterloo State Recreation Area and ends in the Pinckney Recreation Area. The trail passes through Park Lyndon County Park and kettle lakes, swamps, open meadows, and eskers. Parts of the trail are available for mountain biking and horseback riding, while the trail's entirety can be traveled on foot. Hiking the entire trail could take several days. The Michigan DNR map of the Waterloo-Pinckney trail should be consulted for details.
Camping along the trail is not allowed. However, several campgrounds are located along the trail route, including Portage Lake with modern campsites, The Pines – rustic backpack only, Sugarloaf – modern, Green Lake – rustic, Blind Lake – primitive camping backpack only, and Crooked Lake – rustic.
The Hines Park & Rouge River Gateway Greenway Trail
The Hines Park and Rouge River Gateway Trail are two of the five trail systems along the Rouge River and extended northwest to Northville. The northern trailhead starts in Northville near a 7-mile road on the Hines Park Trail. This is a paved trail and it extends south. It's a perfect urban route that quickly links up with the Riverview MTB Trailhead on Ann Arbor and Newburgh Roads. 
The trail passes historic Nankin Mills, an 1800s gristmill now converted to a nature and cultural center near the middle of the path, right before reaching Ann Arbor Trail. Nankin Mills features indoor bathrooms and tanks with local animals. Nankin Mills was one of Henry Ford's Village Industry sites. The Ford Village Industry effort sought to give rural areas small-scale employment away from the big cities. 
The final two miles of this greenway terminates just north of the Greenfield Village and Henry Ford Museum at the Rouge River Gateway Trailhead. Combined the greenway is 19.5 miles long. 
Chief Pontiac Trail
Yes! There Are Hiking Trails Near D...
The 16.5-mile trail is in Oakland County in South-Eastern Michigan. The Chief Pontiac Program is a credentialed activity with an organized route for Scouts and youth groups. However, other groups may utilize its resources. Groups may opt to canoe a portion of the trail. A winter trek option covers a shorter distance.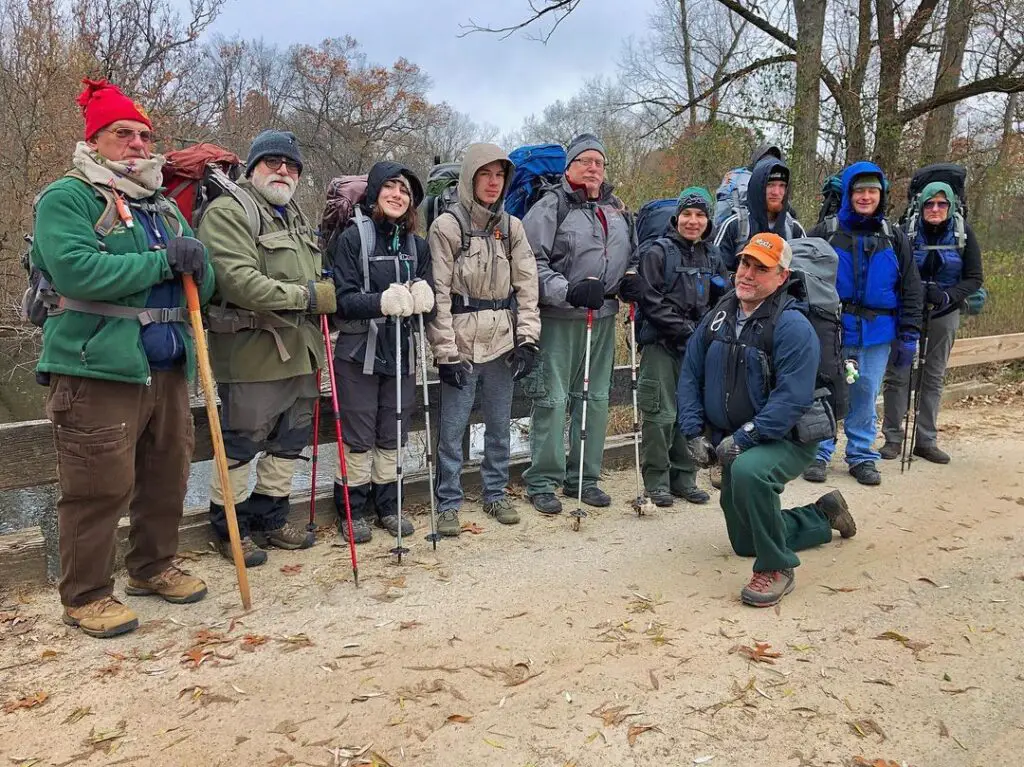 Off all the hiking trails near Detroit, this trail incorporates an overnight campout in the trek. Camping is an activity that connects people with nature. It is a recreational activity where individuals or groups of people spend time outdoors in a natural environment. Usually, it takes place outside of towns and cities. Therefore, camping can also be considered as the combination of the words "camp" and "out." This trail incorporates a campout as part of a typical weekend outing. 
Hiking and backpacking are types of camping, as they involve carrying gear on one's back while exploring the countryside. Everything a hiker needs, including their food has to be carried with them. Hiking coupled with overnight camping takes a bit of skill. The more one does it the more skilled and comfortable they become on the trail. 
Overnight campouts are just like overnight hikes, except that you're sleeping out under the stars instead of just hiking through them.
The Chief Pontiac Trail is an ideal hiking outing for those Scouts and Scouters who are preparing for Scouting high adventure camping at Northern Tier the Boundary Waters Canoe Area in Minnesota or Philmont in Nevada. 
The Highland Recreation Area Organizational Camp serves as the trailhead. One of the CPT metal arrowhead markers marks the trailhead. Exit the group camp and go across the parking lot to the edge of the woods. The beginning of an equestrian bridle trail may be seen here.
Throughout this journey, horses and riders are frequently encountered. The local trail rider's group suggests that hikers stand together and a safe distance off the route. Maintain eye contact with the horses and speak softly to them while waiting for them to pass. This is to demonstrate to them that you are nice and human. You may resume your journey after the horses have passed.
Look for a massive ancient tree known as the "Pedro Tree" south of Heartbreak Hill. Look for the name Pedro etched about 5 feet up from the ground in the tree. It has faded into the bark but is still visible.
Your first hike will conclude at the Pines Organizational Campsite. You can tent at either the Upper or Lower Pines campgrounds. The higher campground has a water pump and is maybe warmer than the bottom site. The bottom campground features a pavilion and is adjacent to the river, but there is no water pump. Both locations have latrines and fire rings.
The next day offers fresh sights and activities. The trail's designated endpoint is the bridge at the Kensington Park Group Camp. Since the trial's start in 1958, this has been a tradition. Thousands of people have finished their journey by going ceremoniously onto the bridge. This is the place and time to congratulate one another and snap photos.
The Polly Ann Trail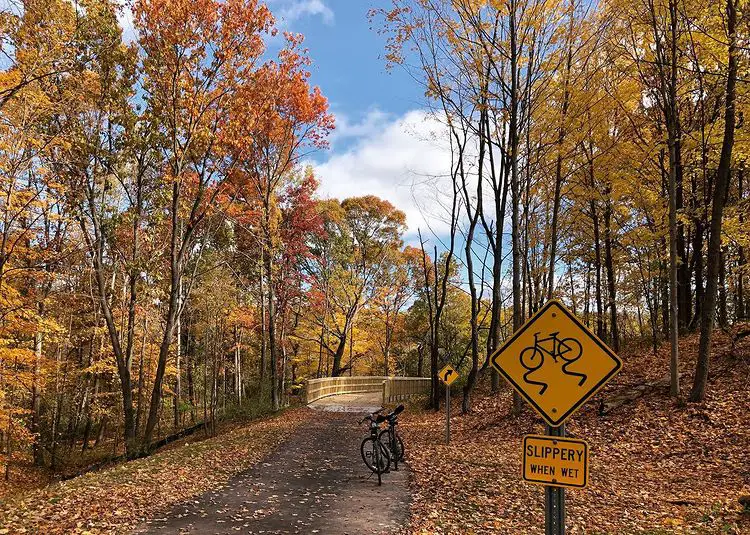 The Polly Ann Trail is a major non-motorized trail in Oakland County extending north from Orion Township. This trail is located in suburban Detroit and runs from Macomb County to Oakland County.
The Polly Ann Trail is 56 miles long, and it offers a variety of scenery for hikers to explore along the trail. . The trail was built on the abandoned Pontiac, Oxford & Northern Railroad that originally ran from Pontiac to Caseville. The trail name comes from the debatable nickname for the PO&N which folks called Poor Old and Neglected. The last time the railway operated was in the 1980s.
It starts at Lake Orion, a small town center where people can stop for food or fill up their water bottles before heading out on the trail. There are also plenty of places to park so that hikers can enjoy other outdoor activities around the area, as well as
Lakelands Trail State Park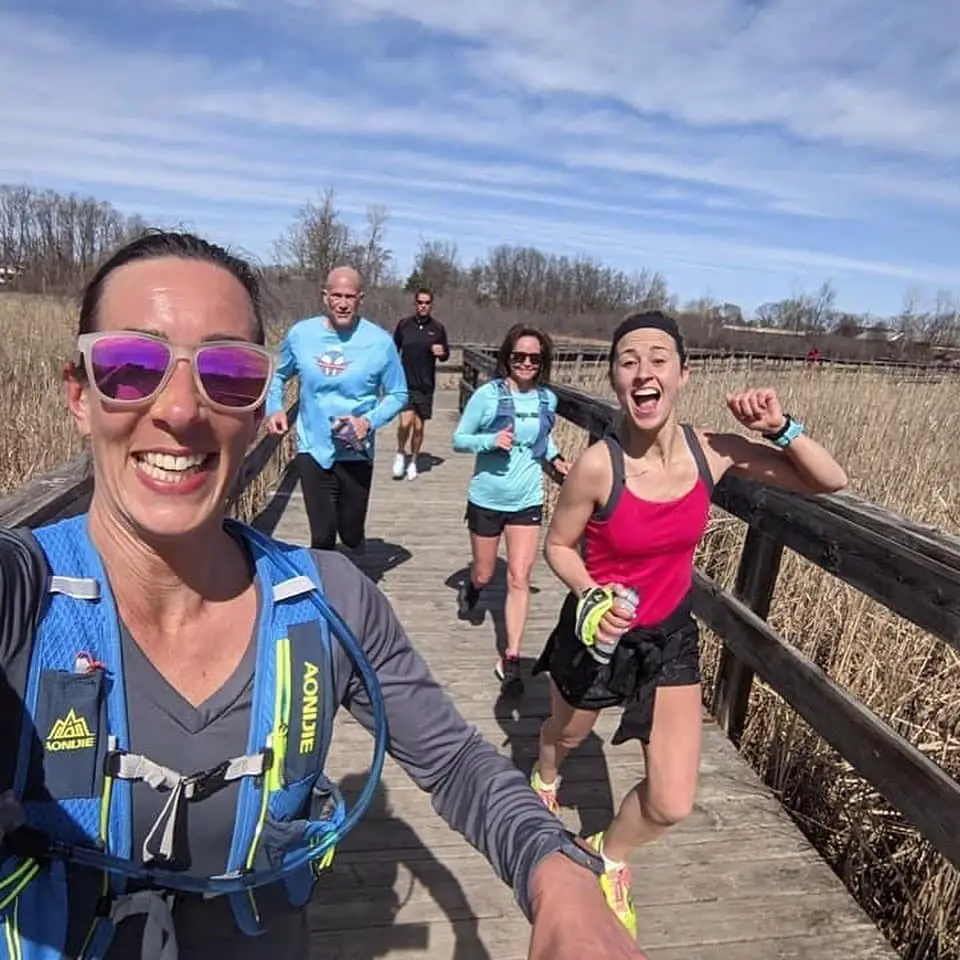 Mike Levine Lakelands Trail State Park is a 34-mile-long linear trail that stretches between Ingham and Livingston counties and passes through woods, pastures, picturesque wetlands, and the beautiful Huron River. This multiple-use trail is suitable for biking, walking, running, and equestrian use.
The trailhead entry points are:
Trailhead locations:
Stockbridge Trailhead (M-52 and S. Center St, Stockbridge, MI 49285)
Gregory Trailhead (188 Main St, Gregory, MI 48137)
Pinckney Trailhead (499 Pearl St, Pinckney, MI 48169)
Pettysville Trailhead (Pettysville Road and M-36, Hamburg, MI 48139)
Hamburg Trailhead (10699 Hamburg Road, Hamburg, MI 48139)
It is one of five linear state parks in Michigan's state park system that were created from abandoned railroad corridors.
The Sand Ridge Indian Trail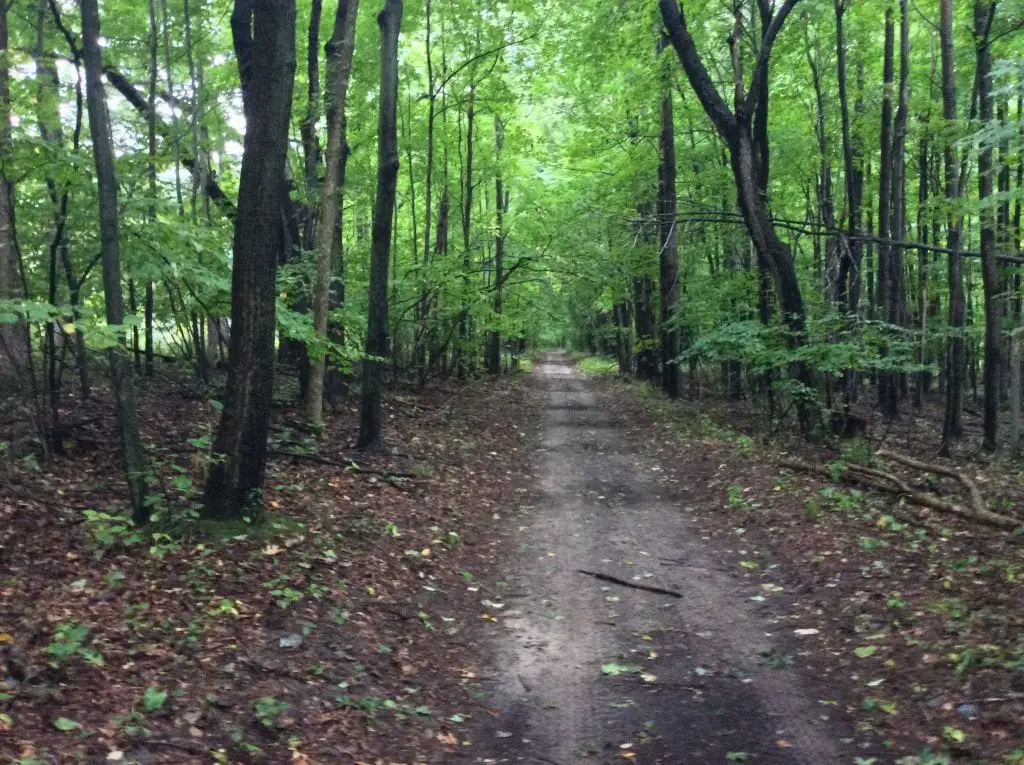 This final hiking trail isn't on any map but should be. The SandRidge Indian Trail is a 17-mile trail consisting of a route utilizing primarily the unimproved "Sand Road" between Caseville and Port Austin in Huron County. At one time this American Indian Trail was a hunting and gathering route in the summer for tribes in the Saginaw River Valley villages. Today most of this route is covered in concrete and called M-25 or Port Austin Road.
This small portion of the ancient trail starts in Caseville on State Street at the Dairy Queen and runs east. It takes you through the southern edge of Albert E. Sleeper State Park and through Rush Lake State Game area as a rough two-track road mostly used by off-road vehicles.
When crossing State Park Road and entering Rush Lake, use caution and wear hunters orange during hunting season. There is a marked path just south of the two-track road with blue markers. It takes you along the dune ridges and is great to avoid off-road vehicles entering the area. 
The route continues northeast along gravel roads skirting Port Crescent State Park before continuing east and terminating in Port Austin. It's a great day hike and one we hoped will be marked and developed.