The Washington Post published an article this week that signaled an ominous warning. "Earth's lakes are warming at a feverish pace, with the Great Lakes leading the way" It's looking more and more like the Great Lakes water temps are experiencing setting new records due to the effects of higher temperatures in the region.
Lakes in the Northern Hemisphere have warmed six times faster in the last 25 years than at any previous time in history. Michigan's Water temperatures in all five Great Lakes have been hovering at record-high fall levels since October, roughly five to six degrees above average. This comes on the heels of very high-temperature rises throughout the summer.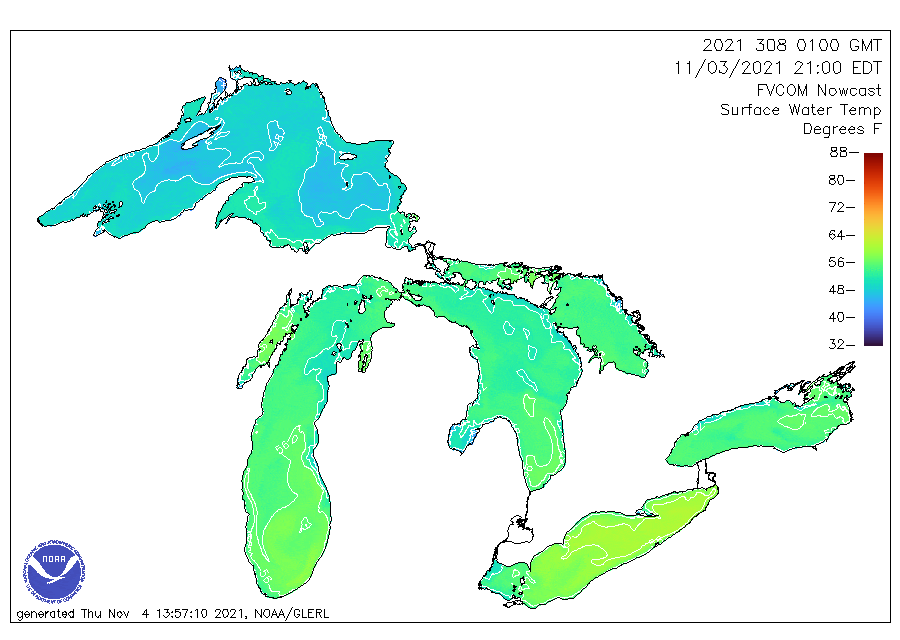 The record-warm water temperatures across the Great Lakes fall into a global pattern of warming lakes, which are being propelled upward as human-caused climate change pushes air temperatures to record highs. Lake Superior is one of the fastest-warming bodies of water on the planet.
Lake Superior Water Temperature At All-Time High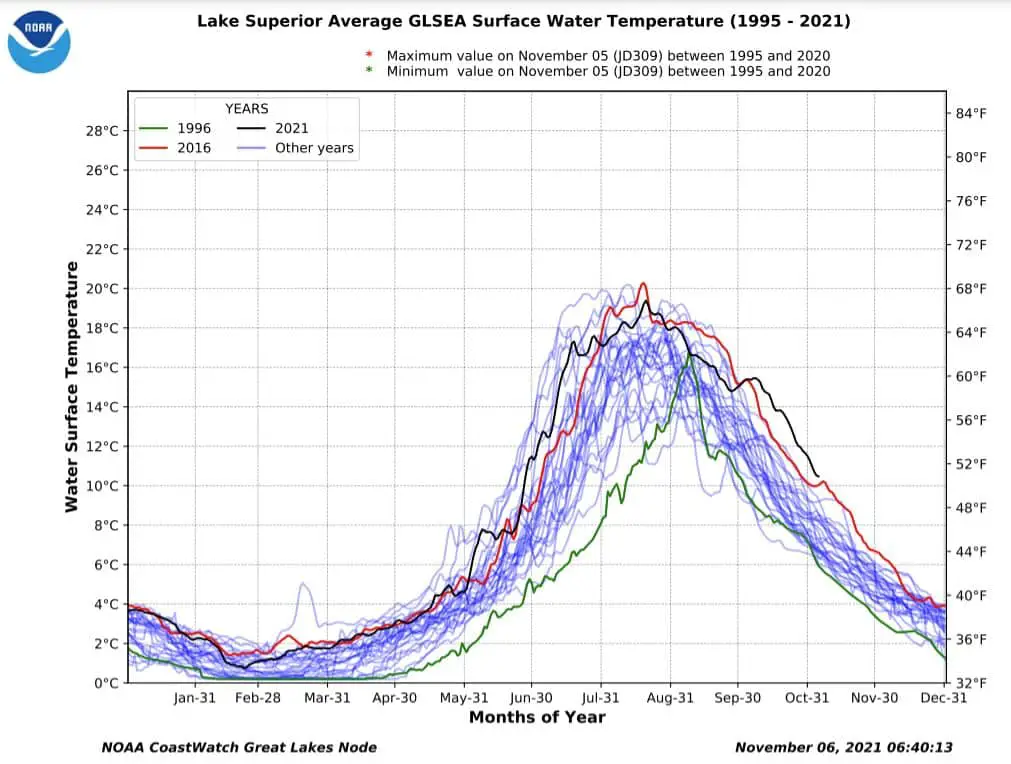 With an average temperature of roughly 59°F, Lake Superior is at an all-time high for this time of year. This might be due to a combination of circumstances, including a record-warm summer, increased cloud cover, no major storms mixing cooler water from below.
Since the summer, abnormally high air temperatures have raised Great Lakes water temperatures. October was exceptionally warm, with air temperatures at land sites around the lakes ranging from 5 to 10 degrees above long-term norms. October was the hottest on record in a number of areas.
Ice Cover Could be Reduced in the Future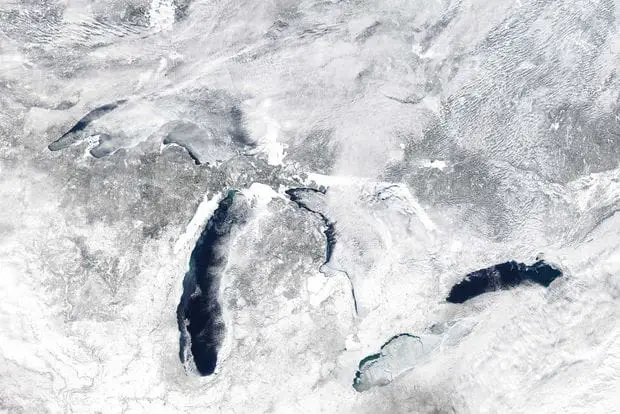 "If we continue to generate greenhouse gases at current rate, Lake Superior would not freeze after the 2060s," said researcher Sapna Sharma. "After the 2060s, Lake Michigan will not freeze." Sharma, an associate professor at York University, has been studying ice for over a decade. Sharma co-authored a startling article entitled "Forecasting the Permanent Loss of Lake Ice in the Northern Hemisphere Within the 21st Century"
Warmer water temperatures are causing ice to form later in the year and terminating the ice season early. According to the study, lakes lose around 17 days of ice cover every century on average. The lakes were frozen 11 days later and thawed seven days sooner.
More Lake Effect Snow Expected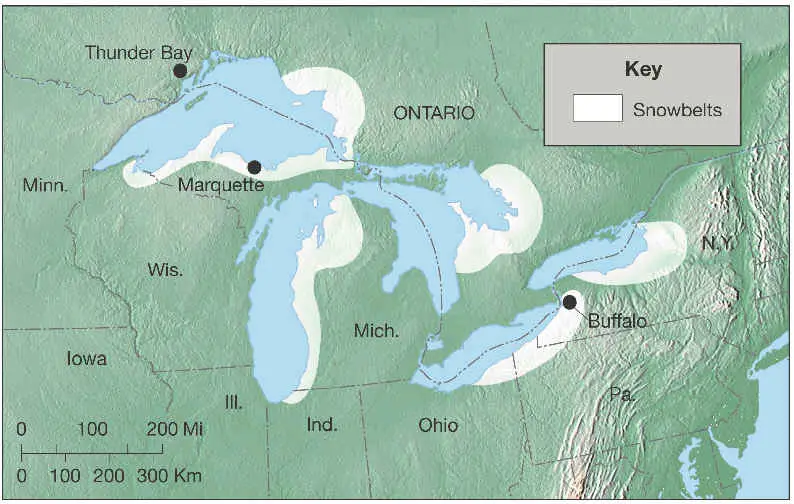 The National Weather Service in Duluth Minnesota noted that due to a warmer Lake Superior "the lake is definitely primed for a good lake effect snow set up. All that warm water is potential energy for precipitation production. A warmer lake could also potentially lead to a longer lake effect snow season, as it will take longer for the lake to cool off to freezing temps and begin to create ice cover."
Great Lakes Heat Up in 2020
Weeks of hot weather, scant precipitation, and low winds have pushed the water temps into near-record temps in four of the five Great Lakes. Lower Saginaw Bay is expected to reach 80F later this week.
NOAA is reporting that water temperature is running 6 to 10 degrees above normal, resulting in setting new records on lakes Michigan-Huron, Erie, and Ontario. The biggest surprise is Lake Superior with water temps near 70F along the western shore near Duluth, Ashland, and Ontonagon.
Lake Huron, Saginaw Bay Water Temperature Forecast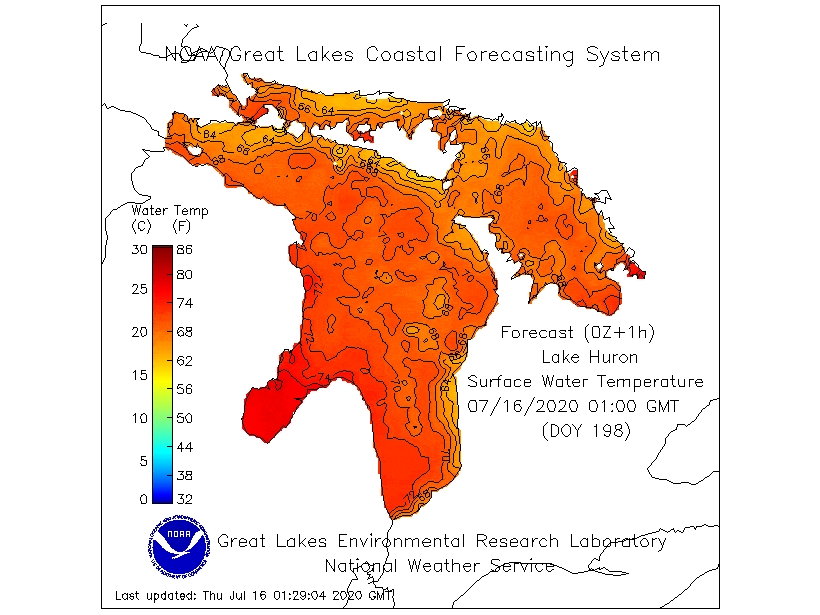 NOAA's surface water temperature forecasts show the entire southern Lake Huron basin hovering around the upper 70's. This makes for pleasant swimming but curbs its temperature moderation along the shore. Area temps along the Lake Huron shore can typically be around 10 degrees cooler than inland. The record surface temps will undoubtedly impact that moderating effect.
But Will It Mean Smelly Muck from Blue-Green Algae?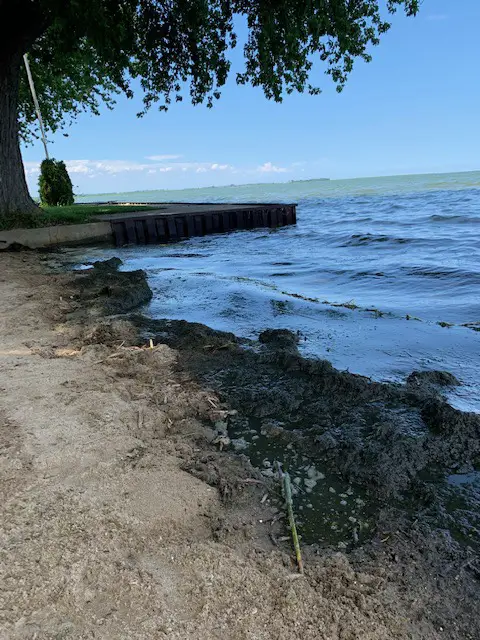 There is a concern that the record-setting Great Lakes water temps could lead to the growth of cyanobacteria; specifically with high Saginaw Bay water temps. With clear water, sunlight manages to penetrate the depths and grow the algae at the bottom of the lake. When algae die it floats to the surface and acts like a sponge, capturing E.coli and fecal runoff from farm fields sprayed with animal waste and overflow septic systems. The first reports of the smelly black muck were reported near Nayanquing Point State Wildlife Area on the western edge of Saginaw Bay. However, if the lack of rain continues then the risk of an algae bloom is reduced.
More Lake Effect Snow A Possibility
If the warm temperatures continue to rise the surface temps of the Great Lakes it's possible that more lake effect snow may occur, particularly in Michigan's Upper Thumb. If the lakes don't freeze over during the winter months the open water provides cold prevailing winds a source of moisture for snow. Open water along three sides of Huron County at the tip of the Thumb could mean a very snowy winter.
Related Exploring
Michigan Offers Strong Voice on Climate Change
Michigan Climate Change Measurable In Huron County
Lake Effect Snow – How Does It Happen
Are the Great Lakes a Microplastic Soup With PFAS On the Side?
Get Five Decades Of Great Lakes Ice Cover Data