Once a year, my wife and I get together with friends and to find a small Michigan craft distillery to sample and vineyards. We venture up to Traverse City and over to Southwest, Michigan. While it's a bit of a drive, we love to get together with our old chums and share updates of our adult kids and our exploits of the past year. We utilize the safety of a little tour bus to each winery. The weekends end with hugs and promises that we should all get together more than one time a year. I'm pleased to say that I'm sure that same "wine tour" potential is coming to the greater Thumb area. We have two of those potential stops here in Caseville.
---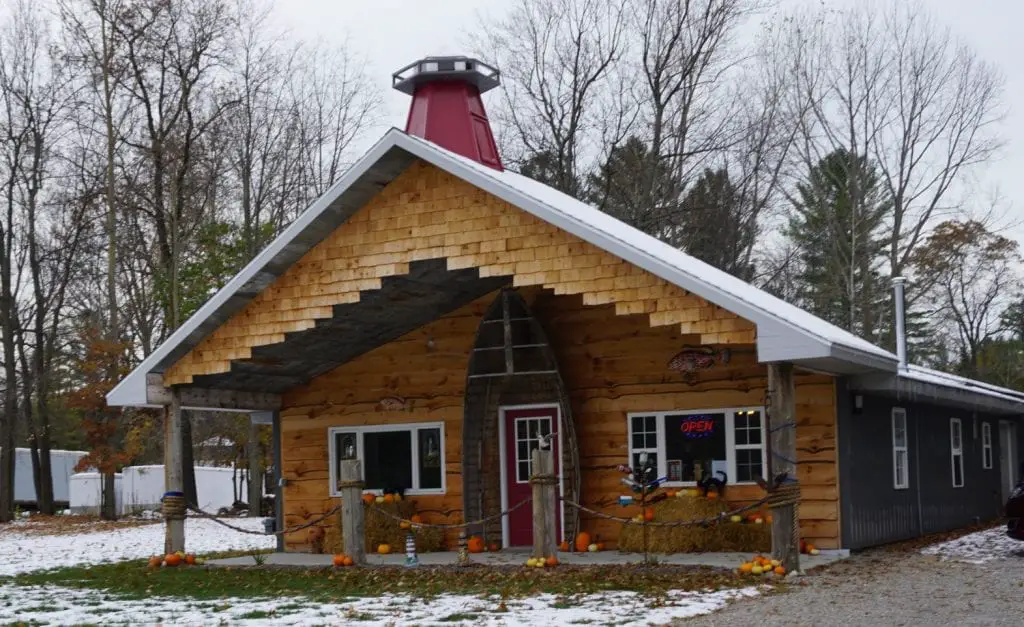 ---
We ventured out in an early snowy weekend afternoon with friends to the Shipwreck Distillery just outside of Caseville. We had heard that this shop had opened in 2018 but failed to venture over to check it out. Yeah…we missed out. Now that we know about this little gem we have some catching up to do.
---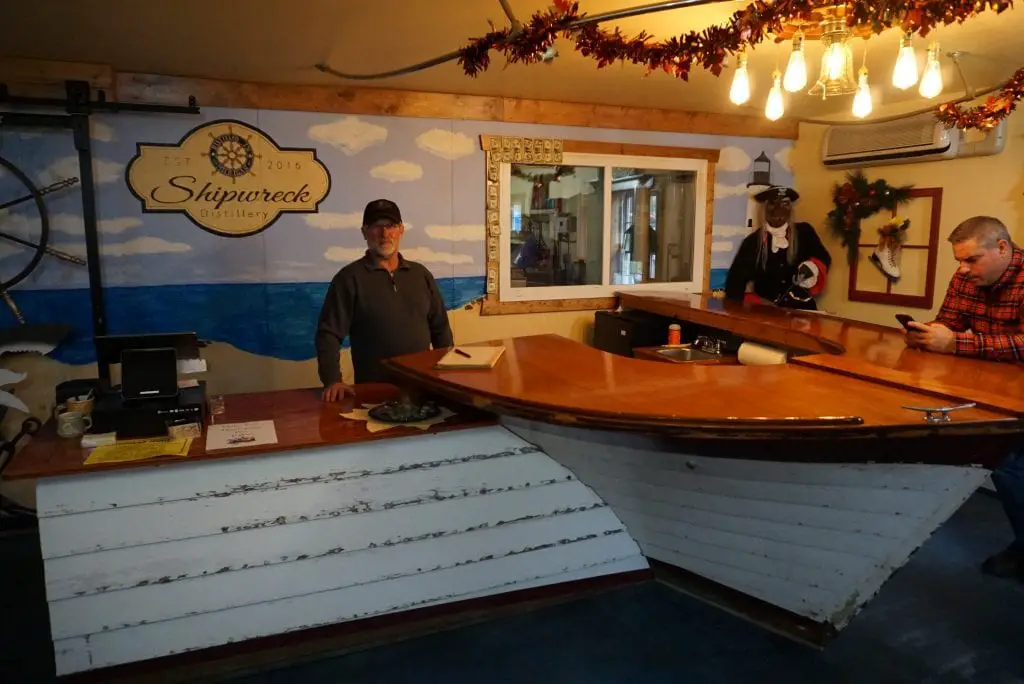 ---
This Michigan distillery has a nautical motif. You're greeted with a full-size cabin cruiser perched on rocks in the front. Once inside, you belly up to a full polished bow of an old boat towed over from Algonac that fronts the tasting bar. The cozy shop is warm and inviting.
---
Spirits Abound in Caseville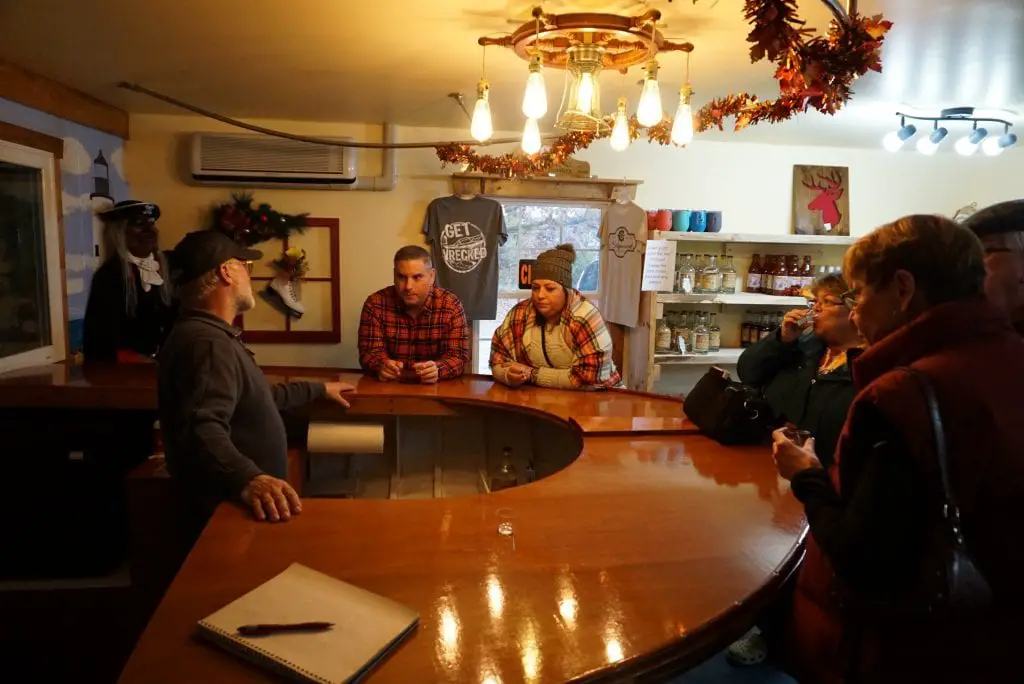 ---
Jim Stein is the owner and has been experimenting with creating fine spirits for many years. The idea originated from his uncle, Ron Stein, who lived in a dry county in Mississippi. Ron reached out to his nephew to start this Michigan distillery, and together they created their first batch of micro-distilled premium spirits in May 2018. We had tastings of seven of Jim's creations.
Sandy Beach Vodka – Made and distilled from local grains of the thumb region. The batch we sampled came from Croswell.
Sugar Sand Vodka – Very smooth and silky. Made from locally grown sugar beets.
Rum – By law, rum is made from cane sugar. This spirit is from a mix of cane products.
Key North Coconut Flavored Rum – A special favorite. Flavored with real shaved coconut the liquor is ever so slightly sweet and imparts a tropical flare. A sure winner in the upcoming Cheeseburger in Caseville seasons for frozen daiquiris.
Founding Fathers Rye Whiskey – A true American original. This recipe came from Mt. Vernon and supposedly is George Washington's famous recipe. Washington had the largest distillery operations in the colonies.
Wild Fowl Bay Aged Whiskey – A very smooth and mellow tasting spirit that will be great for cold nights and hot toddies.
Bay Breeze Gin – While I'm no fan of gin, I was pleasantly surprised at the gentleness of the juniper and coriander. A perfect choice for sipping.
One item we didn't get to sample was the bourbon. Jim is currently at work aging his new Marine Bourbon in oak barrels at the back of the shop. It's been aging on-site for almost two years and it's expected to be ready in February 2021.
---
Craft Spirits and Bakery
---
The shop is also home to the High Seas Sweets. Carol Stein makes a great assortment of baked goods, pies, and cookies. They seem to fly off the shelves as there is no other bakery in Caseville. They take orders and based on the inventory movement the bakery does a brisk business.
---
A Foundation for Future Wine, Brewery, and Michigan Craft Distillery Tours
---
While the Thumb is currently no match for the number of vineyards clustered around Southwestern Michigan and Mission Point, we do have a history. The entire western edge of Huron county was recognized as a perfect fruit-growing region in the 1800s. The temperate weather offered by the protection of Saginaw Bay mimics that which the entire west coast of Michigan enjoys. Indeed, much of Huron county sits on the same latitude as the Bordeaux, Rhone Valley, and Province wine regions of southern France. It's only a matter of time before the grains and vines make their way here. This little Caseville tasting distillery is a great start.
The Shipwreck Distillery is located just south of Caseville on 4895 North Caseville Road in Caseville.
---
Craft Brewers, Wineries and Vineyards in the Thumb
Michigan Craft Distilleries Map
---
Related Spirited Michigan Craft Distilley Reading
13 of the Best Attractions in Michigan Thumb – With over 90 miles of shoreline, Michigan's Thumb offers some of the top Michigan tourist attractions. There is always something to do or see near the tip of the Thumb. Most of these attractions and sites are free to access.
15 Amazing Things to Do In Port Austin – Port Austin Michigan is the Art and Cultural Center of the region with its galleries, Studio Tour Weekend, Labor Day's Art in the Park, and yearly Porch Concerts. But there is much more to see and do at the tip of the Thumb.
Michigan Road Trip on M-25: Riding A Ribbon Around the Thumb – A favorite Michigan road trip for motorcyclists is the Michigan State Highway M-25. It's a 147-mile scenic two-lane trunk line running from Port Huron to Bay City, Michigan. Bikers like the drive as it offers many places to turn off for a rest, find a biker friendly place to eat, or take a bit of shelter during a storm.
Caseville Helping Hands Thrift Store – Some time ago we posted a picture of Caseville Mercantile. The shot was from the late 1800s and we had a hard time placing it until someone mentioned that it was the general store was now the Helping Hands Thrift Shop on Main Street in Caseville. This is a mission of the Caseville United Methodist Church and is one of the most highly rated thrift shops in the region according to ratings on Yelp and Google.
Remembering Circus Parades in Michigan of the Early 1900s – Until about 1920, the day the circus arrived at the local train station was considered a sort of holiday. A festive atmosphere would ensue for kids in town. All the circus performers, animals, tents, and large impressive gilded wagons were unloaded and formed into an impromptu parade through town en route to the town's fairgrounds.
Grindstone City's Mr. Grindstone and Tourist Information Center – We came across this undated photograph we think was shot in the 1970s. It was undoubtedly a humorous attempt to get tourists driving by to stop and take a look and maybe take a selfie with Mr. Grindstone. Of course, this was many years before the smartphone was invented.
---