We came across this undated photograph we think was shot in the 1970s. It was undoubtedly a humorous attempt to get tourists driving by to stop and take a look and maybe take a selfie with Mr. Grindstone. Of course, this was many years before the smartphone was invented.
Regardless, it's another example of a quirky Thumb roadside attraction that we find irresistible and must stop and take a look at. The Mayor's office and City Jail is a nice touch.
According to the sign on the Grindstone City's Mayor's office, "Plin T Peace" is the mayor, and "Ann Quiet" is the Police Chief at the time. I wonder if they really gave out Free Souvenir Grindstones.
Also, the town's year of establishment in the photo looks to be a bit aggressive. We show Grindstone City founded that same year the Michigan territory was admitted to the union as a state; 1838. This was a mere four years after the schooner Rip Van Winkle, captained by Aaron Peer, came into a natural harbor west of the Pointe Aux Barques Lighthouse in 1834. After anchoring and securing his ship, the crew explored the dense virgin forest and rocky beach for shelter and firewood.
The tall cedar canopy was so thick that snow remained in places even though it was midsummer. The men came across huge flat rocks lying about the shore and forests. Captain Peer took some of the pieces of this flat stone to Detroit. They found the samples to be impeccably suited for paving streets, replacing Ohio flagstone as the preferred surface.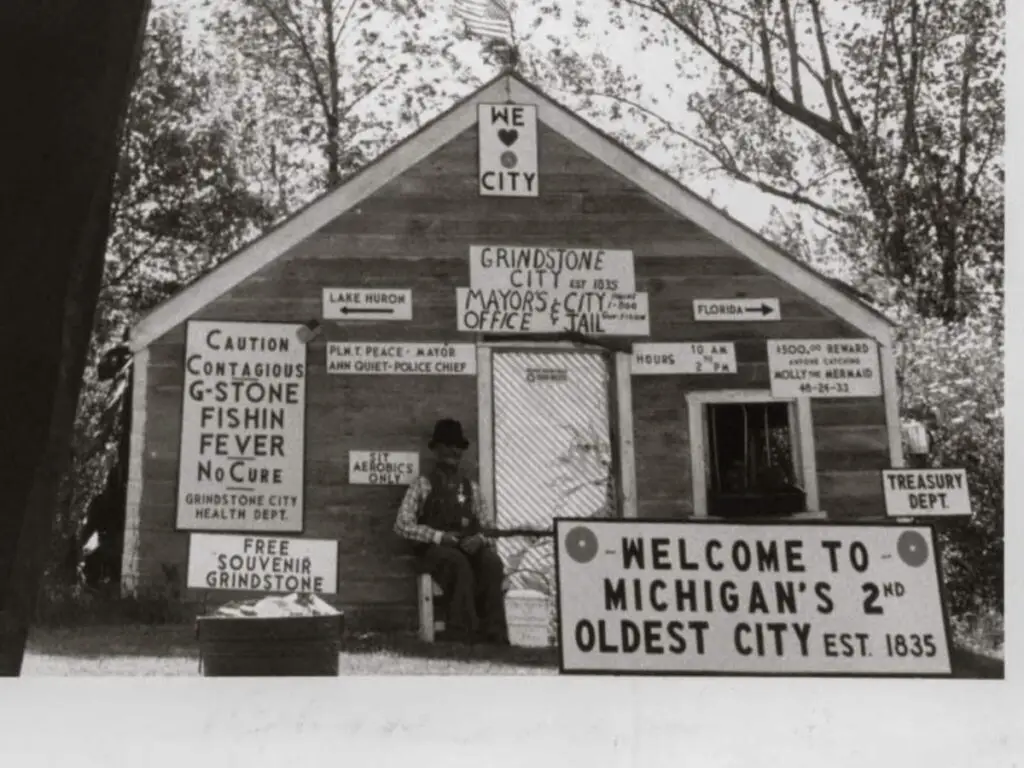 We are not sure exactly where this building was located and who was behind the effort. Never the less it's an ingenious example of one way to market your little hometown. One of our readers pointed out that this building was gone by 1975 and replaced by a pole barn.
There's a RACCOON CAFE in Seoul!? - South Korea Vlog
There's a RACCOON CAFE in Seoul...
According to the website Roadside America, Michigan has a bunch of various roadside attractions. Some historical, some eclectic, and some plain weird. These attractions give character and provide a unique reminder for folks to keep coming back.
If someone knows who took these photos let us know. We would like to give credit and learn more.
Related Grindstone City Reading
14 of the Best Michigan Tourist Attractions in The Thumb – With over 90 miles of shoreline, Michigan's Thumb offers some of the top Michigan tourist attractions. There is always something to do or see near the tip of the Thumb. Most of these attractions and sites are free to access. A full day of fun can be had just finding and exploring things to do in Michigan's Upper Thumb.
History of Michigan Thumb's First Industry at Grindstone City – The history of Grindstone City starts with a ship seeking shelter from a Lake Huron storm. The schooner Rip Van Winkle, captained by Aaron Peer, came into a natural harbor west of the Pointe Aux Barques Lighthouse in 1834.
Michigan Day Trip Around the Thumb – Part Two – Our starting point for the second half of our fun day trips in Michigan adventure is in Grindstone City. We will begin heading west along Saginaw Bay's shore of sugar sand beaches and interesting coastal towns and villages. I hope you brought your bathing suit because this side of the Thumb offers some of the best swimming beaches in Michigan.
Grindstone City – The Thumbs First Industry – In the mid-1800s, many quarries were opened in the area, and the Marshall Sandstone was used for building purposes. In the late 1800s, Grindstone City was one of the first flourishing industry towns and produced the world's largest and finest grindstones.
Grindstone City – White Church Gallery – Opened in 2015 the White Church Gallery was the sole art gallery in the Thumb. The uniqueness of the restored church and remoteness of location makes it an amazing place.
Secret Spots and Amazing Vistas of Au Sable River Road Scenic Byway – Located just north of Tawas, the 22-mile River Road Scenic Byway runs west from the shore of Lake Huron along the historic Au Sable River.