An amazing number of notable individuals have come from, summered, or lived their lives in Huron County. From the frontier and lumbering days through the New Deal, Huron County has been the home of many famous and notable individuals. This sample of some famous people from Michigan all lived or spent time in Huron County. Some rose to the occasion by persevering through a personal crisis, while others became captains of industry, academics, religion, and politics.
Catherine Shook – Michigan's 1st Woman Lighthouse Keeper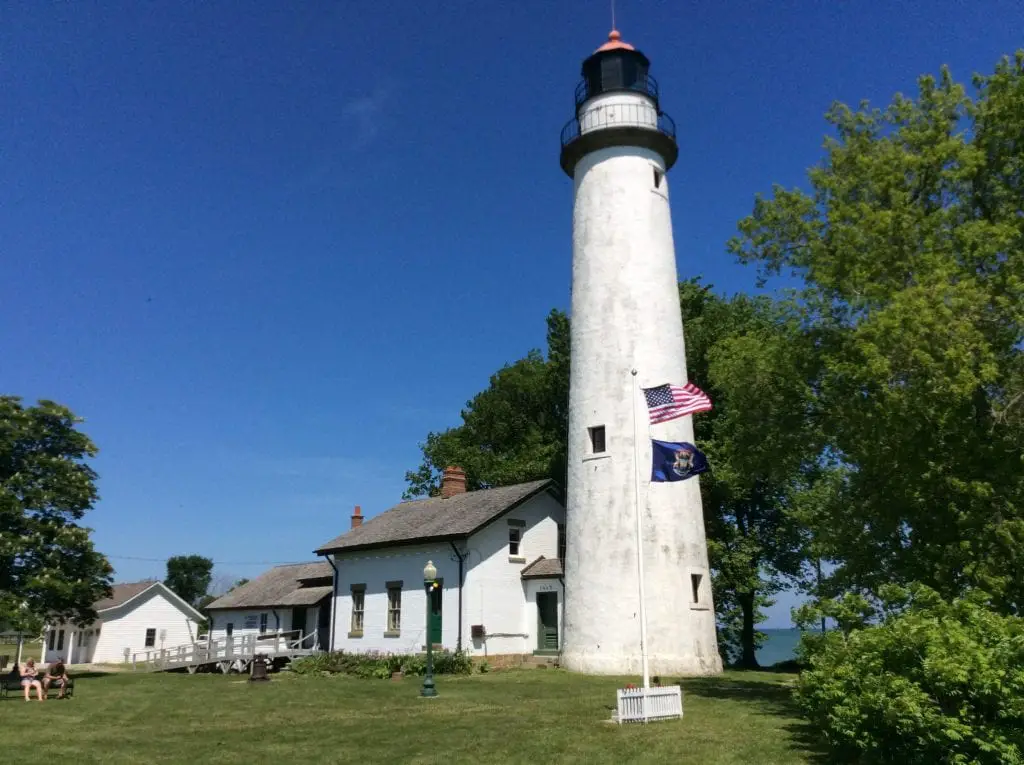 In 1849, Catherine Shook was appointed the first female lighthouse keeper in the State of Michigan. After his vessel capsized and drowned, she replaced her husband as keeper of the Pointe Aux Barques Lighthouse. When Peter Shook died, he was survived by his wife Catherine and their eight children. She ran the Pointe Aux Barques Lighthouse until 1851.
Due to poor health, Catherine Shook was unable to continue her role. Thus Michigan's first woman lighthouse keeper resigned from her position in 1851, and she died nine years later. She was buried next to her husband in the Oakwood Cemetery in New Baltimore, Michigan. In the early days of Michigan's lumber shipping era, her service places her as one our first famous person from Michigan.
Frank Murphy – Michigan Governor and Supreme Court Justice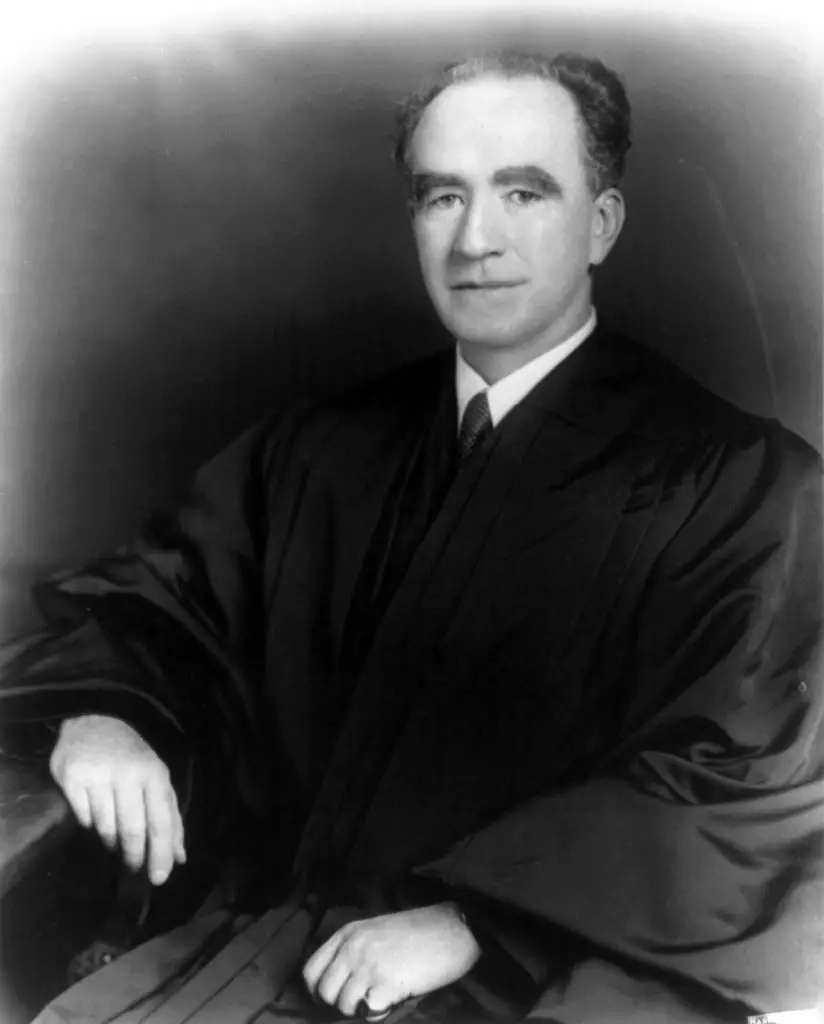 Frank Murphy was born on April 13, 1890, in Harbor Beach, Michigan. His education was attained at the University of Michigan, where he earned his undergraduate degree in 1912, and his law degree in 1914. He later attended graduate classes at Trinity College in Dublin and at Lincoln's Inn in London.
Frank Murphy saw action in both World Wars, serving as a first lieutenant and later rising to the rank of lieutenant colonel. After his military service, he secured an appointment as the first assistant U.S. attorney for the Eastern District of Michigan, which he held from 1919 to 1920. He also served as judge of the Recorder's Court from 1923 to 1930, was mayor of Detroit from 1930 to 1933, served as governor-general of the Philippine Islands from 1933 to 1934, and was the U.S. First High Commissioner to the Philippines from 1935 to 1936.
His final act was his appointment to the United States Supreme Court by Franklin Delio Roosevelt. He held this position from 1940 until he died in 1949. Before his placement on the country's highest court, Murphy served as mayor of Detroit, governor of Michigan, and the United States Attorney General. Frank Murphy's service and early work in Huron county make him one of our favorite famous people from Michigan.
William L. Potts – Inventor of the Modern Traffic Light
William L. Potts, born in Bad Axe, is credited as the creator of the current traffic light. By 1920 the outmoded green and red lights were in use but did not leave drivers sufficient time to stop traveling at higher speeds.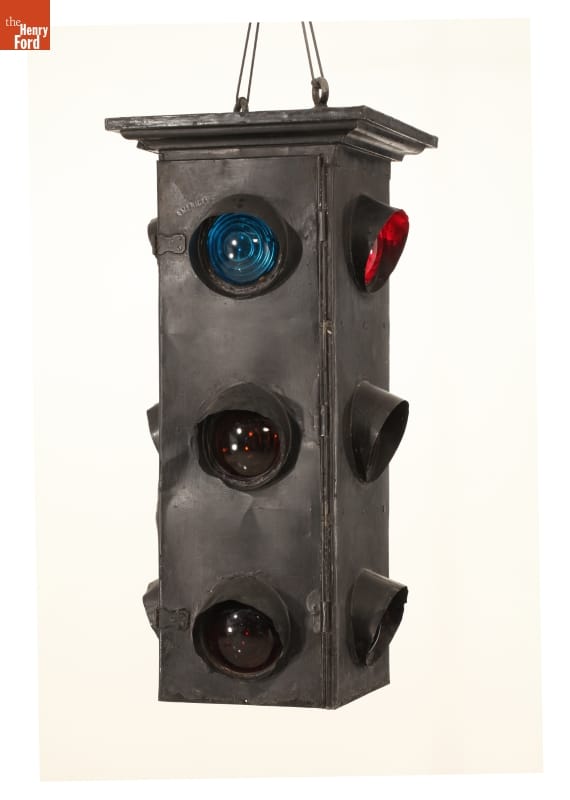 Potts was a Detroit police officer who designed and created the three light green, yellow, and red light systems. His first traffic light was placed in Detroit at the intersection of Woodward and Michigan Avenues.
William Lyon Phelps – Author, Educator & Religious Leader
In 1883 Billie Phelps, a young man in his teens first appeared at Huron City. Soon he was identified with the activities of the youth. He was captain of a victorious baseball team. In this church, in 1887, he preached his first sermon at the age of 22.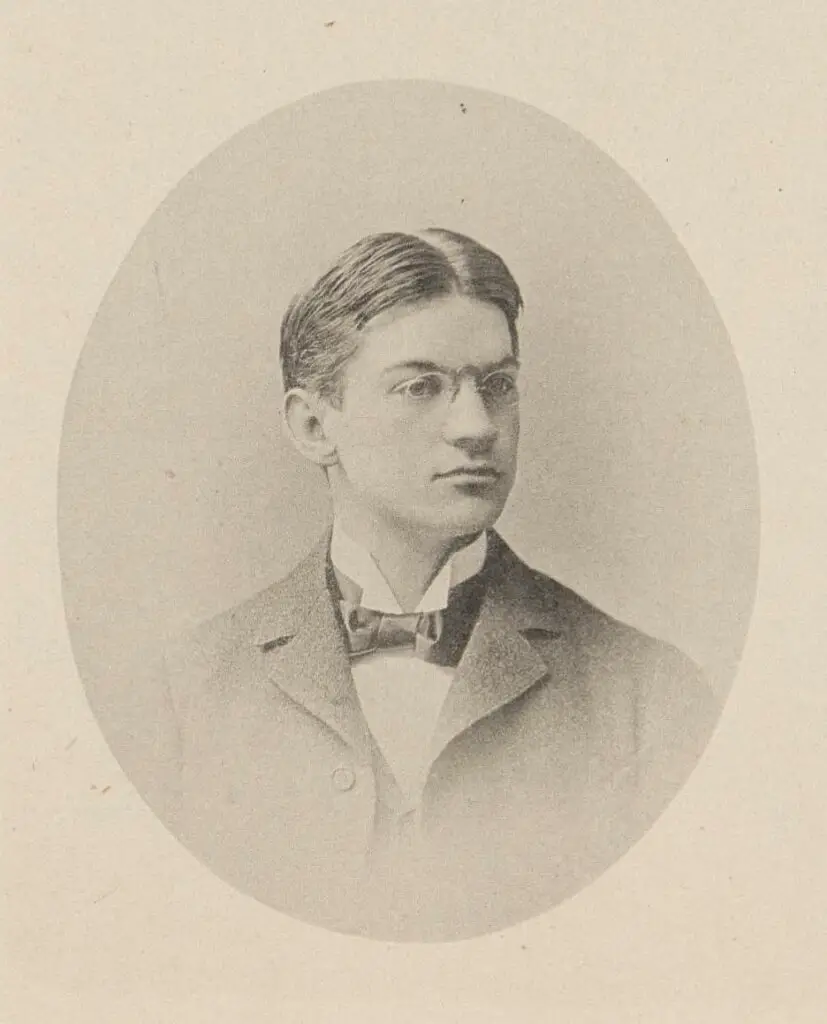 Dr. Phelps's notoriety started during his first year as a Yale instructor. He offered a course in modern novels. Considered a major change from studying classic literature, this course got attention from the international press. This publicity was unwelcome from his tenured Yale peers.
He became internationally known as Professor William Lyon Phelps, English Literature Professor at Yale University. "Author, scholar, teacher, distinguished patron and critic of literature, music and the domestic arts, he is not only the son of a minister, but himself ordained to preach." His sermons each Sunday at Huron City's church drew people from all over the state each summer.
Langdon's daughter Annabel Hubbard married William Lyon "Billie" Phelps in 1892, and the couple vacationed summers in Huron City almost every year until Annabella died in 1938.
Harvey Firestone – Early Automotive Pioneer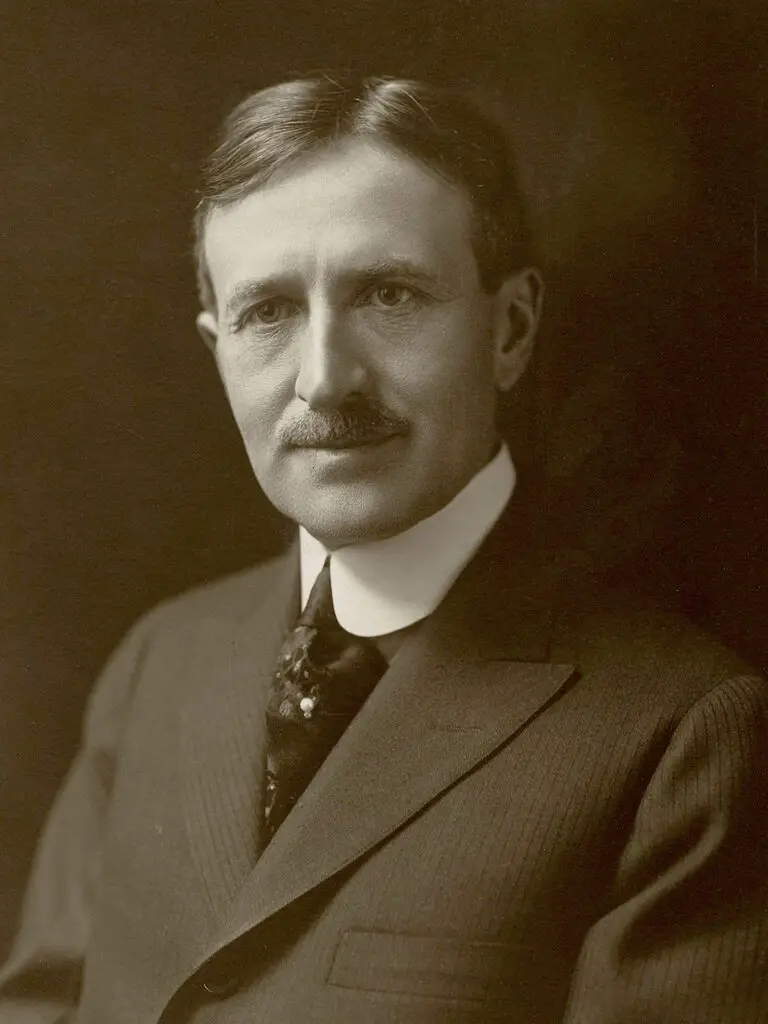 Harvey Firestone was the founder of the Firestone Tire and Rubber Company. The company was one of the initial makers of automobile tires. Harvey Firestone owned two cottages in Huron County and summered at Pointe Aux Barques for many years. Firestone's Linwood Cottage at Pointe Aux Barques is considered one of the community's finest.
Edgar A. Guest – Poet & Radio Personality
Michigan poet, Detroit Free Press reporter, writer, and NBC radio and TV personality Edgar A. Guest spent summers at his cottage in the Pointe Aux Barques community. Guest was born in Birmingham, England, in 1881. His parents immigrated to Detroit in 1891. In 1895 Edgar was hired by the Detroit Free Press at the age of 14; by the time he was 17, he was a reporter.
One of Edgar's early jobs was to glean short filler stories from other papers. Many of these short pieces were verses, and Edgar tried his hand with poetry. In 1898 his first poem was published by the Free Press. The subscribers loved it. Soon he was writing a weekly and daily column, and it was syndicated to over 300 newspapers across the country.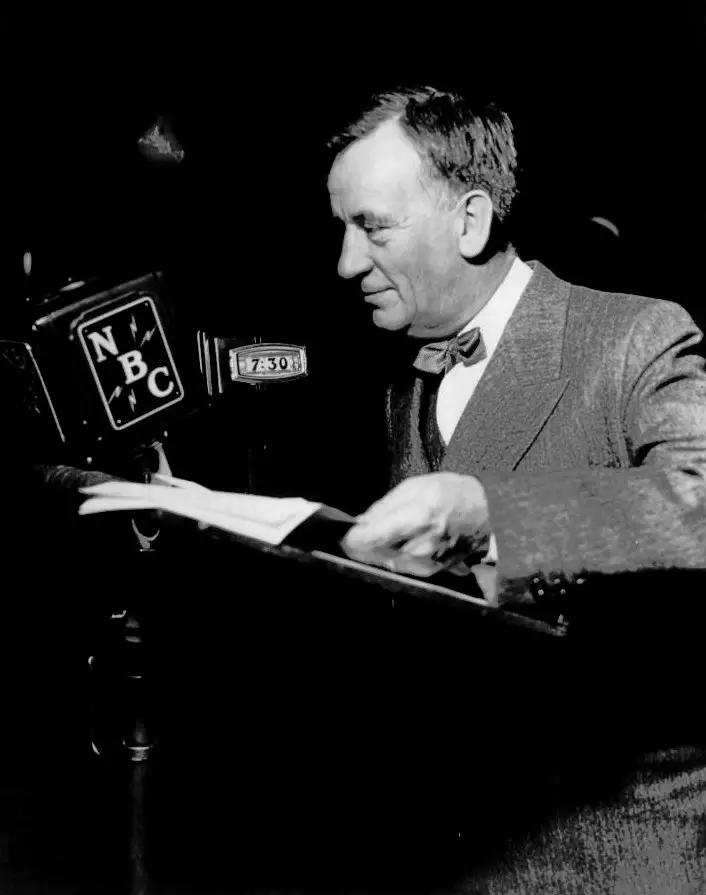 NBC Radio broadcasted Edgar Guest each week from 1931 to 1942. In 1951, Guest was an early television pioneer with NBC with his show, "A Guest in Your Home."
After a career of reporting and authoring several books, the Michigan Senate passed a resolution naming Edgar A. Guest as Michigan's Poet Laureate. He held this title from 1952 until he died in 1959. He was Michigan's first and, so far, only Poet Laureate until naming Russell Thorburn as the UP Poet Laureate in 2013. Guest's long career in journalism and early radio and TV make him a prime example of a famous person from Michigan who loved Huron County.
William L. Clements – Bay City Businessman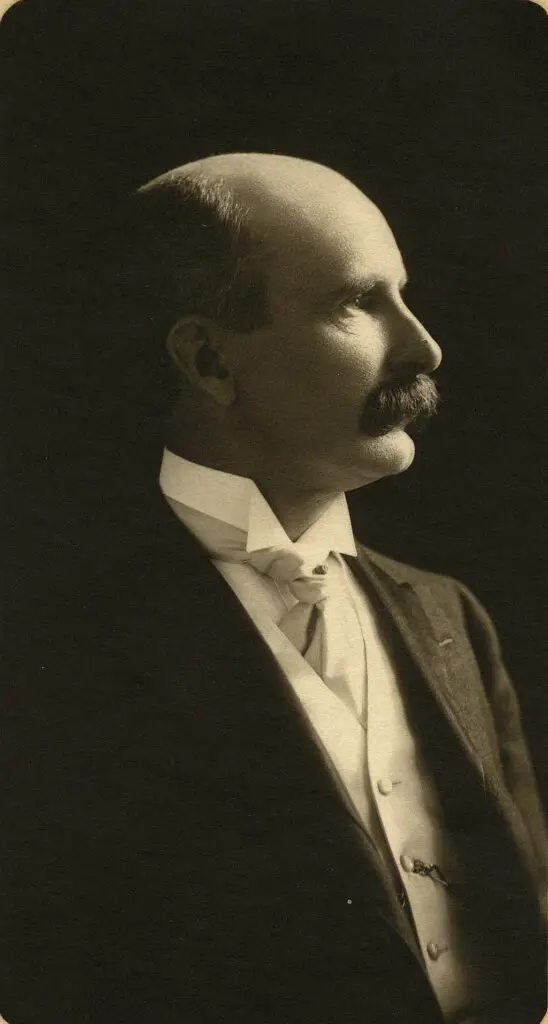 Another famous Michigan resident who favored Huron County was William Lawrence Clements. Clements was an engineer at Bay City Industrial Works, a company that devised and produced hoists, steam shovels, and cranes. By the age of 37, he was president of the company. Bay City Industrial Works manufactured the construction equipment to create the Panama Canal and became one of Michigan's most profitable companies.
Clements was an early resident of Pointe Aux Barques and listed in the 1912 directory of cottage owners.
An avid reader and book collector, he directed a large part of his fortune to collecting Americana books from Europe and North America. His collections and funding were used to found the William L. Clements Library at the University of Michigan. He served as a regent of UofM for twenty-four years.
Clements died of a heart attack in his home on Tuesday, November 6, 1934
James Garfield – President of The United States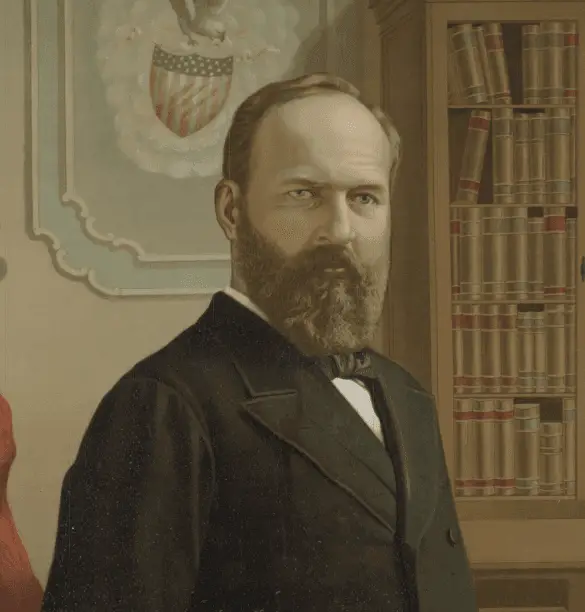 Before becoming the 20th President of the United States, James Garfield like to spend time in Port Austin, Michigan. The Garfield Inn was named for this famous visitor as Garfield did not build or own the landmark 1850s Inn -But he was a rather frequent visitor. Local lore states that Garfield gave a speech at the Inn to kick off his campaign for President.
James Garfield was a friend of Maria Learned. Maria was the wife of Charles Learned. Garfield's close association with the Learned family and his devotion to Maria were documented in his personal diary. Garfield and Maria died within months of each other in January 1881 of tuberculosis and, he from an assassin's bullet in September 1881 after only six months as president. As Garfield lay mortally ill, he asked to travel to Port Austin and recover in the Learned home. That same month the devastation of the Great Fire of 1881 occurred in Huron County.
While Garfield was born in Ohio, his time in Port Austin and his dying wish to return gave the President an honorary title of other famous people from Michigan.
---
Like Our Little Stories? Become a Subscriber
---
Other Reading and Exploring Famous People From Michigan
Famous People From Michigan On Amazon
Images on this page may contain affiliate links in which we may receive a commission. See our affiliate disclosure for details.