Update: Ontario has withdrawn proposed Canada nuclear waste site in Bruce after First Nation votes 'no' on nuclear waste storage in Bruce County, Ontario
In 2007, the Canadian government established the Nuclear Waste Management Organization. Its goal was to develop a plan and a list of proposed sites to contain all of the country's used fuel in one deep geological repository. The waste contained on this site would include the most toxic and radioactive materials from Canada's nuclear power plants. In addition, the spent nuclear fuel rods stored on the site would be toxic for millions of years.
Thumbwind Publications Reaches Out On Canada Nuclear Waste
In September 2019, Thumbwind reached out to Honourable Catherine McKenna, Canada's Minister of the Environment and Climate Change. We inquired about the process Canada used to determine site selection that Ontario Power Generation used for placing a full-service nuclear waste repository near the shores of Lake Huron. One site being considered was at the Bruce nuclear power plant near Kincardine, Ontario. This location is less than 70 miles away from the shores of Michigan's Thumb region.
Canadian Government Responds
We received a response from the Vice President of the Impact Assessment Agency of Canada, Terence Hubbard. Hubbard confirmed that Canada would be using a process called Adaptive Planned Management to select the disposal site. He indicated that several sites are currently under consideration, including the area near Kincardine, Ontario. He went on to note, "Adaptive Phased Management will only proceed with an informed and willing host, and it continues to work with communities, Indigenous groups, and municipalities surround the areas that are involved in the site selection process."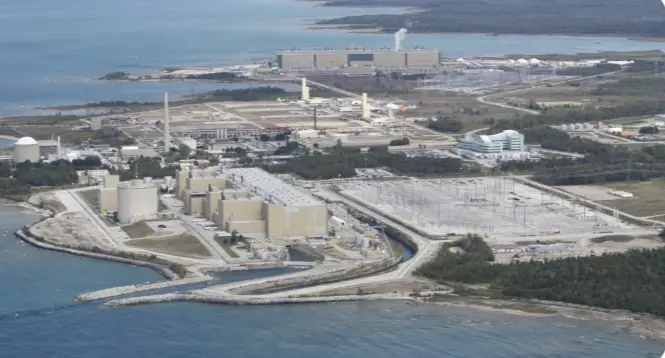 The site selection process is far from being complete. Hubbard went on to note in his letter, "The implementation of the Adaptive Phased Management will occur over many decades, involve a formal site selection process, and require several regulatory approvals." In addition, Hubbard anticipates that a federal environmental assessment will be conducted as part of the licensing of the nuclear waste disposal facility. The full letter from the Impact Agency of Canada can be read here.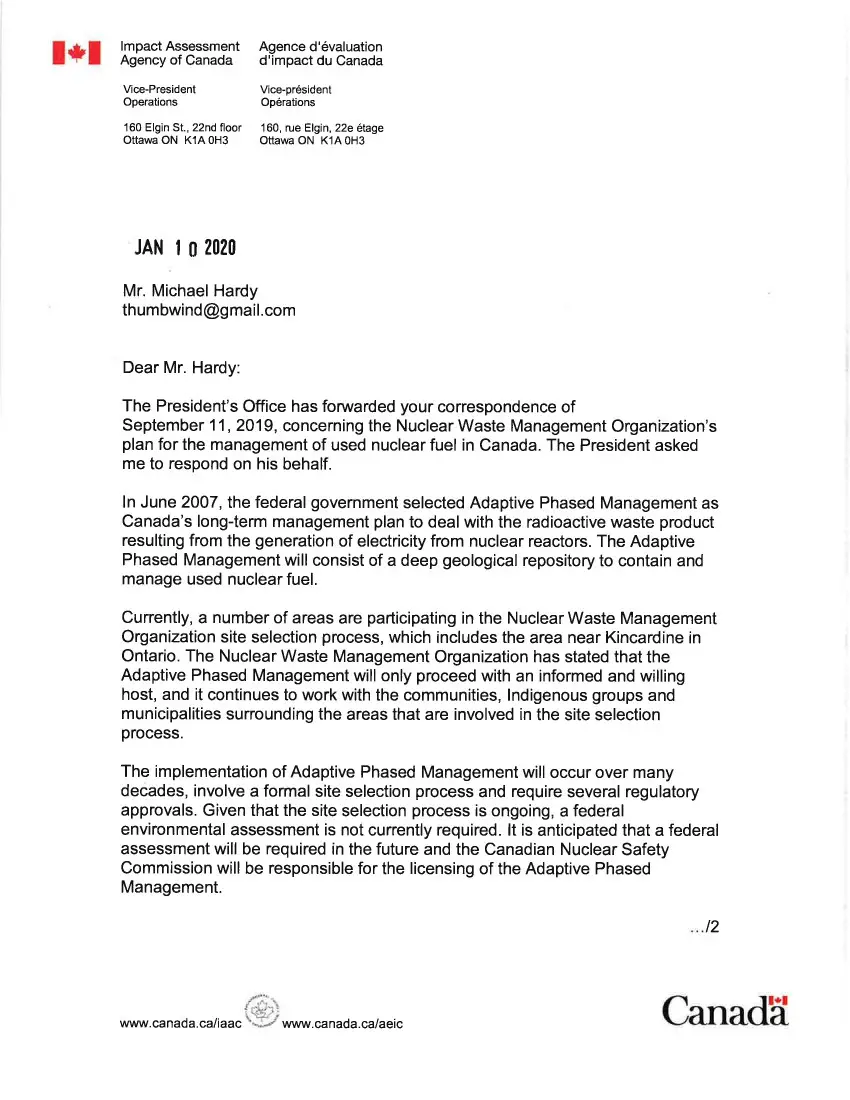 ---
Video Synopsis
Past Articles on Nuclear Waste Dilemma
In early 2015 we noted that an Ontario Lobby Group was hopeful the incoming Liberal Government would live up to a promise to protect the environment and stop plans to bury nuclear waste in Canada.
Later in 2015, we found that a Canadian federal panel has given an overall seal of approval to the controversial Canada nuclear waste disposal site proposed for a subterranean crypt below the Bruce nuclear station near Kincardine, Ontario. See Canada Feds "OK" Proposed Nuclear Waste Site Near Lake Huron.
Finally, in September 2019, we found that Canada's Nuclear Waste Management Organization (NWMO) recommended a proposal to contain all the country's used fuel in one deep geological repository. This would mean a second nuclear waste dump in Ontario. The facility would have to have the capacity to store 57,000 tons of used nuclear fuel. See Canada Plans Ontario Nuclear Waste Dump.
Related Environmental Stories