The big issue 100 years ago was the cost of living in 1917 and the availability of food and coal due to the First World War. It was a theme that was clearly evident as stories were appearing weekly. Sugar beets were being sold by local farmers to processing companies for $8 a ton.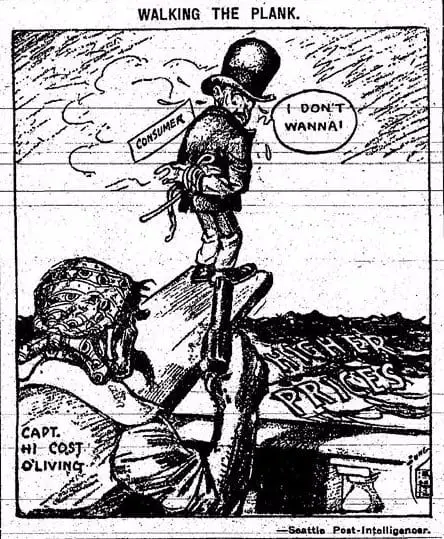 Prices Affecting the Cost of Living in 1917
Back in 1917, if you were making $700 year, you were doing about average. Gas was 15 cents a gallon. A first class stamp cost 2 cents. A new house cost about $3,300.
The cost of living 1917 is closely aligned with the census statistics on prices for 1915 include:
Loaf of bread: 7 cents
Dozen eggs: 34 cents
Quart of milk: 9 cents
Pound of steak: 26 cents
The average price of a car in the US was about $400 ($8,900 in todays dollars when adjusted for inflation). The average hourly wage was 22 cents an hour. (About $5 in todays dollars). In 1917 traffic in New York city showed more cars than horses for the first time.
Related Reading
---