Mackinac Island serves as a picturesque retreat with its quaint charm, timeless beauty, and the nostalgia it creates through car-free streets, horse-drawn carriages, and old-world hospitality. Apart from its natural allure and historical significance, it also offers visitors affordable family hotels on Mackinac Island that offer comfort, convenience, and considerable amenities. Two such delightful options for families seeking an affordable yet enjoyable travel experience are the Mission Point Resort and the Lake View Hotel, both of which ensure an unforgettable island retreat.
What We Will Cover
Mission Point Resort
Mission Point Resort: Affordable Luxury for Families
Nestled amid breathtaking views of Lake Huron, Mission Point Resort marks its presence as a notable and family-friendly destination on Mackinac Island. With a blend of comfort and luxury seamlessly interwoven into their accommodations, this resort proves to be an ideal getaway for families seeking both relaxation and adventure.
Each of Mission Point's spacious rooms and suites is designed with versatility in mind – well-equipped and flexible enough to cater to families of varying sizes. These comfortable living arrangements flawlessly echo the resort's persistent emphasis on offering a homelike feeling, even when you're far away from home.
Things To Do At Mission Point Resort on Mackinac Island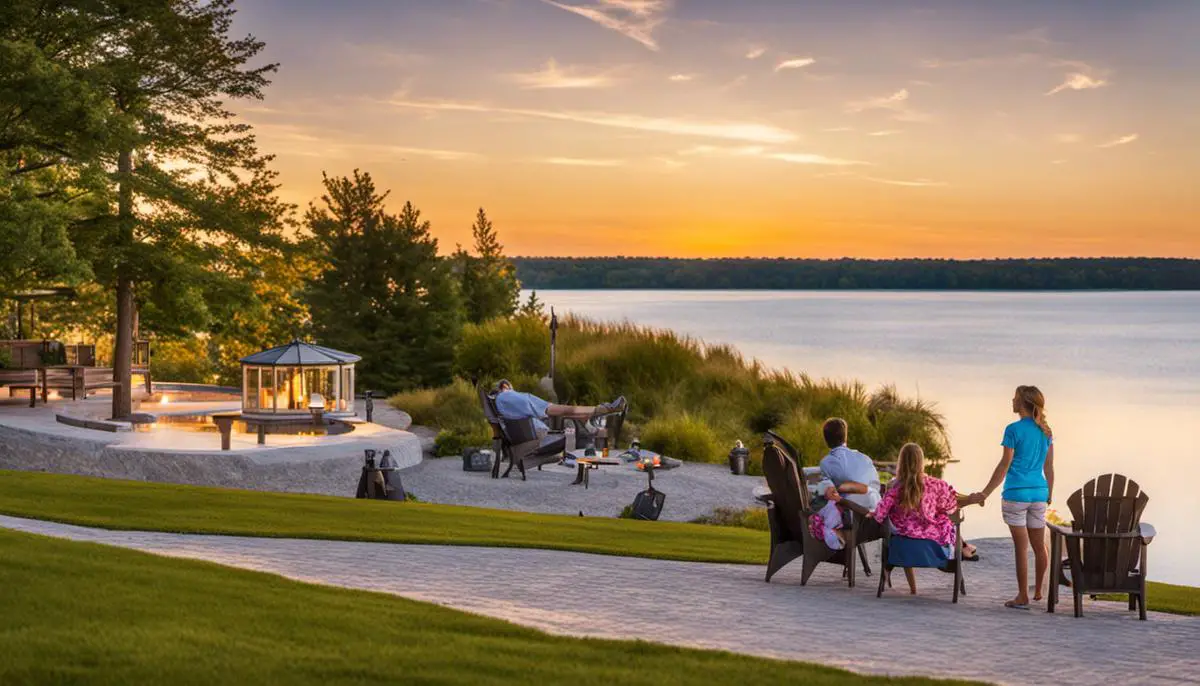 Beyond the rooms lies an abundance of recreational facilities, with amenities designed to enthrall both children and adults. The resort boasts a sprawling pool that lures in guests with its shimmering blue waters. For movie buffs, the in-house cinema presents an opportunity to indulge in some reel-time fun. This historic theater was the setting for the classic movie 'Somewhere in Time' starring Christopher Reeve and Jayne Seymour.
Somewhere In Time Movie Shot Locations On Mackinac Island
Somewhere in Time (Mackinac Island) - Then and Now Movie Locations
Mini-Golf on The Island
One of the distinguishing features of Mission Point's amenities is its mini-golf course that caters to seasoned players and beginners alike. The kids' club is a joyous hub, providing a safe environment for children to interact, learn, and play under the trained supervisor's watchful eyes.
Carriage & Bike Rentals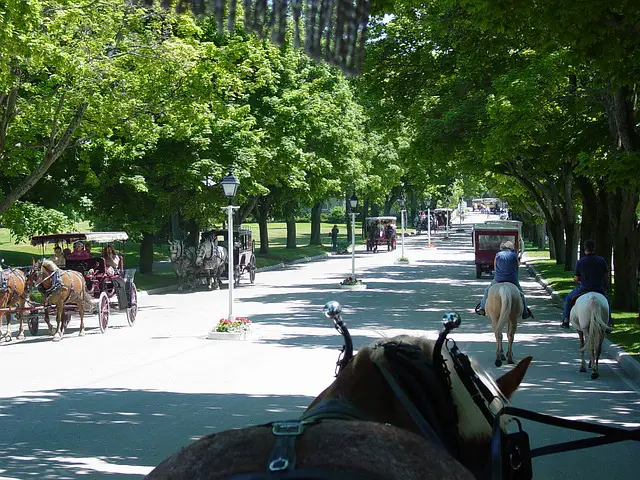 For those itching to explore beyond the resort's boundaries, the carriage rides and bike rental service await with options aplenty. Whether a quick spin around the resort or a day-long island exploration, every experience is unique.
Family Dining
Not to be overlooked are the resort's on-site restaurants, with a wide range of dining options experienced in preparing meals that cater to diverse palates. From crowd-pleasing classics to local specialties, the culinary offerings at Mission Point Resort make mealtimes an occasion of delight without the need to venture out for food.
Mission Point Resort is a bundled package offering relaxation, entertainment, and culinary pleasure – a perfect choice as one of the affordable family hotels on Mackinac Island.
Lake View Hotel
All About Location and Convenience
Imagine strolling steps away from the awe-inspiring charm of downtown Mackinac Island and finding yourself at the doorway of Lake View Hotel. This family-friendly treasure holds a delightful variety of rooms, crafted with a warm welcome for every family size. Its flexible offering of accommodations ensures that there's a perfect fit for you and your loved ones, regardless of the size of your traveling party.
Factor-In Some Fun
Yet, this touch of convenience doesn't mean compromising on the fun factor. On the contrary, Lake View Hotel is a haven for delight with its engaging collection of facilities guaranteed to bring out the kid in everyone. There's something for everyone: a dip in the pool, a relaxing soak in the hot tub, the invigorating warmth of a sauna, or a spirited session in the game room. Choosing Lake View Hotel for your stay ensures your family gets fun and comfort.
Dining Extravaganza
Food is essential to any family holiday, which Lake View Hotel understands. In-house dining options deliver scrumptious meals right to your table. And if you're looking for a taste of Mackinac Island's diverse culinary scene, the hotel's prime location puts an array of eateries within your reach. Its close proximity to downtown only adds to the convenience of your stay.
Affordability and Comfort Combined
Lastly, the Lake View Hotel takes pride in blending wonderful facilities with affordability. This careful balance of quality and cost ensures that your family can enjoy a memorable vacation without breaking the bank. Lake View Hotel truly embodies value for money, promising an enjoyable holiday for the family at an unbeatable price.
Final Thoughts On Family Hotels on Mackinac Island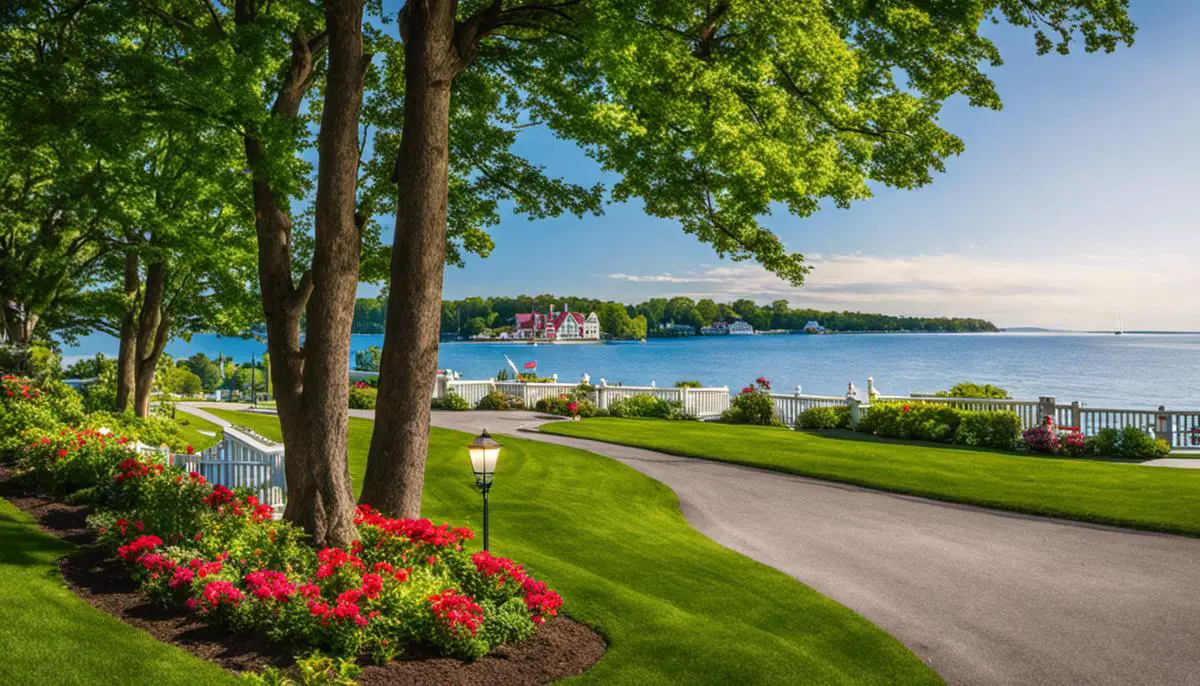 Moreover, both these properties have managed to maintain a delicate balance between affordability and quality of service, making every visitor's stay comfortable and memorable. The Mission Point Resort and Lake View Hotel go beyond just providing rooms – they offer comprehensive family-friendly environments amid the intoxicating charm of Mackinac Island. So, the next time you plan a visit to this idyllic island, these affordable family hotels should top your accommodation options list. They not only light on the pocket but also leave lasting memories in the hearts of their guests.
Hotels In Mackinac Island
Here's a list of hotels located on Mackinac Island, each with its own unique charm and amenities:
| Hotel Name | Description |
| --- | --- |
| Bicycle Street Inn & Waterfront Collection | Located on Main Street, this hotel features rooms and suites with walkout balconies. |
| Chippewa Hotel Waterfront | Known for its Pink Pony bar and grill, this hotel is centrally located in downtown Mackinac. |
| Grand Hotel | A historic hotel with uniquely decorated guest rooms and traditions like Afternoon Tea. |
| Harbour View Inn | A cozy place comprised of four distinct buildings, perfect for a quiet stay. |
| Hotel Iroquois | Awarded for its waterfront setting, it offers 45 guest rooms and suites. |
| Inn at Stonecliffe | Known for its secluded location, this 15-acre property offers a variety of accommodations. |
| Inn on Mackinac | A peaceful luxury hotel located a few minutes walk from downtown. |
| Island House Hotel | Offers gorgeous waterfront views and is close to downtown. |
| Lake View Hotel | Located on Main Street, ideal for family vacations and group getaways. |
| Lilac Tree Suites | An all-suite property located in the heart of downtown. |
| Mackinac House | A boutique hotel located on Market Street, within walking distance of attractions. |
| Main Street Inn & Suites | Offers 18 well-appointed rooms and suites with many amenities. |
| Metivier Inn | Located on Market Street, offers individually decorated rooms with private baths. |
| Mission Point Resort | Nestled among 18 acres of property with Lake Huron, located on the sunrise side of the island. |
| Murray Hotel | A quaint, family-owned hotel with updated facilities. |
| Pontiac Lodge | A boutique hotel located in the heart of downtown, offers 11 distinct rooms. |
| Windermere Hotel | Retains an atmosphere of classic charm and elegance while offering modern amenities. |
Hotels on Mackinac Island
10 Things Families Can Do While Visiting Mackinac Island
Mackinac Island offers a plethora of activities that are perfect for families. Here's a list of 10 things families can do while visiting the island:
| Activity | Description |
| --- | --- |
| Horse-Drawn Carriage Tours | Narrated tours that take you around the island, offering both public and private options. |
| Fort Mackinac | A historic fort with live cannon and rifle firing demonstrations, perfect for history buffs. |
| Biking and Hiking | With over 70 miles of trails, the island is an outdoor enthusiast's dream. |
| Charter Boat Excursions | Custom boat trips around Mackinac Island for small groups or parties. |
| Natural Formations | Explore Arch Rock, Sugar Loaf, and other natural wonders on the island. |
| Butterfly Houses | Visit one of the island's two butterfly houses for a magical experience. |
| Fishing Charter | Spend a day fishing off Mackinac Island with a guided charter. |
| Playgrounds | The island has three playgrounds, perfect for younger kids to burn off some energy. |
| Art at Watercolor Café | Offers kids art classes and art-themed goods. |
| Putt-Putt Golf | Test your skills at the Greens of Mackinac, an 18-hole natural grass putting course. |
Things To Do on Mackinac Island
For more details, you can visit the Mackinac Island Tourism Bureau's website.
Video: Mackinac Island For Families
HOW TO SPEND ONE DAY IN MACKINAC ISLAND || Fun Things do do in Mackinac Island with Kids
Related Reading
Golf on Mackinac Island – Play 2 Idyllic Courses Born in the Gilded Age
10 Tales About Michigan Indian Tribes You Were Never Taught in School
Unveil Michigan Travel Secrets – Hidden Gems & Unique Experiences
Bicycling Around Mackinac Island Is One of the Best Ways To Reveal Its Native American History